YOU have stumbled upon the Big Idea Mastermind login page and are trying to figure out whether it is a real deal?
Because that's what they promise, you can "…make at least $5,000 per month on a regular basis."
Wow!
Is it real, though?
Or it is a filthy scam, and you better run screaming…
I don't know about you, but I have been scammed in the past. And guess what? It did not feel pleasant. I can tell you, you don't feel incredibly excited when somebody cheats and robs you.
Because of that awful first-hand experience, I took the pain and researched the Big Idea Mastermind product. I wanted to make sure if it is a trustworthy work from home opportunity to make money with it.
[Sidebar: If you are not interested in scams, check out THIS instead! You're going to like this.]
Quick Review
Name: Big Time Mastermind (BIM)
Website: bigideamastermind.com
Registration Date: 2012-11-09
Price: $25 + lots of upsells
Owners: Vick Strizheus
My overall rank: 1 out of 10
My Verdict: In my opinion, the Big Idea Mastermind is a SCAM. Please Don't Touch it! It seems to be just another layer of Empower Network. And one of the most prominent teams in that system.
If you knew how to make $1200 a month online, from the comfort of your home, would you do the work?

…Well THIS is your chance (way better alternative to Big Idea Mastermind)


It's FREE to get started, too (no credit card required). You'll like that part…
Full Review: Big Idea Mastermind Login – Access to…
What is Big Idea Mastermind About?
Big Idea Mastermind is a Marketing and Mindset Training System that is closely connected with the Empower Network. If you don't know what Empower Network is, it is an affiliate program and online marketing training system that should help you make money online.
It's a type of semi-MLM business where you recruit people into the system and convince them to purchase its training products. When they buy those products, you earn 100% commission from them.
Vick Strizheus (Formerly Vitaly Strizheus) is one of the top members of Empower Network (EN), and Big Idea Mastermind (BIM) is his online campaign within Empower Network to recruit and train his downline members.
So you see, Big Idea Mastermind is another layer or a sub-set of Empower Network. For you, it means that once you join Big Idea Mastermind, you have access to Empower Network and its products. You become an EN affiliate to resell these products.
Why It Was Created
According to Vick Strizheus, the founder of Big Idea Mastermind, the primary goal of BIM is to help people make at least $5,000 per month regularly. That is what he claims.
However, the concept behind Big Idea Mastermind is to ride in the wake of another hyped scam project Empower Network. Vick Strizheus uses Big Idea Mastermind to recruit new people into Empower Network and earn 100% commission from them. So after joining BIM and purchasing its products (= EN products), you funnel your wealth right into Vick's pockets.
Who Is Vick Strizheus?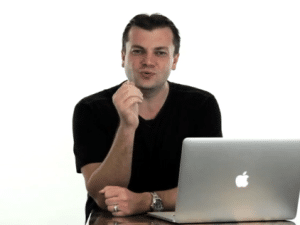 Vick Strizheus, formerly known as Vitaly Strizheus, is from Ukraine. He was an insurance salesman who was sentenced to 90 days in jail and five years probation for insurance theft in 2009.
They put Vick Strizheus in jail because he filed life insurances for non-existent people, making over $30,000 in commissions. It came out as (plain obviously) these non-existent people could not make real recurring payments for an extended period.
Since his sentence, he has launched several products that are considered to be Vick Strizheus scams:
7 Figure Marketing School
48 Hour Cash Machine
Global Success Club
Vick Strizheus High Traffic Academy
The scam pattern is always the same: Vick releases a new product with attractive promises. He promises to teach you how to generate traffic to your website and to make big money fast.
Vick uses various upsells to make the maximum amount of money out of his customers, convincing people to purchase more expensive products. Then, after a while, this generous guru suddenly disappears, leaving his victims stranded in limbo.
That has happened with all of his previous products mentioned above.
Not only that. The problem is that he buys his traffic. No, he does not build organic traffic. This way, he misleads people into believing they learn about organic traffic while leading to buying traffic.
Therefore, be very cautious if you plan to make Big Idea Mastermind Login the main entrance to your online success. It's not as safe as it looks from the outside.
Big Idea Mastermind Products
There are five different products (or levels) with Big Idea Mastermind, and they all correspond to respective products in Empower Network. (Read my Empower Network review where I provide a full breakdown of these products.)
BIM Basic Level: (corresponds to Empower Network basic $25/mo level. Total Investment = $25.00)
BIM Silver Level: (corresponds to EN basic $25 product + Inner Circle. Total Investment = $125)
BIM Gold Level: (corresponds to EN basic $25 product + Inner Circle + Costa Rica Intensive. Total Investment = $625)
BIM Platinum Level: (corresponds to EN basic $25 product + Inner Circle + Costa Rica Intensive + $15K Formula. Total Investment $1,622)
BIM Diamond Level: (you get this by purchasing EN basic $25 product + Inner Circle + Costa Rica Intensive + $15K Formula + Masters Retreat. Total Investment $5,122)
Big Idea Mastermind Features
All the Empower Network teaching courses and support + BIM own training and support
Ability to earn $25 per sale (monthly recurring)
Big Idea Mastermind Automated Marketing System
BIM Success Coaching
BIM Internet Marketing Mastery
Internet Marketing 101
The 6 Figure Blueprint (full addition)
Traffic Generation Fast Start
List Building
All the features listed here are for BIM Basic level. All other BIM features are upsells. To access those features, you have to position yourself at higher levels purchasing more expensive BIM products.
Tired of scams?
Here's how I created
my passive income stream online – And how you could too

It won't cost you a bean to find out if it can help you.
What Results You Can Expect
It's plain clear that Vick Strizheus sell you dreams. Look at the Big Idea Mastermind login page. Each time you go there, a new fantastic dream is waiting for you…
…A Cadillac, or a leisure time in your own a million-dollar home, or…
Well, Vick is here to help you achieve your dreams. But, for this to come true, you have to purchase his high ticket products.
Expect to meet massive upsells. Vick gets you to join the system with extraordinary claims. However, after you pay your initial monthly fee, you will find out that he has not given you all the information needed. To get better training, you have to purchase more expensive products.
Also, you have to be aware that Vick can close the scheme at any given time and then create another one. If that happens, you lose everything that you have invested.
Keep also in mind that there are very few people in Empower Network that make good money online. In fact, less than 1% of all Empower Network members make $500 or more per month. A vast majority of Empower Networkers don't earn a penny. And Big Idea Mastermind is part of Empower Network.
Those that earn big money are on the top. And guess who is not on the top? YOU. Vick Strizheus is one of the Empower Network's top members; this is why he is earning big.
Once you are in, expect to spend more and more of your finances. You will always be pushed to go "all in," which means you have to buy all the Empower Network products. It's more than $5000 in total, and the probability that you ever get it back is slim.
Can You Make Money With the Big Idea Mastermind?
Yes, it is still possible.
Even though the majority of BIM members never earn anything, few still make money.
That being said, you have to be aware that to earn money within BIM, you have to cheat and sell people's dreams. Making money with BIM is the same as making money with Empower Network. To make your fortunes within BIM, you have to scam people, and it's not an honest way.
The Price
To earn 100% commission from those EN/BIM products, you have to purchase these products in the first place, or the commission passes to your upline sponsor.
That means, to make money within BIM, you have to purchase at least its cheapest product, which is BIM Basic Level. It's $25 per month. It's not enough, though. You also have to pay for Empower Network eWallet system, which is another $19.90 per month.
Because your lowest level does not make much to your upline sponsor, he convinces you to purchase higher-level products. Vick recommends the 3rd level, BIM Gold Level, as the bare minimum starting point:

For you, it means $125 per month + $500. But it IS NOT told to you here, is it? You read $625 one-time payment while, in fact, it is a $500 one time payment and $125 per month!
What Else You Should Know About Big Idea Mastermind
There have been complaints that Vick gives people a chance to sell some BIM products but from time to time swaps his affiliate ID with the sellers to take their direct sales.
There are other complaints that Vick takes lead emails that BIM members have created and keeps them for his own.
The BIM training is 100% focused on the "make money online" niche, which is the most saturated niche online. You join BIM, and you are not able to choose your niche nor sell your products. You only make money within BIM when selling Empower Network products.
Also, you join in at the lowest level of the pyramid, and you are always pushed to go "All-In." Don't you believe it? Look at their call to action button:

If you don't spend $5000+ to get "all in," you will be ignored by the BIM/EN community.
When you join, you give your wealth to the people above you. And not everyone you refer to is not exactly going to be yours either. You will be required to "pass up" many of your sales to your primary sponsor (Vick) and some of the people below him. So you just become a TOOL to their overall income.
Final Verdict
I DO NOT recommend Big Idea Mastermind. First, it is way too suspicious, and second, the track record of its founder Vick Strizheus apparently does not raise any trust.
Keep in mind, Vick Strizheus is a convicted criminal on fraud charges. The South Dakota attorneys who prosecuted him called him a con-man. So if you plan to do business with him, you do so at your own risk.
Third, as you saw in the Big Idea Mastermind review above, its high-end products are going to cost you thousands of dollars. And you can be sure Vick will use every trick in the book to make you buy them.
Besides that, to make money within Big Idea Mastermind, you cannot but begin scamming others. That's another reason why I CANNOT recommend it.
If you'd rather make money than blow your child's college savings… Why not try this? It's FREE to get started, too. You'll like that part…


Why not make it the very next thing you do?
What About You?
Thank you for reading my BIM review. I hope you found it helpful.
What do you think? Is the Big Idea Mastermind login page a 'Golden key' to riches? Or is it a scam?
Do you have any experience with Big Idea Mastermind that you want to share?
I'd love to hear from you, so please leave a comment below. Please drop me a comment below.
Stay safe,
Egon (EgonSarvReviews.com)