So here you are. You have just stumbled upon ClixSense. And you ask, "How Do I Earn Money From ClixSense?" And "What is ClixSense.com in the first place?" And, "Can I trust it?"
To help you answer these (and other similar) questions, I wrote the ClixSense review below. To do that, I signed up for the product and tried to make money with it. So it's the first-person experience.
I think, after reading the review, you should have a pretty clear understanding of what ClixSense has to offer. So keep reading and see whether it is for you.
[Sidebar: If you want to learn about my #1 online opportunity (yes, I am using it since 2013), check out THIS instead! You're going to like this.]
Quick Summary
Name: ClixSense
ClixSense login page: www.clixsense.com
Creation date: Dec 29, 2006
Niche: PTC – Paid surveys, free offers, tasks, and PTC Advertising
Price: Free
Skill level: Beginner
My Overall Rank: 3 out of 10
My Verdict: Not scam but (for most of people) a complete waste of time!
Alternative: Learn to make a legit income online (FREE)
The ClixSense Review
First, what is ClixSense.com? Well, it is a PTC (Paid To Click) platform, which helps you make some side money online. Your biggest opportunity here is to take ClixSense Surveys, complete Offers and Tasks, View ads, and leverage the ClixSense Affiliate program.
Let's go through them one by one and see how worthy they are.
1. View Ads – Click and Get Paid
Getting paid by viewing ads has tremendous popularity. If you want to make money by clicking through ads… Well, you can do it, but most probably you won't earn any meaningful sums of money. Why? Because these sums are laughably tiny.
Here's their price list ('seconds' means how much time you have to spend on that particular ad):
6o seconds ad: $0.02 (= 2 cents)
30 seconds ad: $0.01 (= 1 cent)
5 seconds ad: $0.001 (= 0.1 cents)
So let's do the numbers. Because, I can tell you, this 5 seconds (or 30 sec, or 60 sec) watching times are misleading. It gives you the impression that it takes only 5 sec to earn 0.1 cents.
Wrong! And I am going to prove it to you.
I took my stopwatch to measure the actual time it takes to make that 0.1 cents. Guess what? It took me from 13 to 19 seconds to watch one 5 second ad! Wow!
So I tested how much time it takes to go through 5 ads. It took me 82 seconds (16.4 seconds per ad) to make 0.5 cents.
See! 16.4 seconds for a 5-sec ad (and without losing ANY seconds!)
So what does that mean?
1 hour = 22 cents
8 hours = $1.76 (while working non-stop and without losing a single second!)
What income is that?
It is the ultimate waste of time!
Now let's take these 60 seconds ads which pay 2 cents per watch. Assuming that it takes about 70 seconds to go through the whole process, we will get:
70 sec = 2 cents
1 h = $1.02
8 h = $8.16 (while working non-stop and without losing a single second!)
You cannot take it seriously, can you!
Another thing that annoys me is this – When I click on "View ads" without signing in, they will show me better paying 60-sec ads. However, after signing, in all they give me, are ridiculously cheap 5-sec ads. Disgusting!
2. ClixSense Offers
Now let's come to offers. Some offers pay $5 or more. However, I was shown only one offer, and that came from RadioRoyalty.
Listening that radio I could earn… a mind-blowing 1 cent!
And guess what I had to do to earn that 1 cent?
I had to listen to that radio and solve the CAPTCHA after every 30 minutes! I needed to solve the captcha four times (!!!) to credit.
It is just unbelievable! Surely, there are much better things to do than typing captchas while trying to make 1 cent.
Nonsense.
3. ClixGrid Game
Here you can win $10…  So what does that mean?
It means that you still have to watch ads (10 seconds minimum) and then play a lottery – if you win, they transfer $10 to your ClixSense account. If you did not win, you watched that ad for free.
You can play that lottery 30 times every day.
Technically speaking, the lottery is a photo with 30×20 grid lines (total 600 squares). You click on the square of your choice, which will open up a sponsor's site with an ad you should watch. After 10 seconds they will tell you whether you won or not.
Guess what? Most probably, you will not win. Because the probability of winning is 1 out of 600 (they don't tell you how many wins they have hidden into that image, but I suspect there are no more than 1).
It effectively means that you will watch the ads for free:

Fancy but complete waste of time. It's like making money by gambling.
4. ClixSense Tasks
The tasks "are provided by Crowdflower – a crowdsourcing service that enables you to work on small tasks allowing earning some extra cash." [Source: ClixSense]
Tasks vary from 1 cent to 7 cents per task: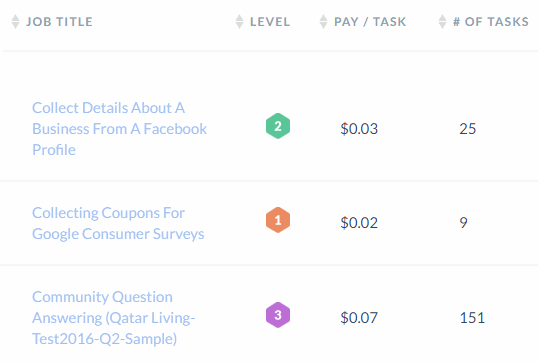 The first obstacle here is that to take the tasks, you have to sign up (and then log in) to the CrowdFlower website in the first place. After that, they give you plenty of activities to keep you busy (for a few pennies).
Again, an utter waste of time.
2. ClixSense Surveys
Before you can start making money by taking surveys, you must complete your Survey Profile. For them, it is essential, of course, because thus they can target more relevant surveys to you. For me, however, the whole process is merely annoying.
Why?
Because you have to give them so much personal (private) information about yourself and your family. I don't know about you but as for me, it is plain and simple – I don't want to provide them with that information.
And if you happen to live outside of US/Canada/UK, there are not many surveys available for you anyway. The message you will most probably see is, "Sorry, but no surveys available for you at the moment."
And even if you qualify to take surveys, don't expect any miracles (i.e., cash starting raining down on you). Taking surveys doesn't make you wealthy.
ClixSense Research
Finally, to finish this section here, let me explain in a few words – What is ClixSense Research?
ClixSense Research is a separate survey company that (through their surveys) give ClixSense members an additional opportunity to make some extra money online. It's optional, so it is totally up to you whether you want to participate or not.
Also, what they pay you is separate from what you earn in the ClixSense main site.
4. ClixSense Affiliate Program
An affiliate program is where the real money usually is. Because, as you saw above, you won't get rich by viewing ads and completing offers.
If you want to make big money with ClixSense, you must start getting and nurturing referrals. Why nurturing? Because a dead (= inactive) referral does not make any sense.
You need active referrals who will work for you. That's the only way you can make any serious money here.
You can do that by promoting your ClixSense affiliate URL, invite friends, etc. The more members you bring in under you, the more commissions you will make. You earn commissions when your affiliate:
views ads
completes an offer
completes a task
takes a survey
upgrades to premium
A part of their price list is here: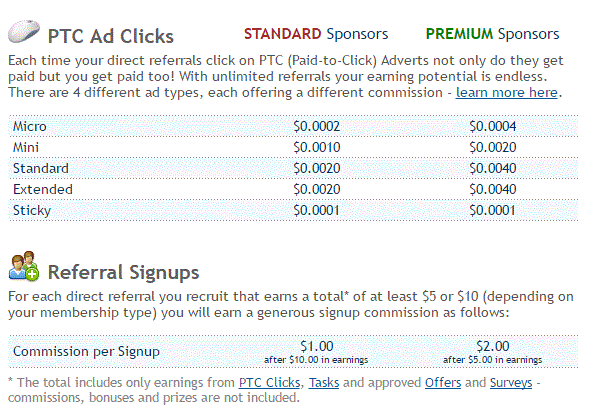 But let me warn you – the reality is (as far as I have learned) that it is extremely challenging to get direct referrals in PTC.
Customer Service
There are two options to get help in ClixSense:
Forums – ask for advice from other ClixSense members
Helpdesk – ask for advice directly from ClixSense customer support.
ClixSense Testimonials
To confirm that some people make money with the program, here is one positive ClixSense testimonial that I found:

$10 is not something that makes you filthy rich, but if you are in deep need, well… It is better than nothing. And it gives you a motivational boost too.
However, there are some dangers too. Read the following complaints:
ClixSense Complaints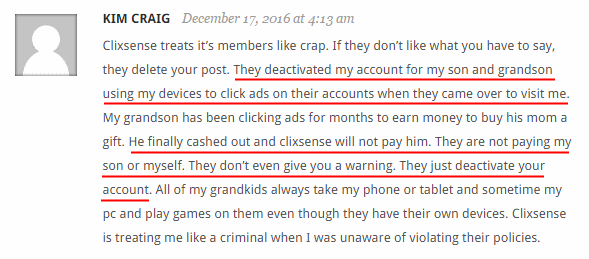 See! They are very strict on what hardware you use when clicking on ads. It is so easy to get punished when you fail to follow their fine print.

Just exactly as I already proved it above.


Sadly, there are so many complaints like these. People work hard by diligently clicking through ads (for weeks and months), and suddenly, they have no access to their accounts anymore. Disgusting!
Be very careful!
Pros and Cons
To sum all the positive and negative aspects, here are my pros and cons:
Pros
Quick and easy signup process (no credit card required)
It's pretty effortless to start making (at least some) money online.
The platform is easy to understand
No need to purchase anything to make a small amount of cash
There are testimonials that people make money within ClixSense.
If you are consistent and work hard (and learn to do it properly), you can make money with it.
Cons
The sums you make by viewing ads and completing offers are ridiculously small
There are many complaints that ClixSense is dishonest and does not pay out what they should
Final Verdict
Doing my research, I have concluded that Clixsense is NOT a scam (except those cases where they have not paid their members – if it is true).
However, making any serious money with ClixSense involves a lot of time, consistency, and hard work. It's not a "Get Quick Rich" product. So if you are not willing to work hard, then don't even bother to start – it will turn out as the utter waste of time for you.
Spend hours to earn cents? Hey! Your time is way more precious, and you could (and should) use it more wisely.
I am serious. Why do you waste your time like that?
In that case, better find your real passion, then build up your personal blog or a website. Then use your precious hours to create quality content and learn how to earn thousands of dollars.
Too complicated?
Wait a minute! Creating a beautiful, fully functional website today takes only about 3 to 5 minutes. It is so easy that even an elementary student can do it (and I am not exaggerating).
So…
Are You Interested in Making Some Side Money Online But Don't Know How To Start?
If this your case, then I recommend you to consider Wealthy Affiliate. Why? Because Wealthy Affiliate is designed and built with the utmost aim to teach complete newbies how to start making money online with a blog.
And that's precisely what they do. They take you by hand and guide step-by-step (at your own pace) through the whole process. They have five certification courses that raise you from the ground floor to the expert level in making money online.
And whenever you get stuck, there is a wonderful support system built up to help you out and get moving again.
Yes, I personally use a Wealthy Affiliate training platform, and that's why I recommend it. In fact, this website here is as it is, all thanks to Wealthy Affiliate training (it's far better work-at-home opportunity than the product described in the ClixSense review above).
And the best part of it is here – they have a completely FREE Starter Membership (no credit card required). So why not try it out today – it won't cost you a bean to see if it suits you. Don't forget – you have nothing to lose.
Just click on the link below:
Learn more about how do I earn money online from Wealthy Affiliate