"Copy my FREE weird trick to make $1,000.00 per day, starting TODAY!" 
You can find this promise at the top of the website of 'Copy My Website!' What a funny name, isn't it? So how about the '$1,000 a day' promise? Mhm, is the Copy My Websites a scam? Or can you make $1000 per day indeed (as they claim)?
I will answer these and other related questions in the detailed review below. Please read, and you will exactly see what kind of animal it is.
[Sidebar: If you are not interested in scams, check out THIS instead! You're going to like this.]
Quick Review
Name: Copy My Websites
Login page: www.copymywebsites.com
Alleged Founder: Jake (Jake, who?)
Niche: Website Marketing
Price: $37

My Verdict: Copy My Websites is a "Get Quick Rich" SCAM!!! PLEASE STAY AWAY!
Want to make legit money online but don't know where or how to get started?
Listen! If you want to create a legit passive income stream online, which will reward you for years to come, this is my recommendation to you – Learn to do it in a proper way.
Click on the link to see my #1 preference (Yes, I am using it).
At First, It Looked Like A Normal Training. Then I Looked Closer… And It Was Worth Every Single Second
Seriously. I think it's totally worth it.
Full Review – Is The Copy My Websites a Scam
Let's hear the case before we judge.
1. What Is Copy My Website?
It is one of those make-money-online opportunities which allegedly allows you to make tens of thousands of dollars online.
How?
Jake (Jake, who?), the rather secretive founder of the Copy My Websites, claims that he has found a way to make millions of dollars online.
He makes it through websites (this is a no-brainer). In other words, he knows how to turn a new (blank) website into a goldmine. Now Jake is willing to give you a brilliant opportunity. He allows you to copy his money machine websites so that you could use them and make a fortune as well: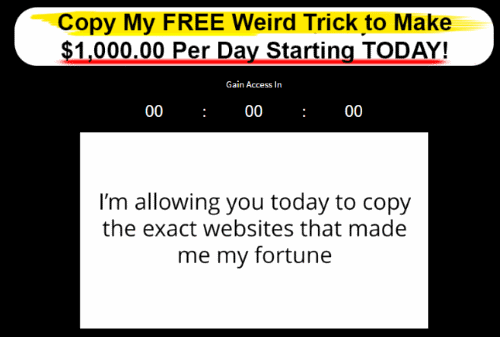 For a tine price tag ($37 – more on that below), you will get templates of the exact websites that Jack is using to make his millions. These are yours to use.
Not only that. You don't need to be an expert. Truth be told, you don't need to do anything. Everything (websites, content, SEO, marketing… Absolutely everything has been done for you. The only thing you need to do is log in a few times a week and see how much money these websites have done for you.
Wow! Stunning, right?
Wait! Keep reading because there's more to come.
The most interesting thing, in my humble opinion, is that while you are watching the promotional video, Jake has already created an online business for you.
How?
He already HAS copied his websites for you, AND these websites are already making money for you.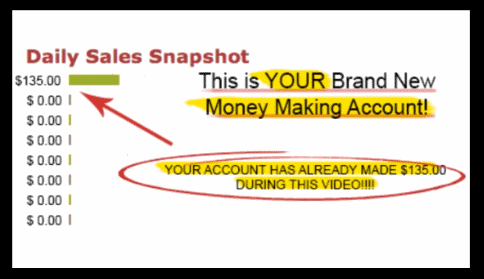 Wow! WOW WOWWW!!! In the first 5 minutes.
So, once you have finished the signup process and paid $37, he will give these websites over to you.
2. How Much Money Can You Make With the Copy My Websites?
According to Jake, you can make at least $1,000 per day.

To prove his case, he also provides plenty of testimonials. Here are some examples:
Steve: $2,500 just in one month
Brenda: $89 on her first day
Courtney: $2,000 in one week
Alyssa: $17,000 in her first two month
The young lad in the video: $2,700 in one day
The elderly man: $7000
The middle-aged man: $4000 a day
The couple: in 4 months $70,000
It's a bit rough, but you get the picture, right? The picture is – these copies of Jake's websites make people tons of money.
3. Why The Copy My Websites Is a Scam
There are many hot-red alerts that not only make me highly suspicious. Hey! These alerts are screaming like fire trucks. Their sirens penetrate my peaceful mind and leave me angry. Really, really angry.
Why?
Because they make it plain clear that the Copy My Websites is such a wicked scam – designed to rip off innocent people (men and women, parents, grandparents, etc.). Disgusting!
To prove my case, let me list some of these signs:
Red Alert #1: Can You Make Money by Copying Websites?
Jake's claim that you can make Big Bucks by simply copying websites is an utter BS (sorry).
Let me explain. Yes, it is indeed absolutely possible (and legit) to make money from websites (and that's how millions of people and businesses do it). But you cannot do it by merely copying websites – Even if the original sites are highly successful.
To monetize a website, you need traffic. Because this is where its customers come from. No traffic means no revenue. And while you can copy the website, you cannot replicate its traffic.
Let's take Facebook, for example. Facebook is a website in the first place, and it has over 2 billion members. Its daily traffic is enormous. Now let's assume that you make an identical copy of the original Facebook (let's name it Facebook B). Can you hope that Facebook B could also get over 2 billion members?
No! Because people don't need two Facebooks. All their friends are on the first Facebook! But that is what Jake claims – once you copy his successful websites, you can achieve his success as well.
Utter nonsense!
Red Alert #2: These Charlatans Make You Buy a Pig In a Poke
Seriously! Let me ask you:
What does Jake tell you about himself? The answer is, "Nothing." He does not bother to tell you even his family name. You have zero information about who he is, where he comes from, or what his background is.
What does Jake tell you about his business? Name of the company, postal address, contact information, phone number…? He gives you absolutely nothing.
The only thing they give you is a single email address. And even then, you have no idea who is behind that email.
What does Jake tell you about the way his websites make money? Nothing again! He does not reveal it. The only thing he tells you is that he is making money. But how? Maybe he is running some highly illegal internet fraud. Even porn or something?
The fact is, you don't know, and he does not tell you.
Want to get involved in that?
If you want to learn how to make legit money using websites, here's by far the best place to start. Even better, it's free to get started. So why not try now, whether it is for you?
Red Alert #3: Rapidly Dropping Price
Jake says he will get his websites to you for tiny $37 only. However, as soon as you start navigating away from his site, the price automatically drops down to $17.

This fact itself tells you something's terribly wrong here. The product does not have any value. They are just pitching you to join their corrupt system and shell out some bucks.
Red Alert #4: False Sense of Urgency
This is what scammers always do. They know human psychology pretty well and, thus, are always trying to create a false sense of urgency in the mind of their victims.
How does it work? Simple. They leave you an impression as if the brilliant opportunity is available for just a minimal time frame (or there are only a few vacant spots available). Time is running out rapidly, and if you want to grab your seat, you must act at once.
No time for hesitation. If you don't sign up immediately, other people will come, take your seat you will miss your opportunity for good:
That's the very technique they are using here too:

These shameless con-artists are lying through their teeth. How do I know it?
Look at the image below. Their promotional video was uploaded in January 2017. Didn't these doors close in January?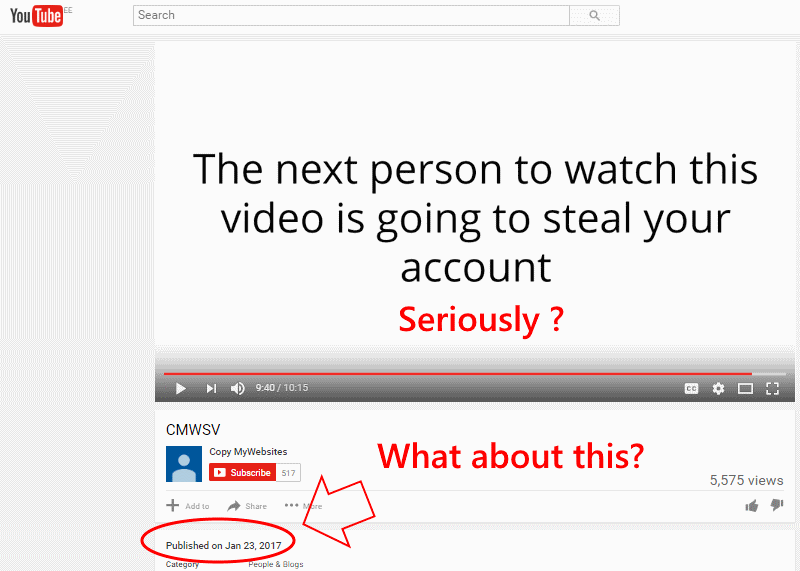 Listen! It's only a trick to persuade you into signing up and surrendering your money to them.
Red Alert #5: Copy My Websites Cannot do Math
Jake is touting that with his weird trick of copying his websites, you can make $1,000 per day.
So let's have a closer look at these Copy My Website testimonials: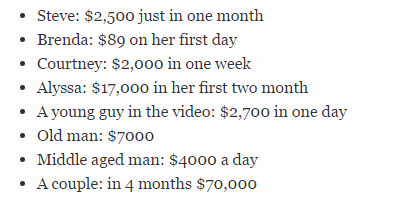 As a former math teacher, I could tell right away that these numbers are as random as a deck of cards at an Indian casino.
See yourself! Say my website (the one Jake copied for me) made $175 in the first 10 minutes: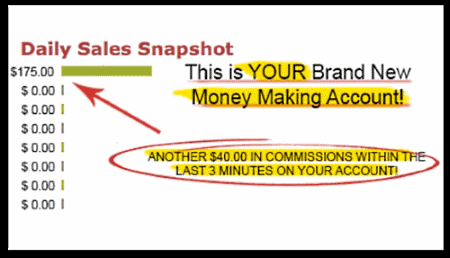 Frankly, $175 in 10 minutes equals over $2,000 an hour. And this equals over $48,000 a day!
If so, how come that his copy for Brenda fails to make $100 in 24 hours?
Let's translate these results into one month (and one day) revenue:

Again, how come identical copies produce such different results? Some people make $2500 per month while others $120,000.
The next crucial question: Which type of copy will YOU get? A performing one or under-performing one?
It's kind like a lottery, isn't it?
As you can see, out of these seven testimonials, only two copies made over $1000 a day. All others failed to reach Jake's promise (remember – all copies were identical).
Listen! All these testimonials are but fabrications. They're there to make your greed glands start to salivate.
Sickening!
Red Alert #6: Your Website Is Already Making Money
And this is the funniest of all. Jake claims that while I was his watching his promotional, he already copied his website for me. And this website – MY website – is already making money. See in the image above – MY website made $175 in the first 10 minutes.
Now I just need to sign up, pay $37, and collect my money-machine.
How far it is from the truth!
The promotional is a recorded video and uploaded into Youtube in January 2017 (also pictured above). There's no 'YOUR special' website. Remember, everybody sees the same video. Everybody sees that THEIR website has already made $175 in the first ten minutes.
I can't think of a dumber action; I really can't.
Final Verdict
The Copy My Websites is an utter scam. Listen! These scammers pulling strings behind the scene are not your friends. They are using every trick in their toolbox to lead you into deception and separate you from your money.
Don't let yourself be fooled, and please do not pay them $37 (not even $17).
Much Safer Way to Make Legit Money Online
Whatever the reason might be why you want to make money online…
…Be it your financial freedom.. or more quality time with your kids and spouse.. or security in old age.. desire to travel the world.. more time for your hobbies or sports.. Or to help you pay your bills, bless your grandchildren (if you have them), etc.
You know the "why." I can only confirm and encourage you – you are on the right track. Seriously!
YES! It is absolutely possible to make side money (or even a second income) online.
Interested?
Here is, in my humble opinion, by far the most complete and newbie-friendly program for creating a thriving internet business from home.
In fact, at first…
…I Had No Idea Whether This Would Work. But These Testimonials Are Proof.
If you want to learn to make legit side-money online, this is the best thing you'll read today.
What About You?
Now that you have finished the Copy My Website review – what are your thoughts? Is The Copy My Websites a Scam or legit?
Do you have any experience with the product (good or bad) which you want to share? Please drop me a comment in the comment section below.
It will help those folks who are on the fence and don't know whether to buy or not.
Thank you!