"Walter Robinson made nearly $90,000 during first month of using this system. Stephanie Hawkins brought in $120,000 last month." – Steven Brooks
Whatever these heartless predators tell you, the Brooks Blueprint is a scam and I am going to prove it to you in this detailed review below.
Please keep reading and see if you agree.
[Sidebar: If you are not interested in scams, check out THIS instead! You're gonna like this (Yes, I am using it since 2013).]
Quick Review

Name: Brooks Blueprint
Brooks Blueprint login: brooksblueprint.co
Domain Registration: July 7th, 2016
Alleged Founder: Steven Brooks
Niche: Binary Options trading
Price: Software free; Minimum required deposit: $250
My Overall Rank: 0 out of 10
My Verdict: The Brooks Blueprint is a scam!!! With zero transparency, fake testimonials and other deceptions involved it's nothing but a crooked rip-off scheme. Stay clear!
Better ALTERNATIVE to Brooks Blueprint Scam That's Uniquely Yours. And These Testimonials Are Proof.
If you are looking for ways to make legit side money online and don't want to get mugged…
…This is my personal recommendation to you  – Do not ask shady Binary Options to a dance.
Why not?
Because trading Binary Options is a high-risk business opportunity and is NOT suitable for the ordinary people from the street. If you want to trade Binary Options, be prepared to lose all of your investments.
Seriously? Yes, very seriously!
Therefore, I recommend you to take a different (and safer) route. For example, here is my #1 preference (Yes, I am using it since 2013).
At First, It Looks Like A Normal Training. But Look Closer… It's Where Dreams Are Made.

It's FREE to get started, too. You'll like that part…
---
Full Review – The Brooks Blueprint Is a Scam
What is the Brooks Blueprint?
In short, the Brooks Blueprint is a trading software that allows you trade Binary Options (here's my detailed review on how Binary Options work).
The whole process goes like this:
First, you need to open a trading account with some Binary Options broker. In the case of the Brooks Blueprint  – they do not allow you to pick a broker of your choice. Because they are scammers (as I will show you below), they have made a deal with a shady, unregulated GTOptions broker. Like it or not but you have to stick with it.
Second, you need to fund your trading account. A minimum required deposit is $250 but, as you might expect, they will pitch you to invest much bigger sums.
This is your money and it will be used for trading Binary Options. If you succeed, you will make profits. If not, you will lose your investment.
Third, and that's where the Brooks Blueprint comes into play. It's a piece of software that connects you to your trading account and allows you trade Binary Options.
As usual, the software has two modes – manual, and full auto pilot. In manual mode you do the trading. Full auto pilot means, the software does all the trading for you.
According to Steven Brooks, his trading software has 100% winning rate.It means, allegedly you will never lose a trade.
Awesome, right?
Keep reading as it's not what you might expect.
How Much Money People Make With Brooks Blueprint?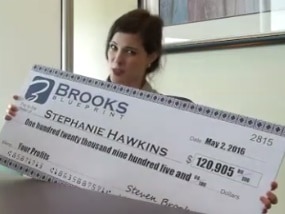 According to the video, you could expect something like this:
Stephanie Hawkins: $120,095 in her first month
Walter Robinson: $89,750 in his first month
Ken Ramirez: $185,454 in his first month
etc., etc.
Unfortunately, all these testimonials are fake. Yes, all of these people are fabricated characters, played by cheap actors (more about it below).
Who Is Steven Brooks?
If you believe the script, the last 6 years before founding his wonder trading software, Steven Brooks was a factory worker and earned $12.65 an hour. However, being sick of his 9-to-5 routine, he decided to walk away from that kind of life and find a better way to make living.
That's how he founded the Brooks Blueprint which has turned him a multi-millionaire. And because he is a good and generous guy, he wants to give back to the world. Thus, he is offering his trading software to you, for free.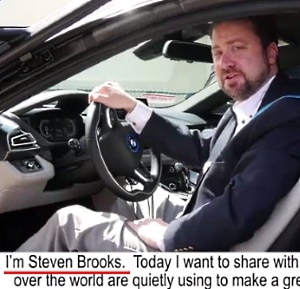 What Does Brooks Blueprint Promise You?
Earn $148,216 every week
100% winning rate
No chance of losing any money
No work required
No knowledge or previous experience required
What Do These Fraudsters Want From You?
The answer is simple. Your money.
Therefore, don't think for a second that you will be making tens (or hundreds) of thousands of dollars by leveraging their software. The whole scheme is designed from the core to 'milk' you as long as there is money in your pockets.
How do they do it? How do they get your money?
First, they need to contact you. And that's why they ask your best email and cell phone number. See yourself: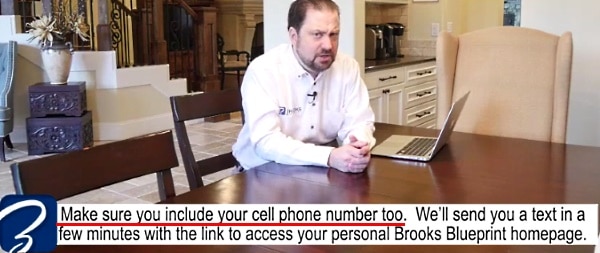 Also here:

And here too (as usual, what an incredible arrogance…):

Once they have your contact details, you will end up in their boiler room where high-pressure sales people will take over and squeeze every penny out of you.
Be very careful! These smooth-talking charlatans may appear as angels but sooner or later they will show you their devil's horns (more about their dirty tactics below).
The Brooks Blueprint Is a Scam – 6 Red Alerts
No I am ready to rip the whole scheme apart and prove that the Brooks Blueprint is a vile scam.
Red Alert #1: Fake Steven Brooks
By now I have already reviewed so many fraudulent schemes that it's pretty easy to smell a rat. Here's another one. As I suspected, there are no traces of that particular Steven Brooks found in the internet. Even though he has allegedly created a 100% reliable trading software, you cannot find any trustworthy article about him.
There's none.
Do you know why?
Simple. The man just does NOT exist. It's 100% fabricated character, played by some cheap actor. Plus the rented BMW luxury car, rented villa, rented office, etc.
Red Alert #2: It's a Shady 'Get Quick Rich' Scheme
There is a saying, "If something is too good to be true, you can bet it's not." That's just exactly how it is here – The Brooks Blueprint and all its promises are clearly too good to be true: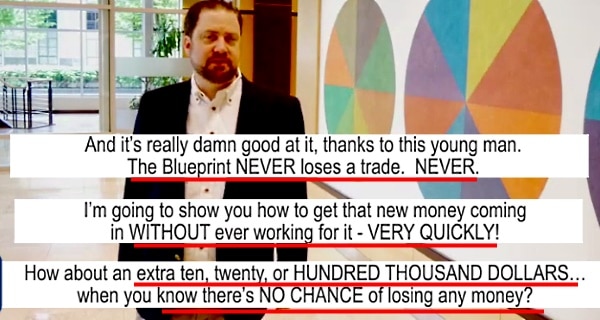 Can you imagine…! Investing itself is always a risky business and yet these Blueprint guys here tell you that their software is completely risk-free… That it has 100% winning rate it never ever loses a trade. Plus, you can get hundreds of thousands of dollars VERY QUICKLY, WITHOUT ever working for it.
I'd like to express my utter disgust with these criminals.
By the way, see what Daniel Levis – one of the top email marketers in the world – says in one of his emails about making money:
Hey Egon…
If they're honest, ANY entrepreneur will admit it…
…That building a business from scratch is a monumental and arduous task — even if you're selling "easy" information products.
That's so true. Therefore, never believe those cheap 'Get Quick Rich' claims. They will never hold water.
However, if you are not afraid of hard work, here's a question for you…
…If you knew how to make $1,200 a month online, would do the work?
Red Alert #3: Fake Testimonials
Look at the image below (it says Christy just make $2459):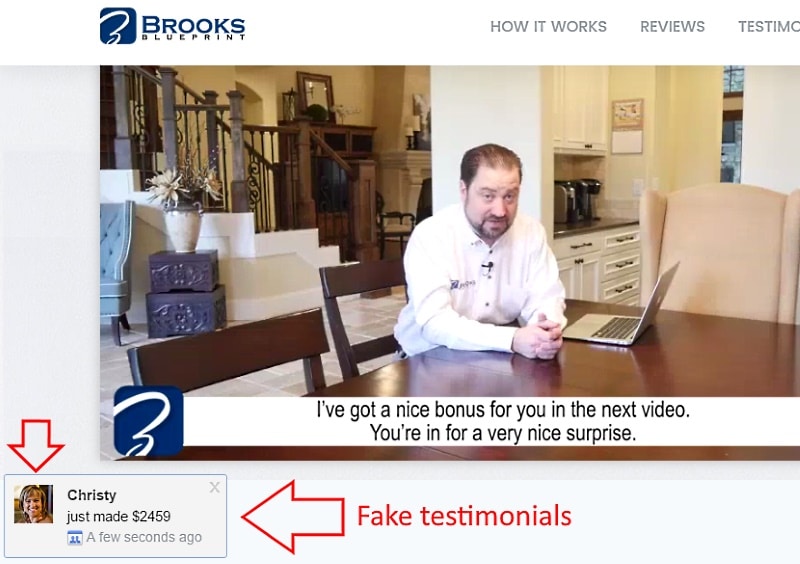 Truth be told, it's just a small widget running in the bottom of the page that is spinning different face-images taken from http://randomuser.ru.
For example, this Christy is, in fact, just a random image found from the internet: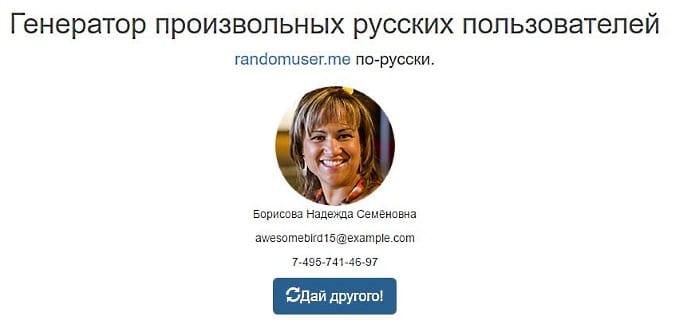 The same goes with all other testimonials. They are fake.
Red Alert #4: False Sense of Urgency
In the video, Steven Brooks makes it plain clear, free access to his wonder-software is only for the first 50 people:

However, this is a plain lie. Because the video is recorded I-don't-know-how-many-months-ago and, as you might suspect, the door is still open.
The trick is to make you sign up at once (without much calculation).
Red Alert #5: No Contact Page
Here is a screenshot from the Brooks Blueprint footer (Notice the 'Contact' link!):

Clicking on that link you can contact with them, right?
Wrong.
It only looks like a link but it points you nowhere. It means, you have no contact information to ask your money back, etc.
Red Alert #6: GTOptions is a Vile Unregulated Scam Broker
If you choose to trade with the Brooks Blueprint, they will tie you with the GTOptions broker. Now that's a huge problem because GTOptions is a shady unregulated broker and if you look closer you will be shocked how shamelessly they rip off their clients.
For example, try these complaints out and see what you think:

Here's another one:

One more:

See the pattern? They persuade you to invest bigger and bigger sums and when you do, their never-lose-a-trade software suddenly loses everything. Done! Finished!
Final Verdict
There are many more red alerts (like fake 'Featured on' and security badges, etc.) However, I think even these 6 red alerts described above make it plain clear – The Brooks Blueprint is a scam.
My Verdict: Steven Brooks and Brooks Blueprint are scams. Stay away! 
Much Safer Way to Make Legit Money Online
Whatever the reason might be why you want to make money online…
…Be it your financial freedom.. or more quality time with your kids and spouse.. or security in old age.. desire to travel the world.. more time for your hobbies or sports …
You know the "why." I can only confirm and encourage you – you are on the right track. Seriously!
YES! It is absolutely possible to make side money (or even a second income) online. AND it is possible to do it WITHOUT getting involved in high-risk Binary Options trading and other scams that deceive you into a major disaster.
Interested?
Here is, in my humble opinion, by far the most complete and newbie friendly program for creating a thriving internet business from home.
In fact, at first…
…I Had No Idea Whether This Would Work. But These Testimonials Are Proof.
If you want to learn making legit side-money online, this is the best thing you'll read today.
What About You?
First, thank you for taking time and reading my review. I hope you found the information that you were searching for. Also, I hope I could prove my case – The Brooks Blueprint is a scam.
What do you think – Is it a scam or not. Do you have any experience with it that you'd like to share? Please drop me a comment below.
Stay safe!
Egon Sarv (EgonSarvReviews.com)