Commission Drill claims to be able to show you a simple "rinse and repeat" strategy for making effective YouTube ads that will generate $100 or more every day. It's designed for existing affiliate marketers who aren't successful in generating targeted traffic for ClickBank and CPA (Cost-per-Action) commissions.
[Sidebar: If you are not interested in lower-end products, check out THIS instead! You're going to like this.]
Quick Review
Name: Commission Drill
Website: commissiondrill.com
Registered On: 2017-12-04
Founders: Ivana Bosnjak, Ram Rawat
Skill Level: newbie to intermediate to advanced
Price: $12
My Overall Rank: 5/10
My Verdict: Commission Drill earns a resounding shrug. It's not the worst, but you deserve better.
If you are interested…
…Here's a better ALTERNATIVE to Commission Drill that will help you create your own passive income online (even if you are a complete newbie). And these testimonials are proof.


It's FREE to get started, too (no credit card required). You'll like that part…
Full Review – What Is Commission Drill About
What is CommissionDrill.com
Commission Drill is a short 'Step-by-Step' Video Training + PDF' where you can watch over the shoulders of Ivana Bosnjak (the founder of Commission Drill) and copy all her money-making techniques and tactics.
Then (with the help of these techniques), you can produce your own high converting YouTube ads. These ads, of course, send razor-sharp targeted traffic to 'cannot fail' Clickbank and CPA offers to make you immediate cash online.
Promises
Let me list some of their promises:
$105.60 commissions – every single day
just 10 minutes of 'work' a day, which pointing, clicking, and following the Commission Drill instructions
No need for an existing website, or need to set one up
No technical expertise needed
No long, protracted courses
No need to find different sources of traffic
No need for your own products
No need to 'guess' which affiliate offers will make money
You do NOT need to spend a fortune on ads
No need to wait weeks or months to see the results
See! As always, the CommissionDrill.com site claims that anyone can do it, no skills or technical abilities are required, and, for a limited time only, you can get the $390 Commission Drill system for only $17.
But wait! Keep scrolling and clicking around and you see how its price drops:

Eventually, the price bottoms out somewhere around $12.
Why Not Use Commission Drill?
I know what you're thinking. It's only $12, so even if you only learn one thing, it may be worth it. But is it?
As I mentioned above, Commission Drill is the latest offering from Ivana Bosnjak:

It is quite a new venture, do you agree? The CommissionDrill.com domain was registered in December 2017 (according to the Whois.com website). Also, the Commission Drill promotional video has been uploaded just a month later (in January 2018).
And just like all of Ivana Bosjnak's other products, Commission Drill is using the exact same marketing strategy:
Design products aimed at the "make money online" demographic
Sell those products to existing affiliate marketers
Downsell to a very low price point
Ivana Bosnjak has several products that follow this exact model (Penny Click Explosion, Audience Drill, SociWiz, Giga Pro Launch, etc.).
It is a successful model for two main reasons:
All of the affiliates will give it rave reviews and promote it like crazy
The price point is so low that even if people aren't thrilled with the product, they don't complain much or ask for a refund.
Her courses all offer video lessons and pdf transcripts. For many people, the transcripts are necessary because Bosnjak has a European accent that can sometimes be difficult to understand.
Oddly, the transcripts don't always match the videos, which can also be slightly confusing.
Ivana Bosnjak's lessons are generally all about 2-5 minutes long, and there are typically 8-10 of them per course, liberally strewn with upsells and additional offers, all of which will get cheaper the more you refuse them.
It's not worthless training, however, if you want to learn specifically…
how to reduce your ad spend on Bing, or
use existing YouTube videos to make ads (rather than create your own video)
or whatever the specific subject is…
…Although some of her Facebook techniques don't work now. Because Facebook has toughened up its anti-spam measures and also improved its algorithms.
So while there usually are some nuggets of genuinely useful information in the Commission Drill lessons, the courses certainly don't merit the unbridled enthusiasm and rave reviews of the affiliates.
Instead, the low purchase price is intended to elicit the exact reaction you're having: a shrug, and "why not?" Followed by a purchase. And then another shrug after watching the course.
You obviously deserve better.
Is Commission Drill a Scam?
No, Commission Drill is not a scam. And it clearly is not a scam like this, this, and this.
The good thing here is that both Ivana Bosnjak and Ram Rawat are real persons. First, they are not fake characters. They are real, flesh and blood internet marketers and have left tons of digital footprint behind. And second, if they were outright scammers, they would have to go into hiding.
So Commission Drill is not a scam. It just doesn't have a lot of value. The primary lessons you can take away from it are:
How to make YouTube ads if you don't want to shoot your own video or appear on camera
How to use retargeting to reduce the cost of your YouTube ad spend
How to claim a $75 credit from Google AdWords
If you feel like taking a few minutes to search for that information yourself, it's easy enough to find independently. YouTube themselves has a very helpful tutorial on how to set up your first YouTube ad campaign within your AdWords dashboard, and it's not difficult to find the free stock video if you don't want to create your own.
And what about the $75 credit from Google AdWords that Commission Drill offers you: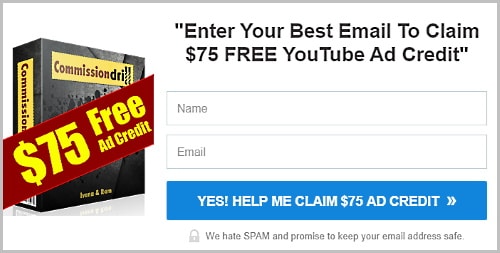 The fact is, every new Google AdWords account has a $75 credit (you just need to spend $25 in the first place):

You can find it here (Google Ads Help). Therefore, it's unclear why you would need to pay for internet marketing training to learn this.
What is the Commission Drill About?
If you think about it, it's actually pretty clever to package up some simple information into short videos, call it a training course, and sell it for a very low price. The reduced price has two significant effects:
It eases objections
At a higher price, people might think over the decision more, do more research, or have higher expectations. But the low cost of Commission Drill probably leads a lot of people to go ahead and sign up without a lot of scrutiny or second-guessing.
It reduces complaints
If you don't get much out of Commission Drill, you have to ask yourself something like, "Did I get $12 worth of training out of these videos?" If you're like most people, you'll probably decide that you did, or that the difference is so small it isn't worth complaining about or demanding a refund.
The low purchase price helps keep a steady stream of new customers and affiliates joining the network, because they have so little to lose, and because it's not entirely without value.
What if I Want to Buy Commission Drill Anyway?
If you have read the summary above, and still want to get Commission Drill anyway, check with a few different Commission Drill affiliates. The price does keep going down, so comparison shopping will get you the best deal.
Some affiliates have lower prices or better bonuses than others, to make Commission Drill a better and more valuable purchase. This is a rare instance where it's often the affiliates who are adding a lot of value to Commission Drill with their bonuses and insights.
Commission Drill Final Verdict
They offer Commission Drill at such a low price that it might be worth watching, particularly if you are camera-shy or don't know how to get started with YouTube advertising. And Commission Drill might also be a product where the affiliates really do add value: some Commission Drill affiliates add in their own bonus information and insights that give more value than the basic offering.
If you can deal with the upsells, and don't have very high expectations, Commission Drill is not a complete waste of time.
What if I could show you a real system you can use to put $1,200+ per month into your account, working from the comfort of your home…

…Would you be interested?

Yes, you need discipline. But the pain of discipline is far less than the pain of regret. Click here now.
Share Your Thoughts
Thank you for reading my article, What is Commission Drill About – Can It Live Up To Its Promise? I hope you found it useful.
Now that you have reached the end of the article, what are your thoughts on it? Is it worth buying it? Or do you have any experience with the product that you want to share?
Please let me know by dropping a comment below.