1st of May 2014 marked the 20th anniversary of Ayrton Senna's death.
He was an extraordinary sportsman and an extraordinary personality. He is considered to be one of the best (if not the very best) Formula 1 racer in history.
If you knew how to make $1200 a month online, from the comfort of your home, would you do the work?

…Well THIS is your chance


It's FREE to get started, too (no credit card required). You'll like that part…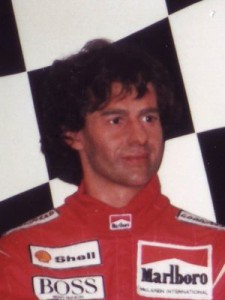 He participated on 161 F1 GPs, took 65 pole positions and 41 victories but then tragically died following a crash at Imola on May 1, 1994.
In this "Ayrton_Senna Quotes," I have collected a list of quotes that people have said about Ayrton Senna.
Why did I collect them here?
Simple. I have found them overwhelmingly inspiring. Even if you are not a racer but a blogger. Or whatever your niche is, you can learn from this Formula 1 legend.
Ayrton Senna Quotes – What People Say About Him
---
1. Pat Symonds (F1 engineer):
"There was one area at Dallas where just about everyone hit the wall. He hit it there too. When he got back to the pits, he said: 'I just cannot understand how I did that. I was taking it no differently than I had been before. The wall must have moved.'
"We thought: 'Yeah, right, sure the wall's moved.' He was very insistent on this, so after the race, we went out and had a look. The wall had moved. It was concrete blocks, and someone had clipped it, moved it, moved it just a few millimeters – and I mean just a few millimeters – and he had been judging it that perfectly." ayrton_senna quotes
---
2. Fernando Alonso (Two-time F1 World Champion):
"He was an inspiration."
"I remember I went to school, and in my book, I didn't have pictures of girls, but I had Ayrton there, and the same in my room. I had a big poster of Ayrton, and even my first go-karts were in the colors of Ayrton's McLaren because my father also liked him.
"He made a huge impression on my generation as the best driver and also clearly on all the people here today."
---
3. Lewis Hamilton (Two-time F1 World Champion):
"When I was a kid, I had all the books, all the videos … Ayrton was the driver I looked up to, way before I even started racing.
"He inspired me to be a driver …
"He is an incredible legend. You can still learn things from how he approached racing and how he drove. You like to think that one day you may be recognized as someone that was able to drive similarly to him."
"He had the rare quality of greatness. A lot of the way I drive today is inspired by the way I saw him drive."
"He was also such a magnetic personality. I particularly loved his vulnerability and his openness. I only met him once, the year before he died, but it left a lasting impression on me. As a kid, you see these people, and you think they're super-heroes. But everyone has weaknesses. And for all Senna's brilliance and achievements, so did he.
"It was fascinating how he overcame those, and how he was able to talk so eloquently about what he did, including the dangers involved. I was also impressed by how open he was about his relationship with God and his beliefs.
---
4. Sir Frank Williams (Founder of Williams F1 team, was Senna's team principal in 1994):
"My abiding memory of Ayrton is not his world-class ability as a racing driver but as an intellectually unbeatable businessman. Throughout the several meetings that took place between me and Ayrton regarding his joining Willams, it became apparent that he arrived for each and every meeting fully prepared on every point for discussion.
"He had prepared in his mind at least three counter moves to every possible counter move by myself. He was gifted with a propensity for extraordinarily clear thinking and an outstanding ability to out-guess, out-think, and out-maneuver his business opponent."
"Ayrton knew what he wanted, and he knew of the various people inside the company who could deliver, and he went after those guys and got them onside."
---
5. Bernie Ecclestone (Formula 1 Boss):
"The trouble with asking for good memories of Ayrton is that I do not have any bad ones. Perhaps my very vivid memories are of his strong opinion, and most of the time, he was right."
---
6. Adrian Newey (Formula 1 engineer):
"There was an aura about him, something that's difficult to describe. He most certainly had a presence.
"Ayrton's raw talent and determination… he tried to carry that car (1994 Williams F1 car) and make it do things it really wasn't capable of.
"And it just seems such a shame and so unfair he was in that position. And then, of course, by the time we did get the car sorted, he wasn't with us any longer."
---
7. Professor Sid Watkins (Former F1 Medical Doctor and F1 Safety Pioneer):
"He had an inner peace."
"This man right on the very edge, just doing something better than anyone else had ever done before. And doing it day after day, keeping that edge."
---
8. Keith Sutton (Formula 1 photographer):
"Without a doubt, he was very special."
"More than anything, he was so focused on what he wanted to do – determined. If you are like that, you can get there."
"He was so determined; he knew exactly what he wanted and where he was going."
---
9. Jackie Stewart (Former F1 World Champion):
"Ayrton Senna said he'd never speak to me again after I accused him of crashing into Alain Prost to win the title.
"A year had passed since our interview, and I was in Australia for the Grand Prix when Senna called me. He was a deeply religious man, and he said: "Look. I am phoning to apologize because I do now admit that I did take Prost off the road intentionally, and God won't allow me to live this lie. I am going to announce it to the media tonight, but I want you to be the first to know".
---
10. Bruno Senna (Former F1 racer and Ayrton's nephew):
"Ayrton was definitely very determined on the track. He wouldn't let anything get in his way, let's put it like that. He knew he had the ability, the opportunity, and that he wanted it more than the other guys. That explains why he was always on the edge, why he was so committed to keeping pushing, and why he was so successful. That was his personality."
"Ayrton touched so many people's lives in so many different ways – racing fans with his genius in the race car and non-racing fans with his character and charisma.
"It is sad to not have him here, but we look on it as a celebration of what he has left for people."
"Ayrton touched so many people's lives in so many different ways – racing fans with his genius in the car, and non-racing fans with his character and charisma.
---
11. Nigel Mansell (Former F1 World Champion):
"Ayrton was our toughest rival.
"He would leave no stone unturned to get the utmost out of his car and his team.
"In the 1980s, I was blessed to drive against so many great drivers, but Ayrton certainly stood out most among them."
"In the beginning, we were great enemies. He wanted to win at all cost with everybody, so we knocked heads quite a lot."
"Ayrton could intimidate pretty much every driver on the grid, but he realized then I would not cave in, and he would have to readdress his psyche towards me,"
"We went on to have many incredible races, where we didn't knock each other off. It was just good, hard, clean racing.
"And as the years ticked on, we developed a healthy respect and understanding for each other."
---
12. Damon Hill (Former F1 World Champion, Senna's team-mate in 1994):
"The Japanese and the Brazilians saw him as a god. His passion was undeniable, and I sincerely believe he wanted to make the world a better place."
---
13. Ron Dennis (Founder of McLaren F1 team, Senna's team principal when the Brazilian won his world titles in 1988, 1990, and 1991):
"He lived for the sport. When people do that, they sacrifice everything to be the best at it.
"He understood what was needed. He had the fitness, the right mental approach, the right skills, and the right level of passion."
and became friends."
"He had immense brainpower, charm, charisma, and determination,"
"I think it's because he was so good for the whole time he was on the planet. I can see no positives from the fact that he had an accident and lost his life, but it means that you didn't see his decline. There are lots of drivers that stay in the sport too long and tarnish their greatness," he said.
"I also think he's remembered because he was just so unbelievably competitive. He was great, but he had good human values. He had a few lapses in his life, but he was incredibly principled. And he was a good human being."
---
14. Luca di Montezemolo (Former Ferrari boss):
"I always appreciated Ayrton's style of racing. As with all great champions, he had an incredible will to win and never tired of seeking perfection, trying to improve all the time. He was extraordinary in qualifying, but also a great battler in the races when he always fought tooth and nail".
---
15. Emerson Fittipaldi (Brazil's two-time F1 world champion):
"Ayrton transcended the state of the mere driver and reached a level of respect and envy that puts him on a higher plain than any of his rivals,"
---
16. Tatiana Cunha (of the Folha de Sao Paolo newspaper from Senna's home town):
"He represented a Brazil that could win in a time when Brazil wasn't good economically, and football wasn't doing well.
We always felt that we were the underdogs of the world, and Senna made us feel different. He made us feel we could win and that we could believe in ourselves."
---
17. Simon Barnes (The Times):
"His ambition was never a matter of mere victory. He set his sights far higher than that. Formula One drivers are a rarified breed, but among them, there has never been an individual quite so far from the common run as Senna."
"Motor racing is a sport and is, therefore, a business that has its basis in frivolity," Barnes concludes. "But Senna was not chasing anything as frivolous as glory. He was in pursuit of something that nobody else even knew was there."
---
"Senna was not a savior of souls, a healer of the sick, a champion of civil rights like those mentioned, but he offered up hope and was an inspiration to a nation for whom the overwhelming majority, in their slums and favelas, could only dare to dream of emulating their hero.
"Part of Senna's mystique was his devotion and connection to God, his religious beliefs, his quest to seek answers in the Bible, which many of a secular persuasion could not understand.
"One of Senna's oft-repeated quotes is the line "If you have God on your side, everything becomes clear."
"On the track, Senna was undoubtedly a genius, his will to win second to none, his desire to push to the limit and then to try to go beyond that almost frightening, underlined by his unnerving rivalry with Alain Prost."
---
You may also want to visit the Ayrton Senna Official Website.
Imagine for looking for legit work-from-home opportunities and finding THIS when you go inside… WOW


Best place to start is always one that doesn't cost you a cent, too. Just click here right now.

Credits
http://www.independent.co.uk/sport/motor-racing/ayrton-senna-mahatma-gandhi-mother-theresa-dalai-lama-nelson-mandela-and-senna–how-a-racing-diver-gained-near-demigod-status-to-the-people-of-brazil-9307942.html

http://www.dailymail.co.uk/sport/formulaone/article-2616036/JACKIE-STEWART-Ayrton-Senna-said-hed-never-speak-I-accused-deliberately-crashing-Alain-Prost.html

http://www.theguardian.com/sport/2014/apr/30/ayrton-senna-photographer-keith-sutton-f1

http://news.xinhuanet.com/english/sports/2014-05/02/c_133304899.htm

http://www.lewishamilton.com/post/senna-hero/

http://www.telegraph.co.uk/sport/motorsport/formulaone/10801295/Ayrton-Senna-would-have-won-far-more-world-titles-had-he-not-died-at-Imola-insists-nephew-Bruno-Senna.html

http://www.bbc.com/sport/0/formula1/27204026

http://www.jamesallenonf1.com/2014/05/senna-memorial-event-report-a-very-special-day-draws-big-crowd-in-imola/

http://www.huffingtonpost.co.uk/2014/04/30/ayrton-senna-ferrari_n_5239497.html