HAVE YOU heard about people making money online, making money off their website, making money off their blog, etc.?
These stories are everywhere.
But if you've started a website or blog, and are seeing a trickle of a few hits a month, you may be wondering how exactly a free website makes money online. How DO free websites make money, to begin with?
The truth is, there are lots of ways for a free website to earn money. Below I will list just a few.
If you knew how to make $1200 a month online, from the comfort of your home, would you do the work?

…Well THIS is your chance

It's FREE to get started, too (no credit card required). You'll like that part…
How Do Free Websites Make Money Online
1. Advertisements
There are several networks that will pay you to place ads on your free website or blog.
…The most common of these is Google AdSense. 
For example, this is how Google Adsense In-article ad looks like:
That being said, most of the advertising networks will pay you only a few pennies every time someone clicks the ad on your website. As you can imagine, if your site only has a few visitors, and they don't visit your advertisers, you don't make much money in this way:

The earnings in the image above are in Euros, but you get the picture, right? With only a little traffic to your website, your Adsense earnings will be insignificant.
However, if you have a popular site and your visitors are interested in the products advertised, you can earn a steady stream of income just by allowing ads to be run on your corner of the internet.
2. Commissions
A lot of free websites earn money online through commissions.
Here's how it goes:
You create content on your website recommending products, and when your visitors purchase those products, you earn a percentage of the sale.
It is also called Affiliate Marketing. Basically, affiliate marketing works like this:
The first step is to create a specific niche website. A niche is a group of people who share the same interest. Thus, the niche can be fishing, hunting, healthcare, kite surfing, faith, remote-controlled toy cars, jewelry, sports clothing…
…There are thousands of niches you can choose from.
For example, each Amazon.com department (and sub-department) is a niche. Some niches are broader, others narrower but all of them are niches: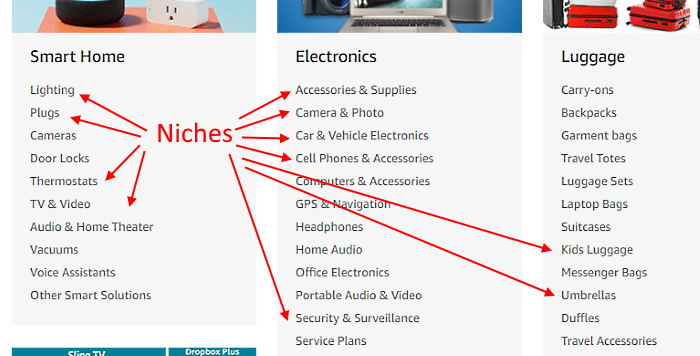 [Side note: The best way to choose a niche is to follow your passion. What sets your soul on fire?  Here's an excellent article on how to select a blog niche.]
Make your FREE blog now …In 4 simple steps and under 3 minutes… (a step-by-step tutorial included) 
Once you have found your passion and created your niche website, then…
…The second step is to create quality content for your niche. The purpose of content is to drive people to your newly built niche website. Remember, you target your niche only – a very specific group of people who share the same interest.
What is that quality content? Well… Articles, product reviews, how-to tutorials, Youtube videos, podcasts, etc. 
The third step is to direct your visitors onward to a second site (like Amazon), where they can buy those products or services that you recommended in your content.
When they go and buy, that other site will reward you (will pay you a commission for their purchase).
Thus, Affiliate Marketing is 100% a legitimate way to make money online. In fact, millions of people earn substantial amounts of money that way.
And there are thousands of companies that offer affiliate programs.
…The most famous of these is the Amazon Affiliate program (Amazon Associates program). You can also find it when you navigate to the Amazon.com website, then scroll right to the bottom of the page:

The good news with the Amazon Affiliate program is that the giant e-commerce marketplace has almost an infinite list of products. That fact alone makes it easy to write reviews, recipes, guides, and information that feature Amazon products…
…And then earn a percentage reward when people take your recommendations.
In more detail: Learn how to make money with Affiliate Marketing.
To sum it up: As with advertising, it helps to have a lot of visitors to your site. And of course, it also helps if you have a reputation or expertise that makes your recommendations more valuable and responsive.
3. Selling a Product
It's easy to think that "product" means you need to invent, manufacture, or distribute something…
…And you can always do that online if that's what you want to do.
But you can also sell intangible (=abstract), knowledge-based products, like guides, e-books, lessons, and information.
Again, if you have a good reputation and the expertise that people find valuable, then it's not very difficult to develop virtual "products" that people want to buy.
These are just some of the ways that free websites make money.
And if you're paying attention, you'll note that most successful websites don't do just one of those things: They do several of them together.
That being said, the people who are making the most money with free websites are earning commissions through Affiliate Marketing. 
What's the Bottom Line?
As you can see, no matter how you choose to make money from a free website, there are a few things that you will always need to be successful.
1. Traffic
You need traffic. It is crucial that people visit your website. And that usually in large numbers. Because, if nobody visits your site, then who is going to read your excellent content?
And remember, your visitors are also your potential customers. No visitors, no customers. No customers, no income.
So how do you generate traffic to your website?
There are lots of ways to do that, including:
 search engine optimization (SEO)
search engine advertising
social media participation
content marketing
email marketing (EM)
Truth be told, getting visitors to a website is an art and a science, and it's crucial for earning money online.
2. Persuasion Skills
If you are dead serious about making money online, then you need to get at least some persuasion skills into your toolbox ASAP.
Because once you have someone's attention, how are you going to persuade him to buy your products (or someone else's)?
There are a variety of sales techniques, including
bonus offers
discounts
creating persuasive content
reviewing pertinent features
offering free trials
crafting a perfect call to action
building a good reputation
money-back guarantee
etc., etc., etc.
Even just streamlining your e-commerce pipeline to make it as easy as possible for people to complete the transaction can all help you turn website visitors into buyers.
3. Follow-up And Consistency
It is a proven fact that the person who bought something from you once is the person most likely to buy again. Why? Because it has been proved that it is 4x (four times!) easier to sell a person who has at least once bought from you than to a stranger.
Therefore, find a way to:
recognize and reward people you are doing business with
encourage them to purchase again
encourage them to purchase a related item
encourage them to share positive experiences with their friends.
The top-notch marketers always say it costs more to get a new customer than it does to keep an existing customer, and it's true. Therefore, if your blog posts are generating traffic and sales, blog regularly so you can build a loyal audience.
And if your visitors are particularly interested in a type of product or service, tailor your content toward their needs.
4. Willingness to Work Hard
The truth is, free websites make money online every day. And anyone can do it if they have the right attitude and are willing to work hard.
Remember, there is no secret or trick or magic wand that will help you instantly make Big Bucks online. It takes time and hard work to build up your passive income stream. Especially if you have to build it from scratch with no previous experience under your belt.
But hey, it is absolutely possible!
5. Perseverance
Just like any profession, it takes time to learn all the skills that will help you make income with no investment. Yes, it can be daunting and frustrating.
But again, it is possible. Yes, it is possible.
Once you have found a way to build your own business, with the freedom to be your own boss, to travel, and to earn money for yourself, working online can be incredibly rewarding. That's why it is 100% worth trying.
Even better…
…You don't have to invest any money upfront. With just your time and dedication, you can make a whole new life for yourself. You have nothing to lose and everything to gain.
If you can write, here is an amazing opportunity on how you, by writing, can create your own passive income stream online (which will serve you for years).

Don't wait for the right moment to take the bull by the horns. It never arrives. Start whenever. Now.
What About You?
Thank you for reading my article, "How Do Free Websites Make Money…" I hope you found it helpful. What other ways do you know to make money with free websites? Please share by dropping a comment below.