HERE'S their promise:
"Could you use an extra $5,700 in your bank account by the end of today? Would that help out? How about over one million dollars in less than 6 months from now?" (Steven Abrahams, alleged founder of the Tesler App)
Promises like these are clearly attractive, aren't they? There is a question though, "Is the Tesler App a scam?"
And what is Tesler App to begin with? Is it safe enough to trust your money to them?
Below, in my detailed Tesler App review I am going to answer these (and other related) questions . It is very important that you read the review until the end – before you are going to sign up and poor your hard earned cash into their system.
[Sidebar: If you are not interested in scams, check out THIS instead! You're gonna like this.]
Quick Review

Name: Tesler App / Tesler Trading System (Tesler Investments)
Tesler App login page: teslerapp.com
Niche: Binary Options trading
Price: Software free, minimum required deposit $250 (expect to invest way bigger sums)
Alleged Founder: Steven Abrahams
Skill level: Novice (wrong claim)
My Overall Rank: 0 out of 10
My Verdict: Tesler App is a 100% scam and rip off scheme. Keep clear!
Better ALTERNATIVE to the Tesler App scam that will help you make $1200+ a month online. And these testimonials are proof.


At any rate… it works. Wanna know what it is? Just click here now.

Listen! If you are looking ways to make money online and don't want to get mugged…
…Do not dance with shady Binary Options.
Why?
Because Binary Options trading is a high-risk business opportunity which is NOT suitable for the ordinary Joe and Jane. If you want to trade Binary Options, you must be prepared to lose all of your investments.
Seriously? Yes, very seriously!
Therefore, what I recommend is, take a completely different (and financially safe) route. Click here to see my #1 preference (Yes, I am using it).
At first, it looks like a normal training. But look closer… It's simply brilliant. And it won't cost you a bean to find out if it can help you. 
Want to know what it is? Just click here now.
If you want to learn making legitimate side-money online, this is the best thing you'll read today.
Full Review – Is The Tesler App a Scam?
As I already told above (and will prove it below), the whole Tesler Trading System (including its founder and CEO Steven Abrahams) is a scam and rip off scheme.
Its narrative is fabricated; paid actors, stock photos and other dirty tricks are used to sell you dreams and persuade you to subscribe with their nasty rip off system.
Therefore it's meaningless to go too much into details (because why on Earth waste your time on studying obvious lies?)
But to give you a picture of what these con-artists claim the Tesler App to be, let me give you a short overview of it.
Here we go:
Who Is Steven Abrahams?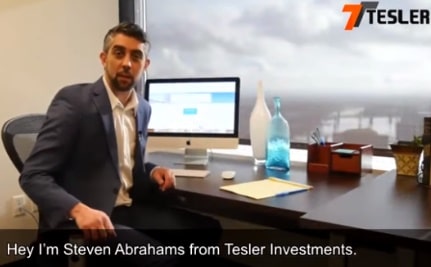 Based on their script, Steven Abrahams is a filthy rich Wall Street shark (his nickname in Wall Street is Mr. Midas) and the founder of the Tesler App trading software. He is the CEO and owner of Tesler Investments and his wealth is in excess of $384 million.
And guess what? Because he is such a good and generous guy, he loves to share his wealth with the needy and to give to Charities around the world.
Now, he wants to turn you into a millionaire and that's why he is offering you his Tesler trading software, free.
What is the Tesler App?
In short, the Tesler App (or Tesler Trading System) is a binary options trading robot which is linked to David Brooks broker (Note! Cannot find any information on that broker!) In other words, Tesler App is a software which allows you to trade binary options. Because it has manual and full auto modes, you can either trade yourself, or let the system do all the trading for you.
If you set the app to 'trade,' it will generate at least $5700 each and every day (or $1 million over the next 181 days). GUARANTEED!
Because, according to Steven Abrahams, the Tesler App is so fool-proof that it is mathematically impossible to lose money.
How to Make Money With the Tesler App?
First, the free part – the software part:
Complete the sign up procedure
Download the Tesler App
Set the Tesler App to 'trade'
Second, the part that requires your credit card:
Create a brand new trading account with David Brooks broker.
Fund your newly created account with minimum $250
Start trading.
The first problem here is that before you can start downloading the app, you must give them your phone number. That's a huge problem because (and I have been there before) their high-pressure sales people start calling you while trying to persuade you to invest bigger and bigger sums into the system.
That's how they turn unaware day traders into their milking cows.
The second huge problem is that because they link you to a shady unregulated offshore broker, you cannot withdraw your deposits. Even worse, you have nobody to complain. Thus, expect to lose all your investments.
OK, let me prove now that the Tesler App is a scam.
6 Proofs That Tesler App Is a Scam
Red Flag #1: Fake Steven Abrahams
Steven Abrahams claims that he is a well-known Wall Street trader (known by a nickname Mr. Midas). Also, that he is featured by World Finance, Forbes magazine, Bloomberg, etc.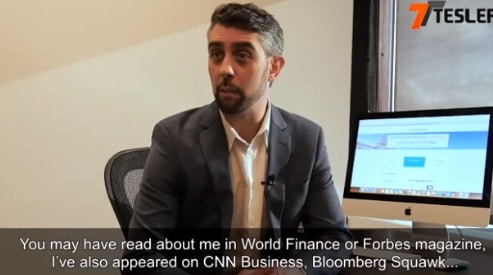 However, research as much and as deep as you like, you find no traces of that. Zero. Nil. Nada.
This guy just does NOT exist. He's a fabricated character, played by some cheap actor. Like other fake founders of different Binary Options scams: Andrew Reynolds, Jeku Pertu, Todd Salerno, Michael Watson, Mark Bromovich, Timothy Hollingdale, etc., etc., etc.
Tired of scams? Here's something you can do, at home and at your own pace, to make $1200+ a month online. Legit!


Finding out more costs nothing. And you're not committing to anything else.
Red Flag #2: The Tesler App and Rio Profits are Clones
There is another Binary Option trading scam called Rio Profits. And surprise-surprise, these two are, in fact, identical.
Just look at their home pages: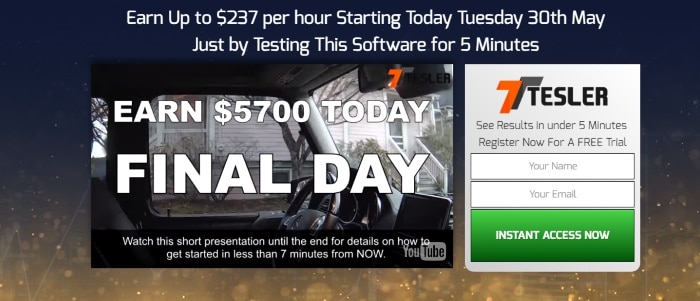 Not only are the home pages identical. The fake testimonials, sign-up forms, Risk Disclaimer pages, etc., all are identical.
Now, according to Whois, Tesler App was launched first: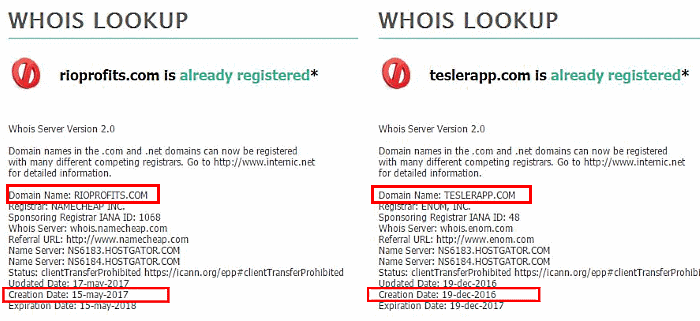 Half a year later, the cyber criminals behind the Tesler App probably just cloned the whole thing and named their new baby Rio Profits.
Which brings me to the next red flag:
Red Flag #3: Fake Testimonials
As I mentioned above, the testimonials in both websites are identical. And, of course, they are faked (I will show you why):
OK. Let me show why they're fake.
First, let's take the very first photo (the young lady with glasses). This image is taken from the Longevity Photography blog:
See! It has nothing to do with Tesler App and Binary Options.
Next, this is sweet:
Red Flag #4: Fake First Testers Jane and Matt
In the middle of the video, Steven Abrahams says that one of the very first testers of the Tesler App were Jane from Wisconsin (a cleaner at McDonlads) and Matt from New York (a taxi driver):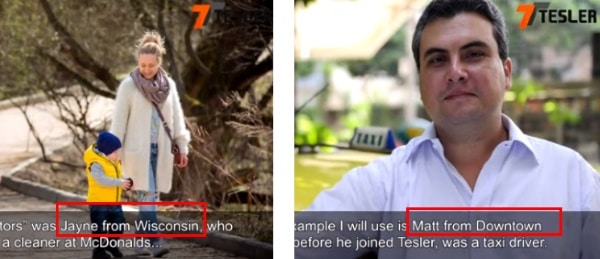 As you might suspect by now, both photos are random, though, and downloaded from the internet: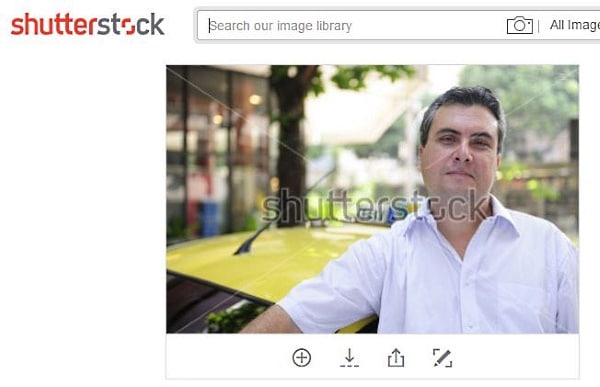 Matt's photo, for example, is taken from ShutterStock.
Red Flag #5: A False Sense of Urgency
A sense of urgency is one of the most common sales tactics that, in fact, works usually extremely well. Its goal is to create a sense of urgency in the brain of potential customers. It's like, "Hey! The offer is there only for a limited time and if you want to get it, you must act at once. Or you will miss your chance for good."
Nothing wrong in it. All businesses do that.
However, the Tesler App is faking their urgency factor. Look at the image below and notice the 'Live Update' message! What does that mean?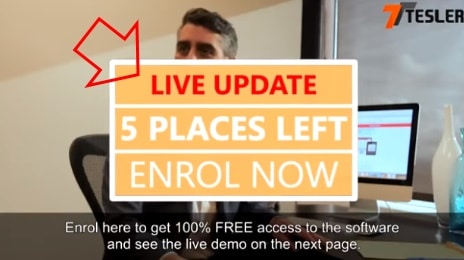 Simple! The whole thing is live, right?
Now look at this: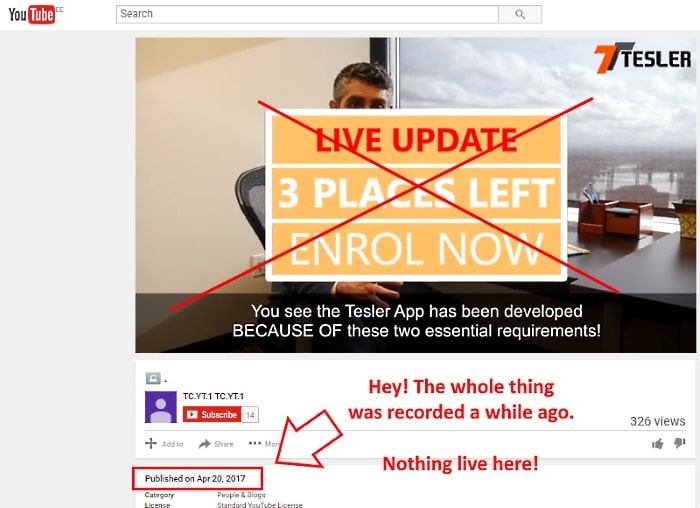 It means, these 9 free places, 7 places, 5 places, or 3 places were there last month, last week, yesterday. And they will be there tomorrow and next week and month as well.
Honestly, I am sick of them shoving lies down the throats of innocent people.
Red Flag #6: No Rio Profits App for Mobile Devices
This is yet another disgusting lie in their tool-box. Look at the image below: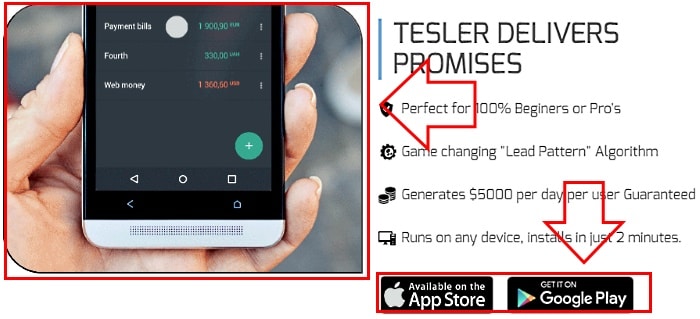 What do you see here? A perfect Tesler App solution for mobile devices, right? Also, that you can download it from the Appstore and GooglePlay.
However, it's far from truth.
The truth is,
The image is freely downloadable here.
The AppStore and GooglePlay buttons will link you to the Tesler App signup page.
Final Verdict
There are many more red alerts and my article would become twice as long if I wanted to describe all of them.
I hope that I already have made my point and proved beyond doubt that the Tesler App is a scam. The only things they offer you are lies, lies, and more lies.
How on Earth can you trust system like that? No, you cannot!
Verdict:  The Tesler App is a SCAM and a wicked rip off scheme. Please do NOT deposit any money into their devilish system!!!
Truth be told, words fail me to express my total disgust with the people behind the Tesler App scam.
Imagine for looking for legit work-from-home opportunities and finding THIS when you go inside… WOW


Yes, the raw, sizzling beauty of passive income stream online… Just click here now. Sometimes 'later' becomes 'never .'
What About You?
Now that you have read the the Tesler App Scam Review, what are your thoughts about it?
Is the The Tesler App a scam or legit?
Please leave your thoughts into the comment section below.