Is Triana Software a scam or legit? Is Trianasoft safe to begin with? And if it is safe, can I make money with Trianasoft?
These and other similar questions beg for answers, don't they? After all, that's the hard-earned cash that you plan to invest. Therefore, you cannot take it lightly.
So, is the Triana Software a Scam or Legit? Let's dive right into the details and find out.
[Side note: If you are not interested in scams, check out THIS instead! You're going to like this.]
Quick Summary
Name: Trianasoft App
Website: trianasoft.net
Author: Michael Wedmore (founder, CEO, president) David Campbell
Niche: Binary Options Trading
Price: $250 – required minimum
Skill level: Beginner (no computer or trading skills needed)
My Overall Rank: 10 out of 100
Final Verdict: SCAM! Keep away from it. Use this if you want to make a legit income online.
Better ALTERNATIVE to Empower Network that will help you make $1200+ a month online. And these testimonials are proof.


It's FREE to get started, too (no credit card required). You'll like that part…
Is Triana Software a Scam – Full Review
Michael Wedmore launched his baby – Trianasoft – in March 2016. So, it's a brand new product. With this in mind, you have to be extra cautious because it does not have any track record.
But Michael Wedmore did not do it alone. He teamed up with David Campell, and they together developed a new binary options trading robot, unseen to the world before. With a full auto-trade mode and a winning rate of 92%, the riches of the world are finally within your reach.
However, there is a catch – you have to act at once. Because tomorrow the door might be closed already.
Let's get to know the unique baby of Michael&David. And, let's start with the founders of that extraordinary trading robot.
Michael Wedmore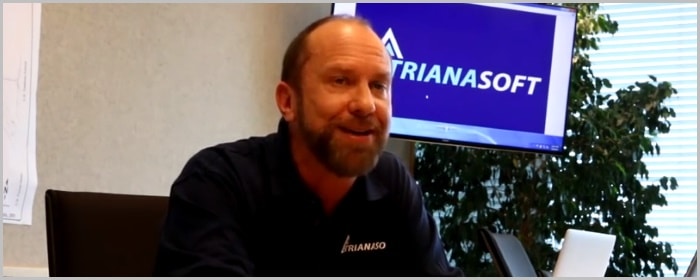 Unfortunately, he does not tell us much. And he has left no traces behind that would confirm his words. So, you trust him or not.
In the past, Michael Wedmore was on a salaried job and worked as a hedge fund manager. However, in 2013, he chose to walk away from his career and start his entrepreneurship. Why? In his words, "I wanted to raise my daughter outside of Manhattan and to do something different." That's when he started the Trianasoft Corporation. And that's when he teamed up with David Campbell.
And that's all he tells you about himself.
David Campbell
Michael Wedmore introduces David Campbell as one of the brightest minds in the world. Also, he calls him a genius.
At Trianasoft, David Campbell is the head of the research and development department. He claims to have never been a trader himself. Instead, David is a mathematician. He handpicked all the mathematicians, programmers, and coders with whom they developed the Triana Software trading program.
Now, his baby software generates him millions of dollars.
The Main Idea Behind TrianaSoft Binary Options
Why was Trianasoft created? According to Michael Wedmore's words, "To make a lot of money."
According to David Campbell, the Trianasoft trading program bases on "The Butterfly Effect" –  a concept that small causes can have significant effects.
Long story short, David and his team developed a program which, using the Butterfly Effect, can trade successfully with a winning rate of 92%. Wow!
So they give you two options – either you want to trade (manual mode), or you can set Trianasoft on the "Auto Trade" mode. Then, the software starts trading for you. In the second case, you don't need to do ANYTHING.
Impressive, isn't it?
Wait. There's way more to come.
Lucrative Trianasoft Promises
Instant profit – Setup in 10 minutes, profit in 20 minutes.
In the beginning, you can make from $500 to $600 per day. Later, you will earn from $5,000 to $10,000 per day.
Neither computer skills nor trading experience required.
You don't have to research complex data – According to Trianasoft, their software is a genius, which does everything.
They have their "magic "Auto Trading" setting that does all the job. It means that "after the initial 15 to 20 minutes to set up your new accounts and to customize your trading preferences, virtually no time is required on your part."
You can access your web-based TrianaSoft account from anywhere on any device (PCs, tablets, or smartphones).
With Trianasoft, "you'll be winning roughly 92% of all your trades."
Your money is VERY safe with Trianasoft. And, the rare but occasional loss will never be a significant setback.
"$250 to $500 per day in the early stages could grow into several thousand dollars a day." Note! Pay attention to the phrase "could grow" (not, "will grow"). Therefore, be careful!
Price?
The signup process is free, indeed. Then, the initial down payment is $250. This sum is needed to open your account with Trianasoft. They use your $250 for trading.
However, they highly recommend you to invest much more significant sums into their system. The bait, of course, is the fortune that Trianasoft will be going to generate you. Of course, you can reach your goals with the initial $250, but it takes ages in that case. Therefore, they pitch you to fund your account with way more significant sums.
All this to make you super-duper rich quickly.
10 Signs That Prove – Trianasoft Is a Scam
By now, the Triana Software looks quite impressive, doesn't it? The big trouble here is some bright-red warning signs that I have stumbled upon. These should make you super suspicious. Therefore, take these warning signs seriously. After all, this is your money, and I don't want you to lose it.
Let's go through these signs and see if they make you.
Warning Sign #1: It Smells Like a "Get Quick Rich" Scheme
Let me tell you; there are tons of "Get Quick Rich" schemes on the Internet. Mostly, they're all scams designed to get your money and leave you hanging. Trust NONE of them.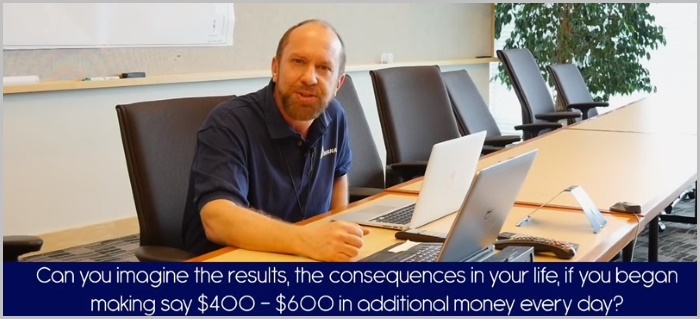 Making money online or offline is no different in that respect. Whether you want to build up an online business or offline business – Hey! You still need a great deal of commitment, time, energy, hard work, and perseverance. There are no shortcuts.
Anyone that tries to convince you otherwise is just not honest with you.
And here you have the Triana Software, which is an outright "Get Quick Rich" product. Don't buy into all this nonsense. The money you will invest in their system, you will probably never see again. Sad, but in most cases, accurate.
Tired of scams? Here's something you can do, at home and at your own pace, to create your own passive income stream online

Do it now. Sometimes 'later' becomes 'never.'
Warning Sign #2: Michael Wedmore – a Fake Person.
It seems this Michael Wedmore does not exist. It is a fictitious character played by some local actors.
Why do I think so?
The answer is simple. Traces. Or, rather – no traces.
Michael Wedmore – the CEO and the president of a million-dollar corporation, has NO traces on the Internet. Does he have a Facebook page – No. A Twitter account – No. LinkedIn or Pinterest accounts – No.
Nothing.
Try Google Image Search. You will find nothing except those pages connected to Trianasoft.
Warning Sign #3: David Campbell Is a Fake Quantitative Analyst.
In the Trianasoft promotional video, David Campbell introduces himself as a mathematician. Also, he introduces himself as a quantitative analyst. Now, this strange profession should give you the impression that Mr. Campbell is a real high-level scientist. He lives so high above YOUR world that it would be foolish to question his techniques and methods.
Listen to him a minute or two, and you see this guy has never been a scientist. Neither his language nor vocabulary is scientific.
But, ok, let's do some research. After all, that David is "one of the top brains" in the world.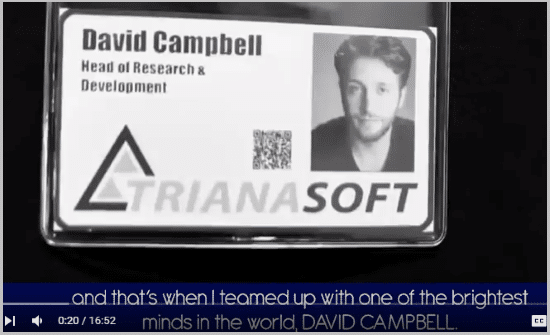 Good, by now, I have done my research.
And guess what? You find NOTHING about that uber-intellectual David Campbell.
Here, for example, is the list of top quantitative analysts in the world. Maybe he is here?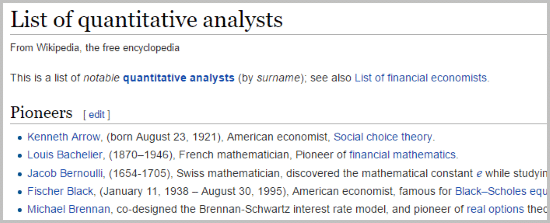 You will not find David Campbell here. Nor anywhere else.
Just for an example, let's take one of the names from the list above – Paul Wilmott. Go ahead and google his name. Immediately, you will find his bio, his scientific accomplishments, publications, books he has written, etc.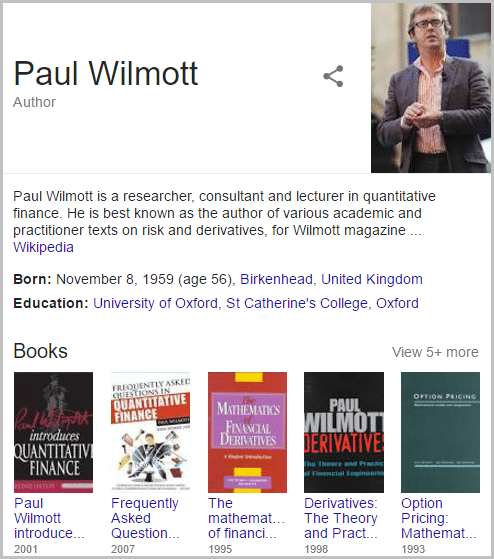 Can you find something similar to David Campbell?
Nothing. NOTHING at all!
Sometimes, people don't understand (or don't think) that one cannot become a top scientist without leaving traces behind — especially today – in the world of the Internet and Social Media.
For a Ph.D., you have to study-work-research in a respected university. You have to be a scholar, attend conferences, publish several articles in scientific magazines etc., etc.
All these things leave traces behind.
However, you find nothing about David Campbell. NOTHING. He is a hoax. He is an actor trying to get you to join their high-end binary scam product.
Warning Sign #4: TrianaSoft, Citidel, and Tauribot Have the Same Software
Michael Wedmore and David Campbell claim their Triana Software is unique – there is nothing similar in the world.
Now, listen. There's nothing unique in Trianasoft. Binaryscamalerts writes in their scam review:
"It is exactly the same trash code the con-artists from Citidel and Tauribot used to trick and cheat innocent victims. They even use the same fake social widgets that rotate up and down. Its the same people rehashing the same stupid sentences in a boring and repetitious manner. This social profile feed was also used in the Altronix Trading App, another sub-standard auto-trader with hyped up results."
Trianasoft App, Citidel App, Tauribot App, and Altronix Trading – all four have the same software. Only Tauribot and Altronix have different color themes.
See yourself (notice the highlighted parts):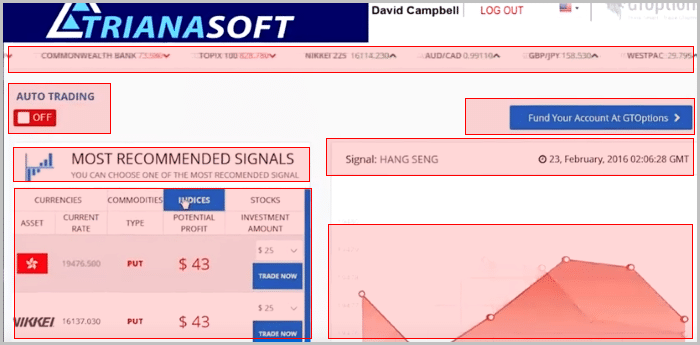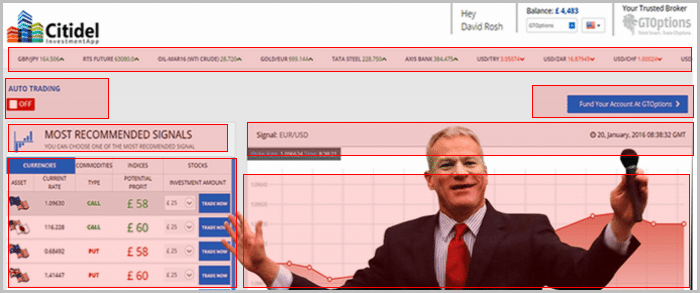 Warning Sign #5: Fake Testimonials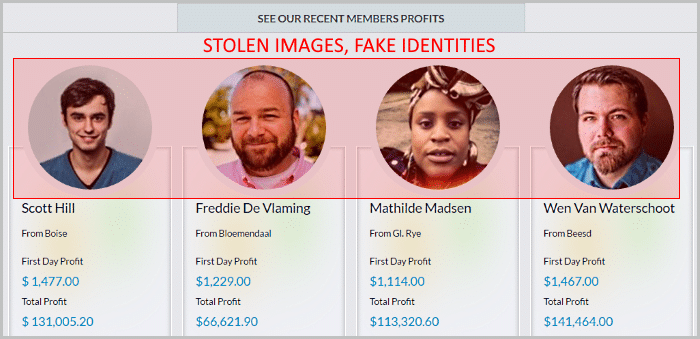 All the testimonials or "Recent members' profits" on the Triana Software login page are fake. The photos are stolen from the Internet. And the profits… Well, these are just random numbers, nothing else.
Let me prove it to you:
Let's take that Mathilde Madsen from Gl. Rye, Denmark, for example.
I run a Google Images Search with her face photo.
Mhm… Wow! This particular lady is, in fact, Raquel Wilson. She is from Dakar, Senegal. Her Twitter account is here: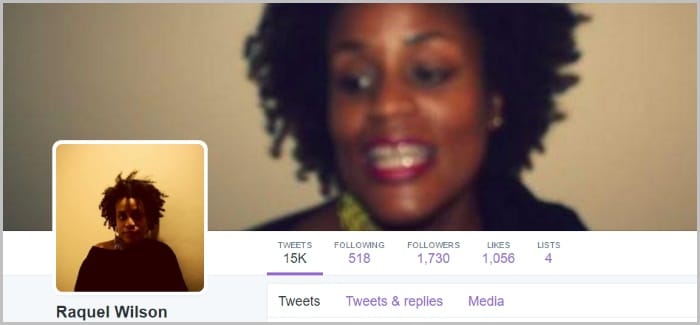 Her youtube page is here:

Same photo, isn't it?
You see how easy it is to steal photos and create fake identities.
Warning Sign #6: Contradictions between Michael-David Words and the Trianasoft Disclaimer

What Michael Wedmore claims:
"It's always been a dream of mine to enable real, average people to trade and profit in the markets."
What David Campbell claims:
With Trianasoft "Trading has never been easier or more profitable!"
After all, remember, with Trianasoft, NO trading experience required, NO computer skills needed. Trianasoft software is a genius and does EVERYTHING for you. And the winning rate is 92%.
But…
Here's what Trianasoft Disclaimer says:
"Investing in financial instruments involves a high degree of risk and may not be suitable for all investors."
Hey! Somebody is lying here.
Warning #7: Michael Wedmore Does Not Want Your Money?
Of course, he does. This, by the way, is the same claim that Walter Green says in his Millionaire Blueprint scam video.
See. To get you in, the scammers try to convince you that they don't need your money. But the very minute you are in, they pitch you to fund your account with thousands of dollars.

I have a firsthand experience of what that means. These con masters just don't leave you alone.
Warning Sign #8: Only 1334 Youtube Viewers

Think about it. The Triana soft people have a "tremendous money machine" – a binary options robot that makes you filthy-rich super fast, and they have only 1334 viewers up until now.
Does it sound like a reliable product?
Not to me.
Warning Sign #9: Fake Urgency
As always, they make you feel there is great urgency to act at once. So, what's the bait?
The Trianasoft is a brand new product and still needs some help from beta testers. After that, Michael Wedmore will price the product at a whopping $10,000 for a subscription.

However, he needs beta testers. And if you are willing to join him (notice!) now, he is ready to give you Trianasoft for free:
But, you have to act at once, as there are only 25 beta tester openings available! (Did you notice the urgency?)

Listen. It is a trap to get you to sign up. The Trianasoft introductory video is sitting on YouTube since March 15, 2016, and they still have not found 25 beta testers? Give me a break.
Warning Sign #10: Positive reviews only from Affiliates
That's the same problem as with the Millionaire Blueprint and other scam products. You cannot find ANY positive reviews about Trianasoft except those who promote it. Find a positive review, and I can bet the link to the Trianasoft website is an affiliate link.
Final Verdict and Buying Advice
What's the bottom line? Is Triana Software a scam? Sadly, the answer is YES. It is a SCAM. Therefore, I cannot recommend it.
Name: Trianasoft App
Website: trianasoft.net
Author: Michael Wedmore (founder, CEO, president) David Campbell
Niche: Binary Options Trading
Price: $250 – required minimum
Skill level: Beginner (no computer or trading skills needed)
My Overall Rank: 10 out of 100
Final Verdict: SCAM. Better don't touch it.
However, this is only my opinion that bases on my search results. If you still want to try to make money with the system, be very careful. You will enter into a high-risk territory. And it is better if you are prepared to lose all your investments.
If you'd rather make money than blow your lifetime of savings… Why not try this?


Yes, the raw, sizzling beauty of passive income stream online… Please take a look now. Because sometimes 'later' becomes 'never'
Share Your Ideas:
Your thoughts are important to me, so please do me a favor and tell me what do YOU think.
Is Triana software a scam or not? Do you have any experience (good or bad) with it that you want to share? I kindly ask you to do it by dropping me a comment on the comment box below.