"GET paid up to $750 a day! Guaranteed. This is an easy, profitable opportunity to earn $1000's every week from home. No experience required,"
– declares the homepage of My Residual Profit.

Wow! If true, nothing short of amazing, do you agree?
But – will it deliver as they promise?
Let's take a closer look at the My Residual Profit Review below. Let's cut through all the theatrics to the meaty reality and see whether it is a real deal… Whether you have found a "Golden Key" to success… Or just stumbled across a cunning online scam?
[Sidebar: If you are not interested in pyramid schemes, check out THIS instead! You're going to like this.]
Quick Review

Name: My Residual Profit
Website: myresidualprofit.com
In business since 2010
Price: $25, no monthly fees
Type of Business: Pyramid (recruiting people)
Alleged Skill level: Beginner (not true)
My Overall Rank: 0 out of 10
My Verdict: My Residual Profit is a scam and not a very good one. It is well known that you need to get in very early on a pyramid scheme to make money off of it. However, My Residual Profit has been around too long and has likely exhausted the supply of would-be members. Stay clear.
Better ALTERNATIVE to the My Residual Profit scam that will help you make $1200+ a month online. And these testimonials are proof.
Why THIS is risk-free for you. Look closer and you'll see why.

My Residual Profit Review (Full Review)
What is My Residual Profit About?
The owners of My Residual Profit promote their program as an "Email processing home business" opportunity:

They tell it's easy:

…And requires no previous experience or specific skills:

And the best part – You can start raking in cash:

Sound good to you? It sounded great to me. Until…
…But before I explain how My Residual Profit works, let's see what they promise.
My Residual Profit Promises
Get paid up to $750 a day. Guaranteed.
You are guaranteed to get paid instantly $25 for each email you process.
No experience required
All payments go directly into your account
One time $25 membership fee
No monthly fees
You can run My Residual Profit anywhere in the world
You will receive a fantastic bonus worth $10,577.37
Again, a pretty attractive offer, do you agree?
How Does It Work
First, you (a visitor) become a member of My Residual Profit by paying $25. This is a one-time payment for pre-written ads (more about them below) and Step by Step instructions. Then…
…And here's the kicker:
Then you do just exactly what they did to get YOU to join them:
You are going to post ads online (the ads are provided for you)…
…to direct people to a website (the website is provided for you as well)…
…where new people pay their $25 for their membership…
…and it goes on forever.
What Is the Product?
No, there's no product. The whole business plan is to recruit new members in the system and get their $25. Then teach them to do the same for others.
They call it 'Email processing' while, in fact, it is nothing but spamming others with My Residual Profit ads and emails while trying to recruit them.
Is My Residual Profit a Scam?
Yes, My Residual Profit is a scam. Here's why:
Warning Sign #1: It Is a Pyramid Scheme
As I already explained, the only way you can make money within My Residual Profit is by recruiting new members. There's no product to sell, no value produced. It's just about moving money from one pocket to another. Moving it from lower levels to upper ones.
Warning Sign #2: Not Enough People on Earth
There are massive problems with My Residual Profit. First, there is only a limited number of people on Earth. And second, only a few of them are willing to pay $25 to join the pyramid.
Think about it.
To make $7,500 a month (as they promise), you need to recruit ten new members every day. It's not much, right?
But remember, all these ten new members also want $7,500 a month. It means that on day two all these ten people must recruit ten new members each. So on day two, there are already 100 people involved.
Day 3: 1,000 people involved
Day 4: 10,000 people involved
…
Day 10: 10 billion people involved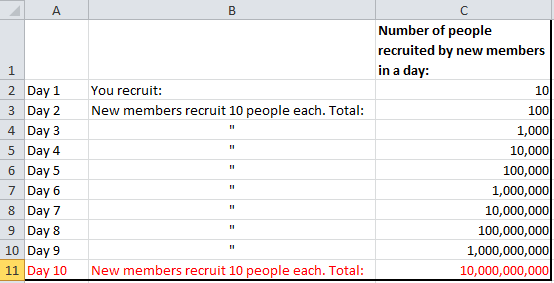 Wow! WOWOWOWWW
Can you imagine! Only on day ten, the system requires 10 billion people. But hey! There are only 7.6 billion people on Earth!
See how quickly you run out of resources! And that counts only 1 (one!) workday for each new member.
This, obviously, means that whenever a member within the system makes $7500 a month, then a vast majority of new members can only lose money.
That's true – A vast majority of members can only lose money!
And this brings me to the next red alert.
Warning Sign #3: Way Too Old Testimonials
The problem described above probably explains why all six testimonials on the My Residual Profit website are so outdated.
Look, most of the affiliated domains for this scheme were registered in 2013 and 2014, which is also when the testimonial videos were made:
See! These two (plus three other) testimonials were published on Youtube back in 2014. It was over five years ago.
The only remaining testimonial comes from 2015 (many years ago). It suggests that the pyramid may have run its course – until it was reinvented and relaunched again (under a new name).
Tired of scams?
Here's what I use
to make legit money anywhere in the world.

Finding out more costs nothing. And you're not committing to anything else.

Warning Sign #4: Fake Guarantees
A more closer reading of the disclaimer also parses the site language more carefully.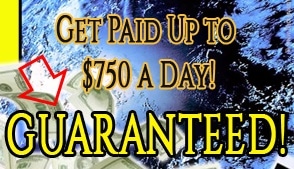 For example, "Get paid up to $750 a day! Guaranteed" is not a guarantee.
Why?
Because any amount of money (less than $750) can be considered "up to" $750 a day, right? So the statement isn't a statement of fact or a guarantee.
My Residual Profit Disclaimer states:
"Forward-looking statements give our expectations or forecasts of future events."
Truth be told, you can quickly identify these statements by the fact that they do not relate strictly to historical or current facts. Instead, they use all kind of 'clever' words – such as "anticipate," "estimate," "expect," "project," "intend," "believe," "plan," etc., etc., etc.
All these words and terms are in connection with a description of potential earnings or financial performance.
"Any and all forward-looking statements here or on any of our sales material are intended to express our opinion of earnings potential."
Therefore, please notice that statements of future earnings must be interpreted as matters of opinion rather than as a guarantee.
It, of course, gives you false assurance as if your daily/monthly earnings are guaranteed while they are not.
In fact, seeking a refund or "…entering a dispute in an attempt to get a refund is also strictly prohibited and is considered fraudulent. To do so puts you in direct violation of this policy and could result in legal action!"
Warning Sign #5: They Encourage Spamming
This is another clear red alert that My Residual Profit is a scam. And a naked scam.
Or what other legit and respected business would encourage spamming Craigslist and your social media boards:

Can you imagine!
First, let's take your family and Facebook friends.
Do you really feel comfortable spamming your family members, relatives, workmates, and Facebook friends? Do you feel pleased recruiting them in the shady pyramid scheme?
Worse.
Once you have done that, where else will you turn to post ads? Yes, you are right – Nowhere.
Second, Craiglist. Here too, you have an increasingly steep uphill battle.
Why?
Because you have to compete for Craigslist space with other "members" spamming the same program. And the same ads:

As a result, your income quickly dries up.
Even worse. My Residual Profit doesn't even do the work of teaching you how to build your own landing page or website so that you can spam on your behalf.
So, there isn't even an educational benefit to the program. The one upside is that it's probable that, if you spammed all the sites you could, you might find someone else who would participate, and thus recover your $25 investment.
But, believe me, that's an extremely poor use of your time.
Warning Sign #6: False Sense of Urgency
Look at this PS. statement here:

This is an ugly lie. Whenever you visit their site, the opportunity is always there waiting for you.
Remember, it is designed to create a false sense of urgency in your brain. And to get you to act at once. In short, the scammers smell blood and close in for the kill.
Don't be fooled.
My Final Verdict
It's almost refreshing to see a pyramid scheme that doesn't pretend to be anything else…
…That doesn't disguise itself in a bunch of words and links and secret codes.
Nope.
My Residual Profit says precisely what it is – a pyramid scheme. And thus a scam. Please stay away. Don't waste your time.
Imagine for looking for legit work-from-home opportunities and finding THIS when you go inside… WOW
Best place to start is always one that doesn't cost you a cent, too. Just click here right now.

What About You?
Thank you for reading the My Residual Profit review. I hope you found it helpful. May I ask you, what are your thoughts about the program? Is My Residual Profit a scam or not? In your opinion, is it a pyramid scheme or a genuine work from home opportunity?
Do you have personal experience with My Residual Profit that you want to share?
Please drop me a comment below. As always, your thoughts are more than welcome.
Stay safe
Egon (EgonSarvReviews.com)