Wow! I am astonished!
Navy SEAL Quotes that keep you going… It's simply stunning how much you can learn about blogging and success when you start searching and reading about Navy SEAL training, quotes, stories, etc.
This is what happened to me. I can tell you – as a blogger and internet marketer, you can learn so much from these fierce and determined guys. When you read these quotes below, you will see how HARD their training actually is. That's how they become so extraordinarily tough and determined.
If you want to know how you can make $1,200+ a month online from the comfort of your home – well this is your chance


It's FREE to get started, too (no credit card required). You'll like that part…
You literally can feel it.
So no more messing around. Let's start:
32 Navy SEAL Quotes That Keep You Going
1. "Never, ever entertain the thought, "I can't."- Todd Kuslikis
---
2. "I wanted to be a Frogman. Period. Gentlemen… I was 117 pounds, after a significant bout (3 months) with mononucleosis, and hepatitis just prior to entering, when I reported for the plane trip to San Diego. /…/ I was by no means the epitome of what my instructors expected to finish training. But they could not make me quit." – Gary Penn, BUD/S Class 65
---
3. "Failure to train is training to FAIL!" – Chris Sajnog BUD/S Class 199
---
4. "All you need is your mind, your body, and a positive mental attitude." – Scott Helvenston
---
5. "Under pressure, you don't rise to the occasion; you sink to the level of your training. That's why we train so hard. "- Unknown Navy SEAL
---
6. "Sometimes the first idea, the simplest, is the best solution." – Ryan Zinke Former Navy SEAL team 6
---
7 Jeff Boss Navy SEAL Inspirational Quotes
7. "Don't quit. Ever."
8. "Be someone special" Some people take this to mean, "If I become a SEAL, I'll be special!" WRONG! The real meaning is that if you become a Navy SEAL, you'll need to work every day to be someone special." – Jeff Boss
9. "Change happens when you least expect it, and it lasts indefinitely. Preparation won't suffice, but adaptability will. A personal willingness to accept change and to adapt to it is what allows you to flourish in the unknown. Preparation is just the byproduct of a willingness to try."
10. "Leadership isn't about rank, title or tenure. It's about character and competence — who you are and what you can (and are willing) to do."
11. "Entrepreneurship isn't an overnight evolution. Success comes to those stubborn few that choose to ignore the temporary discomfort of a setback for the long-term strategy of delivering value.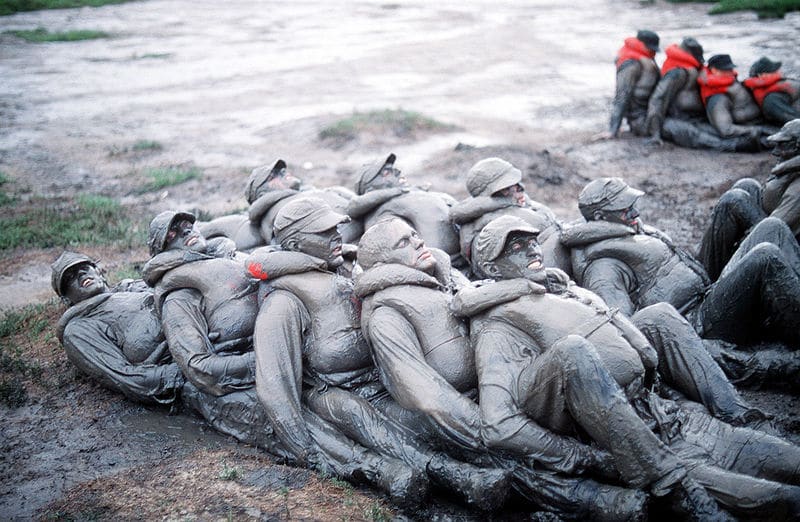 12. "The fact is, while knowledge is powerful, sharing knowledge is the true source of power because it enables others to act. But the key is to do so clearly and consistently."
13. "Consistency is key to improvement in anything."
---
5 Marcus Luttrell Quotes (Navy SEAL Team 10)
13. "No matter how much it hurts, how dark it gets or no matter how far you fall, you are never out of the fight…"
14. "Fear is a force that sharpens your senses. Being afraid is a state of paralysis in which you can't do anything."
15. "He closed by telling us the real battle is won in mind. It's won by guys who understand their areas of weakness, who sit and think about it, plotting and planning to improve. Attending to the detail. Work on their weaknesses and overcome them. Because they can." ― Marcus Luttrell
16. "Don't let your thoughts run away with you, don't start planning to bail out because you're worried about the future and how much you can take. Don't look ahead to the pain. Just get through the day" ― Marcus Luttrell
17. "I will never quit. My nation expects me to be physically harder and mentally stronger than my enemies. If knocked down, I will get back up every time. I will draw on every remaining ounce of strength to protect my enemies and to accomplish our mission. I am never out of the fight." ― Marcus Luttrell,
---
8 Jocko Willink Navy SEAL Inspirational Quotes
18. "Our freedom to operate and maneuver had increased substantially through disciplined procedures. Discipline equals freedom."
19. "Implementing Extreme Ownership requires checking your ego and operating with a high degree of humility. Admitting mistakes, taking ownership, and developing a plan to overcome challenges are integral to any successful team."
20. "You can't make people listen to you. You can't make them execute. That might be a temporary solution for a simple task. But to implement real change, to drive people to accomplish something truly complex or difficult or dangerous—you can't make people do those things. You have to lead them."
21. "There were no more questions. The most important question had been answered: Why? Once I analyzed the mission and understood for myself that critical piece of information, I could then believe in the mission. If I didn't believe in it, there was no way I could possibly convince the SEALs in my task unit to believe in it."
22. "People do not follow robots."
23. "The test is not a complex one: when the alarm goes off, do you get up out of bed, or do you lie there in comfort and fall back to sleep? If you have the discipline to get out of bed, you win—you pass the test. If you are mentally weak for that moment and you let that weakness keep you in bed, you fail. Though it seems small, that weakness translates to more significant decisions. But if you exercise discipline, that too translates to more substantial elements of your life."
24. "It's not fun to get out of bed early in the morning. When the alarm goes off, it doesn't sing you a song; it hits you in the head with a baseball bat. So how do you respond to that? Do you crawl underneath your covers and hide? Or do you get up, get aggressive, and attack the day?" – Jocko Willink (Navy Seals: Why Waking Up Early Matters)
25. "It's really hard to guarantee things in life. I guarantee if you get up in the morning and you work out, and you work hard, you will have a better day — 100% guaranteed."
---
26. "I think the best way to get a good night's sleep is to work hard throughout the day. If you work hard and, of course, work out."
27. "If you want to change the world, find someone to help you paddle."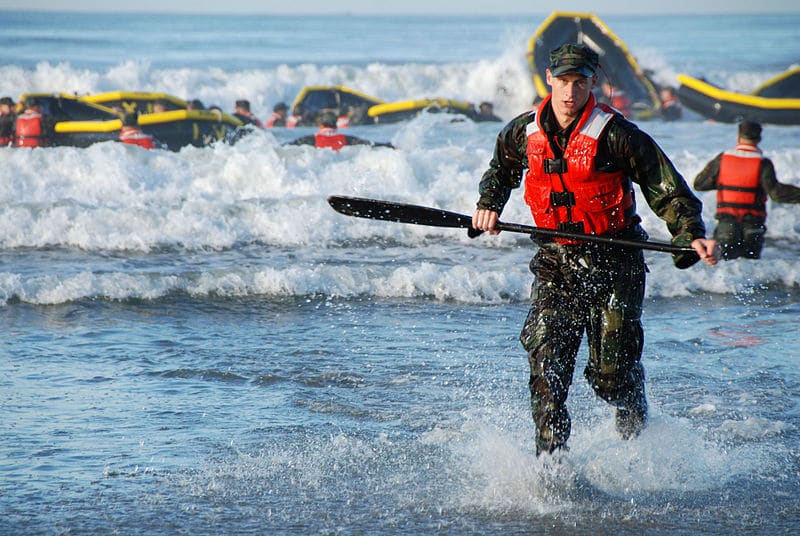 28. "If you make your bed every morning, you will have accomplished the first task of the day. It will give you a small sense of pride, and it will encourage you to do another task and another and another. By the end of the day, that one task completed will have turned into many tasks completed. Making your bed will also reinforce the fact that little things in life matter. If you can't do the little things right, you will never do the big things right."
29. "SEAL training was a great equalizer. Nothing mattered but your will to succeed. Not your color, not your ethnic background, not your education and not your social status."
30. If I have learned anything in my time traveling the world, it is the power of hope.
31. Start each day with a task completed. Find someone to help you through life. Respect everyone.
32. "There were many students who just couldn't accept the fact that all their effort was in vain. That no matter how hard they tried to get the uniform right, it was unappreciated. Those students didn't make it through training. Those students didn't understand the purpose of the drill. You were never going to succeed. You were never going to have a perfect uniform.
Sometimes no matter how well you prepare or how well you perform, you still end up as a sugar cookie. It's just the way life is sometimes.
33. "A circus was two hours of additional calisthenics designed to wear you down, to break your spirit, to force you to quit.
But an interesting thing happened to those who were constantly on the list. Over time those students — who did two hours of extra calisthenics — got stronger and stronger. The pain of the circuses built inner strength built physical resiliency."
What if I could show you a real system you can use to put $1,200+ per month into your account, working from the comfort of your home…

…Would you be interested?

Do it now. Sometimes 'later' becomes 'never.
 What About You?
Now you have read the best Navy SEAL Quotes to keep you going. So, do they keep you going?
Which one of these bumped the highest amount of motivation into your veins? Tell me, please, by leaving a comment below.