An excellent online grammar check FREE – that's what you want. Or need. A grammar checker tool that could help you correct your grammar and spelling errors. And which checks your papers and articles for plagiarism.
Grammarly is one of those tools. And as I have used it for over a year already, I want to share my experiences with you. Read and see if the device suits you.
Quick Summary
Name: Grammarly
Website: grammarly.com
Niche: Online grammar check
Price: Free Plan and from $11.66 per month.
My Overall Rank: 80 out of 100
Final Verdict: Good online grammar checker tool. Worthy of giving it a try.
Full Review – Grammarly, the Instant Grammar Checker
Grammarly grammar tool is an online application. It means you must be connected to the Internet, and your connection must be stable. Only then can it analyze your texts.
Grammarly includes quite a few different products and features, and I try to cover at least some of them in this review.
The reviews from 2012, which you can still find from the Internet, have many complaints against Grammarly.
One of their complaints was that Grammarly did not have the option to choose between American and British English.
Well, it was back in 2012. Now, Grammarly has the option:
Not only that. Also, they let you decide what type of text you want to analyze:
They claim it is the best grammar checker tool in the world. If it is the very best, this I do not know. Because 1) I have not used other grammar checkers yet. 2) I have not done any comparison tests.
But, you can be sure Grammarly is one of the best grammar checker tools available.
How Much Does Grammarly Cost?
Let's start with the price. The obvious reason why I want to do this is that most of the Grammarly features and benefits come from the Grammarly Premium plan.
Yes, Grammarly has a Free plan indeed. You can use its free grammar checker if you want. But I want you to have a clear picture of what you get (and equally, what you don't get) when you opt for a Grammarly free check.
All the browser extensions (for Chrome, Safari, and Firefox) are free also.
I have used Grammarly free plan for a while, and it helped me. But it was limited. I needed more help, and that's why I opted for its Premium plan. Frankly, I have not regretted it. It works.
Well, how much does Grammarly cost?
I am glad you asked.
I went yearly. That's how I save the most.
Let's do the numbers. $139.95 per month is only $0.38 per day. That is not, I think you will agree, a significant amount. With only one-third of the price of a Dunkin Donuts' donut, you can fix your grammar and spelling errors.
Grammarly Products
Some of the following Grammarly products are free; some come with a price tag. I list them for you:
Grammarly Editor
A browser-based online editor where you can type (or copy-and-paste) your text and get it instantly analyzed by Grammarly.

Human Proofreading
That is a Grammarly service with a price tag. I have not used it, so I cannot comment on it.

If you are not in a hurry, then proofreading a 1000 word article will cost you $20.
 Grammarly Plugins and Apps
If you want to use Grammarly outside of its editor, you need to install its plugin.
Grammarly Browser Extension for Chrome
Grammarly Browser Extension for Safari
Grammarly Browser Extension for Firefox
Grammarly Plugin for Microsoft Office
Grammarly Native App for Windows and OS X
Additional Writing Resources
In addition to their subscription services, Grammarly provides free resources to English writers:
Grammarly Answers
Grammarly Handbook
Grammarly Words
Grammarly Blog
Grammarly's Facebook Page
Again, I have not used them, so I cannot comment. If you are interested, check them out.
What Grammarly Claims It Can Do
Here it gets more interesting. This is what you are waiting after. What this grammar checker can do for me. Well, here are some of their claims and promises. Grammarly:
It is the world's most accurate grammar checker.
Grammarly catches over ten times more critical grammar and spelling errors than Microsoft Word.
Corrects over 250 types of grammatical mistakes, while also catching contextual spelling errors and poor vocabulary usage.
It helps you write mistake-free on Gmail, Facebook, Twitter, Tumblr, WordPress, and nearly anywhere else you write on the web.
Grammarly's powerful grammar checking algorithms are developed by the world's leading authorities on linguistic technology.
Spots erroneous use of lose/loose, affect/effect, lie/lay, there/their/they're, and many other commonly confused words.
It helps you enhance your sentences with Grammarly's context-optimized word choice suggestions to improve the readability of your document instantly.
No matter what your writing situation is, Grammarly adapts to your needs, giving you the confidence of mistake-free writing every time you write.
Significantly cuts down on all the extra time you spend rereading and rewriting.
Let's Put Grammarly to the test
The claims are noble. But does Grammarly work? In early 2012, the Grammarist blog put Grammarly to the large-scale grammar test. They fed 55 test exercises with a total of 71 different grammar errors into Grammarly to see how it performs.
According to that test, Grammarly failed miserably. Out of these 71 grammatical errors, Grammarly could solve only 22. It was less than one-third of all mistakes.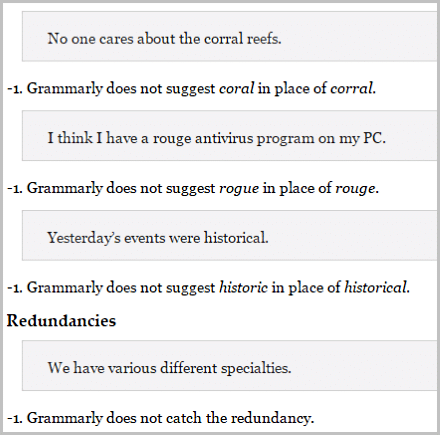 But that was back in 2012. A lot of water has passed under the bridge since then.
Therefore, I was curious to know how much has Grammarly improved over the last four years. That's why I decided to rerun the same test. I fed the same 55 test exercises into Grammarly, and these are the results:
Out of these 71 grammatical errors, Grammarly could now solve 46. They are doing better but clearly are not there yet.
Surprisingly, Grammarly could not find four errors which it found back in 2012. How come, I don't know.
Anyway, even though this test result is somewhat weak, I think Grammarly has improved a lot and is a helpful tool for you. At least, it is for me. I am using it already over a year and am happy with it. I am not euphoric, but still happy.
Things I Don't Like
There are some minor things that I do not like about Grammarly.
1. To use Grammarly, you have to have an extension AND log in.
It is NOT enough to have a Grammarly browser extension for Chrome, Safari, etc. Logging in is a must if you want to use Grammarly in WordPress, etc. Otherwise, Grammarly only points to errors telling what type of mistakes they are. But it will not help you to fix those errors: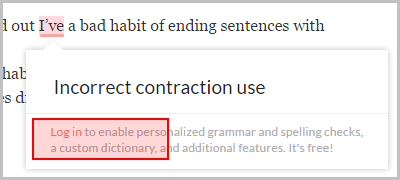 2. Sometimes Grammarly does not find errors right away.
While testing this instant grammar checker for this review, I noticed the following: Sometimes (not often but still), Grammarly finds an error in an instant, but a moment later, it does not find it. Weird.
The same phenomena happened with plagiarism check. For me, it looks like the product is not fireproof yet. However, my personal one year experience is that Grammarly does its job well.
My Verdict
I have used Grammarly Premium for a year already. And I am happy with it. It could be better, of course, but in my opinion, it's a tool that I need.
Being a nonnative English speaker, I have found that Grammarly Premium is a tremendous help. It
Helps to iron out the majority of grammatical spelling errors,
Saves my time,
Helps me to see my bad grammatical habits
It is worth its premium price tag.
After all, when you pick the Grammarly Annual Plan ($139.95), it makes only 0.38 cents per day to check your blog post. Indeed, you can afford it. And it's way cheaper than using a human proofreader.
Human proofreading would cost you much more. So if you are price-sensitive, I recommend you opt for the Grammarly Premium plan instead.
Therefore, based on my personal experience, I can recommend Grammarly. You can join it by clicking on the link below:
Yes, I want to try Grammarly Instant Grammar Checker for Free.
What About You?
 Dear reader. Thank you for taking the time and reading the review. Your opinion is important to me.  Do you have any experience with Grammarly that you want to share? Please drop me a comment below, and I will return with a response.
Related Articles: