Why this Rapid Trend Gainer review, to begin with?
Well… Are you tired of your nine-to-five job? If so, I am not surprised at all. Because, it can feel as if you are just getting someone else rich, but you're doing all the hard work!
The Solution?
What if I tell you that the secret to being rich lies in investing?
The problem is the world of investment is a tough place to crack. No matter how many times you've watched The Wolf of Wall Street, the bottom line is, not everyone can be a Jordan Belfort!
Sigh.
Here's good news, though. It seems that I have found a system that could help you out in making more intelligent decisions when investing. In this way, you will actually gain more than you lose. And that simply is what you want, right?
Hence, let's get started and take a closer look at the Rapid Trend Gainer System.
[Sidebar: If you are not interested in Forex trading, check out THIS instead! You're going to like this.]
Quick Review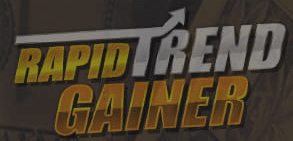 Name: Rapid Trend Gainer
Website: www.rapidtrendgainer.net
Creation Date: 2017-08-09
Industry: Forex trading
Owner: Karl Dittmann
Skill Level: Intermediate to advanced
Price: $87
Money-Back Guarantee: 60 days
My Overall Rank: 6/10
If you want to know how you can make $1,200+ a month online from the comfort of your home – well this is your chance


It's FREE to get started, too (no credit card required). You'll like that part…
Rapid Trend Gainer Review
Before we dig into the details, let's start with Karl Dittmann, the creator of Rapid Trend Gainer
Who Is Karl Dittmann
According to their website, "Karl Dittmann is a veteran trader and trading software and indicators developer for over 20 years."
A pretty impressive record, isn't it?
And more importantly, he is a real person. You can google his name and his both face image and personal Facebook account quickly pop up:
These are good signs because at least he has left behind his digital footprints. Lots of them. By these, we can know that he is a genuine human being and not a fabricated character like Michael Mansell, Austin Ford, Matthew Michaels, in downright scams.
Other Karl Dittmann Products
Not only is the guy a genuine human. Also, he seems to be highly gifted, as well. Because… Look how many Forex trading products he has developed in these years.
A list of Karl Dittmann indicators and trading tools:
Alfa Scalper
Fibo Quantum
FX Atom Pro
Scalping Detector
Trend Mystery
5 Star Trend Profit
Buy/Sell Trend Detector
Infinity Scalper
Rapid Trend Gainer
Excellent, do you agree? At least at first sight.
Next, let's take a more in-depth look at his newest indicator, Rapid Trend Gainer.
What Is Rapid Trend Gainer
Here's what Karl Dittmann says about his newest trading tool:
"The brand new Rapid Trend Gainer has been developed to provide you with the most accurate and profitable signals. It uses the latest algorithms to predict changes in the price movement and generates buy/sell signals right on your chart. This indicator tool can also send real-time notifications to your mobile phone or tablet."
Rapid Trend Gainer Features
The Rapid Trend Gainer System has different features you will get to enjoy, and they are:
It is a program that is very easy to use and install. I am going to explain this in more detail later, so be sure to keep on reading!
It will monitor the Forex market for you and alert you what to do and when to do it.
It comes with three alert systems.
Its alerts come with all the information you need including:
The Entry Price
Take Profit Levels
Dynamic Take Profit Level (more on this later as well), and
Safety Loss
Sounds promising? Let's look at its pros and cons too.
The Pros and Cons
The Pros of Getting Rapid Trend Gainer
Here are the different benefits of getting into the Rapid Trend Gainer Forex program:
It has a straightforward setup, perfect for beginners.
Its program comes with a step-by-step user's guide. You just need to install it on your computer, and you are all set. It will then start sending you alerts.
Once you have it properly installed, you now have two choices: to monitor it or to let the program do its thing and just alert you when something interesting happens.
It sends three types of notifications.
The first type of alert system is a pop-up on your computer. The second is a push notification to your phone or tablet. And finally, you will also receive an email.
The main reason why you want to leave your nine-to-five job in the first place is to have more time to enjoy life. That's why the creators of Rapid Trend Gainer invented this alert system. They did it so that you won't have to be in front of your computer all the time.
It has a Dynamic Take Profit Level indicator.
This is what truly sets this program apart from the other Forex robots out there. It is a calculation made based on the current conditions of the market.
If the calculations of the program show a higher possibility of more pips per trade, then the Dynamic Take Profit will be shown at a higher level. On the other hand, if the current market is not that active, the Dynamic Take Profit will be shown at a lower level.
The Cons of Getting Rapid Trend Gainer
Rapid Trend Gainer sure sounds promising. However, it doesn't go without cons, and this Rapid Trend Gainer Review would not be enough if I will not share them with you.
It only offers email support.
This is quite disappointing for me since I value customer support. Even though Rapid Trend Gainer offers 24/7 email support, it still doesn't sit well with me knowing that email is my only option to contact them.
The Rapid Trend Gainer website doesn't look very professional.
Forex trading and investment is a serious endeavor. Sadly, its website simply does *not* reflect that. Honestly, it rather looks like a landing page for a get-rich-quick deal: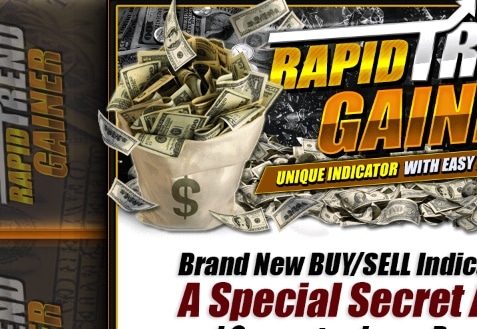 Which is not what the Forex market is all about.
It doesn't offer any concrete evidence that the program actually works.
Can you imagine! I mean, it truly frustrates me.
Yes, their website explains how the program generates the information it provides its users. However, there is no evidence that their clients actually earned the 200 to 300 pips they were boasting of.
Rapid Trend Gainer vs. Other Forex Trading Programs
To give you more insight into Rapid Trend Gainer, here's how it measures up to its competitors, such as the more popular Forex Steam.
What I like about Forex Steam is that it already has almost a decade of proven performance backing it up. Rapid Trend Gainer, on the other hand, mentions explicitly on its website that it is a brand new program. Speaking of the site, Forex Steam looks more clean and professional, with a more user-friendly interface.
Another factor that I have noticed is that the actual price of the program was not stated on the website. Hence, there really is no way of learning how much you will be paying for until you've paid it. Fortunately for us, it does say that it has a 60-day money-back guarantee.
The Bottom Line
I appreciate Rapid Trend Gainer for their Dynamic Take Profit levels. It is a massive help in deciphering what those numbers mean for you and what the current market conditions are.
As you know, the market is a never-ending ocean of change. There is simply no way that a human brain can process and predict what's going to happen next. Thus, their program can potentially offer help in this area.
However, while Rapid Trend Gainer sounds promising, I still recommend for you to research more about the product before taking the plunge. It still has a lot of room for improvement, after all, as you can probably judge already by the looks of their website.
After all, have you heard the saying, "Where there's smoke, there's fire?"
Warning Signs (or What Made Me Cautious)
Before you decide to ask Karl Dittmann and his Rapid Trend Gainer to dance, please consider the following  complaint: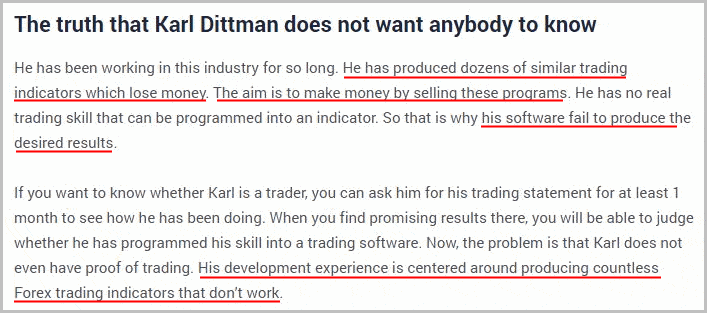 Here's another one:

This last complaint describes Karl Dittmann's previous product, Trend Mystery… But you get the point. Now you probably understand why he has created one Forex indicator after another.
Therefore, be careful if you decide to use Karl Dittmann products. And remember, Forex trading is not a cakewalk anyway. It is a risky business, and you must be prepared for situations where you lose your investments
However, if you do decide to turn your back on Rapid Trend Gainer and choose another path (or rather, program) in your Forex journey, you should know that you are not going to be missing out on a lot. There are a lot of options out there— options that I truly encourage you to take a look at as well.
I wish you good luck in all your future investments!
Imagine for looking for legit work-from-home opportunities and finding THIS when you go inside… WOW


Yes, the raw, sizzling beauty of passive income stream online… Look closer now. Because sometimes 'later' becomes 'never .'
What About You?
Thank you for reading my Rapid Trend Gainer review. I hope you found it helpful.
As always, comments are more than valuable. Do you have any experience (good or bad) with the Rapid Trend Gainer? Let me know what you think about it.
Stay safe
Egon (EgonSarvReviews.com)