Just a few days ago, I stumbled across a binary options scam, which exploited the name of the Hall-of-Fame Investor Warren Buffett. Can you imagine!
My first thought was, "Hey! It can't be possible!"
It turned out – it is possible.
Today, well, here we are again…
…Ladies and Gentlemen! Allow me to introduce The Richard Branson Binary Options scam!
The Scam uses its full bag of tricks to steal your hard-earned cash.
As I will prove below, real Richard Branson has nothing to do with the trading bot. The smooth-talking cybercriminals illegally exploit his name. Terrible!
[Sidebar: If you are not interested in Scams, check out THIS instead! You're going to like this.]
Quick Review
Name: Binary Options Trader (Profit Maker, Safeguard trader, GPS Trader)
Niche: Binary Options
Price: Software free for 30 days, minimum deposit: $250
Founder: Not known
Skill level: Beginner
My Overall Rank: 0 out of 10
My Verdict: DANGEROUS SCAM!!! These cyber-pirates will rip you off. Do NOT touch it!
Better ALTERNATIVE to Richard Branson Scam That's Uniquely Yours. And These Testimonials Are Proof.
Listen! If you are looking for ways to make legit side money online and don't want to get mugged…
…This is my recommendation to you – Do not dance with shady Binary Options.
Why not?
Because Binary Options trading is a high-risk business opportunity which is NOT suitable for ordinary people from the street if you want to trade Binary Options, be prepared to lose all of your investments.
Really? Really!
Therefore, I recommend you to take a completely different (and safer) route. Click on the link to see my #1 preference (Yes, I am using it since 2013).
At First, It Looks Like A Normal Training. But Look Closer… It's Where Dreams Are Made.

It's FREE to get started, too. You'll like that part…
---
Full Review – Richard Branson Binary Options Scam
What is Richard Branson's Binary Options Trader?
The narrative:
Richard Branson and other famous investors put $20 million into a secret Binary Options trading robot, which would generate profit from "nearly every trade."
Unfortunately, the software leaked out before they could make it fireproof. In Richard Branson's own words:
"We wanted only a small group at first until we were sure it worked. I also didn't want to have my name out there until I could totally stand behind the product. Now that it's out though, I'll share that our initial test group had incredible success with the platform."
However, understanding that he cannot stop the leakage, Mr. Branson surrenders:
"Honestly, it's good that others can benefit from it sooner. This can actually help people from any background become financially free. I just wish I had it when I was starting out!"
Then the narrative moves on and tells a story about Aleksis Liepa, an ordinary guy from Estonia (a country in North-East Europe). Somehow, Aleksis managed to smuggle himself into the initial test group of the Richard Branson Binary Options trading software. He invested $250 and made over $600 by the end of his first week on the platform.
By week four, he had made over $30,000! By the end of the third month Aleksis had made staggering $892,329.
Long story short, now the owners of the super-duper trading software want to limit access to it. Therefore, if you want to benefit from it, you must hurry and sign up right away.
WAIT! Do NOT Sign up before you have read the next!
Why not? Because I am going to rip this scam apart right before your eyes. Therefore, make sure you read until the end of the review.
Scam Alert #1: Real Richard Branson Has NOTHING To Do With Binary Options
I am just wondering why Richard Branson and Warren Buffett allow their names to be exploited in such a terrible way. Can't they do anything to stop it? Or maybe they don't bother wasting their time and energy for fighting these rotten fraudsters.
Whatever the case, it does not help ordinary people who are desperately looking for ways to make some side money online.
Just recently, I stumbled upon another similar app – the Copy Buffett Software. In this case, the name of Warren Buffett is heavily exploited.
Why?
To build trust. To win you over and make you sign up.
Let me give you an example. Let's say you have two make-money-online products that you have never heard before. Both of them ask you to invest your hard-earned money to start making money with them. The first product is "Noname" (its name does not tell you anything). The other product, however, is somehow connected with Warren Buffett or Richard Branson.
Let me ask you now: Which product of these two do you trust more?
The second one, right?
Why? Because, even though you know NOTHING about the product itself, you TRUST Buffett (or Branson). That's why.
And that's what scammers do. They tie a famous name to their product and thus build your trust and make you sign up.
What you don't know is this: These famous people have nothing to do with these Binary Options scams.
Listen! Richard Branson has NOTHING to do with the plethora of scam sites popping up from the shady mediabump.club URL.
How do I know?
Simple. If… IF Richard Branson were behind such a Binary Options trading robot, this robot would have been featured by Forbes, the Entrepreneur, Business Insider, Wall Street Journal, etc.
There would be hundreds (if not thousands) of respected reviews on it.
How many reviews and articles (by respected business media) are there?
Exactly none! Zero! Nada! Nil! Nol!
Listen! This Binary Options Trader (with all its clones) is a dangerous scam that is mercilessly exploiting Sir Richard Branson's name and photo.
Scam Alert #2: Fake Business News Reporter Sarah Braun
There is no such reporter as Sarah Braun. Her photo is a face image of a random woman. Even worse – all three clickable parts (the picture, the name, and the "Full Bio" link) lead to different Binary Options scam websites.

By the way, by clicking on these links, you will get different results each time. For example, I wanted to see what happens when I click on the face image above a couple of times. That's what I got:
First time: Profit Maker website (scam !)
Second time: Dreamprofits website (scam !)
Third time: Crack Brokers website (scam !)
etc., etc.
The same happens when you click on her name (Sarah Braun) or her "Full Bio" link. There's no full bio. There are only different Binary Options scams hidden behind it.
What's familiar with all those links (and Binary Options products), though, is that all these links open via mediabump.club URL. It's like I just discovered a huge, nasty nest of snakes. Prima facie (= based on the first impression) disgusting!
And dangerous!
What if I could show you a real system you can use to put $1,200+ per month into your account, working from the comfort of your home…

…Would you be interested?

Do it now. Sometimes 'later' becomes 'never.
Scam Alert #3: Fake Social Media Icons
Look at the social icons right above the author details:

Everything looks great. Except that the social media icons are fake. They are unclickable.
Even worse…
Scam Alert #6: Fake Business News Scam Site
The whole Business News website is a scam. First, to mislead you right away, they make their logo (left) similar to the logo of Business Insider (right):

True, they are not identical, of course, but for the average person like me, it's confusing anyway. I don't read Business Insider every day (or even every week).
So when I first saw the Business News website, it looked to me as an authority site and honest to Pete! In other words, I trusted it. And that's just exactly what the scammers want — your trust.
However, it turned out the whole website is a scam project. Every single thing in it is designed to make you sign up one of their Binary Options scams.
Let me give you an example.
First, in the screenshot below, clicking on the Business News logo will open the landing page of the Binary Options scam.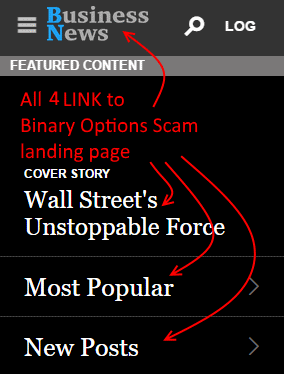 Second, notice also, the magnifying glass icon and the word "LOG" are fake. These are just unclickable decorations.
Third, their drop-down menu (with their cover story, 'Most Popular,' and 'New Posts' buttons) is nothing but a bunch of links to the landing page of their Binary Options scam.
Here's the same: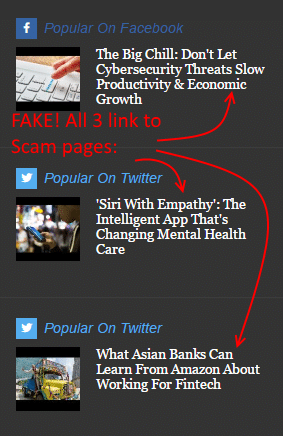 Scam Alert #3: Fake Narrative
The whole narrative is fabricated. Do NOT trust a single word in it. As I told you above, real Richard Branson has nothing to do with it. NOTHING!
His words (quotes) are falsified too. You can find them only in scam sites and nowhere else.
Moreover, there is no lucky Aleksis Liepa from Estonia. Aleksis Liepa is NOT an Estonian name, to begin with. Furthermore, Estonia is one of the poorest countries in the EU. And ordinary people like this fake Aleksis Liepa, do NOT have $800,000 mortgages.
The whole story is an ugly lie – thrown together to make you 1) jealous, 2) greedy: If these ordinary (and relatively weak) Estonians can earn $1,000,000, then I can also.
Look at this: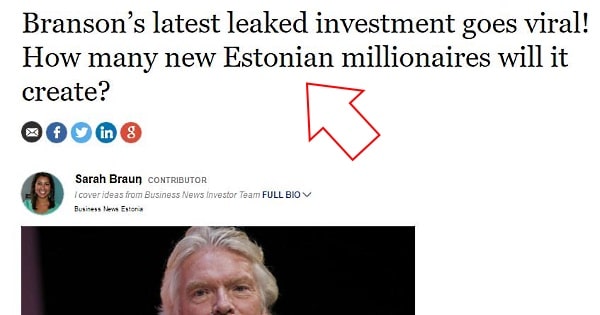 Now look at this:

And this:

And this: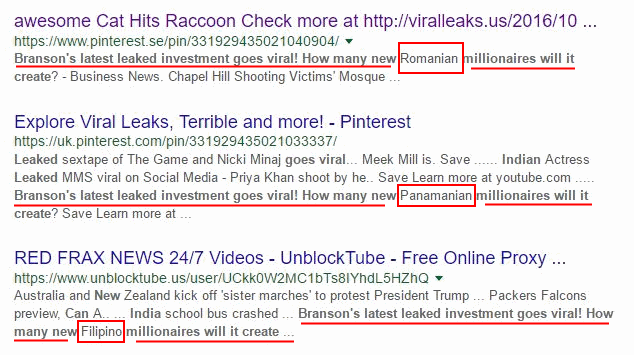 See! Using the same fabricated narrative, the con artists target populations from different countries. The only thing they change is the name of the country AND the name of the lucky beta tester.
To prove my case, I kindly ask you to compare the following two extracts from two different adverts (compare them word by word). Here's the first one: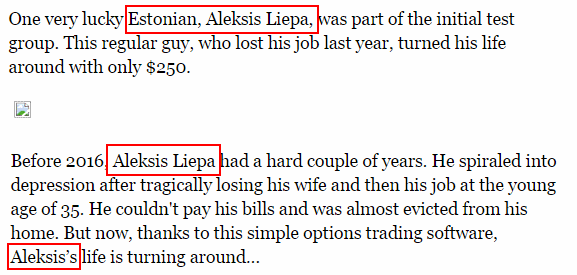 Now compare it with this one below:

See yourself! These lucky beta testers never exist. They are nothing but pure fabrications.
Scam Alert #4: Stolen Images
Let's take the image of the "lucky beta tester Aleksis Liepa from Estonia":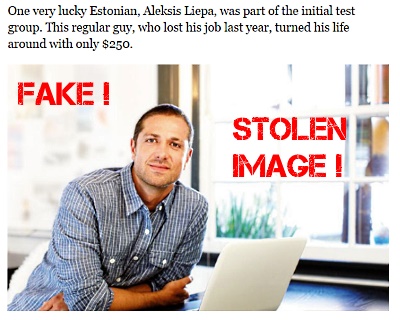 Try Google Images, and that's what you will get: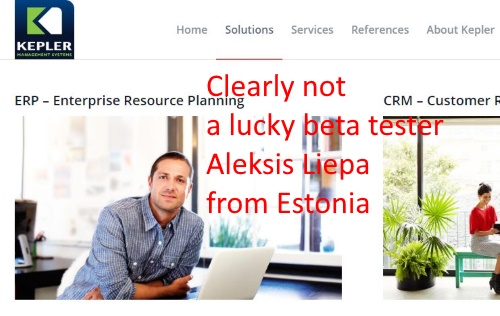 Here is the new BMW that Aleksis Liepa bought with the money he made with the "Richard Branson Binary Options robot":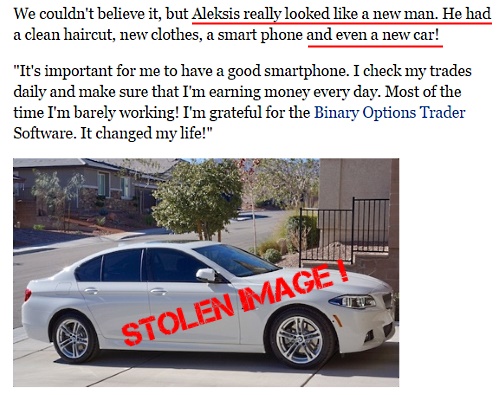 That's where it is stolen from:
Scam Alert #5: Fake Comments
Next step in the list – Let's put its comments to the test. Below you see a random comment given to the Richard Branson leaked Binary Option robot article:
Look at this comment now (from another scam website):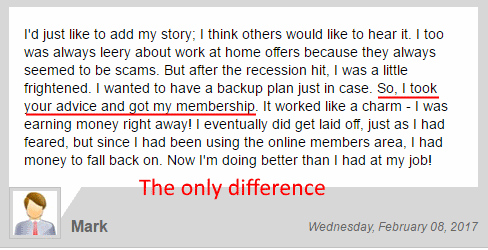 And this one (from yet another scam site):

See! Everything is stinking fake. Even comments.
Much Safer Way to Make Legitimate Money Online
Whatever the reason might be why you want to make money online…
…Be it your financial freedom.. or more quality time with your kids and spouse.. or security in old age.. desire to travel the world.. more time for your hobbies or sports.. Or to help you pay your bills, bless your grandchildren (if you have them), etc.
You know the "why." I can only confirm and encourage you – you are on the right track.
YES! It is absolutely possible to make side money (or even a second income) online. And yes, it is possible to do it WITHOUT getting involved in shady Binary Options that lure you into a major disaster.
How to do that?
Here is, in my humble opinion, by far the most complete and newbie-friendly program for creating a thriving internet business from home. And Yes, it's free to get started. You'll like that part.
It Might Be The Best Place Ever… Especially If You Want to Make Legit Money Online.

Why not make it the very next thing you do?
---
What About You
I am curious what impression the Richard Branson Binary Options scam left on you. Is it a legit make-money-online opportunity suitable for the average Joe? Or, is it an outright scam? Please let me know by dropping a comment below.
Stay safe!
Egon Sarv (EgonSarvReviews.com)