ARE YOU happy with your weekly salary? Are you 100% independent financially? Do you live the kind of life you want, with no financial stress or restrictions?
If you answered 'no' to any of these questions, then the Profit Maker Method is for you.
But you may ask, "Is Profit Maker a scam? What then?"
Therefore, I researched it and will reveal my findings in this Profit Maker review below. Keep reading, and I will show you exactly what it is. And what it is not.
[Sidebar: If you are not interested in scams, check out THIS instead! You're going to like this.]
Here we go:
Quick Review
Name: Profit Maker / Profit Maker Method
the Profit Maker login page: www.profitmakermethod.cc  and www.profitmakerbot.com
Niche: Binary Options
Price: Software: 30 days free trial, Trading account: $250 minimum deposit
Founder: Timothy  Hollingdale (bogus character)
Skill level: Complete Novice (wrong claim)
My Overall Rank: 0 out of 10
My Verdict: SCAM and a deception!!! Keep your hands off! 
Are you interested in making REAL Money Online?
If that's what you want, do NOT ask Binary Options to a dance? Why? The answer is simple – Binary Options are NOT for the average Joe (or Jane). It is a high-risk business opportunity And if you decide to trade with Binary Options, be prepared to lose all of your investments.
There are much better (and safer) ways for newbies to start making money online. However, in my opinion, one of them is by far the best for newbies.
See whether it is for you.
The Profit Maker Review – Full Review
Note!
 Do not confuse the Profit Maker Software with the
Profit Clicking
(AKA
Ad Click Xpress
). These two are entirely different animals.
The Narrative
Long story short, Timothy Hollingdale, an experienced banker and trader, discovered a secret profit formula, which allowed him to develop a unique binary options trading software. He called his software The Profit Maker Method. This software is fully automated and has made Mr. Hollingdale several millions of dollars in the last few years.
Also, the software is heavily tested and has proved to have a much higher performance level than any other similar app.
Now Timothy Hollingdale is offering his software to you for a free 30-day trial run. However, time is running out fast. Once all open spots are taken, they will begin charging free members only.
Don't rush to sign up, though. Read the full review before you do that.
Promises
What can you expect from the Profit Maker Method App? Here's what they have promised to you:
Automated Binary Options trading robot which runs 24/7
It trades four times per hour, 24 hours a day
All trading on autopilot
96% winning rate – every day (Really?)
It will turn your $7 into $2,300 every day for life (Wow! Really?)
For you – no math, no confusing trading charts. Nothing complicated.
First 30 days trial period  – completely free (no-commitment, no strings attached)
Full guidance 24/7
The brokerage cut (your trading account fee) only 4%
Pretty impressive, isn't it? But only if it is real. Unfortunately for you, it isn't! And I am going to prove it to you now.
Red Flag #1: Fake Timothy Hollingdale (the Founder), Fake Narrative
It's funny to read all those bogus positive reviews about Profit Maker that keep touting how honest and ethical businessman Timothy Hollingdale is. Why?
Because he is not.
Because, frankly, he does NOT even exist. The character (and the whole Profit Maker Method narrative) is pure fabrication.
Timothy Hollingdale claims that for the last 12 years has trained marketing students throughout North America and the UK. For over a decade, he's been working with some of the biggest banks in the UK and abroad – Barclay's, Morgan Stanley, Deutsche Bank, etc.
However, when I tried to find some (ANY) traces of him… I found NOTHING! The lad must be a real phantom guy.
Their Site Agreement makes it clear that actors have been used: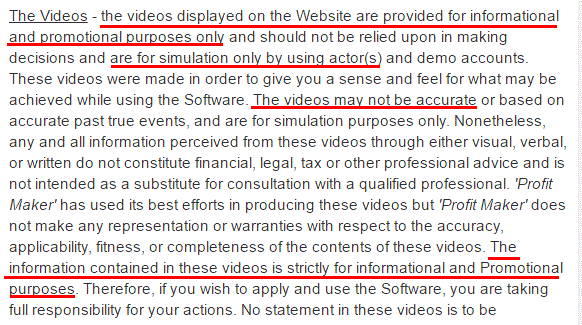 Therefore, it does not make sense now to talk about Timothy Hollingdale, his trading achievements, or his top-secret profit formula. All that is a bluff, though.
And therefore, as you can see, there is no super-duper trading algorithm fueling the Profit Maker App. All they have is some crap Binary Options trading software – designed to lure you into the system and separate you from your savings.
Red Flag #2: Unclickable Trust Badges
Websites use different trust badges to confirm visitors that their sites are secure. Norton Secured, First Data, and other solutions help to defend sites from various cyberattacks, prevent credit card fraud for their customers, etc.
In this case however, there's no such protection. The badges are nothing but an image file:

Which means, of course, that you are NOT protected at all. Terrible!
Red Flag #3: Fake Testimonials
Testimonials, as you know well, have one single purpose – to confirm that the product is legit and produces real results. Plainly speaking, other people (ordinary people like you and me) have used the software and achieved success just as it was told to you.
Now, what if all these testimonials are faked? What can you tell about the product (or software in our case) now? Do these fabricated testimonials raise your trust toward the software? Will you dare to do business with them?
No!
The big trouble is, that's just exactly what you will have here. All the Profit Maker Method testimonials are fabricated.
Let me prove it to you. I am going to give just a few examples:
Example #1:
Here is a "positive testimonial" from Facebook, provided by Jim Moody. You can find it in the Profit Maker sales page:

However, I researched Jim Moody and his image.
Yes, you are right! There's no Jim Moody who is making money with the Profit Maker App. Plain and simple, the image is stolen from the internet and attached to a random name.
The original photo belongs to Robert Kelly Slater – an American professional surfer and 11 times World Surf League Champion: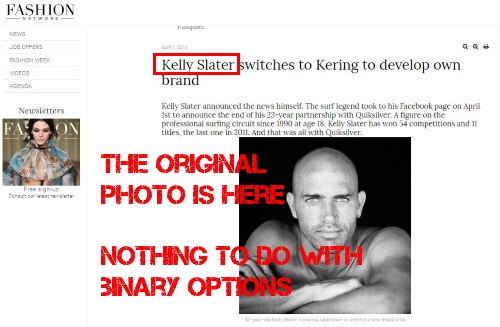 Also, you can see the same picture here.
Example #2:
Look at the image (the testimonial below). It shows how much money Sally Garcia from Paris, France, has made in her first five days with Profit Maker:

As you might suspect, this, too, is 100% bogus.
There's no such Sally Garcia from Paris. The original photo dates back to early 2011. It belongs to (then) Lauren Proux – a lecturer and researcher at the University of Michigan (the picture is stolen from an otherwise excellent Dailymail article which itself is well worth reading.)
Example #3:
Finally, let me give you just one more example of their scope of deception. The image below shows a similarly fabricated testimonial, as you already saw above. Only in this case, it is Terri Abbott from Berlin, Germany, and his income in the first five days:

This time the photo dates back to May 2013 and has been copied from the IGN forum: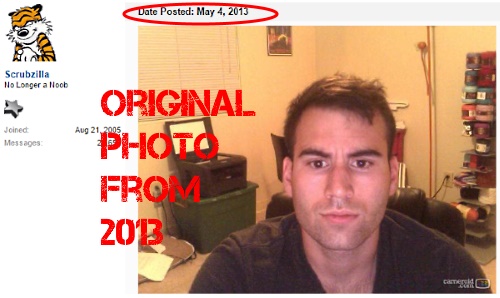 Red Flag #4: Unregulated Brokers
The big trouble with binary options scams is that they will tie you to unregulated brokers. Yes, they give you their software for free. But it does not mean you can start trading right away. First, you need to open a new trading account with some binary options broker.
Unfortunately for you, they don't allow you to choose.
The con artists have made deals with specific brokers (mostly unregulated shady offshore ones), so they will tell you that you can open your account ONLY with the broker of THEIR choice.
The problem is not the account that you will open. The problem is that you need to fund your account with real money. YOUR money.
And if you happen to end up with such an unregulated offshore broker (which is highly probable), you can be sure that
You won't be able to withdraw your money when you want it
You cannot file a complaint either (because it's unregulated).
And the free software, the app (in this case, The Profit Maker Method), is designed from the beginning to make your deposit melt away as fast as possible. That's their business and their profit, which they share with the broker. And you? Well, you are left licking your wounds.
Therefore, be very, very careful!
Red Flag #5: Fake Positive Reviews
When you google "The Profit Maker Method Review," you will find tons of different reviews. Many, many of them persuading you that Timothy Hollingdale is innocent as a lamb and his Profit Maker App your once-in-a-lifetime opportunity:

However, the secret behind these bogus reviews is that they don't care about you. What they care about is how to make money on you. When they can persuade you to sign up with the system, they earn commissions. That's why they are so desperate – "is very recommended," "highly recommended," etc., etc.
There's nothing wrong with earning commissions by introducing new customers to companies. But the product that you offer to people must not be a scam. If I promote a scam, I am a no better person from that scammer.
My Verdict
There is nothing trustworthy in the Profit Maker Method. Nothing. Everything is a deception. The founder, the narrative, the testimonials, promises, etc. Everything.
Verdict: SCAM!!! Keep Off!
Do you want to learn how to make legit money online in a safe way?
If so, then, as I said above, do NOT mingle with Binary Options. Because, although at first glance, it appears quite simple and the deal looks great, it is not newbie-friendly. Binary Options involve incredibly high-risk, and you must expect to lose your investments.
Honestly, binary options scams (like the one here) are designed from the core to free you from your money.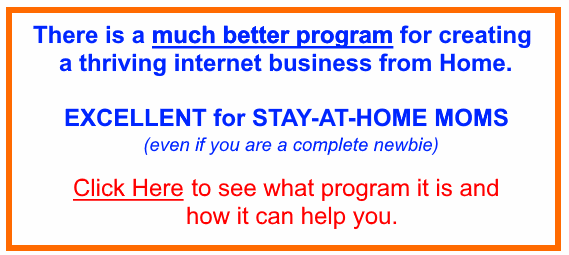 What About You?
Now that you have read the Profit Maker Review, what do you think about it – is it legit or scam?
Do you have any experience with the Profit Maker Method that you want to share?
Please leave your comments in the comment section below.