WOULD YOU be willing to try a trading app that mathematically never cannot lose a single trade? And what if I say that it will make you at least $33,000 every single day without exception?
Would you be interested?
Well, The Safeguard Trader Review here is about that app. Read the detailed review, and you will see what the app exactly is and what it does for you. And whether it can make you $33,000 per day or not?
[Sidebar: If you are not interested in scams, check out THIS instead! You're going to like this.]
So here we go:
Quick Summary
Name: Safeguard Trader App
Safeguard Trader login: www.safeguardtrader.cc
Safeguard Trader Disclaimer: http://www.safeguardtrader.cc/riskdisclaimer.php
Niche: Binary Options Trading
Price: The Safeguard Trader app is free. Minimum required deposit: $250
Skill level: Beginner (Note! Plain lie.)
My Overall Rank: 0 out of 10
My Verdict: Scam! They Apply mental coercion — deceit — to rob your money! STAY AWAY!!!
Interested to Make Legit Money Online Safely?
If so, do NOT ask Binary Options to a dance. Especially if you a complete newbie with no previous experiences in trading. Even gambling in casinos would be safer. Seriously!
There very many different ways to start making some side money online. However, if you are interested in creating a Big Bucks online, this here is one of the best ways to do it. Honestly, this is the way how millions of ordinary people make a full-time income online.
Click here to Learn More on How to Get Started
Full Review – The Safeguard Trader Review
The Narrative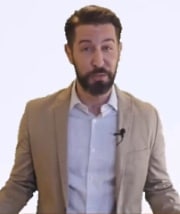 DAVID HEFNER, the CEO and founder of the SafeGuard Trader, was previously a system developer for Garmin Ltd., a GPS company in Kansas. His brother Josh, however, was one of those Wall Street sharks who made comfortable seven figures a year by trading binary options.
One day, Josh came to David and asked if it were possible to use Global Satellite Communication technologies in his binary options trading; and if David could write him such trading software.
That's what they did. Josh understood binary options, and David understood the speed and quality of data. Together they developed new trading software, which they called Safeguard Trader App.
According to David, its unparalleled speed and quality of information backed up with the SafeGuard Counter Trade Protocol are the qualities that raise their baby above other auto-trading software. 
And the best of all, their technology makes it mathematically impossible to lose even a single trade. Wow!
To prove it, David has given ten random people free access to his trading software. And then to another ten people, and another ten people. All of them make a minimum $33,000 each and every day and without a single exception.
Those who started a month ago are millionaires by now.
This is where you come in. Because today (more of this in a minute), David Hefner gives the last ten people free access to his Safeguard Trader app.
Tomorrow, the app will hit the market with a hefty price tag – $9997 setup + $1997 per month.
How to Make Money With Safe Guard Trader
What should you do to make $33,000 every day? According to David Hefner, the whole process is ridiculously simple:
Complete the signup form (name and email)
Download the Safeguard Trader App
Set the Safeguard Trader App to "Auto trade."
That's it. Or is it?
There is something else you need to do:
Register a new trading account with the broker of THEIR choice
Fund your newly created account with a minimum $250.
Only now you can start trading with them.
Is it a safe trip, though?
Their Promises to You
I have seen different Binary Options scams, but to be honest, until today, I had never seen such "brave" promises.
Take a look and see if you agree with me (notice the last four ones):
The Safeguard Trader is the most potent auto-trading software in the world
For you, it is 100% risk-free
It is 100% legal and 100% ethical
They give you free access to the Safeguard Trader App
You can profit with Safeguard Trader even if you have zero previous experience
The Safeguard Trader has 100% strike-rate, and it's mathematically impossible to lose even a single trade
It makes you at least $1375 per hour
At least $33,000 per day income stream for life – GUARANTEED!
You will make at least $1 million in the next 31 days – Guaranteed
With these last two promises in the list, they give you their bulletproof guarantee that you will make at least $33,000 each and every day for life (it means a million USD a year). That's how it will be going to be, and there'll be a zero chance of any other outcome.
Well, that is quite a jaw-dropping statement, isn't it?
How?
Here's how: If the software fails to make you $33,000 a day and there will be a shortfall, they will adjust it so that you will get your $33,000: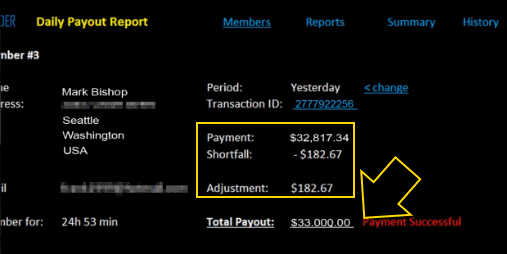 Wow! That is impressive, do you agree? In other words, you cannot lose – With NO exception whatsoever, every next day, you will be $33,000 richer. Every subsequent month you will be close to $1 million richer.
It will be a dream come true, right?
Wrong!
Why? Keep reading, and I will show you.
Why the Safeguard Trader is a Scam
Scam Alert #1: David Hefner is a Fictional Character
David Hefner, the CEO and founder of the Safeguard Trader, is a fictional character played by the same actor found in the promotional video of the GPS Trader.
First, there are absolutely no traces of him on the internet. If you are such a top-notch scientist, you surely leave at least some trails behind. This David Hefner, however, is like a phantom guy.
And, if you did not know, the name David Hefner belongs to the youngest son of famous Hugh Hefner, the owner of Playboy.
Scam Alert #2: Plain Lies
First, their claim that The Safe Guard Trader has 100% strike-free and for the app, it is mathematically impossible to lose even a single trade.
This guy, as much as I see (and I have a degree in maths), can't do even elementary school math – I've never seen so many mathematical contradictions before as I met here.
And, he obviously does not understand what the term "mathematically impossible" means. Or he would not talk such nonsense in the first place.
Put simply; there's NO such software in the world that trades with a 100% winning rate (without losing a single trade). In any event, it's not merely unrealistic; it is downright impossible.
Therefore, when someone talks about having such an app, he is either lunatic or deliberately into deception.
Scam Alert #3: Fake Security Badges
The Security badges like McAfee Security, Symantec, GeoTrust, SSL Secure Connection, etc., seen in their website are fake non-clickable images:
What does it mean to you is their site is not even protected. And you (when doing business with them) are not protected either.
Scam Alert #4: False Claim that Binary Options is for Inexperienced People
Here's what that fake David Hefner tells you in his video: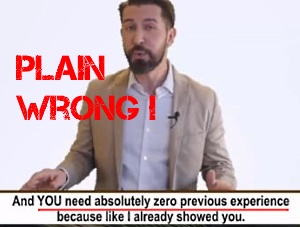 Do you know why this is a lie? Because polar opposite to what he claims here, Binary Options trading IS NOT safe for inexperienced people. Read here why.
Not only that. Their disclaimer, the Safe Guard Trader Full Risk Disclosure (www.safeguardtrader.cc/riskdisclaimer.php) makes it plain clear as well:

Scam Alert #5: Fake Sense of Urgency
Creating a sense of urgency in the mind of a potential customer is one of the most useful tricks in a marketer's toolbox. Why? Because people are afraid to lose good things. And they are massively frustrated when they lose something extraordinary.
So what the authors of the Safeguard Trader app do? They try to create a false sense of urgency in your mind.
How?
They tell you that there are only eight spots available and today is your last chance to grab this once-in-a-lifetime opportunity: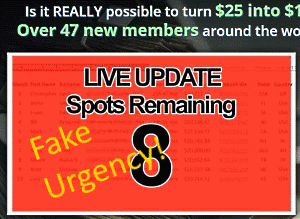 Another 5 minutes of cheesy sales talk and guess what?
They put you into a panic mode. You must act. And act FAST!
Look at these messages below:




The last one is particularly interesting. Because The SafeGuard Trader and GPS Trader should be two different binary options apps.
However, they belong in the same family of scams, and even their video is using the same actor. And as you can see, they forgot to change the name of the app in the video.
Anyway, you got the message, didn't you? Today is the very last day. Tomorrow is "Game Over" for you.
Now comes the funniest part of all this: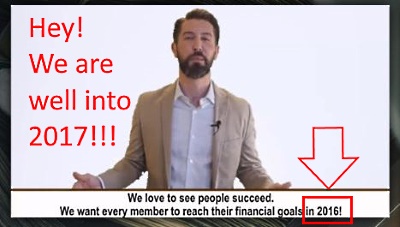 Can you imagine!
The whole video was shot in 2016, and he's talking about reaching your financial goals in 2016?
What that means is all the talk about "today," "tomorrow," "your last chance," "the final day," "2 spots remaining," etc., is outright lies. There is an unlimited number of free spots available – come whenever you want. All the drama is to persuade you to sign up and surrender your $250 to them at once.
Terrible!
Scam Alert #6: Fake Testimonials
Here's one lucky Safe Guard Trader user – Bill Berryman – sharing his joy on Facebook: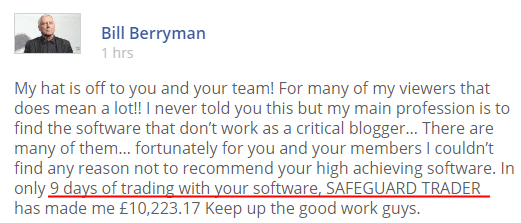 Can you see the obvious problem here?
That Bill Berryman should have made £237,400 minimum. If he is boasting about making £10,223.17 in 9 days (meaning £1,139.9 a day), then I ask – where are their adjustments and guaranteed $33,000 each and every day?
Their whole website is lying through their teeth. Disgusting!
The second problem with their social media comments is this – They are fabricated templates used by many different scam sites. See this comment, given to SafeGuard Trader site:
And now look at this (given to another scam site):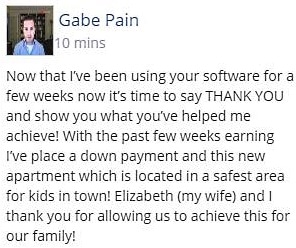 Any similarities between these two?
Final Verdict
As I have shown you above, The SafeGuard Trader App is nothing but another scam in the long list of binary options scams. These cyber-pirates talk your head off to separate you from your hard-earned money.
Listen! Everything you see and hear on their website is fabricated. It is designed to cheat, deceive, and trick you 1) into registering with them and 2) funding your trading account. Please be forewarned before making a costly mistake – Most probably you will never see that money again!
My Verdict! Dangerous scam, full of lies and deception. Don't touch it.
Want to Make Side Money Online (Being Safe)?
If that's what you want – here's my recommendation – Do NOT romance high-risk Binary Options (as a novice, you would probably make more money by gambling in a casino).
Instead, learn how to create a reliable passive income stream online that would serve you for years.
How you ask.
The main keywords here are your niche (=your passion), your website, quality content, traffic (=visitors), revenue.
Put simply; your website is your online real estate where you offer content in your niche. In other words, you assist people and help them find what they need. And help them find the right products or services too. When they go and buy, you earn revenue.
That's how millions of people make side money (or a full-time income) online. And that's how you can too.
Learn More on How to Get Started
What About You?
After reading the Safeguard Trader Review, what do you think? Is it a genuine opportunity for inexperienced people to start making money online or not?
Please drop me a comment below.
Want to make money online?