"…Unlimited Email Leads From Facebook for FREE; on Complete AUTOPILOT…"
…Says an online money maker which is not selling you training, but is, in fact, selling you software.
The question is, what is Social Jacker all about? And can this software make you some cold hard cash?
The Social Jacker Review below will answer these and other related questions. Please read and see if the opportunity is for you.
[Sidebar: If you are not interested in scams, check out THIS instead! You're going to like this.]
Quick Review

Name: Social Jacker
Website: socialjacker.com
Registrant: Kudos Infomedia (Jabalpur, India)
Registered On: 2017-12-14
Alleged founders: Dan Green and Ankur Shukla
Niche: Email marketing
Skill Level: Intermediate (website owners, bloggers, Facebook marketers)
Price: $45 (plus upgrades)
My Overall Rank: 0/10
Verdict: Avoid! The cloaking of already-established web pages to steal their leads for your site is immoral. Also, you can be sure that no auto-pilot system will ever be able to make you rich. You can only get there by putting in a lot of work and effort.
A better ALTERNATIVE to Social Jacker that will help you make $1200+ a month online. And these testimonials are proof.


It's FREE to get started, too (no credit card required). You'll like that part…
The Social Jacker Review (Full Review)
Let's start with the socialjacker.com Website information: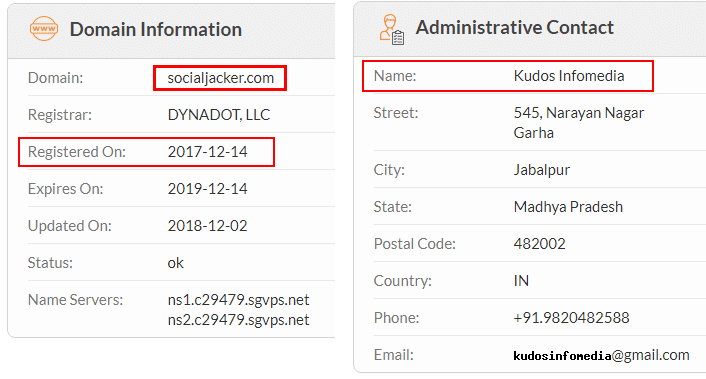 Next…
…Social Jacker Promises
Here are their claims (or promises), direct from the website:
100% autopilot social software
Setup in 5 minutes – newbie ready
Guaranteed 100% real targeted leads for you
Auto-replies, messages, and bot-like interaction
Works for websites or jack almost any authority site for content
Massive time saver + beta tester approved
100% money-back guarantee (with a string attached)
So How Does Social Jacker Work?
When you are setting up an online business, you need leads. To get leads, you need to generate traffic to your site in the first place. Because, if no one visits your website, you cannot sell your product. If no one is interested in your product, it will sit on the (virtual) shelf and stagnate.
There are traditional ways to generate traffic and find your customers.
SEO, for example. Or you can buy ads. But buying ads can be costly, and there is no guarantee that they work.
Building landing pages can direct people to your site. Facebook ads are costly, as well. But at least they do target specific people and groups of people. Then there are banner ads, YouTube ads, etc., etc. You can even pay to buy an email lead.
There are many ways in which you can spend your money, but the returns are never guaranteed.
This is where Social Jacker comes in
Social Jacker claims to be able to get you real email leads without shelling out all of that money. The best part here is, they do it without the need for a website, opt-in page, or hard cash.
So how do they do it? Well, the Social Jacker software uses the power of Facebook and other authority sites to build you a targeted list of email lists for free.
How do YOU use it?
Once you have purchased the software, you create a new campaign. There are a few settings for you to customize, but nothing too tricky. You then choose a Facebook widget design. You will customize the layout, style, look and feel, etc.
Then (and this is where it gets interesting), you choose the URL you would like to 'jack.' This can be your website or someone else's.
Here's the problem, though.
You are most often cloning another site. Without exactly knowing what this means, it already sounds immoral, do you agree? Why should someone do all the hard work for you to steal the email leads from them?
Here is what happens:
1. You set up the Social Jacker software with the Facebook chatbot.
[Sidebar: According to Wikipedia, chatbot "is a computer program or an artificial intelligence which conducts a conversation via auditory or textual methods." In other words, it is a software that can simulate a human conversation with people in natural language through the telephone, websites, mobile apps, etc.]
2. Next, you find a site or an article you like and believe will be popular or go viral. You clone it and post it on social media.
3. Now, when someone clicks the link, they are asked for their details and signed into your webpage instead.
You are, in essence, stealing someone else's business. From this, you can use the information to build your brand.
Using software like this should work if you want to use it. If you can fool people into thinking that they are visiting a website affiliated with Apple or visiting the Apple website itself, when in fact, they are visiting your site, you can make a lot of money.
The problem here is that while you build the website that makes you money, you have to be okay with deceiving people.
Tired of scams? Here's something you can do, at home and at your own pace, to make $1200+ a month online.


Finding out more costs nothing. And you're not committing to anything else.
Does Social Jacker Work?
If you are using Social Jacker for your website only and not stealing leads from someone else, then you do not need to worry about any ethical issues. The software does work, but not as productively as they claim. You will get some leads, indeed.
That being said, there are other methods that you can use to generate those leads without having to resort to this software.
Social Jacker Price
As you can see, they offer you two different price plans:

If the Social Jacker software were a real deal indeed, then that extra $5 for unlimited email leads would be a no-brainer.
However, sit on the fence a minute or two, and they offer you a significant discount:
It means you can get the software for $25 only.
100% Money-Back Guarantee
Next, let's see how easy it is to get your money back if, say you are not satisfied with the results of the software.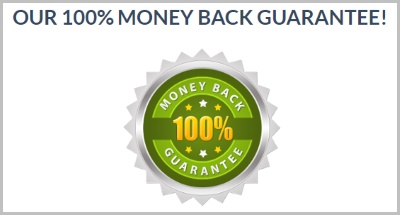 Their 100% money-back guarantee sounds promising, do you agree?
Here is, however, a string attached to it. Please read: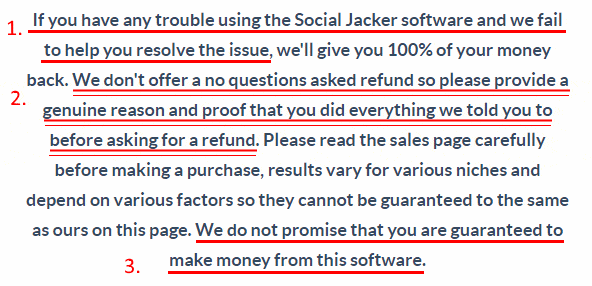 See! It has nothing to do with dissatisfaction with the product. Because, usually, when a company offers a 100% money-back guarantee, it means this – You pay for the product or service; you try it for a certain number of days, and if you don't like it, you return it and will get a full refund.
Here, however, the situation is entirely different.
1. The Social Jacker people only offer you that 100% money-back IF their software fails to work (= you cannot use it) AND they fail to repair it.
2. Even then, you need to prove it (that the software fails to work).
3. They "do not promise that you are guaranteed to make money from this software."
In other words, you will not get your money back if the software works but fails to deliver.
Therefore, in my humble opinion, their 100% Money Back Guarantee feels like a kind of deception. Clearly, the guarantee is not what you expect it to be.
Is Social Jacker a Scam?
I would have to say yes.
Why?
Red Alert #1
Because the fact that they promote the cloaking of already-established web pages to steal the leads or direct traffic to your site is unethical.
How would you feel if you had built up a brand only to have someone else come in with $40 software and trick people into thinking they are you while driving traffic away from your site?
Red Alert #2
The other thing you need to worry about is the information they store for you.
All of the mail leads are stored on *their* servers, in the cloud. While the cloud is a great place to store data and you generally do not have to worry about your data there, there is a chance that it could all go missing.
Think about the company: How long will it be before a company such as theirs is shut down? And what happens to your data when it is shut down. All is gone, right?
And it is even worse. Keep reading.
Red Alert #3
The next thing you need to worry about is your data being stolen.
You do not want someone to take all the email leads you have worked hard for (or your software has worked hard for) and use them for their benefit.
Well, that is just precisely what you are doing, do you agree?
And, that is what the founders of Social Jacker recommend. But if so, how are you going to stop THEM stealing YOUR leads (those stored on their servers)? And how are you going to stop them using those leads for whatever they want?
Red Alert #4 Price Deception
Here's how they are trying to deceive you with the Social Jacker pricing plans.
To persuade you to act at once, they create a false sense of urgency in that gray matter called your brain.
Here's how:
When you first time land on the Social Jacker website, they offer you a $20 discount: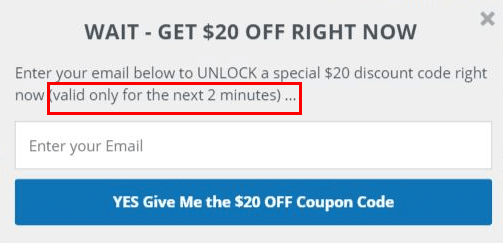 But there are two requirements included:
You must give them your email address.
You have only 2 minutes to get that $20 OFF Coupon Code.
Both requirements are plain lies, though. Why?
Because even if you refuse to give them your email, the $20 discount is still there. Only now it is called "Early Bird Discount."
And now they give you… What a surprise – 19 minutes to act and get your discount:

What about discount code? Where do you get it?
It is there, right on their sales page:

OK, what happens when these 19 minutes pass away, and you have not used the discount count?
Nothing happens.
Because the $20 discount is still there – available for you. This time, though, the countdown timer is replaced by the "limited time special offer:"

This time they there is no time limit anymore.
Funny, isn't it? (No, it's not.)
So what I did was… I waited three days and tried to use that "old, expired" discount code POTD20. And guess what?
The code still works: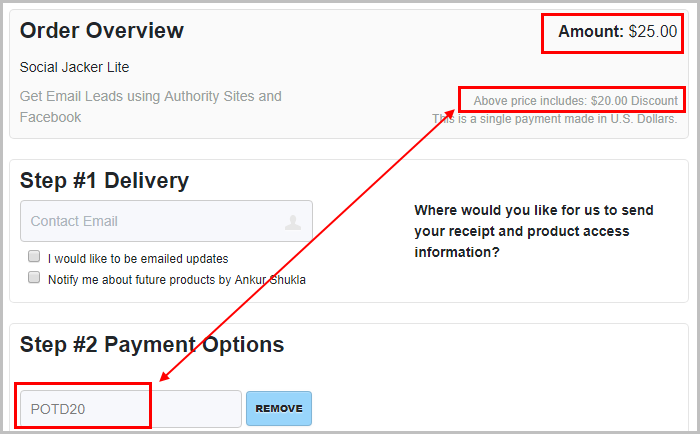 In other words, their discount codes never expire. All these "hurries," "early bird discount expires," etc., are only there to deceive you.
Finally, this is the funniest of all:

So what do you think? If these guys have already lied to you so much, can you take them as trustworthy dance partners?
I seriously doubt.
Red Alert #5 100% Money Back Guarantee
As I already explained above, this 100% Money Back Guarantee looks like but is NOT what you expect it to be. They will not give you money back if you (for some reason) are dissatisfied with the results of the software.
Final Verdict
The initial $40 outlay is not much to invest, of course. But be aware – After investing, you will be offered tons of more products. And when the software does not work as well as you had expected it, you will be tempted to buy more upgrades to make your online business a success.
If you are using this software to jack your own site, then the purchase is dubious at best. If you are using the software to jack another site, then you deserve everything which is coming to you.
Jack – as in hijack. Think about it.
We would advise against getting involved with Social Jacker if only to keep your conscience clean and allow you to sleep better at night.
Imagine for looking for legit work-from-home opportunities and finding THIS when you go inside… WOW


Yes, the raw, sizzling beauty of passive income stream online… Please click now. Because sometimes 'later' becomes 'never .'
What About You?
Thank you for reading the Social Jacker review. I hope you found it useful. Do you have any experience with the SocialJacker.com software? Please share by dropping a comment below.