Can you make money by taking Treasure Trooper surveys? And if so, how much?
There are tons of survey sites out there, all proclaiming: "Take Surveys! The money will roll right in!" But,
Are they legit?
Can I make money by taking surveys?
Are the rewards worth the time and effort they require?
Treasure Trooper is one of those sites that offers you cash for taking surveys and completing various other tasks.
Quick Summary
Name: Treasure Trooper Surveys
Website: www.treasuretrooper.com
Price: FREE
Owners: Not provided.
How long in Business: Launched in 2005
Upsells: None
My overall Rank: 4 out of 10
Full Review
To find answers to the questions above, I decided to do my research and break the program apart.
In this review, I will show you my findings. You will see if and how much you can make within Treasure Troopers system. Also, you will see if it's worth your time and effort.
So let's dig into the details.
Treasure Trooper Surveys – What the Heck Is It?

Treasure Trooper Surveys are paid surveys, a type of site where participants/members get paid for taking surveys and completing other advertising offers.  The trick lies here. Large companies pay to survey sites to help them do customer surveys and complete other small and tedious tasks.
You get paid for taking those surveys and completing advertisement offers.
Treasure Troopers offers quite a variety of options and pays if you complete them. You can take up to 8 cash surveys every day, worth up to $1 each. You can make money by filling out forms, sampling products, completing tasks and performing searches.
They claim that they have paid to its members over $6.5 million since their launch date in 2005. Because you cannot prove it, so it's up to you if you, believe it or not.
1. Registration
1. Registration is free, and there are no upsells. Upon your first login, You will find $3 in your balance. That is to show you how easy is to make money with them.
2. The site is open to residents of all countries but as usual with this type of sites, its most offers are targeted towards US, Canada, and UK residents. For others, there are only limited options available.
2. Website Layout
In my humble opinion, their Indiana Jones theme is annoying. To me, the site looks like a game or casino site, not as a business site. Also, they use comic style dialogs to communicate with you.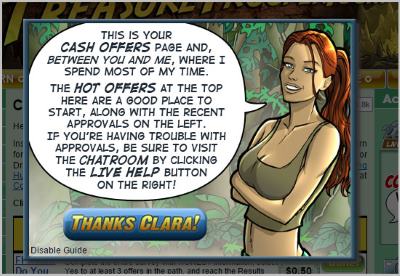 3. Are Treasure Trooper Surveys Legit?
1. Being launched in 2005 it has been around over ten years already. It's quite a long time and a good sign. Why? Because most scam sites disappear fast.
2. Treasure Trooper has an active user forum, and they give a lot of freedom to their users to interact with each other. Scam sites usually don't allow their members to say anything negative about their sites.
3. Their profile page at BBB has only one alert for the website. So, it looks good, doesn't it?.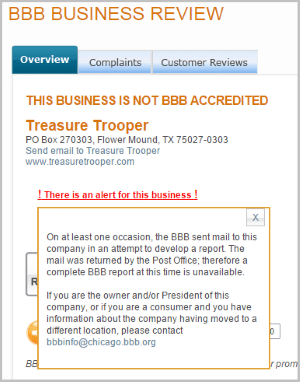 4. But, it's weird that they provide no way to contact them. Maybe there is a way, but then it's well hidden into their website and 's hard to find. This is not what you expect from honest and ethical businesses, right?
Features
Treasure Trooper Surveys offer different options to make money with them: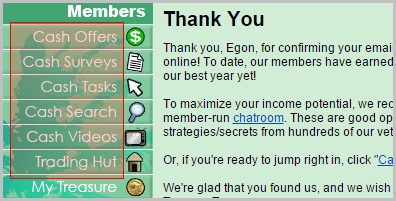 1. Cash Offers
It gives you a list of tasks with the dollar amount that you will earn when completing them. As you see the image, most of these offers promise you $0.50 reward. And that even if you sort them by Highest Paying.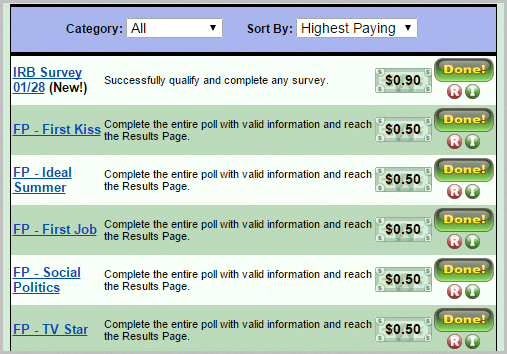 After completing the offer, you have to hit Done button next to it, to get properly credited. Then your task moves to the Pending section in your account, and it takes anywhere between 3 days to a couple of weeks until it gets approved.
Whatever offer you choose to do, it sends you to another website that requires you sign up (for free), and you suddenly feel that you're lost. "Well… Where is the task that I was supposed to do?"
I tried to open quite a few tasks; yet every single time ended up at the same place – confused where to find that task?
I am not sure if people bother do spend their valuable time trying to figure out where to find their $0.50 task to do.
2. Cash Surveys
Treasure Trooper Surveys website says: "There are six cash surveys that you can take each and every day. If you complete all six, that's an easy $4.25 that you can earn each day… An additional $127.50 added to your monthly paycheck!"
The problem is that it is for US, Canada, and UK residents. If you happen to be from some other country, you will see the following message:
3. Cash Tasks
Cash Tasks sections provide you Jobs that you can do.

For example here is one of them. You have to validate articles and their authors.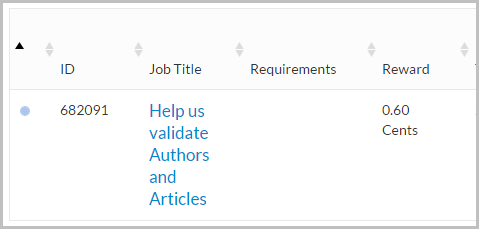 To test your competency they give you 8 test articles. After validating them, you will see if you are qualified to do the task or not. If your accuracy happens to be too low, they don't give you the job. You've just lost $0.60.
So in fact, it's not just clicking through the articles for fun. They want you to be serious but reward you with pennies.
4. Cash Videos
Well, currently they are out of offers. So what else can you do but click away?

5. Treasure Trooper Search
They promise you rewards by doing your everyday online search. For this, you have to use their Treasure Trooper search engine.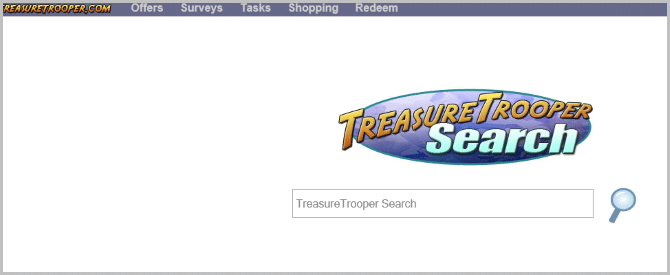 I don't know what search engine they use, but it's clearly weaker than Google. For example, when Google provides 122 million search results for "get cash surveys" then Treasure Trooper Search gives you only 40.8 million search results.
But searching with the Treasure Trooper Search allows you to collect their "arrow heads" (another type of point system to receive rewards). When exactly they give you these arrow heads, I did not understand. But doing with less than ten searches I had collected 3 of them.
But it is time-consuming to get the bigger reward. To obtain 1 "Golden Egg" reward you have to do 100 searches. The problem is they count only three searches a day. You need more than a month to collect your Golden Egg!

6. Treasure Trooper Surveys Referral Program
Referral program means you get paid to bring others into the system.
The Treasure Trooper confesses, "Perhaps the best way to make money on Treasure Trooper is to have other people make it for you!"  In other words, completing surveys, tasks, etc. is not as lucrative as it looks.
Here you see the pyramid of their referral program: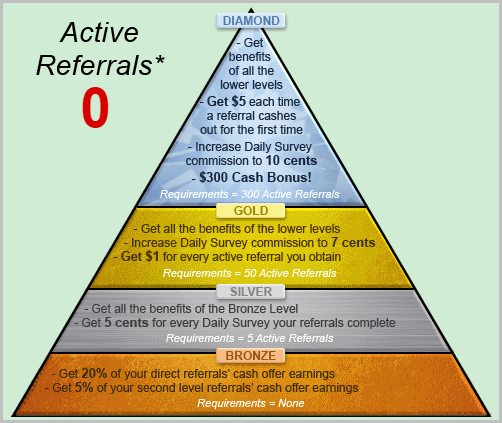 To join the program, you have to have at least $5 on your account. The first $3 you get right after a free registration. That means you need to earn $2 more to join the referral program.
On the lowest (Bronze) level, you will get 20% of your referrals' cash offer earnings and 5% of your second level referrals' cash offer earnings.
6. Trading Hut
Also, the Treasure Trooper Surveys reward you with digital gold and platinum coins and pearls for playing games. Mabutu's Trading Hut is the place where you can redeem your coins.
What prizes can you expect?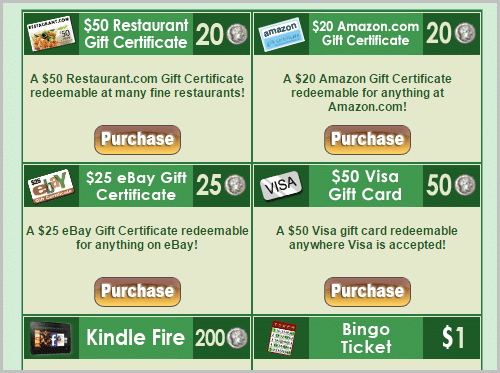 • 20 Platinum Coins – A $50 Restaurant.com Gift Certificate redeemable at many nice restaurants!
• 20 Platinum Coins – A $20 Amazon Gift Certificate redeemable for anything at Amazon.com!
• 200 Platinum Coins – A new, 16GB, Kindle Fire tablet with Wi-Fi.
• A $50 Visa gift card redeemable anywhere Visa is accepted!
• 20 Gold Coins – A Bumper Sticker that's perfect for showing your TreasureTrooper pride! The Sticker says: "TreasureTrooper.com Earn Easy Money Online."

The message on the Bumper sticker "Earn Easy Money Online" should make you cautious. There is no easy way to make money online. At least not an honest and ethical way.
Earning money online is possible, but it requires a great deal of hard work, commitment and persistence. Don't buy the hype of those "get quick rich" schemes.
7. Cash Shopping
Cash Shopping enables you to earn cash back on purchases you make online (gift cards excluded).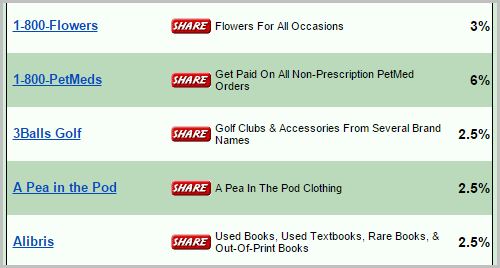 At the moment there are 134 merchants (it will change over time) with whom they have a tie-up. A handy way to get lower prices if you do a lot of online shopping and happen to be their customer.
What Results Can You Expect?
Don't expect too much or you will get disappointed. In fact, these tasks, offers, etc. are not difficult to perform, but they are time-consuming and may quickly become tedious. Also, the return is tiny.
Let me illustrate you the situation.
In Asia, people are used to hiring housemaids. Asian families don't want to waste their time mopping floors, doing laundry or washing dishes.
The problem that you face here is this: You don't wish to do these tasks, yet you cannot live without them either.
So you hire a maid who, for a small fee does all these "despicable" tasks for you. And you are free for more important and enjoyable activities.
That is just exactly what happens in the corporate world. There are tons of tedious tasks that have to be done but that nobody wants to do. So the companies give these tasks over to survey companies like Treasure Troopers com. For a small fee, you complete these tasks for them.
The problem is this. While they make a killing, you work for next to nothing. Just for peanuts. Do you want it?
Pros and Cons
Pros
Free to register
Pretty good referral program
The low minimum cash out figure ($20).
Cash back online shopping
Treasure Troopers search engine, which enables to collect some extra rewards by doing your routine
Pretty good Forum and Chat room where you get answers to most of your questions.
Cons
Poorly chosen website design (at least in my opinion).
Tiny income compared to the time and effort it requests.
Very limited options for citizens outside of US, UK and Canada.
The email account that you use to register at offers sites will be flooded with tons of junk mail. (So better use your secondary or brand new email account for sites like this one.)
Treasure Trooper Surveys – Testimonials
1. Positive
There are tons of testimonies where people praise the program within the Treasure Troopers. They tell you that they make a lot of money within the program. I think they make money. But as you see, it is not "a lot".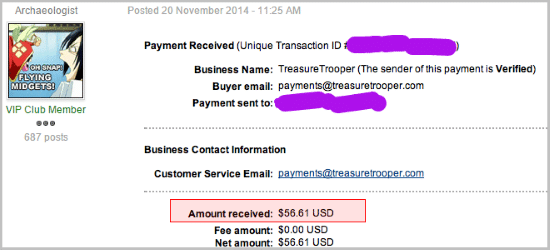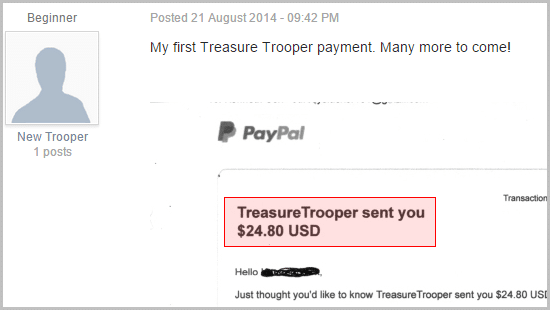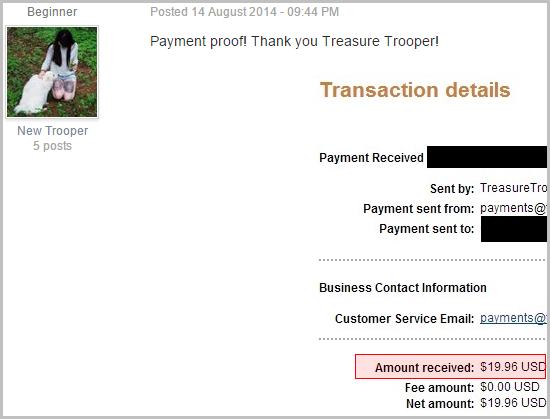 There are amounts received that I found from Treasure Trooper Forum:
$20.67
$62.90 (VIP Club Member)
$19.75
$205.62 (VIP Club Member)
$61.95 (VIP Club Member)
$20.05
$19.87
$19.96
$24.80
$103.17 (VIP Club Member)
$56.61 (Vip Club Member)
As you see, most of the peoples' earnings remain under $20. The bigger sums belong to VIP Club members. To become a VIP, you have to earn $500 within TreauserTrooper in the first place.
Also, I recommend to be careful with the praises toward the program as all they are looking for new referrals.
2. Negative
There are also testimonials that warn against the system. There are complaints that it's hard to get your money out from your account.


The truth is that you are going to make only small pocket money within Treasure Troopers. There are those who can make significant income, but these cases are rather the exception than a rule.
Buying Advice
---
Although Treasure Trooper Surveys is a legit company it is not my recommendation. As far as I can see, you are going to spend a lot of time making small pocket money within the program. The companies make killing while you work for peanuts.
There is a testimonial above where a person made $3000 over five years! Hey, it's only $50 a month!
Now think about it!
Today, after five years of completing limited offers and tasks, what assets does he have? What additional education, knowledge or skills he has?
Nothing! As much as I see it, it's five wasted years.
If you started five years ago and spent those five years learning and building up your personal online business, today you would undoubtedly earn at least five figures a month.
Not only that.
You would have a powerful, respected website with awesome daily traffic and revenue. You would have a solid online business that would serve you for years to come.
Also, you would have an education that would land you a work-at-home job with an excellent salary.
Final Verdict
Treasure Trooper Surveys is a legit company but I don't think it's worth the time and effort required to make such a little money. It might help you earn some pocket money but it's not something that pays accordingly to how much time you invest.
Name: Treasure Troopers
Website: www.treasuretrooper.com
Price: FREE
Owners: Not provided.
How long in Business: Launched in 2005
Upsells: None
Overall Rank: 2 out of 5
My recommendation:
Instead of wasting time filling surveys, completing tasks and get paid peanuts, better learn how to earn a full-time income online. Here are the best training platform and resource center that I can ethically recommend. And it's free to join.
Here you find everything you need to learn and build up a REAL online business from scratch. You will learn how to earn revenue in an ethical way.
Why Work for Peanuts? Find Out How to Attain REAL Success Online. No Money! No Risk!
Do you have experience with Treasure Troopers (good or bad) that you want to share? Please drop a comment below and I will get back to you.