"No Scam: Mom Makes Extra $8000/Month in Her Spare Time on The Computer Without Selling Anything."
…Says the title of an article that tells a story about once financially struggling mom Kim Swartz… Who now makes thousands of dollars a month online. Easily.
They claim it is not a scam. Well, in my opinion, it is a scam.
So, what about Kim Swartz scam?
In the detailed review below, you will learn what it is and how the scammers have designed it to lure you into their dirty sales pitch? Let's dive right into the details and see yourself – if you genuinely can start raking in cash… Or the scammers will turn you into roadkill.
[Sidebar: If you are not interested in scams, check out THIS instead! You're going to like this.]
Quick Review
Name: Kim Swartz Work at Home Report
Login page: http://wahreport.today
Niche: Link Building
Target Audience: Stay-at-home moms
Skill level: Beginner
My Overall Rank: 1 out of 10
My Verdict: Kim Swartz Work at Home Report is a scam. People behind this scheme are not ethical businessmen and will fleece your wallet if you give them a chance. Please don't give it to them.
Here's a much better ALTERNATIVE to Kim Swartz work at home scam that will help you make $1200+ a month online. And these testimonials are proof.


It's FREE to get started, too (no credit card required). You'll like that part…
6 Proofs That Kim Swartz Is a Scam
Proof #1 Fake Kim Swartz
It is evident that Kim Swartz is a fabricated character. As I told above, Work at Home Report is a clone website. The scammers behind the scheme (whoever they are) keep cloning their sales page after every few months. Also, they keep changing logos of their fake news portals:
And they keep uploading those scam pages on other (new) domains (URLs)
And, of course, they change the names of the main characters in their fake narratives. They change the name of the author of the article, the name of the stay-at-home mom (who now makes thousands of dollars). And, of course, they change the name of the product as well.
For example, this time, her name is Kim Swartz. But she's also been named as Melissa Johnson, Leah Williams, Jamie Taylor, Lisa White, Kelly Richards, etc., etc., etc.
For example, here is a screenshot of our "lovely" Kim Swartz work at home report: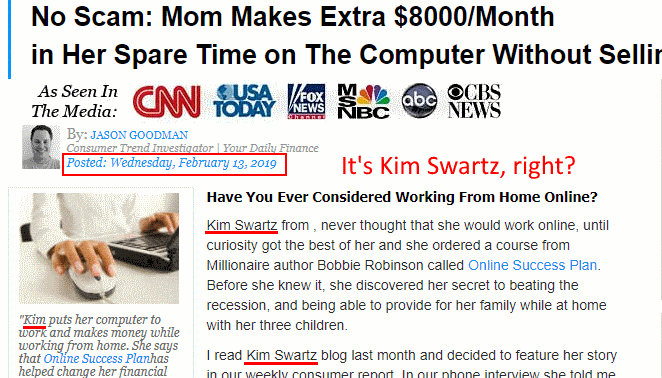 As you can see, it's written by Jason Goodman and published on February 13, 2019.
And, of course, it tells you the "inspiring" story of how Kim Swartz found Bobbie Robinson's Online Success Plan. Now she is making thousands of dollars every month from the comfort of her home.
Things start to get interesting, though. Look at the image below (do you notice the content in both pages are identical. Only the name Kim Swartz and the image has been changed.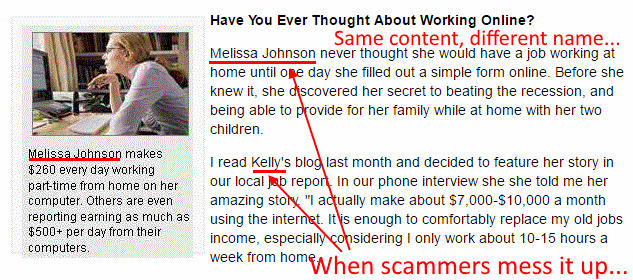 Yeah… the scammers have messed it up here.
They obviously have used the Kelly Richards scam page for cloning – but forgot to change her name in all locations. Pretty funny, isn't it?
There's another example…
…and the same-same again… This time, though, it is Mary Vahgn who is replacing Kelly Richards…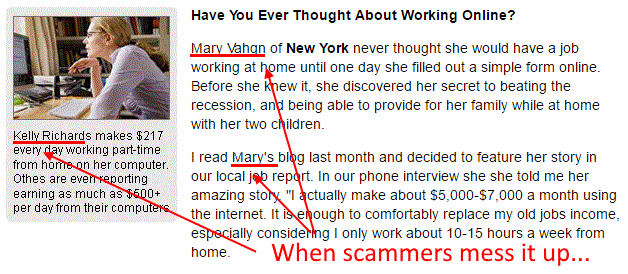 See!
I could provide many, many more examples like these above.
Anyway, do you still believe this is an accurate report about a real Kim Swartz and her success?
Tired of scams? Here's something you can do, at home and at your own pace, to make $1200+ a month online.



Yes, you need discipline. But the pain of discipline is far less than the pain of regret. Click here now.
Proof #2: Fake News Portal
Everything you see on the Work at Home News portal is a deception. Take a look: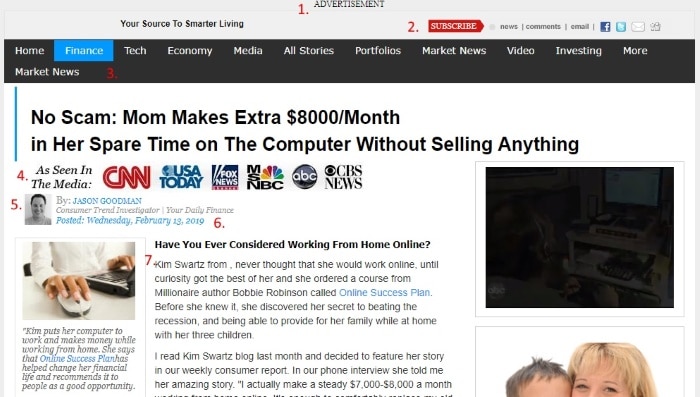 Let's take a bit closer look at these 7 points I marked on their sales page.:
1. Advertisement
That's what the sales page really is – an advertisement. Hey, it is not a business (or work at home) news portal. It's an advertisement. Right from the beginning to the end.
But because the text has been deliberately made small, then most readers probably don't notice it. Thus, they wrongly think it is a news portal.
2. Contact buttons – "Subscribe," "email us," and social media links – fake images that don't work.
3. The Main Menu – fake. It does not work. Every single button points you to the Bobbie Robinson Online Success Plan – which is a similar scam
4. "As Seen in the Media" – fake again. Just links you to the Bobbie Robinson Online Success Plan
5. The Author – Jason Goodman – a fabricated character. Again –  it connects you to the Bobbie Robinson Online Success Plan
6. Date of publishing – ever-changing. They run a small script that gives you always a new date and thus fools you into thinking the article is brand new. While it is not.
Proof #3 Fake Comments and Testimonials
Do you think these 3 Kim Swartz work from home testimonials are genuine: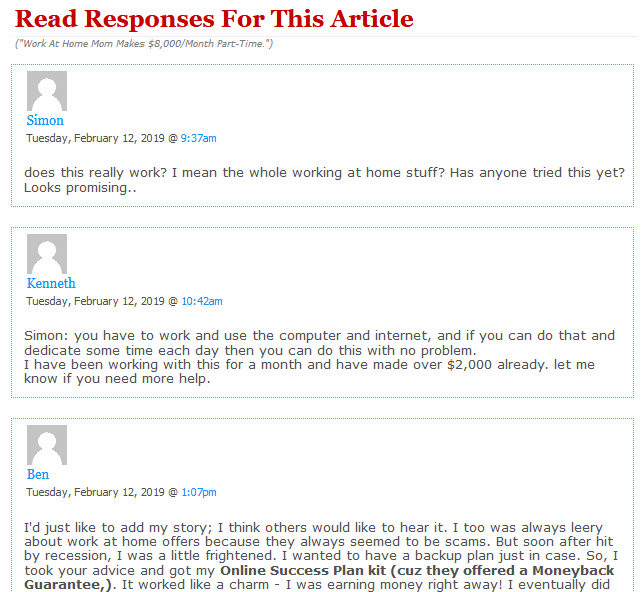 They look authentic, but they are not. And I am going to show you they are fake. Let's put them to the test.
I want to show you what kind of tricks scammers use to deceive you into believing the whole thing is genuine.
First, the date. For all three comments, the date is the same – February 12, 2019.
Now look at Kenneth's comment below (notice the date):

See! The same comment but a different date!
What these scammers do is they run a small script on the web page that automatically renews the dates. That's why these dates are always just a few days old. They want to give you the impression that the discussion is very new, ordinary people make money indeed… And they are making money now.
In other words, the opportunity is genuine, but you need to act at once.
Onward.
Next, please compare these comments from two different websites: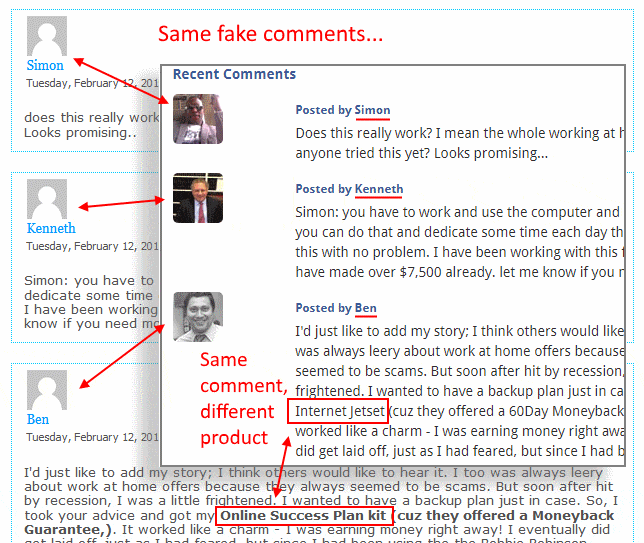 You see! Kim Swartz work-home scam promotes Bobbie Robinson Online Success Plan while the other scam site promotes Internet Jetset. In both cases, though, the testimonials are identical.
Finally, even the names and images of Simon, Kenneth, and Ben are not genuine. Take a look (two screenshots from two different scam pages):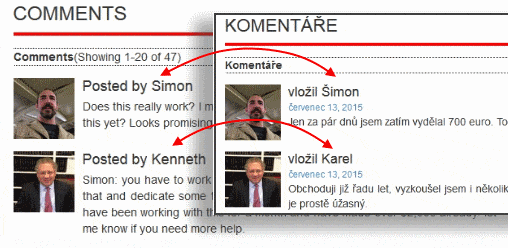 Suddenly, Simon has an entirely different face (compare with the image above).
And Kenneth has become Karel.
Can you imagine!
Can you trust doing business with them? Not me…
Proof #4 Fake Expiration of Offer
This is yet another dirty trick in scammers' toolbox. They use this trick to create a sense of urgency in your brain. In this case, though, it is a false sense of urgency.
It's false because there's no urgency. How? Simple. There is no expiration of the offer. But the scammers want you to act at once. They want your money, and they want it now.
That's why they do it. Look yourself: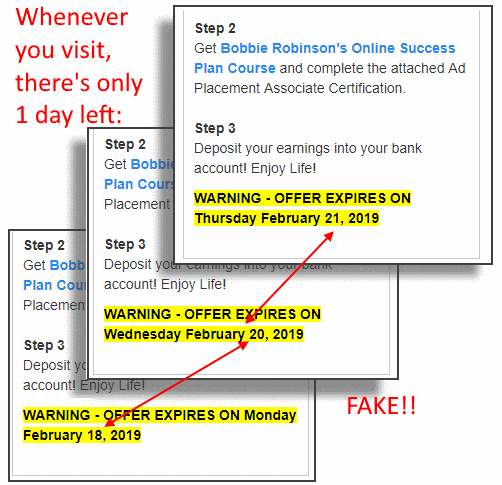 See! There's no urgency. Whenever you visit their site, the offer is always there. Hey, it's a deception. Plain and simple.
Proof #5 No Contact Page, No About Page, No nothing
Think about it. If you visit a legitimate companies' websites (like Amazon, eBay, Forbes, Business Insider, HuffPost, or whatever), You always find their About page to read about the company. Also, there is always a contact page so that you can contact them.
The Kim Swartz work-at-home report, however, offers neither About nor Contact page. No nothing.
Next, look at these buttons at the upper right corner of the web page:

As I told above, these "subscribe," "email" and "social media" buttons are all fake. Yes, they are there to give you an impression as if you could contact them while you cannot.
That's utterly disgusting.
They ask your hard-earned money but refuse to reveal who they are and how to contact them.
Proof #6 Kim Swartz' Deceptive Consumer Disclosure
What is Kim Swartz Consumer Disclosure about? And how to find it to begin with?
Well, you can find it at the bottom of the sales page. And of course – it is in such incredibly small print that most people cannot even read it. And that's deliberate as you probably suspect.
Anyway, let's see what that incredibly small print says. Here's a piece of it:

What does the small print tell? Let me make it a bit bigger for you:
"The term "advertorial" is a combination of "advertisement" and "editorial" written in an editorial format as an independent news story, when in fact, the advertisement may promote a particular product or interest.
Advertorials take factual information and report it in an editorial format to allow the author, often a company marketing its products, to enhance or explain certain elements to maintain the reader's interest. A familiar example is an airline's in-flight magazines that provide editorial reports about travel destinations to which the airline flies.
As an advertorial, I UNDERSTAND THIS WEBSITE IS ONLY ILLUSTRATIVE OF WHAT MIGHT BE ACHIEVABLE FROM USING THIS PROGRAM, AND THAT THE STORY DEPICTED ABOVE IS NOT TO BE TAKEN LITERALLY…"
In other words, they claim that their case is similar to an airline in-flight magazines. However, I don't agree.
Why not?
Because advertorials found in those in-flight magazines don't try to deceive people into believing that these are true stories or real opportunities when they are not.
Here, however, everything you see is fake and deliberately made to look genuine.
As I already told above, they have:
deceptive page layout
fake main menu
fake "subscription," "email us," and social media buttons
fake "As seen in the media" logos
fake stay at home mom Kim Swartz
fabricated author of the article
False (and always changing) dates to give you the wrong impression
fabricated success story
fake comments
fake expiration of the offer
When everything you see and read is fraudulent, false, and fabricated, do you still believe that the secret treasure chamber they are offering you is real? Maybe that too is fake.
Final Verdict
Kim Swartz Work at Home Report is a scam. Never cherish the idea that it could be your lucrative dance partner. They are a bunch of thieves whose main job is to milk innocent folks. Don't fall for their tricks. Please stay clear.
If you'd rather make real money than blow your lifetime of savings… Why not try this?


Why THIS is risk-free for you. Look closer and you'll see why.
What About You?
Thank you for reading my "What About Kim Swartz Scam About" review. I hope you found what you were looking for.
I love to hear what you think, too, in the comments.
Stay safe,
Egon (EgonSarvReviews.com)