The Cash Finder System has many of the hallmarks of a scam, claiming that there is "unlimited amounts of money to be made online," and promising full-time income working only 15 hours a week.
So, what about the Cash Finder System scam? And… Is it a scam to begin with? Or, despite all the red flags, is it a legitimate way to make money online?
[Sidebar: If you are not interested in scams or low end (and high risk) products, check out THIS instead! You're gonna like this.]
Quick Review

Name: Cash Finder System
Website: cashfindersystem.net
Creation Date: 2016-01-11
Registrant Name: Daniel Kalasic (Lehi, Utah, US)
Skill Level: Beginner
Price: $99 (currently discounted at $49)
Overall Rank: 1/10
My Verdict: The CashFinder System doesn't merit any consideration, because they don't even deliver the promised refunds, let alone make good on the promised earnings.
Better ALTERNATIVE to the Cash Finder System that will help you make $1200+ a month online. And these testimonials are proof.


It's FREE to get started, too (no credit card required). You'll like that part…
Full Review: What About the Cash Finder System Scam
The Cash Finder System claims that anyone with a smartphone or a computer can spend a few hours learning how to find undervalued real estate and then sending these properties to interested buyers, and collect a finder's fee from every sale.
Also, it claims you can quickly make money in real estate with no experience and no education, and make $500-$5,000 or more on every transaction.
The Cash Finder System offers video training on how to become a real estate finder. And how to locate real estate deals in your area.
It also offers scripts and templates for sales calls and letters to help you introduce yourself to real estate buyers.
Cash Finder System Promises
Let me outline some of the promises that I found about the product
It teaches you step-by-step how to make money online
You don't need any experience or knowledge
The system is designed to be used for only 15 hours a week
However, it will make you a 40-hour workweek income
Makes you money quickly (you can receive your first check within seven days)
You don't need to sell anything
It's as simple as "copy and paste."
Sound promising, do you agree? Keep reading, though. There's more to come.
The Price
The cost of the program has decreased over time, initially claiming to be worth $999, but yours for a limited time for just $99.
Now the discount is even steeper, and you can register for the Cash Finder System for only $49.
What do you get for that money
They will give you access to their 12 training video modules:
Getting started
Crucial Concepts
Wholesaling 101
Surveying The Real Estate
How to Get Deals Coming to You
Negotiating and Getting it Under Contract
Due Diligence
Transaction Management
Attracting Qualified Buyers
How to Get Your Deals Sold
Assigning Closing and Getting Paid
Mindset
These videos are, in fact, just slides (plus the voice of the unknown narrator behind the screen)
What About the Owner/Founder?
Here's what I found in the GoDaddy / Whois Search Results: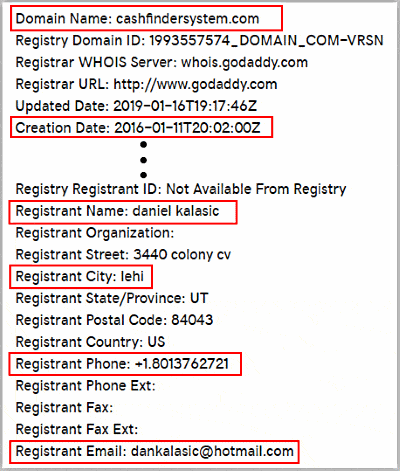 So at least you can contact the registrant if you should ever need to. By the way, he seems to be a real person (and not a fake character).
Is the Cash Finder System a Scam?
The Cash Finder System exists in a scam grey area.
Can a person make money as a real estate finder? Yes. Despite the scammy claims, advertising techniques, bad graphics, and redundant URLs, being a real estate finder is a legitimate job, and lots of people make money in the field.
Is the Cash Finder System the best way to do it? No.
The truth is, there are hundreds of thousands of people out there looking to make profits on real estate deals. Many of them are realtors, professional brokers, or experienced contractors.
Fully 75% of licensed real estate agents work as finders. Can you imagine!
Here's the kicker:
They are the people who are already in the industry. They have in-depth knowledge, all the know-how, and experience assessing properties, estimating the cost of repairs and upgrades, evaluating contracts, etc., etc., etc. They already know how to make money off of real estate deals.
Remember, any newcomer is going to face steep competition from the hundreds of thousands of (often highly skilled) people already in the industry.
Yes, it is absolutely possible to achieve some seriously-outrageous results in the real estate business…
… But being a profitable real estate finder means developing an extensive network of potential buyers.
And this means, of course, traveling to tour properties, visiting auctions, or assessing distressed properties. It definitely is not a business that can be done for 15 hours a week with a smartphone.
If you don't know anything about repair and rehab, you will need to learn because it's your professional assessment that persuades a buyer to make a deal.
In fact, the best way to earn money as a real estate finder is to identify homes that are not yet on the market. Why? Because by the time they are listed, you don't have an exclusive deal anymore. Therefore, many real estate finders evaluate houses, looking for a good deal. Then they attempt to persuade the owners to sell for a reasonable price.
It's the best way to get the deals you want. But it obviously means lots of in-person work, research, persuasion, and rejection.
Being a real estate finder is an actual, legitimate career. It requires time, training, expertise, and travel. You definitely won't get those from watching a handful of video lessons online. And you certainly can't do it by simply copying, pasting and sending form letters.
That's why real estate professionals have specialized training and are licensed.
And that's why I cannot recommend the Cash Finder System.
Now that you know what the CashFinder System is about, you can save the money by keeping it in your pocket. There are lots of online listings for real estate, and even free scripts and templates for sales materials.
The CashFinder System isn't worth paying for, which is why they won't tell you upfront what it is.
Tired of scams? Here's something you can do, at home and at your own pace, to create your own passive income stream online

Because, "If you are an individual who wants to make a significant achievement in life, your chances of doing it while working for somebody else are remote." – B. Suarez

7 Red Flags – Why we can also say: Cash Finder System Is a Scam
Red Flag #1: Its domain name keeps changing
Changing domain names is a typical habit of outright scams. And there's a reason for this. When an online fraud is discovered, government officials usually close that scam site down. Closing down the website does not stop the scammers, though. They open the same site under a new domain name, and the show goes on.
That's the main reason behind changing domain names.
Now, coming to the Cash Finder System… Just a few months ago its domain name was cashfindersystem.com:
By now, however, the website has somehow gone M.I.A: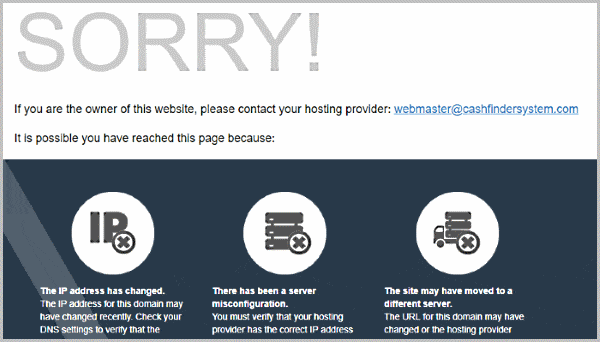 Now you can find it here: cashfindersystem.net.
OK, let's compare the domain names (the registration dates according to Whois.com data):

See! The founders registered the first domain in January 2016, and the second one in January 2017 (a year later). Why move the site over if you are a legit business?
Red Flag #2: It is a Get-Quick-Rich scheme
How do I know?
Well, they tell me that (in plain English). See yourself: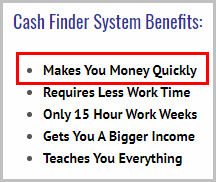 Be very careful with all kinds of Make-Money-Quickly opportunities. Why? Because success online (and offline) requires time and effort. It won't happen overnight. There are no magic sticks that will turn sand into gold.
Listen! Success online is absolutely possible. But you need to treat it the right way.
How?
The chances of your success are much higher when you consider it as a marathon and not a sprint race. Building up your own passive income stream online takes both time and work. That being said, once it is up and running, it will serve and reward you for years. You will enjoy this…
If you're interested, just click here to learn more.
Red Flag #3: They have faked their testimonials
Please take a look at these two testimonials, which I found on the Cash Finder System website:

They're genuine, right?
Wrong!
Why? Because they are fake. For example, the middle-aged lady is undoubtedly not Olivia M from Merritt, CA. How do I know? Because her face image is just a random royalty-free stock photo. You can find the picture here: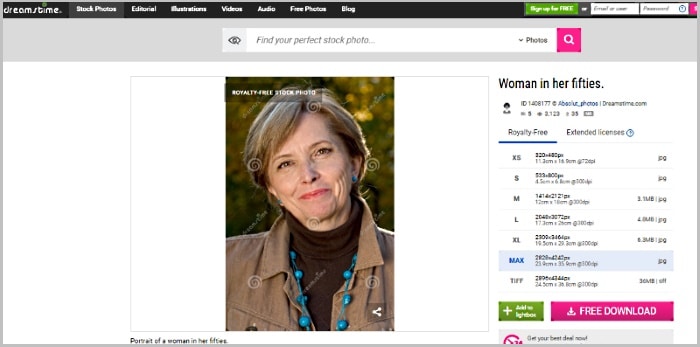 See! Clearly, the lady in the photo is not Olivia M.
Now, let me ask you – If the Cash Finder System is a genuine work-from-home opportunity and delivers as they promise… Why on Earth do they need to fake their testimonials? Don't they have tons of success stories already?
Maybe they have none…?
Red Flag #4: No Contact Page, No Privacy Policy, No-Risk Disclaimer
That's another huge red flag. Because, have you noticed that legitimate companies always have an About page and a Contact on their websites? You cannot imagine a respected business site without a contact page, can you?
Also, they usually have their Privacy Policy and Risk Disclaimer pages.
Here, however… None.
Yes, they have three links in fine print (Privacy Policy, E-consent and Terms, Rates & Fees):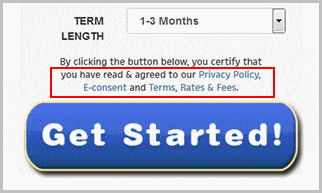 However, none of these three links work. All of them point to the same website -Explodemypayday.com. Weird, no?
And this brings me to the next red flag in the list:
Red Flag #5: It links you to another shady site
As I told above, The Cash Finder System "Privacy Policy," "E-Consent," and "Terms, Rates & Fees" link you to the following sales page: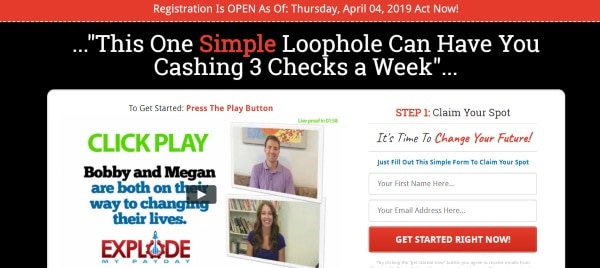 In your opinion, does it look like a "Privacy Policy" page? Or a "Terms, Rates, and Fees" page?
The problem, however, is not only in these three links. Every single "Call to Action" button on the Cash Finder System sales page points you to the same product page.
And… Truth be told, that page smells a rat. Seriously!
Red Flag #6: What about the Cash Finder System refund?
Oh Yes, the Cash Finder System does offer their 60 days "no explanation needed" refund indeed.
That being said, as you would expect from a program with so little credibility, many people struggle to get refunded by the site. They claim to have gotten the runaround and never actually gotten a refund:

Red Flag #7: Beware of Cash Finder System upsells
It's perhaps not a surprise to know that, in addition to the basic training offered in the Cash Finder System, there are several add-ons and upsells once you've signed up.
These upsells cost several hundred dollars, and there are many online reports and complaints of people being charged for upsells they didn't order and don't want. Of course, it is always possible that those people accidentally clicked the wrong thing, or didn't read the terms carefully. However, it's a huge warning sign.
Final Verdict
Giving it the most charitable interpretation, Cash Finder System isn't exactly a scam. It's a shortcut meant to tell people that they can bypass years of training, networking, and experience just by watching some online videos and doing web searches and earn thousands of dollars in only a few hours.
It's deceptive, but not outright illegal.
And, in case you can't tell by now, it's not a good use of your time or money if you want to make a living online. Skip the Cash Finder System.
If you have a passion for real estate and want to become a finder or flipper, it is a potentially lucrative and rewarding career.
In this case, the best way to get started is to find some classes and training opportunities directly related to the industry, to build your skills and your network at the same time. If you want to make money online, real estate isn't a great option, because so much of it does need to be done in-person and on-site.
Either way, skip the CashFinder System.
Because the CashFinder System is about promising shortcuts where there are no shortcuts and offering rewards that you won't see. Plus, it is dodging complaints when you try to get a refund.
If you'd rather make money than blow your lifetime of savings… Why not try this? The raw, sizzling beauty of passive income stream online…


Do it now. Sometimes 'later' becomes 'never.'

What About You?
Thank you for reading the "What About the Cash Finder System Scam?" review. Now that you have reached the end of it – What are your thoughts on it?
Do you have any experience with it? Please share by dropping me a comment below.