The internet has opened a lot of opportunities for business owners around the world, both for small entrepreneurs and big companies.
It has leveled up the playing field, giving more people the chance to show the world what they can offer.
However, it doesn't come for free. It will require a lot more time and effort to make it work. That's why a lot of small business owners find themselves overwhelmed with a never-ending pile of tasks to do instead of focusing on the more critical part of the business, like building the brand.
The internet provides us all the tools we need. Sure. But they're all scattered in different places forcing us to divide our attention and know-how to juggling multiple service platforms.
Until now.
That's what Ontraport promises. It seeks to make all those services available in one place, in an easy-to-use system that everyone (from small business owners to huge companies) can use.
…Or does it?
That's what I am going to take a look into this article I call Ontraport Reviews.
[Sidebar: If you are not interested in small business software (you don't have a business and are looking for ways to make cash online), check out THIS instead! You're going to like this.]
Quick Review
Name: Ontraport
Website: ontraport.com
Creation Date: 2010-06-07
Founder and CEO: Landon Ray
Headquarters: Santa Barbara, CA
Who is it for: Small businesses
Price: Starting from $79
Free Trial: 14 days
Overall Rank: 9/10
My Verdict: Ontraport is legit business software, intended for small businesses. It's a great all-in-one business platform, and if you have the budget to invest, then why not?
If you knew how to make four figure monthly income online, from the comfort of your home, would you do the work?

…Well THIS is your chance


It's FREE to get started, too (no credit card required). You'll like that part…
 Full Review: What Is Ontraport.com About
What Is Ontraport.com?
In their own words, Ontraport is "easy-to-use CRM and marketing automation software."
The 3-letter initialism stands for Customer Relationship Management. (aka CRM).
[Sidebar: Just in case you have not heard about it, yet, here's how Wikipedia explains the term CRM (my emphasis added):
Customer-relationship management (CRM) is an approach to manage a company's interaction with current and potential customers. It uses data analysis about customers' history with a company to improve business relationships with customers, specifically focusing on customer retention and ultimately driving sales growth.[1]
One important aspect of the CRM approach is the systems of CRM that compile data from a range of different communication channels, including a company's website, telephone, email, live chat, marketing materials, and, more recently, social media.[2] Through the CRM approach and the systems used to facilitate it, businesses learn more about their target audiences and how to best cater to their needs.
That being said, Ontraport is more than CRM.
Yes, it is true, Ontraport seeks to help you manage your ever-growing customer interactions in multiple platforms, like SMS, chat, and email. However, marketing and communications are not just the only things that Ontraport can do for you.
I will do my best to give you an overview of what this company has to offer, so if you're interested, keep on reading.
Who Created Ontraport. When. And Why.
They guy called Landon Ray is the founder and CEO of Ontraport.
According to his website's about page, Ontraport has been in the business for over a decade already. Let's check. According to whois.com, the Ontraport website was registered in 2010: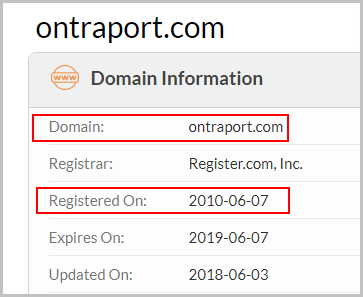 [Source: Whois.com]
But the company itself was founded in 2006:

[Source: Google]
As you can see, Ontraport's headquarters is based in Santa Barbara, California. And (again, according to their website), currently, they have more than 10,000 people in their "Facebook community" of clients.
So why Landon Ray created Ontraport? What's the purpose of it?
As it often is the case with significant breakthroughs, the idea to create Ontraport was born out of frustration.
It was Landon's frustration when he had "been unable to find the right solution for his business and marketing needs, and fed up with juggling dozens of software apps," says Ontraport's About page. That's when he decided to build one himself…
…An all-in-one platform "that would combine all the core tools a business needed."
There was another reason for this, though. At that time, most tools that were available were either too complicated to use or just single-point solutions. Therefore, Landon wanted to build "a platform that served the entrepreneurial community with the same kind of elegant simplicity that's demonstrated by the iPhone."
That's what you should get when you buy his Ontraport automated business software.
And this brings us to the next obvious question:
Here's something you can do, at home and at your own pace, to make $1200+ a month online. It's FREE to get started, too. You'll like that part…


Yes, you need discipline. But the pain of discipline is far less than the pain of regret. Click here now.
Is the Ontraport.com a Scam or Legit?
Fortunately, in this case, the answer is easy — No, it is not a scam. Ontraport is a legit business opportunity.
Here's why:
1. Ontraport's founder Landon Ray is a real guy. What I mean is, Landon Ray is *NOT* a fabricated character like Richard Harper, Michael Mansell, Lisa Westbrook, etc., etc., etc. All of these (and many more) are not real people. They are fake characters – created and exploited by the obvious scams online.
Why fake? Because scammers and all kinds of online con artists don't want to expose their real identities. Why? Simple. They don't want to end up in jail.
Instead, Landon Ray is a genuine, flesh-and-blood person. Not only that. Also, he has left plenty of digital footprints behind. For example, here is his Crunchbase profile page: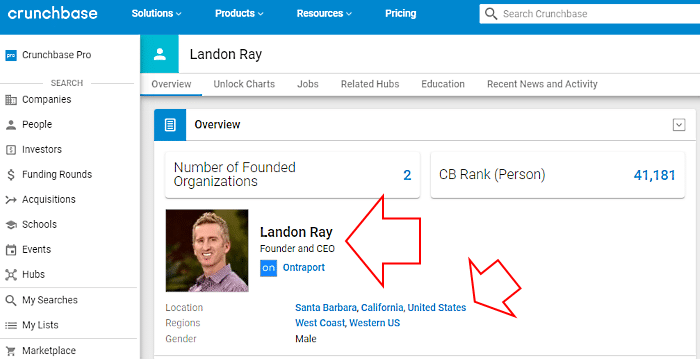 [Source: Crunchbase]
So you see – It is easy to find information about him and check his track record. And his track record has so far been good.
That builds trust, do you agree?
2. As Featured: Forbes, Inc, HuffPost, etc.
If you are thinking of buying the Ontraport business software, but you are still on the fence…
…Pondering whether Ontraport is a scam or a legit opportunity…
…Well, here's the good news for you:
Not only its founder and CEO, Landon Ray, is a real guy. Also, his company Ontraport has been featured in articles published in Forbes, Huffington Post, Inc, Adweek, Entrepreneur, etc.
I have personally verified the posts through the links that the site has provided. So let's take a look at some of them.
First, here's how Forbes describes Ontraport's landing page builder:
[Source: Forbes]
Second, Inc.com reviews Ontraport's Campaign Builder in their article, "Want to Launch a Company? 5 All-in-One Business Tools You'll Need." And hey, Ontraport is #1 in their list:
See! In their opinion, Ontraport is one of the five most recommended all-in-one business tools on the market.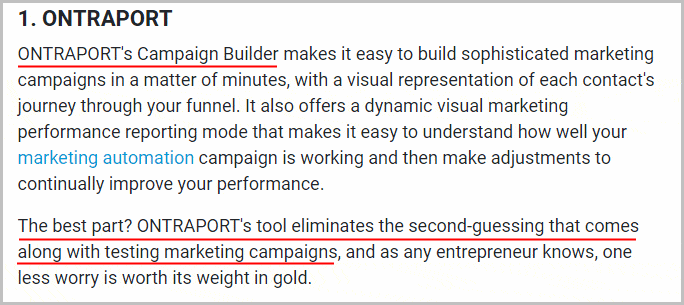 [Source: Inc.com]
Third, there is a Huffpost article on how you can start your email marketing. And that's what they write: "If your target market buys their products online and like it delivered through email, then Infusionsoft or Ontraport are top contenders."
Impressive, isn't it?
Fourth, in the Entrepreneur's blog, Lena Requist (the employee of Ontraport), describes how their company "endured the Santa Barbara fires and aftermath that started in late 2017 and ravaged into 2018.
There are even more articles on Ontraport. What I wanted to show you, though, is that Ontraport is legit and trustworthy business software. It has you covered in the credibility arena. And that is very, very good.
Therefore, clearly, Ontraport is not a scam
Next, to learn more about the services of Ontraport itself, let us take a look at the software's features.
The Different Features of Ontraport
Here are some of the different features you will get to enjoy, depending on the membership package you sign up for in Ontraport:
1. They provide tried-and-tested business process automation tools.
They offer a system that focuses on all the business tools you will ever need in one place, and one that can operate by itself with a minimal human intervention required. This includes:
A dashboard that shows statistics of where your business is right at the moment. To name a few, that includes the number of contracts signed, newsletter sign-ups for the week, and products or services sold.
Automated and manual assigning of tasks to yourself and your team, including setting meetings, sending reminders, following up on schedules, and project updates.
Automated lead management for existing and potential clients
A collective note-taking system that everyone in your team can access as you see fit
A management tool that you can use to provide (or limit) the tools that your team can utilize
Other business processes that can be automated, such as invoicing, payroll, and record-keeping
2. It is CRM.
Above, I have already given you an idea about what CRM is. It is a system that helps fortify your relationship with your customers. In Ontraport, they provide a reliable CRM tool by:
Creating a space that holds all your customer information in an organized fashion
Allowing you to personalize customer info that will help you provide a customized experience for all your customers
Helping you create customer groups and formulate targeted or customized communications (via SMS or email) that you can send out either manually or automatically
And of course, integrating this information with all the other systems and tools within your bigger Ontraport umbrella account
3. It comes with an eCommerce system.
You can create online forms that you can host anywhere and build a seamless sale transaction from start to finish with minimal human intervention. You can even create landing pages with your shop integrated into them (more on this later).
Your customers can enjoy various payment methods, and they have a cache system that saves your customer's details so that next time your customer engages with you, they won't have to retype their info all over again.
And finally, you can even create upsell points and add-ons with ease — something that I find challenging to do with other eCommerce tools and systems.
4. You won't need any other email marketing tool.
The marketing tool is already integrated within the system. Therefore, you can create personalized email templates or use one of their professionally designed templates available. Their email template editor is guaranteed easy-to-use that even those who are not artistically inclined will be able to create (and send out) an impressive email campaign.
But that would be beyond the look of your email in general. That is because the information about your customers is already within your system. As such, you can use the groups that you have created in your CRM as a reference to send out your email campaigns.
You can even generate automated responses that are so personalized that your customers won't even notice that they're programmed. Because who wants a robotic response anyway?
5. Aside from email templates, you can create equally beautiful landing pages too.
What separates the landing pages that you have created within their system is that these pages allow you to track all the information and activity happening within it. You can improve on your best points and pinpoint the weak ones to formulate a better plan of action and a better landing page that would better represent your brand.
Also, don't forget that the landing pages that you can create with Ontraport are not just lead-generating pages, but they can even serve as your business' online space already. It can also be a place where you can sell your products and services (like an online shop), with all the eCommerce features we mentioned a moment ago!
6. You can even create membership sites!
Have you ever imagined your brand to have an organic community that can generate your business' passive income?
Well, the guessing game is over since Ontraport allows that too.
And of course, they also have an easy-to-use system for that, as well as have more features that I simply cannot mention here anymore due to the lack of space.
Hence, I recommend for you to check out their website instead and see for yourself the wide variety of services that you would be able to enjoy if you sign up for their services. Their thorough explanation of how their analytics works is a must-read if you really want to try their system out.
Whoo! Listing out their services' features was not exhausting, but…what's the word? Impressive. See yourself:
A Short List of Ontraport Solutions
Marketing Automation
Email Marketing
Landing Pages
Marketing Analytics
Membership Sites
Sales Force Automation
Ecommerce
CRM
Business Process Automation
Referral Programs
Yes, that's right. Their services are impressively overwhelming. So is there a downside to these services?
If you can write, here is an amazing opportunity on how you, by writing, can create your own passive income stream online (which will serve you for years).


Don't wait for the right moment to take the bull by the horns. It never arrives. Start whenever. Now.
Ontraport Reviews: The Good and The Bad
Well, allow me to list down Ontraport's pros and cons.
The Benefits of Signing Up for Ontraport
A lot of their services are automated.
As I have already mentioned above, a lot of Ontraport features require minimal human intervention. This allows even a one-person business to run as if an entire team is working in it.
Everything is in one place.
You won't have to jump between multiple systems and programs—and pay for them too. Doing so is not only confusing, but it tends to let vital customer information (and profit opportunities) slip through the cracks.
What's worse is that you really won't be able to track how your business is doing because it's challenging to assess different trackers and analytics stretched out across different systems.
They have an education portal.
This benefit is probably my personal favorite. The Ontraport portal includes lessons from various experts coming from different fields and will be available for you to access. As an example, Ryan Holiday, the author of the book "Ego is the Enemy," was a pleasant surprise to his name in the roster of Ontraport's instructors.
Therefore, the portal is a valuable resource for any business owner out there looking to improve their brand while minimizing the dreaded learning curve and trial-and-error process.
The Downside of Signing Up for Ontraport
Yes, this company certainly has its charms, but of course, every company has its downsides. Here are Ontraport's:
They have a steep pricing ladder.
The price difference between their Basic and Pro package is a huge leap, and remember – You need to get the Pro if you want to enjoy most of their features.
They have four membership packages, ranging from $79 to $497. Their Pro package, in case you are wondering, is a whopping $297 per month

[Source: Ontraport]
Now, if you ask me, i$297 a month is a bit pricey for smaller business owners. What do you think?
Their free trial only lasts for 14 days.
It is good that they offer a free trial period. It is even better that no credit card is required.
That being said, in my humble opinion, 14 days is certainly not enough to determine whether their system will work for you or not. It takes, at least, for me, a month to get the "groove" of something and notice concrete benefits, if you get what I mean.
Their basic package only allows one account user.
Every additional account user will cost you $47 each per month.
How Does Ontraport Stand Against Other CRM and Business Service Providers Out There?
ActiveCampaign vs. Ontraport
Yep, I understand that the price can be an issue, so if you're looking for a cheaper alternative, then you might want to look at ActiveCampaign.
Like Ontraport, ActiveCampaign is a company that provides automated business process automation tools such as a CRM system, an email marketing program, and even analytic trackers.
But, here's the kicker:
They obviously lack the other features that Ontraport offers, such as landing pages, membership sites, and eCommerce solutions.
The good thing is if you are only concerned about the marketing aspect of your business and you have all the other stuff sorted out, then ActiveCampaign is all that you need with quite a significant price difference of $70 per month.
That's right. The "Lite" package that ActiveCampaign offers is only $9 per month, and it allows access to up to three users. The company also offers four different membership packages, but their most expensive package only costs $229.
Clearly, that is a far cry from Ontraport's $497, which is something any small business owner should consider. Just sayin'.
The Verdict
And now, for my final verdict for Ontraport.
*Drum roll*
I give it a nine out of ten!
I recommend you to try Ontraport out if:
you're a business owner who needs more organization
you're someone who's utterly confused with all the different accounts and tools you have scattered across the internet
you want more time to prioritize other things such as expanding your brand, or your family, or your health
They offer a system that even beginners will find easy to use.
It is not a big surprise for me that this company has lasted for more than a decade, and I firmly believe that they will probably exist for a very long time. They have struck a gold mine. And in a field of one-trick ponies, their all-in-one service umbrella is a breath of fresh air.
The only reason I didn't give them a perfect ten? Well, their pricing can be much more accommodating, and they can prolong their trial period to 30 days.
But hey, with the features that they have to offer, I'm not complaining! And to answer the question I posed in the title: Yes. Ontraport can live up to its promise.
Anyway, I hope you enjoyed my Ontraport reviews. See you at the next one!
Imagine for looking for legit work-from-home opportunities and finding THIS when you go inside… WOW


Yes, the raw, sizzling beauty of passive income stream online… Look closer now. Because sometimes 'later' becomes 'never .'
What About You?
Thank you for reading my review, "What Is Ontraport.com About…" I hope it was easy to understand and you found what you were looking for.
Do you have any experience (good or bad) with the Ontraport software that you want to share? Please drop me a comment below.