"I guarantee you will make hundreds of thousands in the next 30 days! Or I will give you $10,000 in cash." – Jake Pertu
Well, is it a genuine offer? And what is the Aussie Method about in the first place? And, many other questions beg for answers. Read the detailed review below to see what the Aussie Method is and what it does for you.
[Sidebar: If you are not interested in scams, check out THIS instead! You're going to like this.]
Quick Review
Name: The Aussie Method
Login page: aussiemethod.com
Niche: Binary Options
Price: software free, minimum required deposit: $250
Alleged Founder: Jake Pertu
My verdict: SCAM!!! Please don't deposit money with them!! They turn you into roadkill.
Listen! If you want to make side-money online, do NOT ask Binary Options to date you. First, it is an extremely high-risk business opportunity. You may lose all. Second, it is not suitable for the average person on the street.
There are much better, safer, and newbie-friendly ways to make side-money online. Legit and genuine. Click on the link to see my #1 preference (I am using it).
In fact, when I was a complete newbie…
…I Had No Idea This Would Work. But These Testimonials Are Proof. See How!
Full Review – What Is The Aussie Method?
The Aussie Method is a binary options robot (or trading software). It is supposed to invest and trade through other binary options brokers automatically. In fact, you can trade manually or use its full auto-pilot feature.both
The Narrative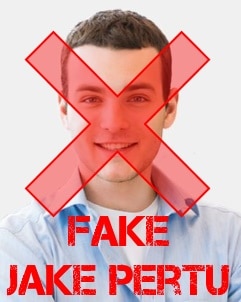 Jake Pertu, the founder of the Aussie method, is a handsome young man in his early twenties. He does not explain who he is or what he does except that he is now a multi-millionaire.
How?
He did not put in 15 or 20-hour workdays, he did not go to some fancy college, he's not a computer genius, and he knows almost nothing about how the financial markets work.
He became a millionaire by using the exact same trading software that he is now offering to you – the Aussie Method app.
Apparently, Jake is a good guy. After becoming a millionaire and with hundreds of thousands of dollars coming into his bank accounts every week he does not need any more money.
Instead, he wants to give something back to the world. He wants to help people – not just give them money but teach them how they can become millionaires.
Jake started with his own family members and friends – turned them into millionaires. After that, he began to help ordinary people on the street.
Amazingly, he has a 100% success rate with every single person he's worked with. All of them have turned into millionaires.
To prove it, he shows you many fat account balances of his customers. Others give grateful video testimonials.
Jake Pertu is so confident that his system will make you thousands of dollars in the next 30 days that he gives you a fantastic guarantee: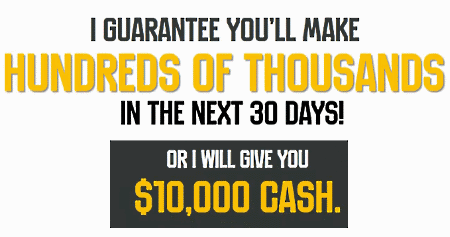 However, he has never needed to do that because every single person had made a lot more money before the deadline fell.
Now it's your turn. But you must hurry because Jake gives this life-changing opportunity to only 20 people.
That's it. The whole story.
Lesson Learnt:
He does not reveal much, right? Not many details on how the Aussie Method was created; who were behind the product; how does it achieve its 100% success rate, etc., etc., etc.
There are so many unanswered questions…
And because Jake does not bother to answer them, I am going to do that.
Before I am going to rip the whole thing apart, though, let's see what the Aussie Method will promise you. Please keep reading, as some of these are mind-blowing, to say the least.
Promises
Let's see what the Aussie Method Trading app will do for you. Here are Jake Pertu's specific promises:
The Aussie Method app is 100% free
100% guaranteed you would make money with the Aussie Method app
You'll make hundreds of thousands in the next 30 days – guaranteed
The system is 100% auto-pilot
No catch, no strings attached, no contracts to sign, no monthly payments
The Aussie Method has a 100% success rate
You don't need to know anything about trading
You won't be spending any time reading or researching
The Aussie Method has never failed to turn the user into a new millionaire every single time
You'll begin to see the profits coming into your account within a matter of hours.
The money never stops. Over and over again, week after week, hundreds of thousands of dollars could be coming into your life… for the rest of your life…
WOWW WOWOWOWOW!
If anything, this is very alarming.
Proofs – The Aussie Method Is a Scam
Red Alert #1: Very Secretive Narrative
First, let's face it – you know absolutely nothing about Jake Pertu. The only thing the scammers give you is a stock photo of a young man and a man's voice in the video telling that he is Jake Pertu.
That's all.
Now, let me ask you – How on Earth are you going to know whether the man's voice belongs to the young man on the photo?
In fact, it doesn't. Because the voice belongs to a much older man. The picture and the voice just don't match, to begin with.
But even without this obvious fact, be warned that if you consider subscribing to the Aussie method, you will be going to buy a pig in a poke.
The owners of the product give you no hint about themselves. There is neither contact page nor any contact information:

Except for the email. Well… When you will send them an email, will you know who is on the other end of the line? No, you won't!
Next, the shadow figures behind the Aussie Method do not explain who or how created that super-duper trading software. Neither they explain whether or how the software works.
All the testimonials and screenshots that you will see on their website prove nothing. It is ridiculously easy to fabricate them (and, as I will show you below, fabrications they are. So keep reading).
The video itself is a long and repetitive sales pitch gathering all the scams clichés possible.
My Verdict: Zero transparency, zero information about the actual company and the people behind it. Stay away!
Red Alert #2: Fake Jake Pertu
As I told above, Jake Pertu is a fabricated character. Not only his face image and voice match. Even worse – the scammers use the same stock photo in different scam versions: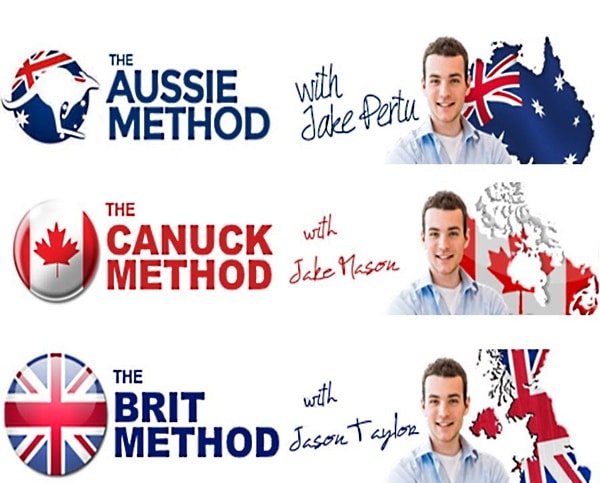 Well, that settles it.
Red Alert #3: Fake Testimonials
It's funny (or is it?) – the only thing Jake Pertu asks you is:

Now, according to his bragging, he has a 100% success rate and every single person that he has helped has turned into a millionaire.
However, he does not have ANY genuine proof (video testimonial) to prove it. Even though this is the requirement to qualify.
Every single testimonial on the Aussie Method website is fake – fabricated and played by cheap actors.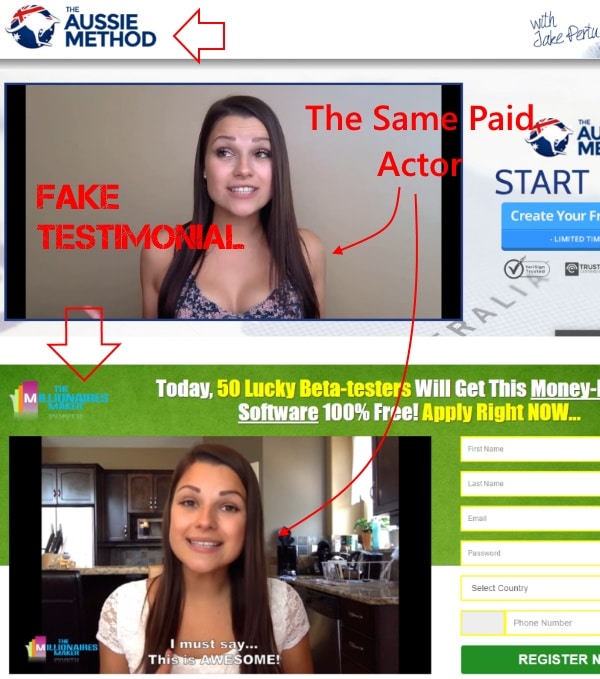 See! The same actor gives her testimonial to the Millionaires Maker scam.
You can find hundreds of such actors in Fiverr alone (hint: search for "video testimonial"). I understand these people want to make few bucks but it does not excuse bold-faced lying.
Sick with disgust.
Red alert #4: Fake Balance Accounts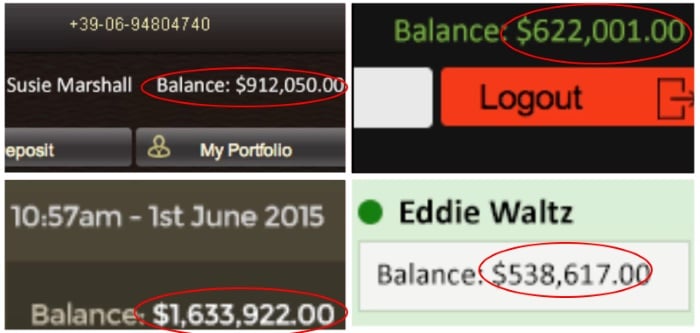 What do these screenshots (pictured) prove? Nothing. Everybody can fabricate them. Here's my example (took about 2 minutes):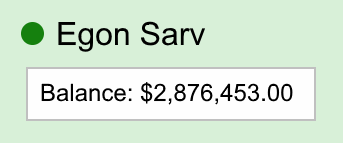 See! These screenshots prove nothing!
Red Alert #5: Everything is 100% Free
This is really sweet. Says Jake:

Also:

Wow! I am so excited, I can't think straight. (Irony)
The trick here is to make you believe that trading with the Aussie Method does not require your own hard-earned money.
Wrong!
As you saw above, trading Binary Options requires two things – you need trading software, and you need a trading account with some Binary Options broker. Then you need to fund your account with real money – YOUR money. This money is used for trading.
You can profit but you can also lose it.
When con-artists tell you that everything is free, it means the software is free. But hey! It's only the first half of the story! The second half is that you need to fund your trading account. And that's how they make money while you are doomed to lose all your investments.
Listen! The system is rigged against you. Be warned!
Red Alert #6: $10,000 Cash Guarantee
Next, let's see what Jake says about his $10,000 cash guarantee.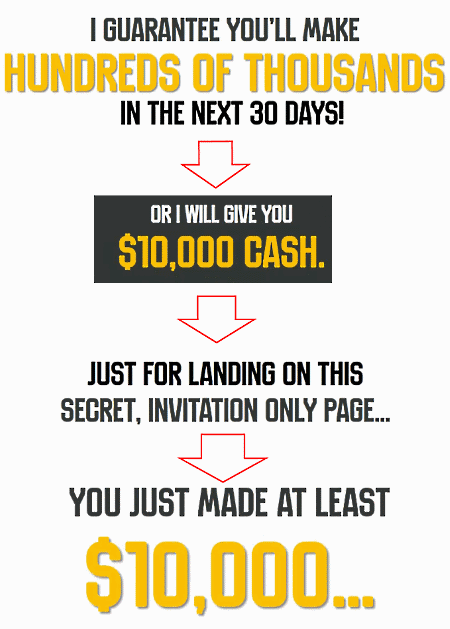 Wow!! [Clapping Hands]
So what's wrong in this picture?
The trick is to deceive innocent people into believing that if they fail to make hundreds of thousands, at least they can walk away with $10,000 in cash.
The big trouble here is that Jake Pertu's generous claim deliberately ignores the fact that you must fund your trading account in the first place. Then you must trade Binary Options for 30 long days using your hard-earned cash.
Not only that, your account is tied to a shady offshore broker whose sole purpose is to separate you from your money.
As a result, you won't survive these first 30 trading days and walk away long before the deadline falls. And that's why fake Jake Pertu can brag:

It's so awfully disgusting! You will never see that $10,000. It's a fact.
Red Alert #7: False Sense of Urgency
A sense of urgency is an old marketing trick that makes people buy. Why? Because they feel that they need to act at once. If they hesitate or delay, they might miss out the great opportunity for good.
Scammers know that fact and they exploit it heavily.
Here is Jake Pertu's warning: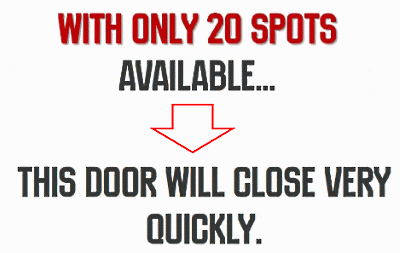 In fact, if you want to be the lucky one and start making millions, you cannot hesitate. There are only 20 spots available and you need to act immediately.
However, now look at this (the Aussie Method promotional video in Youtube):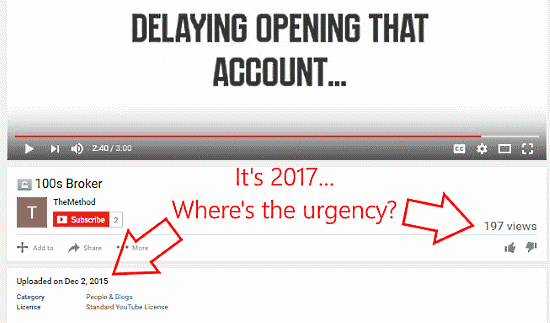 Hey! The video was uploaded on Dec 2, 2015, and it has only 197 views. Where's the urgency?
Red Alert #8: Unethical Big Options Broker
The Aussie Method ties you to the Big Options broker: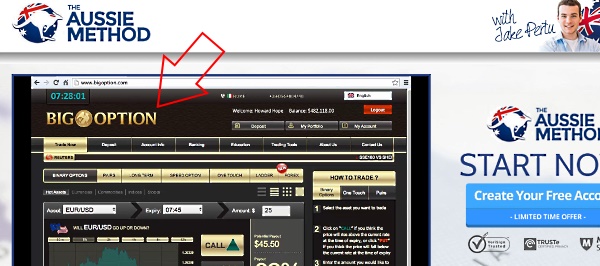 Just in case you did not know, a broker plays a crucial role in Binary Options trading. Because you need a trading account with some broker, then deposit your money to that account. It means you literally trust your investments into the hands of your broker.
If it is a genuine, regulated broker, great. You can always withdraw your money. And if something will get wrong, you can apply a complaint.
However, this is not the case when you trust your money to a shady, unregulated offshore broker (and there are tons of them), you will neck-deep in problems.
And that's exactly the case with the Big Options broker. Although they advertise themselves as the most reliable broker, it is not true.
I just give you 5 examples:

And this:

And this:

Try this:
"I keep sending emails to all the previous brokers who I was assigned to, but no one responds. I keep calling their offices and constantly told that someone would call me back but no one ever does. I invested over £10,000, and I am very very unhappy with this service. I am now trying to claim the money back through my banking system. STAY AWAY FROM BIG OPTIONS!!"
One more:
"Trying to get your money transferred back is a nightmare. They operate just like a Ponzi Scheme. Their traders and brokers lie through their teeth. Do not trust them to trade on your behalf as they do not pay any attention to your instructions."
Lesson Learnt: Stay away from the Big Option broker. They are quick to rip your money from your account and you will never see it again.t
Final Verdict
These eight red alarming signs above are only a few. I could list many more but the review would get way too long and I think I already proved my case…
My verdict: The Aussie Method is a 100% scam.
The anonymous charlatans behind this wicked scheme are bold-face lying to you. They're using every trick in their tool-bag to make you join their system. After that, they will rip you off.
Listen! Binary option has never been a quick way to make easy money. There are thousands of people complaining about losing money in these tradings. However, some do make real money out of this. It's possible.
However, this is not for the average Joe. Binary Options require a great deal of experience and knowledge about investing and risk management.
Tired of scams? Here is a much better and safer way to make side money online. Learn more!
It won't cost you a penny to see whether it is for you. See now!
What About You?
Now that you have reached the end of the review, what are your thoughts? What is the Aussie Method about? A legit opportunity or a scam?
Do you have any experience with it (good or bad) that you want to share?
Please drop me a comment below.
Thank you!