"Make money and change your life NOW! Within 5 minutes, you could be making REAL MONEY working from the comfort of your own home!"
That's the promise of the Automated Daily Income work-from-home opportunity.
Can you trust it, though? And what is the Automated Daily Income to begin with? What if it is a scam?
I am going to answer these and other related questions in my Automated Daily Income review below. Read and see if you like what it has to offer.
[Sidebar: If you are not interested in scams, check out THIS instead! You're going to love this.]
Quick Review
Name: the Automated Daily Income (ADI)
Login page: automateddailyincome.com
Founder: Raena Lynn
Price: $49 + upsells worth tens of thousands of dollars (MTTB 21 step system)
Niche: Affiliate Marketing, Franchise Marketing
My Verdict: The Automated Daily Income is a SCAM. It's nothing but a (poorly) fabricated sales funnel. And what is its purpose? To lure you into buying a subscription to the expensive MOBE rip off scheme.
While it's possible to make money with MOBE, be warned – you can do that only by selling your soul and a clear conscience (Do you like making money by ripping off others?)
I consider it unethical and cannot recommend it.  Plus, it's exceptionally expensive.
Better ALTERNATIVE to the Daily Automated Income scam That Will Help You Make $1200+ a month Online. And these testimonials are proof.


Why not give a whirl right now? You're certainly not committed to anything.

Full Review – What Is the Automated Daily Income, Scam or Legit?
What is Automated Daily Income?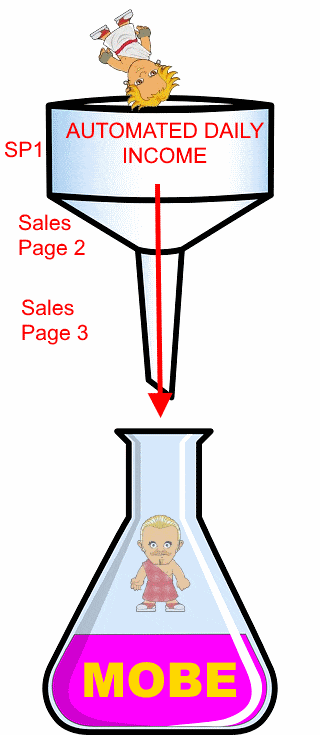 Sadly, the Automated Daily Income is the almost empty website that serves as a sales funnel to MOBE (My Online Business Empire or My Own Business Education).
Why do I say so?
Because the whole website consists of only three back-to-back sales pages (#2 being as long as princess Rapunzel's hair). Plus, there are these secondary documents – Privacy Policy, Terms & Conditions, and User's Disclaimer. That's all the site has.
All the sales talk has but one goal – to persuade people (including you) to join MOBE.
What is MOBE?
[Sidebar: I have already written a detailed review of MOBE, where I expose its true nature. The review is worth reading, especially when you are trying to figure out whether you can make money with the Automated Daily Income or not.]
Therefore, I make it very short here:
MOBE – My Own Business Education – is a system (in fact, a kind of a pyramid scheme) that pays out fat commissions if you can find people who want to buy its expensive top-tier information products and services.
Honestly, these information products are not bad. They actually teach you a lot of good stuff on how to make tons of money online. The only problem is that they are highly overpriced and focus solely on promoting MOBE. Now that's bad. Seriously!
Onward.
To help you promote its products better, MOBE will also give you a done-for-you sales funnel and access to their professional sales team.
What all that means is that everything you get is done-for-you and ready-to-use. Just go out and start making money.
Well… What's my task, you might ask.
Simple. Find new customers for MOBE. Then link up buyers with the MOBE sales team. The team will close the sale and send you a hefty commission ($1,250 or $3,300 or even $5,500).
Sound great?
Here's the dirty part of it, though:
First, you will only make money with MOBE when your recruits buy those top-tier MOBE products. These products cost thousands or even tens of thousands of dollars, to begin with. How many ordinary people can fork out sums like these:
Silver Masterclass –  (Price: $2497)
Gold Masterclass –  (Price: $4997)
Titanium Masterclass –  ($8,997 plus  $199/month)
Platinum Masterclass – ($14,997 plus  $299/month)
Diamond Masterclass –  ($29,997 plus $299/month)
Second, to earn commissions on these products, you first need to buy them yourself. It means you must dig deep down into your jeans, to begin with. Can you imagine shelling out tens of thousands of dollars without knowing if you can ever earn them back? (more about it below)
Third, all these MOBE information products, done-for-you sales funnels, etc., are exclusively designed to sell MOBE and MOBE only.
Which means you will only make money with MOBE by promoting MOBE.
And this, in turn, means, you will only make money when other people lose it. Why? Because your income comes only from the pockets of your recruits. And that's how pyramids work.
It's so utterly immoral.
What About the Automated Daily Income?
Automated Daily Income (ADI) is an example of the MOBE done-for-you sales funnels. It belongs to Raena Lynn (more about her later), one of those MOBE members who is eagerly looking for recruits.
Remember: Automated Daily Income does not have its own product. Instead, it is trying to sell you MOBE's 'My Top Tier Business' 21-step training course (MTTB):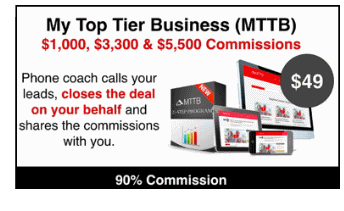 MTTB itself will cost you a tiny $49 compared to many other MOBE's products and services.
Be warned, though – They are going to use every trick in their tool bag to make you buy as many of their top-tier products as possible. After all, that's their business model. And that's how they earn all those fat commissions.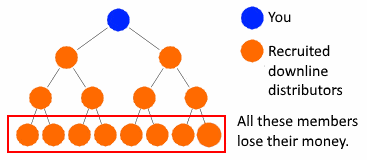 They are happy to separate you from your hard-earned cash. In return, they are also glad to teach you how you can make even more money by doing the same to other innocent people.
That's an obvious pyramid scheme where upper tiers win, and lower tiers lose.
Who is Raena Lynn?
Raena Lynn is the founder of the Automated Daily Income. She is a real person and one of the top recruiters of My Online Business Empire (MOBE). Here is her Twitter account: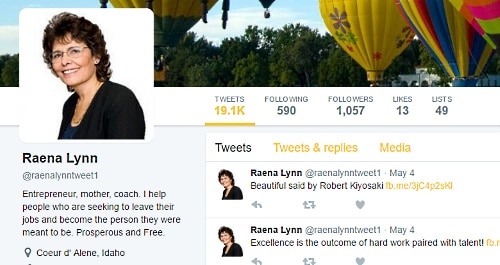 Notice, she writes in her bio that she is prosperous? By now, you have probably understood how she has generated her wealth, haven't you?
To recruit even more people, she has set up many different websites that are designed to lure you into MOBE. One of them is the Automated Daily Income, but there are also 45 Minute Payday, RaenaLynn, etc.
By the way, 'My Millionaire Mentor' ( by Ryan Mathews) is another similar scam site that is promoting only MOBE.
The Dirty Part – Automated Daily Income Is a Scam
Here's why:
Red Alert #1: Fake Raena Lynn
Waitaminute! You just said she a real person…?
True. But not here on the ADI website.
I have no idea why but the Automated Daily Income website is full of deceit. And thus, it easily qualifies as a scam.
Look at her photo in the Automated Daily Income sales page. It is NOT her but a classical stock image:
You can find the original picture in iStock: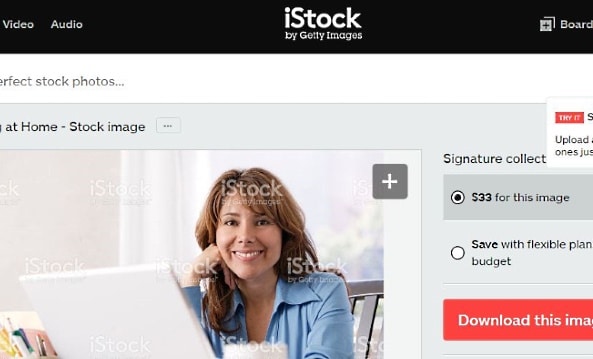 By the way, one of the Forbes articles uses the same image.
See! The photo has nothing to do with real Raena Lynn and her Automated Daily Income scam.
Tired of scams?
Here's what I use
to make money anywhere in the world.

After all, with so much to gain—and with absolutely nothing to lose—shouldn't you at least take a look?
Red Alert #2: It's Using a Typical Work-From-Home Scam Template
Now that's hilarious:
Raena Lynn advertises herself and her Automated Daily Income by using one of the most heavily exploited work-from-home scam site templates.
Don't believe me?
Look at this (Raenna Lynn Automated Daily Income Report):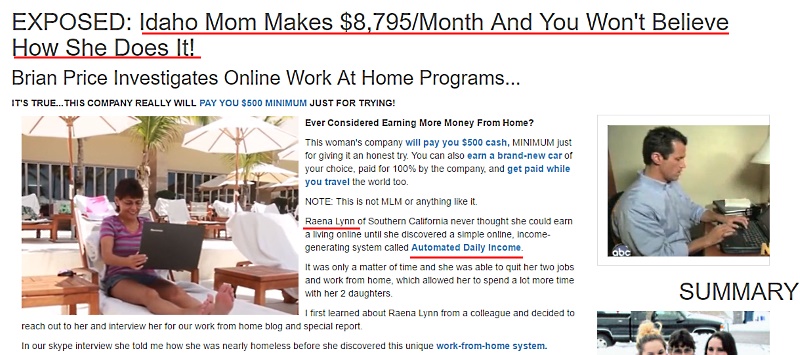 Now compare this to the Melissa Johnson work-at-home scam (and also Kelly Richards work-at-home scam):
Hey! Even the checks are identical. Compare these two checks (from two different websites, one given to Raena Lynn, the other to fake Melissa Johnson):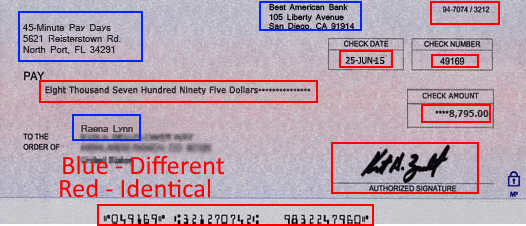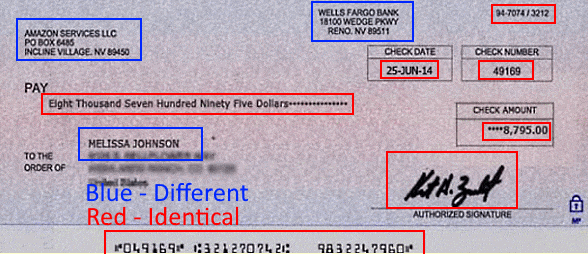 See! Almost all data is identical. Even the authorized signature is the same. It's just ridiculous.
Now, let me ask you – IF the My Own Business Education (MOBE) were an honest-to-God legit and moral company, why on Earth waste time on such stinking stuff?
Red Alert #3: Fake Testimonials
Next, let's put the Automated Daily Income testimonials to the test.
Guess what? These, too, are nothing but fabrications.
Here's my proof. Look at the testimonials taken from the Automated Daily Income website: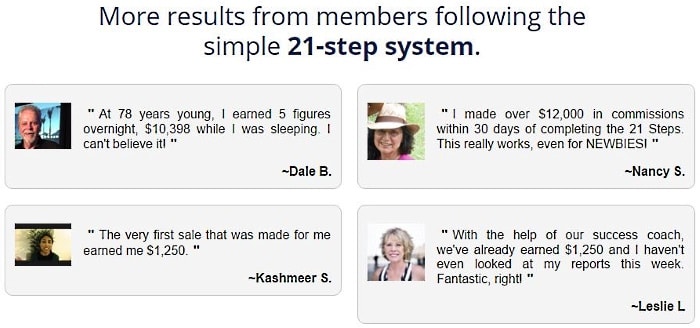 Do you believe they're genuine? If so, compare them with the testimonials found from another scam site. Enjoy: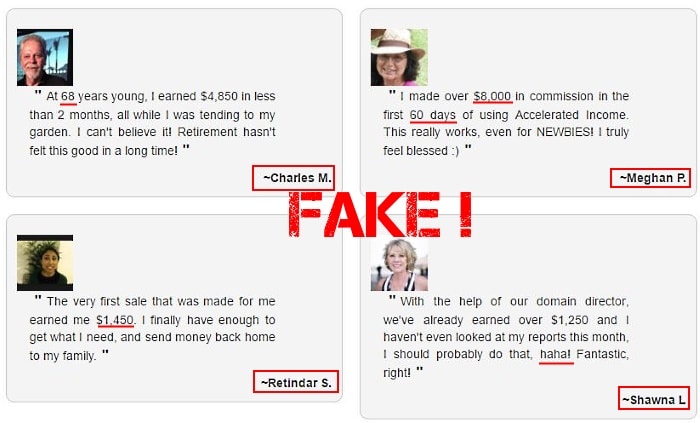 See! This crap is the DONE-FOR-YOU SALES FUNNEL that you will get from MOBE (and it comes with a sky-high price tag).
Do you want that?
Red Alert #4: Expect to LOSE Money With the Automated Daily Income
How do I know?
Their Income Disclaimer says so:

Also this: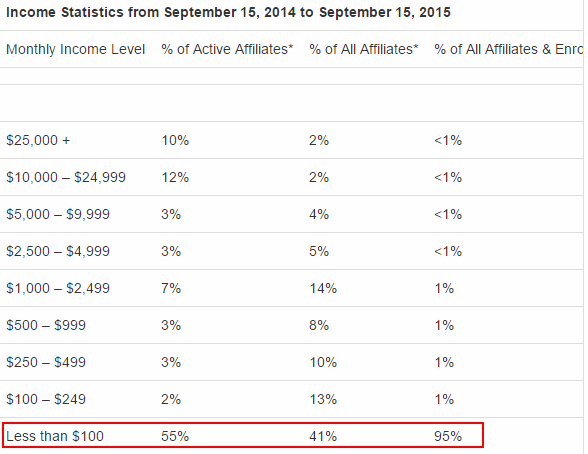 Red Alert #5: 'Featured By" Deception
Look at the heading of the Automated Daily Income website (notice the 'Featured on' badges):

Apparently, the con-artists know that they won't get away if they use famous brands illegally. Therefore, they do a little dirty trick here to lull you into believing – their site is respected and featured by the most prominent news brands on Earth.
Did you notice the small white text above the badges, though? What does it tell?
…Work From Home Opportunities Has Been Featured On…
It tells that work from home opportunities (and NOT Automated Daily Income) have been featured on Fox News, USA Today, ABC, etc.
Disgusting!
Final Verdict
There are many more red alerts (like a false sense of urgency, 100% money-back guarantee, automated income, etc.). But I believe I could already make my point and show – the Automated Daily Income is a dirty internet scam.
It is full of deceit, and its sole purpose is to lure you into costly MOBE subscriptions (the small $49 fee for the MTTB 21 step course is only a bite).
My Verdict: Automated Daily Income is a scam! If you don't want to get mugged, stay away from MOBE and all its affiliates.
A Better Alternative to the Automated Daily Income Scam. Take a Closer Look, and You'll See Why
Remember, making money with ADI (in fact MOBE) means that you have to:
Shell out thousands or even tens of thousands of dollars (to buy these overpriced info products)
Recruit people while knowing they will get ripped off
From that perspective, the Automated Daily Income scam (and MOBE) are very different from other internet training platforms like Wealthy Affiliate. Wealthy Affiliate teaches you how you can start, run, and grow your own legit online business in ANY niche you like. ANY!
Yes, WA has its affiliate program as well, but nobody is tied to it – forced to recruit new members. Instead, Wealthy Affiliate will teach you how to become an expert in any niche…
…Hiking, running, gardening, cars, food supplements, books, tennis, dogs, cats, you name it.
Wealthy Affiliate will teach you how to build a successful online business around the niche of your choice.
And the best part, the whole thing costs only a tiny $49 a month (compared to tens of thousands of dollars in MOBE). Not only that, the first Getting Started Certification Course is completely FREE. Try it out.
That's the polar opposite of what ADI and MOBE  are doing. Seriously!
Check Out Wealthy Affiliate Now. And Wait Til You See What's Inside It… Trust Me, It's Simply Brilliant.
Completely Different from the Automated Daily Income and MOBE
What About You?
First, I want to thank you for taking the time and reading my review. I hope you found it useful.
Now that you have reached the end, what are your thoughts – What is the Automated Daily Income? Is it a scam or not?
Do you have any experience (good or bad) that you want to share with the readers of the review? Please drop me a comment below. I will return with a response.
Stay safe!
Egon (EgonSarvReviews.com)