Are you trying to figure out which keyword tool you should choose?
It can be hard to choose, as there are so many keyword tools out there. All they come with different features, providing a fair amount of metrics that you have to make sense.
If you knew how to make $1200 a month online, from the comfort of your home, would you do the work?

…Well THIS is your chance


It's FREE to get started, too (no credit card required). You'll like that part…
The question is – What is the best keyword tool that does its job and at the same time is quick, simple, and easy to learn?
In this blog post, I am going to show why Jaaxy Enterprise is above all others.
Different from many other "top" keyword tools on the market today, Jaaxy Keyword Tool is created by successful online marketers who knew exactly what a high-end keyword tool has to do. They did not stuff their tool with fluff or redundant features to draw more sales. Jaaxy is a power tool.
Every single feature here has been created and optimized to save your time and make you more competitive.
1. Jaaxy Features and Benefits
Here is what the Jaaxy Search page will look like.


Below I cover all these Jaaxy features and their benefits.
1.1. Search
The Search function has a submenu with Site Rank, Competition, etc. I will cover all of them a little later. But there is another excellent benefit of the Jaaxy Search function. It allows you to search:
by Keyword Phrase
by URL.
1.1.1. Search by Keyword Phrase
Just type in the keyword that you would like to search, and Jaaxy gives you stats for your initial keywords (yellow background) and 30 related keywords. (I explain it a little later)

1.1.2. Search by URL
In this case, instead of typing in a keyword phrase, you type a URL of a website. Jaaxy scans through that website and gives keyword suggestions based on the content of that site. Here is a blog that talks about parrots. After typing in its URL, Jaaxy provides us with keywords based on that website.
By the way, this is an excellent way to do some spying after your competition. You don't only find out what content your competition is producing; you also find great keywords based on that content.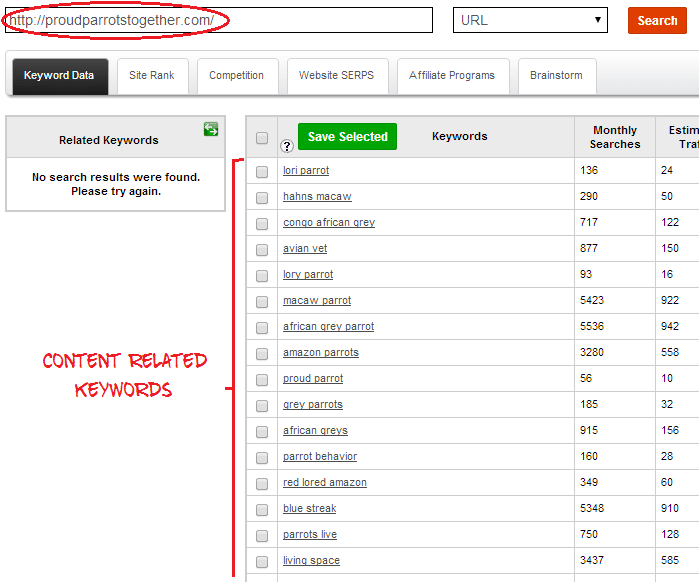 1.1.3. Keyword Data
Let's say I want to search "boat engines." I type it in, and this is what I get: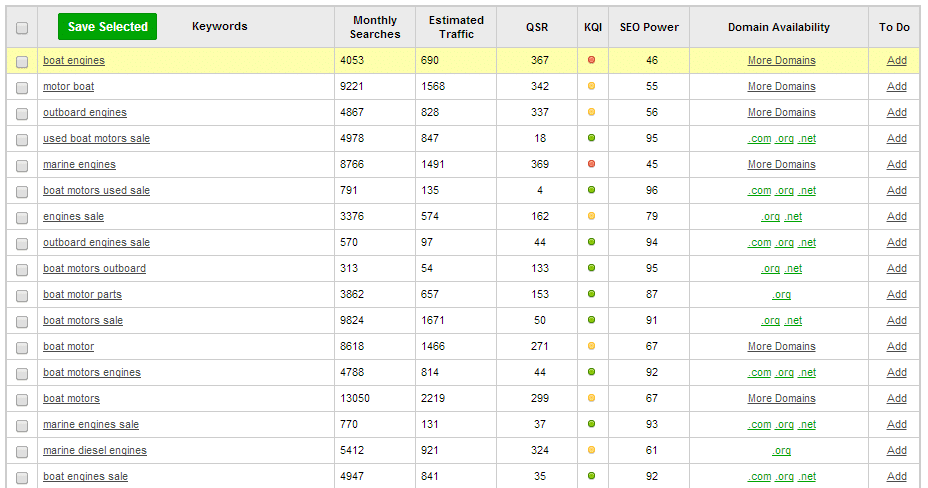 What do All These Columns Mean?
1. Checkbox
This column is related to the Keyword Lists feature. It allows you to select and save keywords into different lists for later use. For example, you may want to create a new keyword list for each blog post you make. This way, your keywords are well organized and easily found.
2. Keywords
As said before, here are shown the initial keyword and related keywords.
3. Monthly searches
Here you see an approximate amount of searches that particular keyword has in a given month. It is the second most crucial metric after QSR. When choosing the right keywords, I recommend aiming for at least 100+ monthly searches.
4. Estimated traffic
This number tells you how much traffic you can receive if your site is ranked #1 on that particular keyword.
5. QSR
QSR stands for Quoted Search Results, and this is the most important metric here. It gives you a "website competition." It shows how many websites compete for that EXACT keyword. I provide a more detailed explanation of QSR and its benefits in my Jaaxy Review.
Once you have QSR for all the keywords, go through the list and see which ones look good. Jaaxy Enterprise also allows you to sort the data by all these columns, which gives you an even better picture.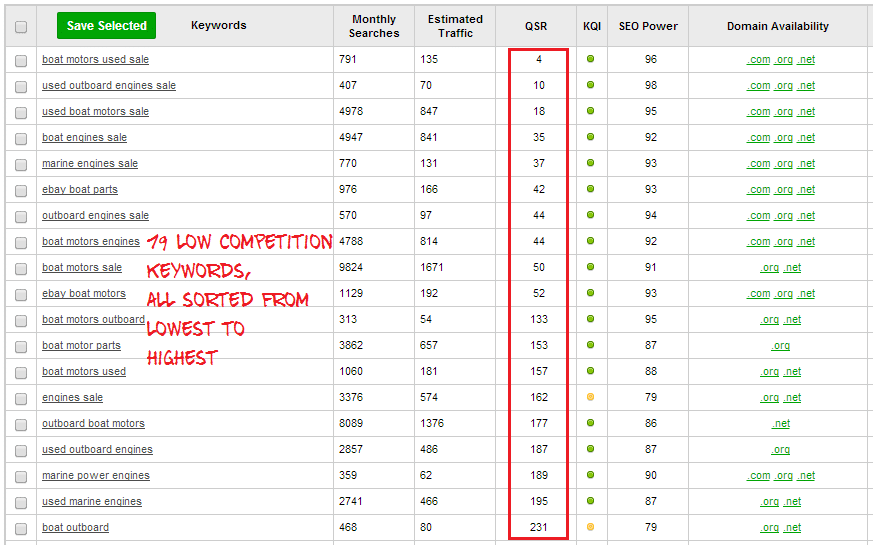 6. KQI
Keyword Quality Indicator – this is a visual indicator to tell you how right the keyword is. Green is a fantastic keyword and allows you to rank high on Google SERP. I don't recommend to use keywords in red as they have too high competition.
7. SEO power
This is a combination of the traffic, QSR, and the level of competition on the scale from 1 to 100. The higher the number, the better the SEO power. It is another indicator to help you select better keywords.
8. Domain availability
Domain availability can be very beneficial, especially if you plan to earn money by selling websites. It lets you see if a particular domain name is available or not. As you see in the image below, the keyword "used boat motors sale" has all three prominent domain names .com, .org, and .net available. For "marine engines," all these three domains are already bought, but with just one click, you can find other available options.

Now you can go ahead and purchase the domain that you like. Clicking that link takes you to GoDaddy.com with the domain name already set to buy. Domain name market is a million-dollar business, and these low competition keywords help you get a first page ranking in search engine results. If you a buy .com domain name for a high ranking keyword, you basically own the keyword. Then you can just set up a simple website and sell it at some auction. This is another way to make money online.
9. To Do
This column allows you to add keywords to the ToDo list. If you find an interesting keyword but don't have time to deal with it right now, you can literally click on that, and it's going to put it into the To-Do list. You find your To-Do List if you hit the To-Do List tab on the main menu:
Here you see two extra columns that we have not covered yet:
Write this now – Here, you can write a brand new article for StreetArticles.com based on this particular keyword.
Incomplete/Complete – Just an indicator to show if you have finished with the keyword or not.
1.1.4. Related Keywords
After you have done at least one keyword research, you will see a Related Keyword column on the left side. These keywords are a little bit more beyond the other relevant keywords. They don't have data right away. All you have to do is click on any of those keywords, and Jaaxy will give you data for it.

1.1.5. Brainstorm queue

At the right side of the Related Keywords column, you see a small green swap button. Hitting it changes the column into Brainstorm Queue – another beneficial feature inside of Jaaxy. If you cannot develop any keywords, you can use Brainstorm Queue to help you find keywords. This is the list of previously saved hot topics of major online players like Google, Amazon, Yahoo, Twitter, etc.
1.6. Site rank
Just type in a keyword and URL of the website, and Jaaxy gives you the exact page and position in Google search results. It's an extremely beneficial feature as it allows you to check if your website is climbing upward or is falling downward.

1.7. Competition
The tab next to Site Rank is a Competition tab. This is an outstanding Jaaxy feature that will show you any articles or videos relating to that keyword. Using the "boat engine" keyword, we see that the field is pretty open. It tells that there is a video on Youtube, position 3. Other video websites show that there's no-one that has taken the time to create a video based on this keyword. So go ahead and create a video. Or write an article on StreetArticles.

All these are great sources where you can create articles and videos and then link back to your website. Create unique content for these sites, and all these link back to your site.
1.8. Website SERPs (Search Engine Results Pages)
It gives you TOP10 results with the URLs as you see you can also take a look at results with Bing and Yahoo. In the 3rd column, there is a View Details link. It's going to extract the data from that actual site. So you can see all the information about that site.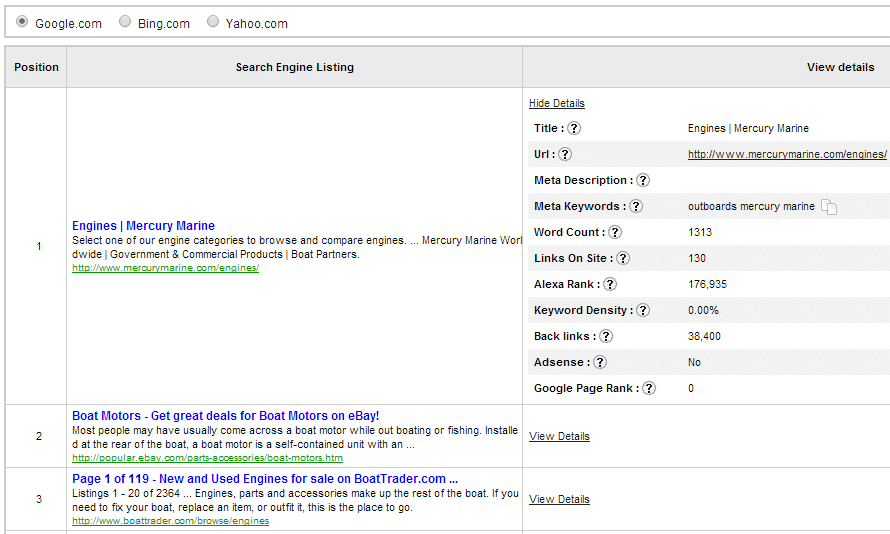 You want to look at this stuff because you want to get a sense of your competition. That is essentially your SERP competition. That gives you ideas about why they are ranking on the first page. It's pretty cool, isn't it? You can pay attention if any particular trend that would help you rank on Google's first page.
1.9. Affiliate Programs
Jaaxy enables you to search available affiliate programs based on your initial keywords. It explores through Commission Junction, Click Bank, Link Share, etc. Let's say I want to find affiliate programs related to my "boat engines" niche. Then some available affiliate programs are these: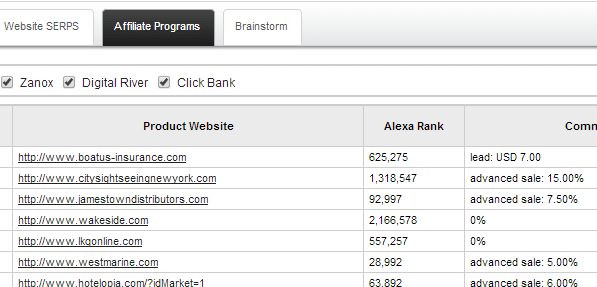 1.10. Brainstorm
Jaaxy's Brainstorm is a very beneficial feature that helps you keep your finger on the pulse of hot trends in the world. It scans through Google and Twitter trends, Amazon, Alexa, and Yahoo, then gives you a list of each platform's hot topics. With one click, you can save these topics into Brainstorm Queue for later use.

If in one moment you happen to run out of ideas for your next blog post, just open Brainstorm Queue at the left side of the Jaaxy window (using swap button next to Related Keywords), and the list is waiting for you.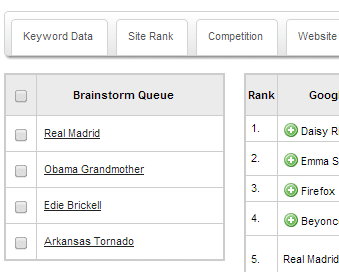 2. Keyword Lists
It is a handy Jaaxy feature that allows you to save keywords into different lists for later use. Just check the boxes for each keyword that you want to keep, then hit the green "Save Selected" button. Jaaxy allows you to save keywords into a new or an existing list. What I usually do is that I open a new list for each new blog post. This way, my keywords are well organized, and if I need them, it is easy to find them.
Keyword Lists feature allows you to view the content lists and export the data into .csv or .txt formats. This way, you can either analyze the data or quickly copy-paste all the keywords into your blog post tag.
3. Search History
Yet another great feature to find excellent keywords. Let's say you have some spare time while waiting in the grocery store line or a hospital. You do some keyword research and find some great keywords, but you don't have time to save them into a list. No problem, as Jaaxy preserves all your search history. Once in the office, you can open search history and find those awesome keywords again.
4. Training
Once you create the Jaaxy free account (you can do it here), there are also four videos to help you get the best out of Jaaxy. In addition to that, there are three bonuses for you to download:
1,000 High Traffic, Low Competition Keywords. Here you find 1,000 hand-picked keywords that are set-up for SEO success.
Niche Research Bonus. Learn how to utilize Jaaxy to uncover hot niches in minutes.
Domain Industry Secrets. Learn How to discover low-cost domains and sell them for much more.
But it's not all. Once you choose to go for full-priced Jaaxy (Pro or Enterprise), you get an extra bonus package not included on the Jaaxy website:
Video training – the low hanging fruit or "easy to rank" keywords. (61 minutes)
Video training – Buying up Google ready domains ($180 value). 81 minutes. If you want to make a business from buying and selling domains
Keyword Riches 2013/2014 edition. It walks you through the process of how to create a business out of keywords.
You can purchase Jaaxy Pro or Jaaxy Enterprise here.
5. Jaaxy Affiliate Program
Jaaxy has its Affiliate program too. Each person that joins Jaaxy is automatically an affiliate. It means that you can promote Jaaxy through affiliate links. You will earn an additional ten search credits for each person you refer to Jaaxy and who signs up for free. If the person creates a free account, you are his referral for life. If he chooses to go for the full-priced tool, you earn $8 per month recurring affiliate commissions.
A breakdown of the commission structure is:
$19 Monthly Sales = $8 per month recurring commissions (average $100 per sale)
$199 Yearly Sales = $80 per sale
6. Conclusion
This was the overview of all the features of Jaaxy Enterprise. You saw how easy it was to find excellent keywords inside of Jaaxy. And remember, Jaaxy was created by successful online marketers who knew precisely what they wanted from the tool. There is no fluff data. Every single Jaaxy feature has been included to save your time and maximize your keyword research.
Try Jaaxy Now (FREE):
You may also like:
The Jaaxy Review – A Stunning Pole Sitter Keyword Tool
Does Wealthy Affiliate Work? My Wealthy Affiliate Review