What about Aston Martin luxury sports cars, a long dream vacation to Spain, or that beachfront condo in Maui?
These are some of the lucrative promises by Gerald Reed, the founder of Centument Ltd. and a former Wall Street shark.
But…Is the offer real? What is the Centument Ltd after all – a scam or legit opportunity? Can ordinary people (like you and me) with no trading experience under their belt start making winning trades by using Centument?
This review here sheds light on it. So let's dive right into the details.
[Sidebar: If you are not interested in Scams, check out THIS instead! You're going to like this.]
Quick Summary
Name: Centument (AKA Centument Project 2.0)
Centument Login: centument.club
Niche: Binary Options
Price: Minimum deposit of $250. Sign-up process free.
Founder: Gerald Reed
Skill level: Beginner (No skills needed)
My Overall Rank: 0 out of 100
My Verdict: Scam! Not Recommended!
Better ALTERNATIVE to the Centument Scam That Will Help You Make $1200+ a month Online. And these testimonials are proof.


After all, with so much to gain—and with absolutely nothing to lose—shouldn't you at least take a look?
Full Review: "What Is the Centument Ltd – Scam or Legit?"
Truth be told, Centument is yet another garbage product in the long list of Binary Options scams. Therefore, to protect innocent people from falling Centument's victims, I am going to dismantle its pyramid of lies stone by stone and show you its ugly nature.
What Is the Centument Ltd?
Centument Ltd. is the company behind Centument Binary Options trading software. It is 100% automated and "uses existing infrastructure and extremely fast computers to buy and sell assets, currencies, and futures in the financial markets." (a Centument sales page)
If you don't know what Binary Options are or how they work, make sure you also read "Are Binary Options Safe? Read Before Opening Your Wallet."
The Centument Story
The whole Centument story circles around one man – Gerald Reed – a young and ultra-successful Wall Street shark. He made over $4 million a year in his Wall Street years. However, at the top of his game, he decided to walk away from Wall Street and switch from a selfish "shark" to a good guy.
Why?
When things got terrible (after Lehman Brothers, Merrill Lynch, and Bear Sterns got into trouble in the housing crash), the ugly side of these Wall Street bankers was revealed. In Gerald Reed's own words: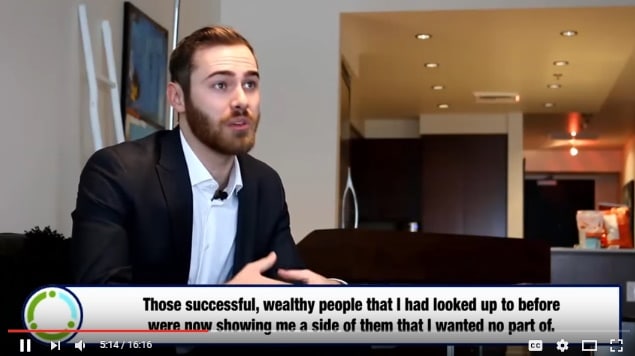 Then, what? Well, he decided to become a good boy. In other words, he wanted to give something back to the world.
How?
By creating his own investment firm Centument Ltd. and reveal his top-secret profit-making secrets to the world.
His vision was to help ordinary people (with no trading experience) trade and make money just like the big sharks on Wall Street were doing.
So he founded Centument Ltd and created Centument assets trading software which:
makes use of the best technology available
utilizes all the trading methods the Wall Street sharks are using (combines them into one smart algorithm)
can be used by ordinary, hard-working everyday people with no trading experience (and bring wealth to them)
Long story short, that's the story. But as you will see soon, its details are not as important as you might expect. Before I come to show it, though, let's see what Centument promises to give you:
Centument Promises
Here are some of the promises that Gerald Reed gives you:

Here is another set of promises: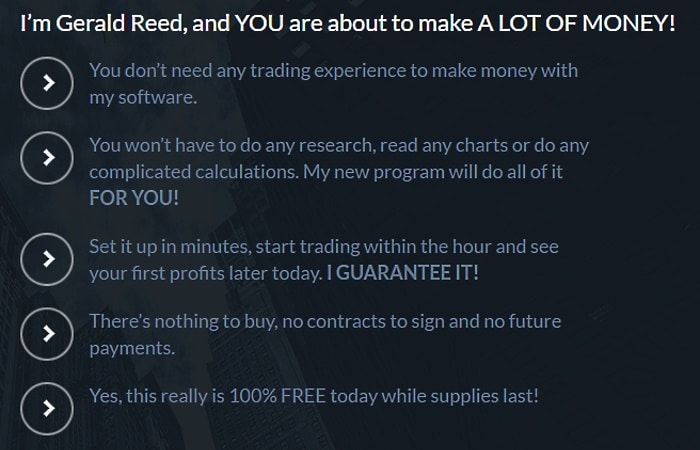 As I am going to prove you in a minute, most (if not all) of these promises are outright lies. So keep reading.
The Price
Gerald Reed tells me that he is going to give you the software for free. However, to start trading (and making profits), you have to invest a minimum of $250. This is the initial payment to your trading account. Without this investment, you cannot trade.
8 Signs That Centument is a Scam
Warning Sign #1: The Whole Centument Story is Pure Fiction
It is interesting to read how different Centument Ltd software reviews discuss whether the Centument story is authentic or not. And whether Gerald Reed is a real person or not.
In reality, there is nothing to discuss. Why?
Because Centument itself says it to your face. See what the tell in the very first paragraph of the Centument Full Risk Disclosure Statement:

See!
There's no need for any guessing games. Centument's own statement is as clear as a clear sky. Their whole story is fictitious. Centument founder Gerald Reed is a fictitious character, and Centument video is only for, well, Entertainment purposes!
Wow!
Tired of being ripped off?
Here's
what I use
to make money anywhere in the world.

It won't cost you a bean to find out if it can help you.
But not only that. The scammers behind the scheme won't guarantee you ANY income or success within Centument.
And how could they? Remember, there is NO genius Gerald Reed behind the software, and there is NO genius Centument assets trading software either.
In fact, you have NO idea who is behind the Centument and what algorithm runs the system.
There's even more in their Disclaimer, though.
Let me tell you that Centument Disclaimer is word-by-word identical to the Tauribot Binary Options scam Disclaimer. The only difference is the brand name in the first line. So you can suspect both scams are pretty much the same. Only the stories and brand names (the facade) are different.
Warning Sign #2: Contradiction in Centument Launch Year
Read Centument's statement:

As you can see, the Centument trading platform has been up and running since early 2011.
However, now see this (data from Whois.net):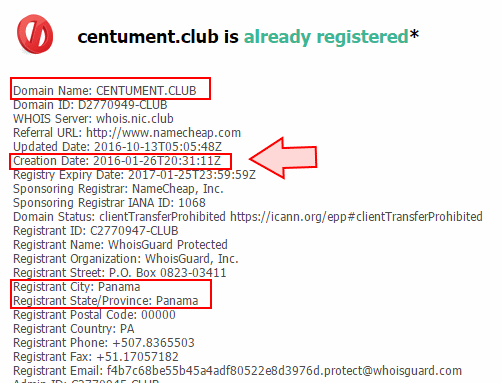 First, Centument domain name is created only on January 26, 2016 – Hey! It's a very new site. So how come Centument has made millions to its members since 2011?
Second, its registrant locates in Panama. Does it look like something you should trust? Not to me.
Therefore, be very careful!
Warning Sign #3: Fake testimonials
First, Centument tries to be convincing by offering fabricated testimonials by fictitious traders. Google any of the names below and you, will see – none of them exists in real life:

Second, the same goes for video testimonials: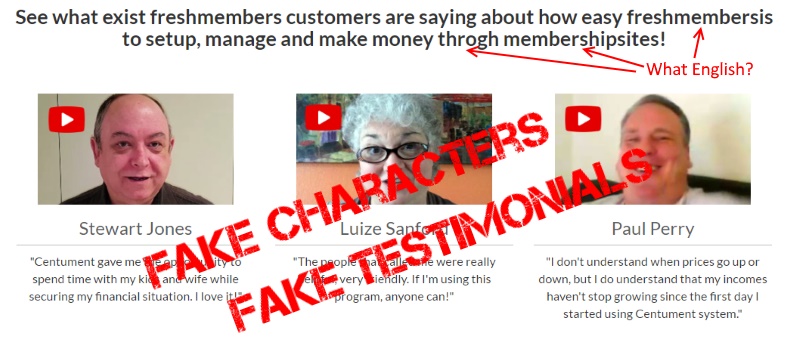 Third, what about Bloomberg, CNN Money, and Money – what about their testimonials?
These, too, are fabricated quotes. Google it, and you will see – None of them have ever mentioned Centument (particularly as a genius marketing tool).
Warning Sign #4: Fake Social Media Accounts and Testimonials
As a next step, let's put Centument Ltd Social Media claims to the test. Pay attention to the details highlighted in the picture below: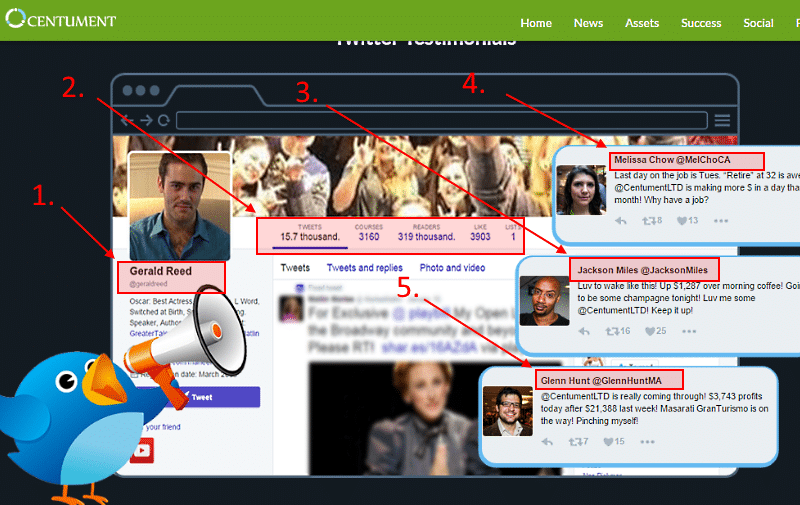 1. Gerald Reed's Twitter Account
As you can see in the image above, Gerald Reed's Twitter account is either @geraldreed or @geraldeed (it's not clear enough).
A) If it is @geraldreed, then this is what we get in real life: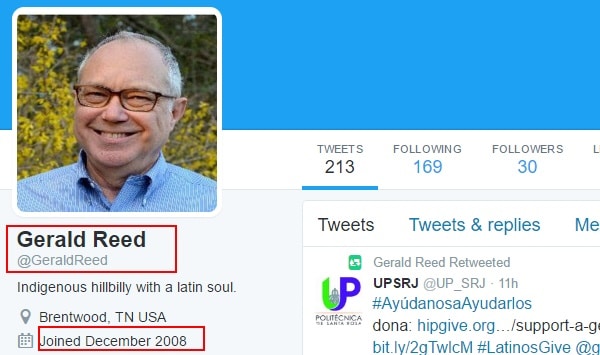 B) If it is @geraldeed, then this is the result:

So you see! Either way, they show you a fake Twitter account as proof of their claims.
2. Fake Twitter Counters
Have you ever seen Twitter counters like these here (with "courses," "readers," and "thousands"):

No!
Twitter counters look like these:

3. Fake Jackson Miles' Twitter Account @jacksonmiles and his testimonial
Compare the @jacksonmiles fake account above (Centument positive testimonial) with the real Twitter account below: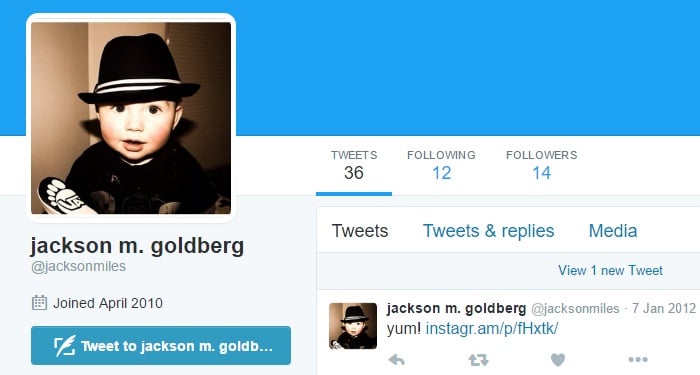 4. Fake Melissa Cho Twitter Account @MelChoCA and testimonial
This account is suspended. The same goes for most of the other Twitter accounts shown on the Centument login page.
5. Fake Glenn Hunt Twitter Account @GlennHuntMA and testimonial
This account does not even exist:

See! Everything, EVERYTHING that Centument tells and shows you, is a PLAIN LIE.
Warning Sign #5: False Urgency
Con artists – as desperate as an ice cube in a hell – do every trick in the book to make you sign up at once. So they create false urgency.
Check these screenshots from the Centument YouTube video. Notice how they persuade you to hurry:


The next one is particularly impressive. It tells you that if you fail to act today, the next person in line grabs your place: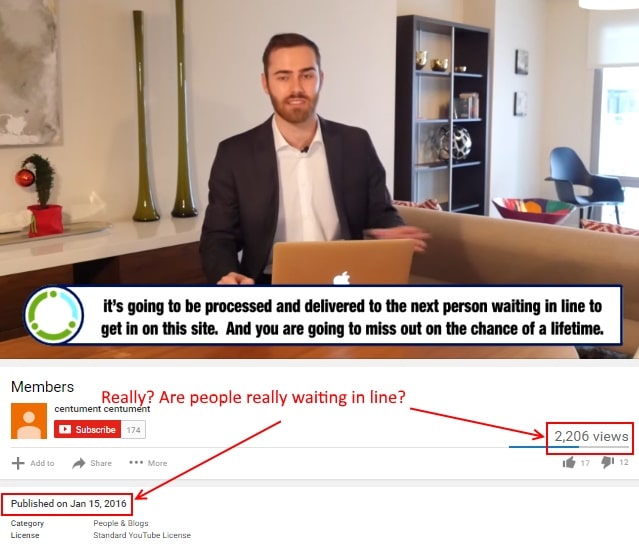 Don't be fooled. Nobody is waiting in line. And clearly, they have no countdown timer either.
Warning Sign #6: Misleading Badges
Using silly badges is one of the most common tactics of scammers to mislead customers into believing that a product has won some quality awards.
Check these three Centument badges which they parade on the sales page:

How do these statements help you? Think about it – they're pretty much meaningless, aren't they?
Hundred Percent Premium Quality guaranteed
The Perfect Choice
The Limited Edition
What? Nothing but crappy slogans with a golden window dressing to make you believe it's a high-end product.
Warning Sign #7: Fake Positive Reviews
Open whichever positive Centument review you want, and you will see – all are written by Centument affiliates, hoping to make some extra cash by bringing you on board.
Affiliate marketing is not a wrong thing to do – in fact, it is a legitimate and a great way to make money online. But only if you promote quality products.
What is wrong here is the fact that all these Centument affiliates promote a scam. They are not interested in helping you solve your financial problems. The only thing they care about is how to make some bucks on you.
That's not ethical, and I fiercely stand against it.
Let me give you an example:
Here is a passage from one of those Centument fake positive reviews:

Can you believe it? They tell you that they have found nothing (no misleading information, no fake actors, etc., etc.). They inform you that Centument is not a scam and then give you their affiliate link for signing up.
And they also tell you that soon Centument will go public and stop accepting free members. What? In Centument's own words, they are making millions since 2011 – how many more years they do beta testing?
Plain and simple – as I already showed you – it's an outright lie, to create fake urgency and make you register at once.
Warning Sign #8: Centument Complaints
First, complaints on making money from Centument
Want to see another Centument lie? Good. Here's their bold statement:

See! They claim that in the last four years, Centument assets trading software has lost money only once.
Here's what Centument guarantees you (pretty impressive, isn't it?):

Now comes real life:

And this:

And this:

As you can see, Centument's winning rate is a far cry from their almost 100% promise.
Second, complaints on Centument Customer Service

There is another:
See! IF you join them, you land in problems.
By the way, a missing contact page is another definite sign of a scam. Have a look – You find no Centument contact page, no (office) address, no About page, no access to customer service, no email, no phone number, nothing.
Final Verdict
After extensive research, I have come to the conclusion that Centument is nothing but a scam. Plain and simple. You know nothing (and I mean it – nothing, ZERO!) about the people behind Centument and that fictitious Wall Street good boy Gerald Reed. Neither you have any knowledge of the Centument algorithms, winning rates, etc.
You are going to buy a pig in a poke.
My final verdict: Centument is a scam! Run screaming!
If you'd rather make money than blow through your child's college savings… Why not try this? It's FREE to get started, too. You'll like that part…


Why not give a whirl right now? You're certainly not committed to anything.
Share Your Ideas:
Thank you for reading my detailed Centument scam review.
Now, after reading the review, what are your thoughts – What is the Centument Ltd? Is it a scam or legit?
Do you have any experience (good or bad) with Centument that you want to share? Please drop me a comment below.
Stay safe,
Egon (egonsarvreviews.com)