"First tell me, is $5,000 each and every day something that might interest you? Of course, it does. Everybody loves money, and there's absolutely no shame to have some extra cash to spend, right?"
These are the words of David Richmond, the CEO of Richmond Ventures, and the owner of the Crypto Trader software.
Well, what is the CryptoTrader? Who is David Richmond, and can you trust him? Also, can you make money with the CryptoTrader?
I will answer these and other related questions in the detailed CryptoTrader review below. Please make sure you read it to the end before investing your money.
[Sidebar: If you are not interested in scams, check out THIS instead! You're going to like this.]
Quick Review
Name: The Crypto Trader (also CryptoTrader)
Login: thecrypto-traders.com
Alleged Founder: David Richmond
Price: $250 – minimum required deposit
Alleged skill level: Beginner
My Overall Rank: 0 out of 10
My Verdict:  The CryptoTrader is a scam. "Don't let them fool ya" – (Bob Marley). Please stay away!

Better ALTERNATIVE to the Crypto Trader scam that will help you make $1200+ a month online. And these testimonials are proof.


After all, with so much to gain—and with absolutely nothing to lose—shouldn't you at least take a look?
Full Review – Is the Crypto Trader a Scam?
Who Is David Richmond?
David Richmond describes himself as a self-made millionaire, CEO of Richmond Ventures, and founder of the CryptoTrader software. Truth be told, the only place I could find his face image, are the Crypto Trader videos: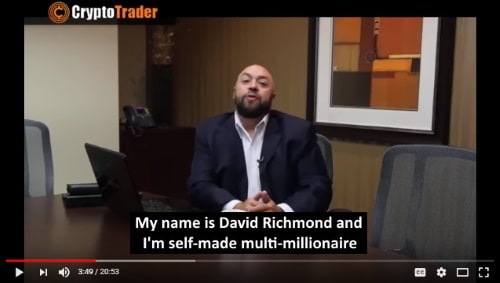 Anyways, according to his own words, David got obsessed with cryptography already in his early childhood – when he was ten, and his family decided to visit his uncle, called "crazy Arthur." That crazy uncle Arthur lived in his small, smelling cabin in the middle of nowhere and…
Well, somehow, his cabin was full of books. And because little David Richmond liked puzzles, uncle Arthur gave him two books about spies, ciphers, and code-breaking.
Thanks to these two books, David became an expert codebreaker. He was so good at it that even NSA's digital counterintelligence division offered him a job – to help them with pattern detection and code-breaking.
For 15 years, David worked for the NSA. Then he decided to call it quits and create his own business – the Richmond Ventures.
His expertise in coding allowed David to create the CryptoTrader software – the same software that turned him into a multi-millionaire. And now he is offering that software to you for free. So that you could become a millionaire as well.
In fact, just half a year ago, he turned 43 strangers into millionaires (more about them below). So,
…Can you become a millionaire as well? Keep reading.
What is CryptoTrader?
According to the narrative (and making the long story short), after two years of testing, tweaking, and fine-tuning, David Richmond could finally completely automate his "money machine." Now it "scours of World Markets, analyzes millions of data points and uses artificial intelligence and state-of-the-art uses artificial intelligence and state of the art algorithms to predict "surefire winning operations."
How come the software won't lose a single trade? Well, claims David, "If there is any doubt whatsoever, the Crypto Trader will not place the trade."
Onward…
…What Does David Richmond Promise You?
$5,000 (or more) each and every day
Just five clicks each morning – that's all you need to do
Absolutely no risk involved (it's mathematically impossible to lose money)
The CryptoTrader will turn you into a millionaire
Sounds great, right?
Waitaminute! There's more to come. Keep reading.
David Richmond and The CryptoTrader Is a Scam –  7 Red Alerts
OK, now I am going to prove to you that the whole David Richmond CryptoTrader thing is nothing but a filthy online scam – designed to steal your money.
Lies rule. There is nothing in their lexicon but lies.
Red Alert #1: Fake David Richmond
David Richmond is not a real person. It's a fabricated character, played by some no-name actor. They tell you about it. Look at what the CryptoTrader's "Terms and Conditions" says:

See! The whole thing is fabricated. It's only for promotional purposes, and nothing in those videos is accurate (or correct).
Now, what does that mean?
Obviously, it means that there does not exist such thing as that 100% winning "automated money machine" – there's no wonder algorithm powering the Crypto Trader; no Richmond Ventures, no nothing. The whole narrative is a lie. And thus, the entire product is nothing but a "Get Quick Rich" scam.
Tired of being ripped off?
Here's what I use
to make money anywhere in the world.

It won't cost you a bean to find out if it can help you.
Red Alert #2: Fake New Millionaires
At the beginning of the video, David Richmond brags how his CryptoTrader robot has turned 43 ordinary people from the street into millionaires. He even shows images of some of these brand new millionaires: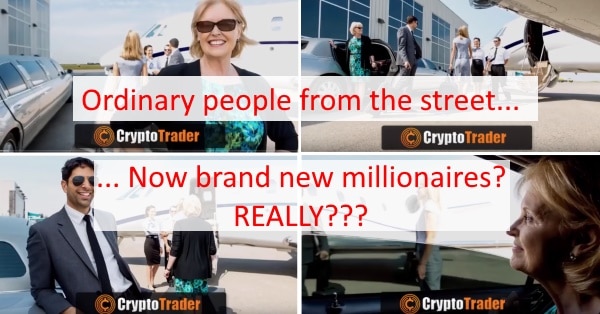 It's an ugly lie, and here's why. All these images are classical stock photos, which you can find on the internet (123rf.com):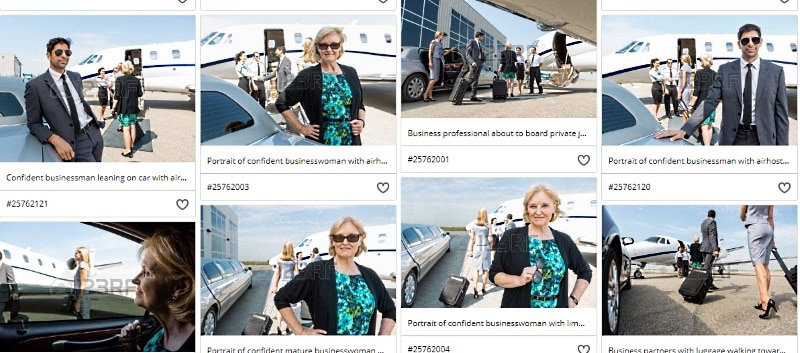 Red Alert #3: NO! It Won't Be Free.
David Richmond also brags that he will give you his CryptoTrader software for free: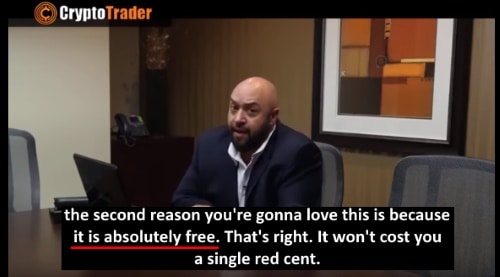 What does that mean? Does it mean you can start trading without investing "a single red cent" of your own money?
Well… It's not true. But the con artists behind the CryptoTrader scam clearly want to give you that (obviously false) impression.
So what's going on here?
Again, the dirty trick here is to lure you into their money-sucking scheme using the free software as a bait. Hey, you cannot start using the software without investing your own money in the first place. That's the trick.
Here's how it goes:
First, you need to fill their registration form (by submitting your phone number as well).
Second, you need to open a trading account with the broker of *their* choice. And guess what? It is a shady unregulated broker from overseas. It means, later when you will be neck-deep in troubles, there will be nobody to complain to.
Third, you must deposit at least $250 to your newly created trading account. That's required. And remember that you gave them your phone number? Well, now you can expect extremely high-pressure sales pitches from them – all that to get you into investing bigger and bigger sums in their dirty scheme.
Remember, these people are not your friends. These ripoff artists are professional con men and will stop at nothing to get you signed up with their crafty broker so they can milk you dry.
Red Alert #4: Absolutely No Risk Involved? Wrong!
Look at the next claim here: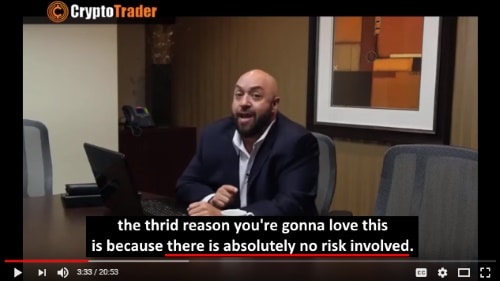 What does David Richmond say? That "there is absolutely no risk involved."
Really?
So let's see what the Crypto Trader Risk Disclaimer says: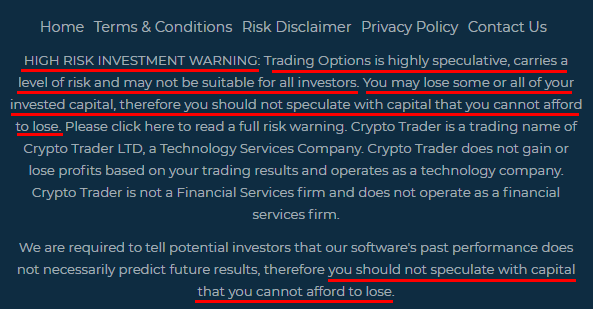 See yourself! It's clear as a clear sky – "Trading options is highly speculative" and "you may lose some or all of your invested capital."
Let me ask you – how on Earth is the Crypto Trader risk-free? It's not, right? Hey! It's a dangerous trap.
Listening that David Richmond, the actor, I feel the urge to flush the toilet.
Note! Many other similar online trading scams also claim to be 100% risk-free. All of those are nothing but deceptions. Some of them are Brooks Blueprint scam, Rio Profits scam, Safeguard Trader scam, Profits Infinity scam, to name but a few.
Red Alert #5: The Crypto Trader Is NOT for Newbies
Here's what David Richmond, the actor, says: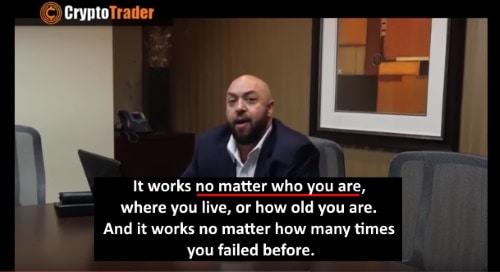 In the video, David continues, "If you use this system, you will make money – lots of it – every single day."
Really?
Again, let's see what their Risk Disclaimer says:

Wow! WOWOWOWWW
It's called "Get Quick Rich" scam, pure and simple.
Red Alert #6: Crypto Trader's Fake News Stream
This is about the Crypto Trader website. It's a fraud. For example, look at these news articles in the Crypto Trader home page. Do you think you can read these articles?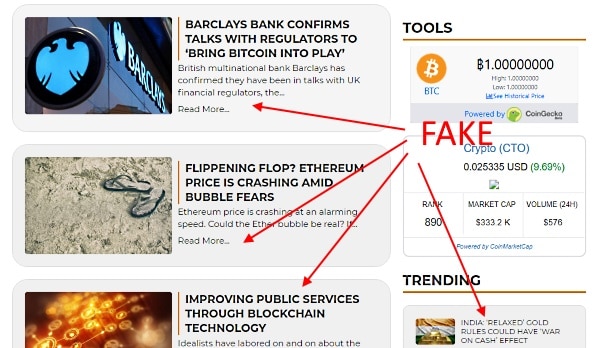 Of course not. Why? Because there are no articles. The whole graphical mumbo jumbo is only to give you an impression as if the site is an official trading portal (while it's not). Instead, it is a nasty scam.
Even worse, the 'genuine articles' (shown in the image) were published… Back in June 2017! Not really breaking news, do you agree?
Red Alert #7: False Sense of Urgency
In the video David Richmond the actor says that if you don't want to miss the chance, you need to act at once. Because today (yes today) is the final day to grab that once-in-a-lifetime opportunity:
Well… What about this: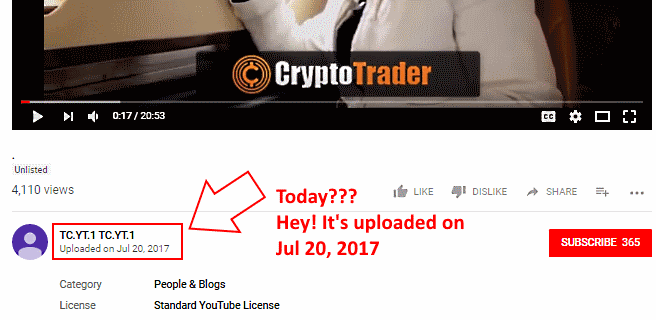 See! That CryptoTrader video was uploaded to Youtube on July 20, 2017. It was a long time ago, right? So how on Earth can *today* be the final day?
The dirty trick here is to build a false sense of urgency in your brain and thus make you act at once. Therefore, please be forewarned before making a costly mistake!
Final Verdict
As you can see from these seven red alerts above, there's nothing accurate in the Crypto Trader website and videos. Everything they show and tell is fake and deception.
My Verdict: The CryptoTrader is a scam made to lure you into a costly rip off scheme.
If you'd rather make money than get 'raped' of your life savings… Why not try this? It's FREE to get started, too. You'll like that part…


Why THIS is risk-free for you. Look closer and you'll see why.
What About You?
Thank you for reading my detailed Crypto Trader review. I hope you found what you were looking for. Now that you have reached the end of the review, what do you think – What is the CryptoTrader? Is it a scam or legit?
Do you have any experience with the software that you'd like to share? Please drop me a comment in the comment section below.
Stay safe!
Egon Sarv (EgonSarvReviews.com)