"…I want to show you, in this video, how easy it is to use SnapCash Binary and truly how rich you can become in just a matter of days."
"…Within just a matter of a week, you can expect to make more than you make ALL year!"
This is what Austin Ford says in his SnapCash Binary sales video. However, some burning questions beg for answers – What is the SnapCash Binary, to begin with? Next, is it a real work-at-home opportunity? Or is it a scam? Do these Mr. Ford's claims hold water?
In the detailed review below, I will drill down into how Snap Cash Binary works and look at whether it's a real deal or not. Keep reading.
[Sidebar: If you are not interested in scams, check out THIS instead! You're going to like this.]
Quick Review

Name: SnapCash Binary
Website: snapcash-binary.co
Risk Disclaimer: scb-sys.com/disclaimer
Alleged Founder: Austin Ford
Niche: Binary Options
Price: software free, minimum required deposit: $250
Contact Information: only email (bad)
My Overall Rank: 0 out of 10
My Verdict: The SnapCash Binary is a SCAM!!! A haystack of lies
Listen! If you want to make legit money online then do not ask shady Binary Options to waltz with you. Because, first, trading Binary Options is a high-risk business opportunity. You may lose all you have and beyond. Second, Binary Options are not suitable for the average Joe and Jane (more about it below).
Better ALTERNATIVE to the SnapCash Binary scam that will help you make $1200+ a month online. And these testimonials are proof.


Why THIS is risk-free for you. Look closer and you'll see why.

Full Review – What Is the SnapCash Binary?
In short, SnapCash Binary is a trading software (or robot), which you can download and use for trading binary options. You can trade manually or use its full auto-pilot feature.
(Also read my review on What Binary Options are and how safe it is to trade BO)
The Narrative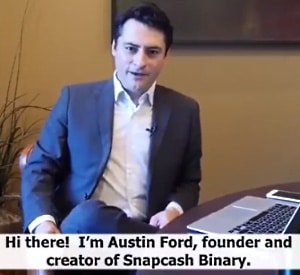 The SnapCash Binary sales video presents a young man called Austin Ford – an alleged founder and creator of the SnapCash Binary app.
According to his own words, Austin is a self-made millionaire. He did not go to any business school or learned finance secrets from Wall Street guys. Instead, he decided to learn coding by himself. Now his net worth is (allegedly) over $12 million.
One day, just by changing one line of code in the software, he was building Austin "accidentally" made over $100,000 in one day. Then it dawned to him how easy it was for him to make moolah.
And then it also dawned to him that he could easily help other people to make moolah as well. And that's how SnapChat Binary came about.
That's pretty much all that Austin Ford bothers to tell us about himself or the background of SnapCash Binary app.
It's not much, right? Next, let's see what he promises to you.
Promises
$1,200 a day, every day, guaranteed
you start seeing insane amounts of money in your account, and it's yours
you have nothing to lose
You'll become an actual millionaire
Wow! If true, it's awe-inspiring, do you agree?
Keep reading, and I will show you whether any of these promises hold water. But first,
…SnapCash Binary Price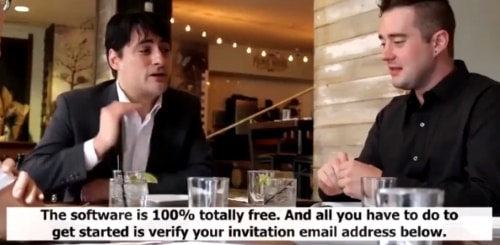 The software is 100% free – this is true indeed. However, don't believe for a second that you can start trading without investing your own money.
After you have completed the registration, you need to open a brand new trading account with the broker of "their" choice. Next, you need to deposit a minimum of $250 to that account (the software will use that money for trading).
What about the broker? Well, guess what? You can bet it will be some rouge or unregulated broker whose sole purpose is to rip you off and share the loot with the scammers.
That's why the SnapCash people ask your best email address and phone number. Once they have your contact information, boiler room experience is very much on the Menu !!!!!!!! They will put you 'face to face' with high-pressure salespeople who use every trick in their toolbox to squeeze (tens of) thousands of dollars out of you.
Can you see where the wind is blowing?
Therefore,
… 9 Proofs – SnapCash Binary Is a Scam
Now I am going to tear the whole thing apart and prove to you that the SnapCash Binary is a scam. A wicked scheme, designed to lure you into the shady rip off system that will milk you dry.
Red Alert #1: Fake Austin Ford
The young man in the video claims to be Austin Ford, the owner and founder of the SnapCash Binary App.
However, his Risk Disclaimer (found in the footer of the website) smashes their official narrative into smithereens. How? Here's what it says:

See! Their sale video is fictitious, actors have been used, and it's only for entertainment. Can you imagine! Plus, they don't guarantee any income or success.
Verdict: It means the whole SnapCash Binary thing is a scam. There's no genius code writer Austin Ford. There's NO 'wonder trading software' that will always win and never lose a trade. There's NO 'software that will make you $1,200 per day' (especially if you are a complete novice).
The whole SnapCash Binary thing is a fairy tale. A wicked fairy tale because its purpose is to rip you off.
Tired of scams?
Here's what I use
to make legit money anywhere in the world.

Finding out more costs nothing. And you're not committing to anything else.

Red Alert #2: Fake Testimonials
Next, let's see how the con artists have fabricated those testimonials on the Snap Cash Binary website. Here's just two of them. In the version 2016 website these look like this: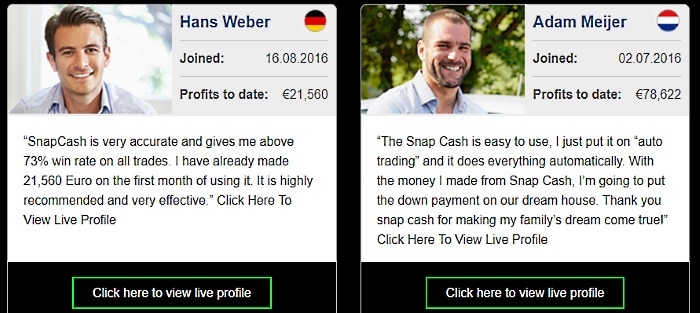 In the version 2017 and 2018 websites, they look a bit different, though. Do you notice the difference? Look closer: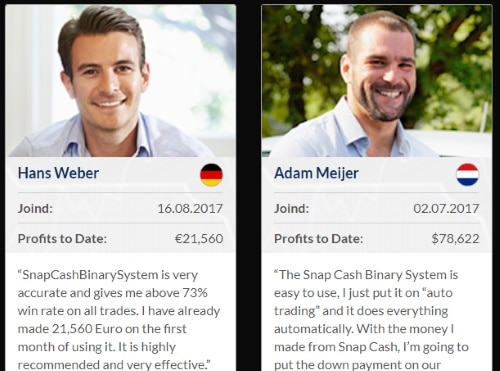 So what's the difference? Exactly! The year when the lads joined, the system has been "updated" a bit. Now, do these testimonials sound real to you?
Next, let's take a look at one of these "live" profiles (and let's see how live they are):
Do these profiles look "live" to you? In my humble opinion, they're fabricated, do you agree?
Next, what about the face images found in these profiles? Exactly! These are stock photos. For example, the photo of the alleged Hans Weber (above) is a typical stock photo found on many different websites. One of them is the Swiss Private Academy (voxea):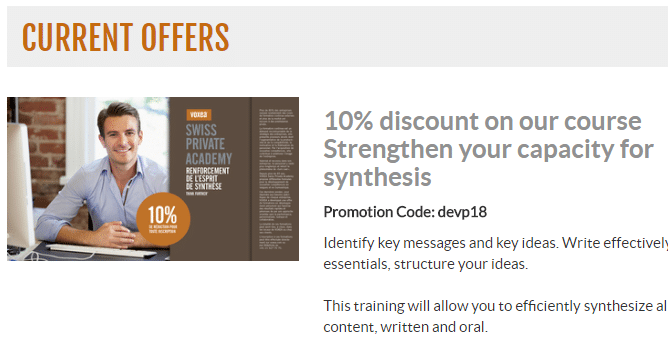 Here's Hanna Janz – another fake testimonial (you can find the original photo here):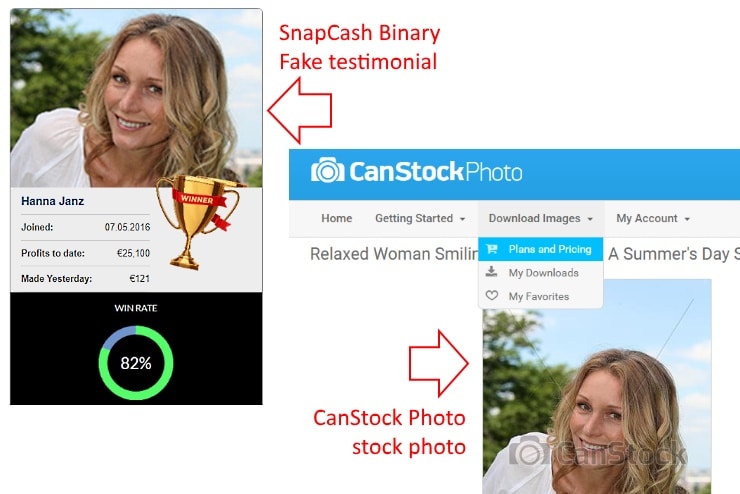 Verdict: Because the testimonials are fabricated, it means you have no idea whether it is possible or not to make money with the SnapCash Binary. In fact, because of the deception, it is highly more probable that you will lose money.
Red alert #3: Fake Security Badges
Do you think these security badges work and protect you?
Guess again. Because it's just an image file, put there to fool you into believing that you are protected. No, you are not!
Red Alert #4: No Contact Page, No Contact Information
Below is a screenshot of the footer of the SnapCash Binary website:

Do you see any contact information of the company running the website? The only two things they bother to throw at you is the name of the company (SnapCashBinary Ltd.), and a lonely support email.
Does the email work, and do they bother to answer?
Plus, their footer (the fine print) contradicts with the promise in their headline.
The headline says, "Get Your $1,200 Per Day Salary Right NOW!" But the fine print in the footer says that earnings are not guaranteed. What do you believe then?
Verdict: Would you trust your hard-earned money in the hands of such a secretive company that you cannot even contact? I wouldn't.
Hey, it gets even worse! Keep reading.
Red Alert #5: SnapCash Binary Contradicts to Its Risk Disclaimer
Here's what Austin Ford the actor says in the video: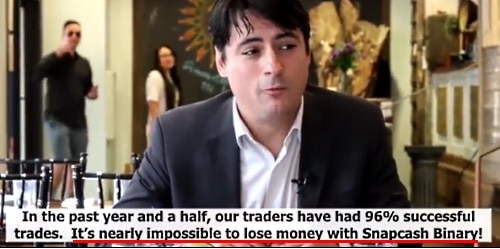 So…It's nearly impossible to lose money with SnapCash Binary? Really?
Mhm… Here's what their Risk Disclaimer says: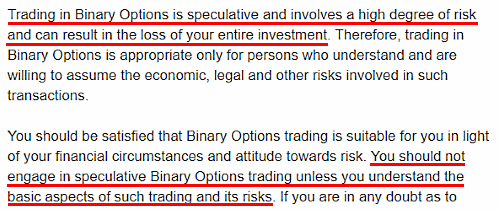 See! It's highly possible you will lose your entire investment. And contradictory to what these con artists claim in their sales video, trading Binary Options is NOT suitable for the ordinary people from the street.
Here's another nice piece from their Risk Disclaimer:

Again, trading Binary Options entails significant risks. Therefore, it is NOT for you if you cannot afford to lose.
Verdict: Don't believe a word they tell you about how easy it is for a complete newbie to make money by trading Binary Options. Read the fine print. It says all.
Red Alert #7: Beware of Fake 'Positive' Reviews
Beware of the many fake 'supportive' reviews floating on the internet. These are specifically designed to lure you into the shameless rip off scheme. To drive my point home, I give you just two examples:

Here's another example:

"… even if you have never traded a day in your life..." What the heck?
Hey! Based on the facts I have shown you above, the authors of such fake reviews are lying full volume, do you agree?
Red Alert #8: False Sense of Urgency
Look at this claim in their sales video: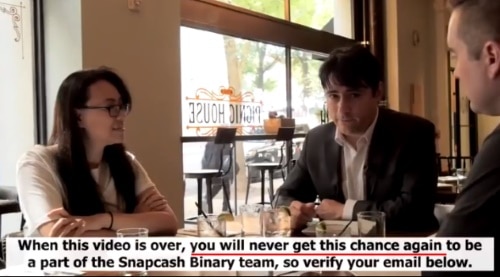 This claim here is a plain lie. Why? Because the video was recorded somewhere in 2016 and since then it has been possible to sign up for SnapCash Binary. Yes, it's possible, even today or tomorrow, or next week. Hey! Do NOT do that, though! Because it's a scam.
The dirty trick here is this: The scammers know human psychology extremely well. They know that by including a sense of urgency into their sales pitch, they can significantly increase sign up rates. So what do they do? They tell you that this fantastic get-quick-rich opportunity is open for a very short period (while it's not).
This, of course, creates in your brain a false sense of urgency, and you feel that you must act immediately. And that's what the criminals want – your signup. Don't do that!
Red Alert #9: More Lies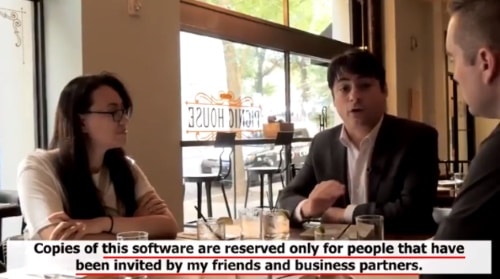 Another plain lie. Truth be told, anybody can sign up and download the software. But again, the trick here is to make you feel as if you were somehow more special than others; that you belong to some elite group with extra privileges.
It's a lie, a dirty trick to lure you into a trap.
Final Verdict
My verdict: The SnapCash Binary is a 100% scam. This is as clear as a clear sky. The software only exists to cheat and swallow people's money. Stay clear if you don't want to flush your hard-earned savings down someone else's toilet.
If you'd rather make money than blow your lifetime of savings… Why not try this? It's FREE to get started, too. You'll like that part…


Why not make it the very next thing you do? Click here right now.
What About You?
Thank you for taking the time and reading the review. Now that you have reached the end of it, what are your thoughts? What is the SnapCash Binary? Is it a legit work-at-home opportunity, or is it a scam?
Let me know in the comments.
Stay safe!
Egon Sarv (egonsarvreviews.com)