"Today I'd like to give you the once in a lifetime chance to…
… get the free and unlimited access to my money-making software that has consistently made me between $15,000 and $50,000 per day for the past six years, and it's about to do the same for you."
– Mark Stevenson, CEO of The Infinity App Enterprises
What is the Unlimited Systems, and will it make you $15,000 – $50,000 a day in profits? Or, is the Unlimited System a scam?
Please read the detailed review below, and you will precisely see what the Unlimited Systems is, how it works, and whether it will make your coffers overflowing.
Let's dive right into the details.
[Sidebar: If you are not interested in scams, check out THIS instead! You're going to like this (Yes, I am using it to make legit money online).]
Quick Review

Name: The Infinity App / The Unlimited System
The Infinity App login: theunlimitedsystem.com/special.php
Domain Registration: mar-14-2017
Alleged Founder: Mark Stevenson
Niche: Binary Options / Foreign Exchange
Price: Minimum required deposit: $250
My Overall Rank: 0 out of 10
My Verdict:  The Infinity App is a scam. Stay away!
Better ALTERNATIVE to the Infinity App Scam That's Uniquely Yours. And These Testimonials Are Proof.
If you are looking for ways to make legit side money online and don't want to get mugged…
… Do not ask shady Binary Options to a dance.
Why not?
Because trading Binary Options is a high-risk business opportunity and is NOT suitable for ordinary people from the street. If you want to trade Binary Options indeed, please be prepared to lose all of your investments.
Seriously? Yes, very seriously!
Therefore, this is my personal recommendation to you – learn to make legit side money online in a proper way.
How to do that? Well… For example, here is how I have done it (Yes, I am using it since 2013).
At First, It Looks Like A Normal Training. But Look Closer… It's Where Dreams Are Made.

It's FREE to get started, too. You'll like that part…
---
Full Review – What Is the Unlimited System?
For some strange reason, the Unlimited System is nothing but a domain name of the Infinity App website: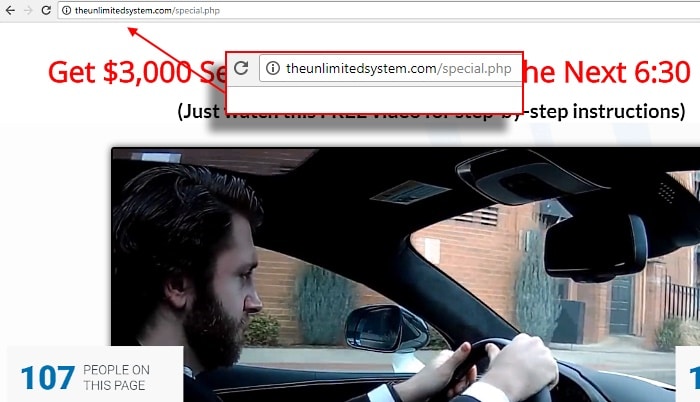 What they are promoting is the Infinity App, created by Mark Stevenson. Therefore, we can use these two brand names, interchangeably.
Who Is Mark Stevenson?
According to Mark's own words, he is a creator and CEO of the Infinity App Enterprises. Before that, though, he was allegedly one of the smartest engineers in NASA. While working for NASA, he was assigned to be the head of the project about predicting meteorite trajectories (back in 2009).
Then one day, a thought hit Mark that a lot of lines of code in that formula could be applied to predicting tons of other things as well. It just required a few small changes to the code.
For the next couple of years, Mark worked on his own project. Also, he invited a couple of other brilliant guys he had met while working at NASA to team up with him. Together they went on and created the Infinity App trading software.
What is the Infinity App?
Well, according to Mark Stevenson, the Infinity App is the most profitable money-making software in the world. Powered by the same predictive algorithm used by NASA, Mark and his team could turn the Infinity App into the most profitable push-button software in the world.
It has allegedly 100% accuracy and 100% winning rate:

So what is it and how to make money with the Infinity App?
Well, in short, the Infinity App is a Binary Options trading software (read my detailed review here on how Binary Options work).
To trade Binary Options, you first need to open a trading account with some Binary Options broker. After that, you must fund your account so that you could start trading. The problem here is that it is real money, your money. Yes, you can lose it.
The Infinity App has two modes – 1) the Manual mode which allows you to trade, and 2) Full Autopilot, in which case the software does all the trading for you.
According to Mark Stevenson, when you switch the Infinity App to Full Autopilot, the software wins 100% of trades and never loses a trade.
Pretty impressive, right?
Wait a minute! Keep reading because it's not the whole story. I am going to debunk the entire official narrative below and show you the Ultimate System is nothing but a vile rip-off scheme.
Before that, though, let's see…
…What Mark Stevenson Promises You
Here are some of his promises. Enjoy:
His software works 100% on autopilot
It has 100% accuracy
No work from your part
No knowledge or technical skills required
First 35 beta testers get free unlimited access to the software
All you need to do is push the "Activate" button and "Profits boots" which will make the profits grow exponentially
With the Infinity App, you have zero risk
You will earn from $50,000 to $200,000 per week forever
How Much Is It Going To Cost You?
The Infinity App trading software is 100% free indeed. That's true. However, don't think for a second that the whole thing will be free for you. Because it's plain wrong, and the scammers behind the wicked scheme are clearly after your hard-earned money.
As already mentioned above, $250 is the minimum amount that you are required to deposit into your trading account. This is real money, your money, and it will be used for trading. You can make profits, and you can lose it.
Be aware, though, the free trading software and $250 are only bites for you to swallow. Then, once they have hooked you, expect to land in a boiler room where professional high-pressure salespeople squeeze every single penny out of your credit card. Seriously!
Here's why:
The Infinity App Is a Scam –  Red Alerts
Red Alert #1: Fake Mark Stevenson
Truth be told, Mark Stevenson, the former smart NASA engineer, is a fabricated character, played by a cheap actor (as it is always the case with online scams like this one here).
Think about it: If he indeed were one of the most brilliant brains behind NASA algorithms, there would undoubtedly be a ton of traces left behind.
For example, Neil DeGrasse Tyson is one of the top astrophysicists in the world. Google his name, and you will find his Wikipedia page, his social media accounts, books, articles, videos, etc.
Google "Mark Stevenson," and you will get nothing. Zero. Nil. Nada. Google "Mark Stevenson NASA," and you only get the Infinite App reviews.
The guy is fake. It is as clear as a clear sky. There is no such brilliant brain from NASA. And more importantly, for you, there's no such 100% accurate predicting algorithm behind the Infinity App either. The whole thing is a fraud.
Red Alert #2: The Unlimited System involves Zero Risk? Really?
Here it is, crystal clear:

One more:

Well, if so… Why the Infinity App Risk Disclaimer says the polar opposite:

Remember, Binary Options is a high-risk business opportunity that is not suitable for Average Joe or Jane.
Red Alert #3: The Fake Infinity App Office Building
As you might suspect, there's no such company as Infinity App Enterprise. To record their fraudulent video, the scammers drive some rental Mclaren sports car around Tualatin Valley, Southwest of Portland. And, as you might suspect, the video is edited.
For example, look at their alleged office building. The image histogram (pictured) clearly shows that the Infinity App logo is just a later addition: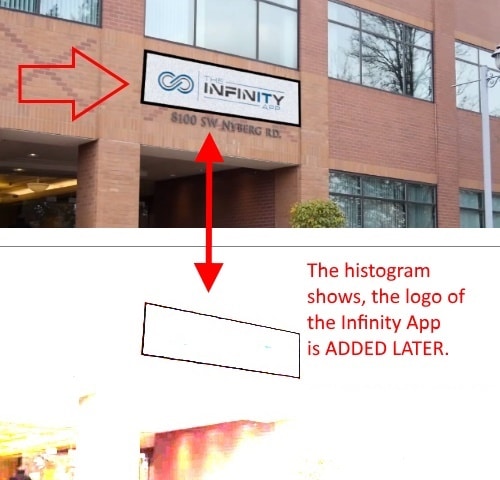 Not convinced?
Well… Let's Google the address on the building: "8100 SW Nyberg RD."
Aha! … That's what we get: It's a Lakeside Center instead. Wow!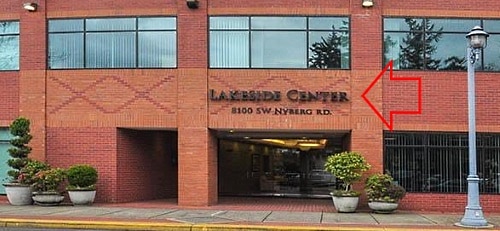 Q.E.D ("what was to be demonstrated)
Red Alert #4: Fabricated Testimonials
Look at these allegedly "live" testimonials found in the Ultimate System login page: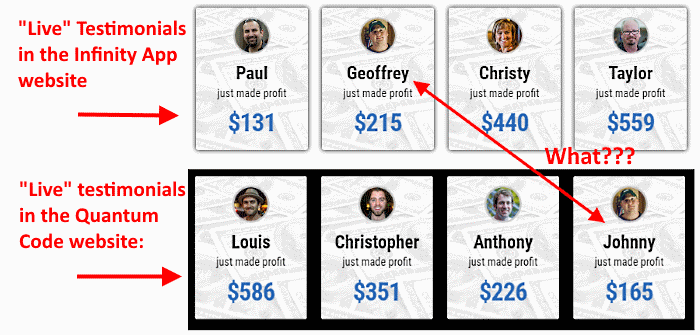 Yes, the same "live testimonials" widget is used by the Quantum Code scam, Brooks Blueprint scam, etc. All the face images are the same and taken from the randomuser.ru website.
Or take this Christy for example (pictured above):
The same "random" face image is used by WPZoom (producer of premium quality WordPress themes). You can see the same image in their Venture Premium WordPress theme demo:

Here's a question for you: If the product is genuine and profits so freaking excellent, why on Earth cheat and deceive customers with fake testimonials?
I will leave you to answer.
Red Alert #5: Math Doesn't Add Up
This is really sweet:
As you already know, the required minimum deposit is $250. Plain and clear.
However, Robert Williams – a random passerby who became the first beta-tester of the Infinity App – he had nothing but $104.30 on his bank account: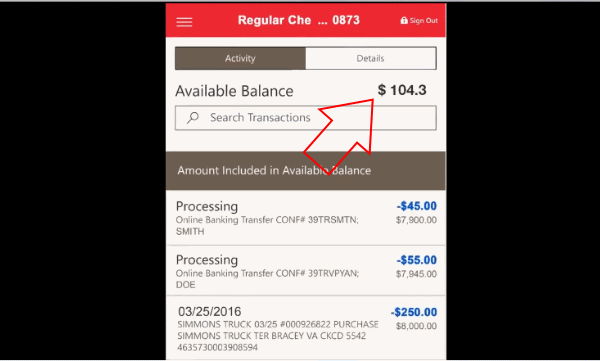 Yet, a few minutes later, he has logged in to his newly created Infinity App account and, lo and behold, miraculously he can deposit $250: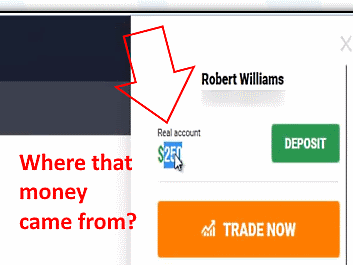 Then, after 30 minutes, there are $1604.43 in Robert's bank account: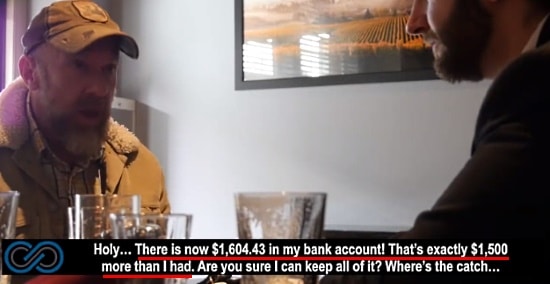 In other words, Robert started at $104 and made $1,500 in profit. After withdrawing $1,500, there's still $104 leftover…
The narrative looks genuine? No! Because you cannot start trading with only $104 in your account.
Red Alert #6: The Dates Don't Add Up Either
Based on data (and the script), the first part of the Infinity App video is recorded on March 26, 2017. Why? Because in the video, Mark opens the Washington Post website with that date: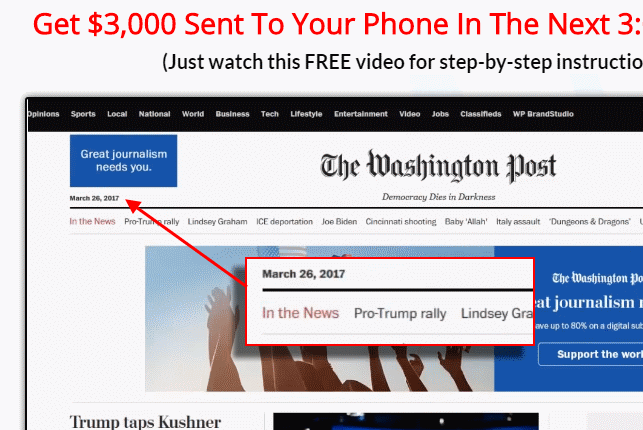 It was only after that Mark Stevenson went out to find his first beta-tester. He found Robert Williams, and half an hour later, Robert withdrew his first profit of $1,500.
So far, so good!
Thirty days later, Mark meets Robert again to check how the latter has done.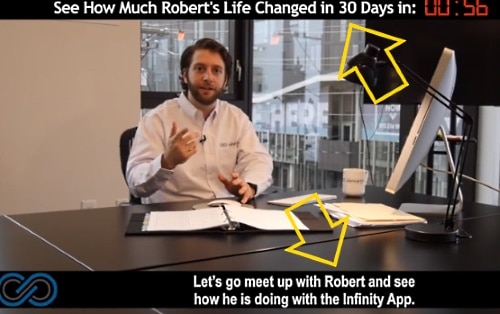 So what date do you expect to be then? April 26 or something, right?
Look at this, though: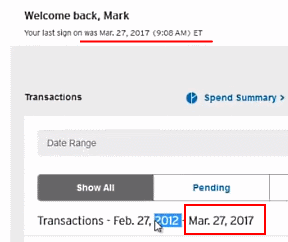 How come 30 days later it is still March 27, 2017?
It gets even worse, though. When Robert William shows his trading results to Mark Stevenson, some of these results are from March 10, 2017: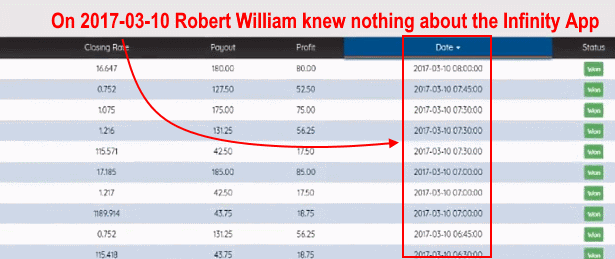 See how ridiculous all the official narrative is!
Red Alert #7: Fake The Infinity App Reviews
When you google the Infinity App reviews, you will find tons of positive reviews as well. All of these are written by the affiliates who hope to make money on you. That's why they are lying through their teeth to lure you into a costly subscription.
Just take a look at the extract from one of such fake positive Infinity App reviews: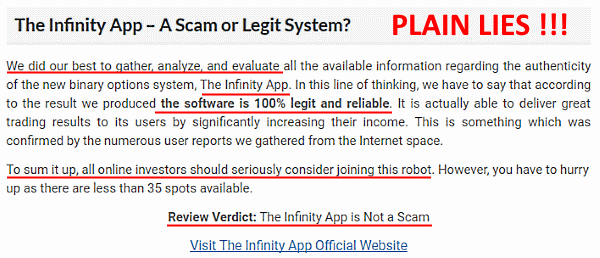 Claims like these are so stupid that I don't even bother with them. Indeed, human greed and shamelessness are limitless.
Final Verdict
As a matter of fact, there are many-many more red hot warning signs (like the Infinity App website is a clone of Quantum Code site; that Robert William the beta tester is so ridiculously poor and unrealistic actor, etc.).
I just don't have enough space or time to analyze them all. However, I think these seven red alerts have already proved beyond doubt that The Unlimited system is a scam.
My Verdict:  The Infinity App is a scam. It is full of lies, contradictions, and fabrications. Ward off!
Much Safer Way to Make Legit Money Online
Whatever the reason might be why you want to make money online…
…Be it your financial freedom.. or more quality time with your kids and spouse.. or security in old age.. desire to travel the world.. more time for your hobbies or sports …
You know the "why." I can only confirm and encourage you – YES! It is possible to make side money (or even a second income) online.
And hey, it is possible to do it WITHOUT getting involved in high-risk Binary Options trading and other scams that will rob you blind and leave you out to dry without any feelings of guilt or remorse.
If you are interested, here is (in my humble opinion) by far the most complete program for creating a thriving internet business from home (even if you are an utter novice).
In fact, at first…
…I Had No Idea Whether This Would Work. But These Testimonials Are Proof.

It won't cost you a bean to find out if they can help you.
What About You?
Thank you for taking the time and reading my review. I hope you found the information that you were looking for.
Now that you have reached the end, what do you think? Is the Infinity App a scam or legit? Please let me know by dropping a comment below.
Stay safe!
Egon Sarv (EgonSarvReviews.com)