EDWARD ROBINSON says his unique Orion Code trading system is 100% guaranteed way to make a profit every day forever.
Well, don't believe a word he says.
Edward Robinson is a scam, and I am going to prove it in the Orion Code Software review below.
Remember, ripping off ordinary people is bread and butter for online scammers – allowing them shamelessly to make a lump sum of cash very quickly. If you don't want to end up in misery and grief, you must be extra cautious with all these Get Quick Rich promises. Seriously!
But let's dive right into the details and see what you think about this opportunity.
[Sidebar: If you are not interested in scams, check out THIS instead! You're going to love this.]
Quick Review

Name: Orion Code
Orion Code login page: www.orionco.de
Niche: Binary Options
Price: $250 required minimum deposit
Alleged Founder: Edward Robinson (fake character, played by Jeff Gorham)
Skill level: Beginner (it's an ugly lie. Read below why)
My Overall Rank: 0 out of 10
My Verdict: The Orion Code is a complete scam. It is a duplicate of the Quantum Code scam and designed solely to defraud and steal your money. Stay away!
What's next? Imagine for looking for legit work-from-home opportunities and finding THIS when you go inside… WOW


It's FREE to get started, too. You'll like that part…

Full Review – Edward Robinson Is a Scam
Although Edward Robinson The Orion Code is 100% deception and ripoff scheme (I am going to prove it to you below), it is fair to at least give a general description of what it promises and how it is supposed to work.
Therefore, let me quickly outline its main points for you. Just bear in mind, the whole narrative is a fraud. There's nothing genuine in it.
What Is Edward Robinson The Orion Code About?

According to the narrative, the Orion Code is a never-seen-before trading software created by Edward Robinson and his team. The software allows you to trade Binary Options and has a 98% winning rate (read my detailed review on how Binary Options trading works).
What it's going to cost you?
Well, Edward Robinson says that the first 20 beta testers will get his software 100% free. While you get the software for free, indeed, it does not mean you can start making money for free.
The truth is far from it.
First, before you can start trading with the software, you need to invest your hard-earned cash.
For this, you must open a new trading account with a Binary Options broker of his choice (in other words, you cannot choose the broker).
Next, you must fund your account. The minimum deposit is $250, but I have heard that the Orion Code people have raised that bar to $300.
Anyway, the Orion Code software will connect you to your trading account, and you can start trading
Note! Remember, you will use real money, your money, and you can lose it. 
When you switch the Orion Code system to the Auto-Trade mode, the software will do all the trading for you. All you have left to do is collect money. And because the Orion Code has a 98% winning rate, it is a risk-free investment opportunity.
That's what they say.
Bear in mind, though, all that is according to their official narrative (we will put it to the test soon).
Next, let me list some of their central promises.
The Orion Code Promises You:
100% guaranteed way to make a profit every day forever
98% trading accuracy
No credit card, no Paypal, 100% free
Zero previous trading experience required
Unlimited earnings for the rest of your life
Seem pretty cool, no? Well, no.
None of these promises are correct, and I am going to prove it to you right now. Keep reading, and you will see why.
5 Proofs That the Orion Code by Edward Robinson Is a Scam
Proof #1: Edward Robinson is Fraud
Edward Robinson, the founder of the Orion Code system, does not exist. Plain and simple.
How do I know?
Because he is a fabricated character, played by Jeff Gorham, an actor from Portland: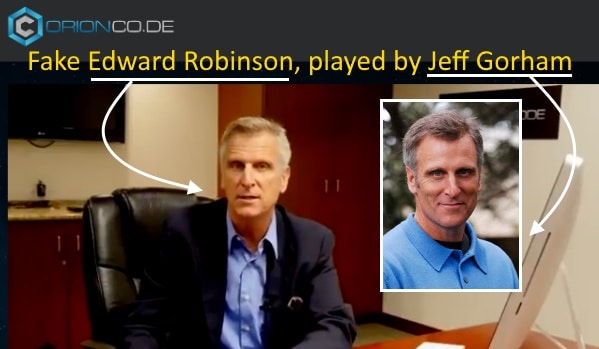 [Sidebar: Jeff Gorham has played in a couple of movies like A Change of Heart, Little Blue Pill, Without Warning, Pogtown, etc. Why on Earth did he choose to ruin his good name and reputation by choosing to join such a vile and deceptive scheme? Just google his name, and you will see – he has become a public laughingstock. I mean, how humiliating.
By the way, for some strange reason, scammers tend to like cheap actors from Portland (see here and here). They also like to record their scam videos in Portland (see this).]
If Edward Robinson, the genius trader, were genuine indeed, there were certainly plenty of digital footprints left behind. However, there are none. Nil. Nada.
Proof #2: The Orion Code Testimonials are Fake
Do you think these testimonials found on the Orion Code website are real: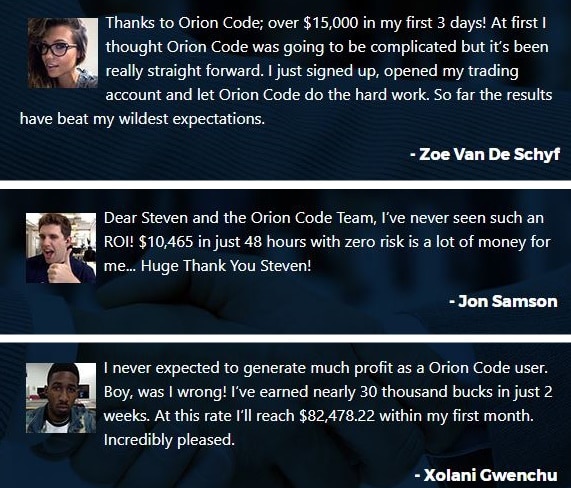 If so, try these testimonials as well (taken from the Rio Profits scam site):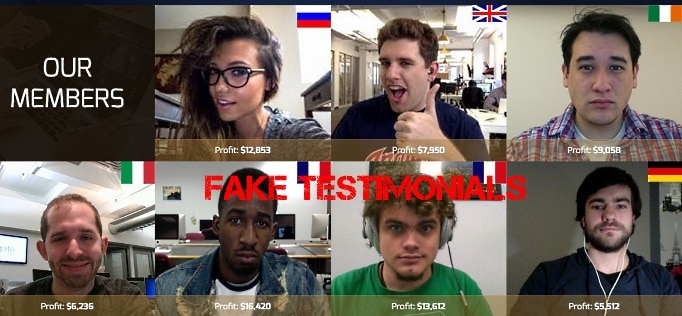 Not convinced yet?
Well, let's see what the young lady with glasses has to say us:
By now, it should be as clear as a clear sky that these claims don't hold water.
Tired of scams?
Here's what I use
to make money anywhere in the world.

Don't wait another minute to put THIS to work for you.

Proof #3: Orion Code and Tesler App Scam Were Hatched in the Same Nest
The Book of Life says, "A bad tree cannot bear good fruit." (NIV) It also says, "Does a spring send forth fresh water and bitter from the same opening?" (NKJV)
I already showed you that the Orion Code, Rio Profits scam and Tesler App scam share the same fake testimonials.
How come?
Simple. These are three bad eggs that were hatched in the same nest. Need more proof on that? Try this out for size:

Er, isn't it supposed to be the Orion Code Risk Disclaimer? Or did the scammers accidentally spill the beans?
Red Flag #4: Fake Orion Code App for Mobile Devices
Do you think this is the Orion Code app?

You might want to think twice. The scammers have taken the easy way and downloaded a free .gif from the internet, then pasted it into their sales page. That's it. No magic here (no trading app for mobile devices either).
The next proof is a real kicker. Enjoy!
Proof #5: The Orion Code Scam is a Clone of Quantum Code
I have reviewed quite a many scams already, but this was the first time I saw anything like this. Frankly, it was quite an entertainment. Look closer.
The scripts of the Orion Code and Quantum Code are literally identical. Only the places and actors are different. And therefore, they easily prove that both schemes are 100% scams.
1. The messages from 2 different customers are identical
Both narratives follow the same script – Michael Crawford (Quantum Code) and Edward Robinson (Orion Code) fly a similar (rented) private jet to their headquarters. On the way, though, both of them get a message from one of their customers.
Here's the message from David to Edward Robinson (Orion Code):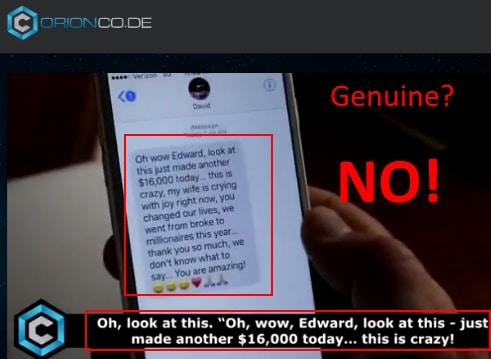 And here's the message from Robert to Michael Crawford (Quantum Code):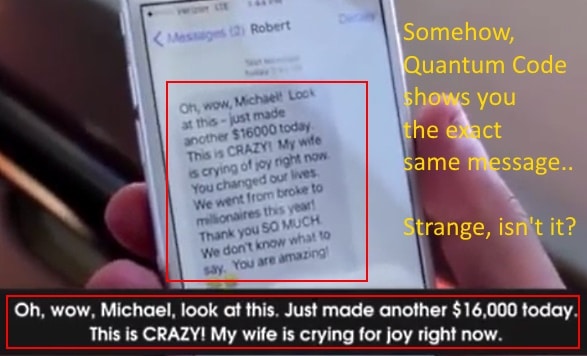 Is Russia to be blamed for hacking into Michael Crawford's handphone and stealing Robert's message… then selling it to David…?
2. The trading accounts of Edward and Michael are identical
Both Edward Robinson and Michael Crawford are very generous indeed. They don't hide anything and gladly show you their bank account balances.
Aha! Here's the personal bank account of Edward Robinson (Orion Code):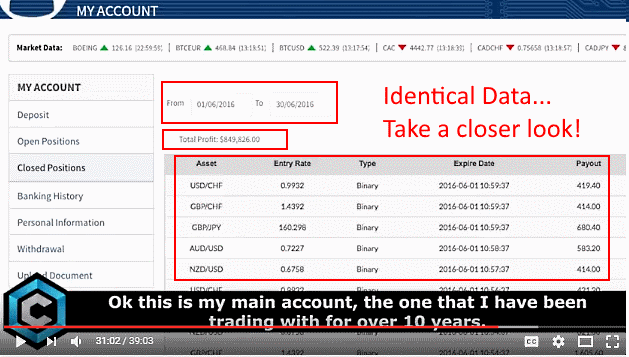 Edward's total profit: $849,826.00
And here's the personal bank account of Michael Crawford (Quantum Code):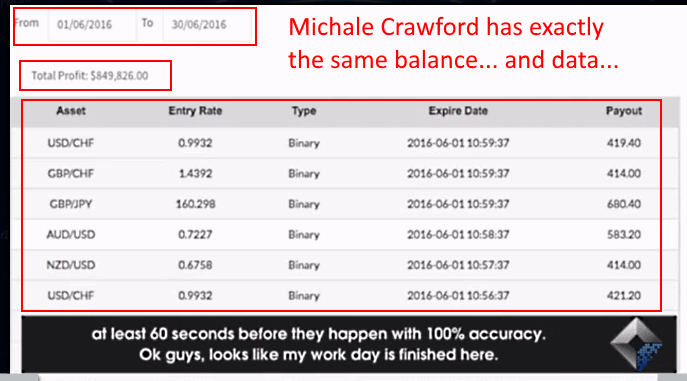 What is Michael's total profit? Right, $849,826.00
Compare their other data as well.
You see! The whole thing is outright fraud.
3. Staged "live proof."
Towards the end of these two videos, both Edward Robinson (Orion Code) and Michael Crawford (Quantum Code) give you a live proof on how their software performs in real life.
For that, they create a brand new trading account and deposit an initial $250. After that, the men switch the software to the full auto-trade mode and leave it like that for one hour.
After that hour has passed, they both check their newly created trading accounts. As you might suspect already, the results are identical:
Here is Edward's account balance:
And here is Michael's account balance:
Notice that both accounts have an identical user ID (#1075897), while the owners of the accounts are different!
Notice also, both men express their excitement with the exact same words!
4. Different actors, the same script
This is sweet. Enjoy!
Doesn't take a genius to spot a dud, right?
5. What version is it?
Oh, sorry, I almost forgot. The latest edition is the Orion Code version 8. By the way, Edward accepts only 20 beta testers:

Amazingly, this is precisely what happens with the Quantum Code as well. Is it a coincidence or, are the scam actors just following the pre-written movie script? I think it is more the latter.
Final Verdict
I could list many more proofs, but I have already proved my case – Edward Robinson The Orion Code is nothing but outright fraud. There's nothing but hot air and smoke coming from these con artists behind
And even though Edward says keep touting, "things that seem too good to be true, sometimes are actually true," don't believe a word that comes out of his dirty, cheating mouth.
Verdict:  Edward Robinson is a scam. The Orion Code is a scam. It is a well-oiled rip-off scheme, designed to separate you from your money. Please don't give your money to these criminals!
Imagine for looking for legit work-from-home opportunities and finding THIS when you go inside… WOW


Why not give it a whirl right now? You're certainly not committed to anything.
What About You?
I did my best to prove that Edward Robinson is a scam, but what's your opinion? Is Edward Robinson The Orion Code a scam or not? Let me know in the comments, please.
Stay safe!
Egon (EgonSarvReviews.com)