Are you looking for a free Twitter unfollow tool to manage your Twitter followers?
Look no further. These are here.
Below I am going to give you a list of Twitter follow unfollow tools. And I am going to show you how to unfollow people on Twitter (by using those tools).
However, I am not going to give you an unending list of Twitter tools (because there are tons of them, and it only complicates things.)
Therefore, what I give you just some of the tools that have free plans attached AND that do the job.
As always in life, some of these tools are better than others. Please take a look and see if any of these apps can help you. They have helped me.
Before we dive into the details…
…What if I could show you a real system you can use to put $1,200+ per month into your account, working from the comfort of your home…

…Would you be interested?

Yes, you need discipline. But the pain of discipline is far less than the pain of regret. Click here now.
Twitter Has Changed the Rules
Now, this is bad news. Because of these rule changes, many excellent and respected platforms had to shut down their Twitter follow-unfollow features. Like…
1. Crowdfire (not anymore)
Crowdfireapp login: www.crowdfireapp.com
So what about Crowdfire App?
Well, Crowdfire App (formerly Justunfollow) was my personal favorite. The platform was so good that I decided to go Premium. Their follow-unfollow tools were efficient, extremely flexible, and easy to use. I really enjoyed using them.
Unfortunately, they don't have those features anymore.
Really? Really. Why?
For some unknown reason, Twitter has suspended the API of Crowdfire App: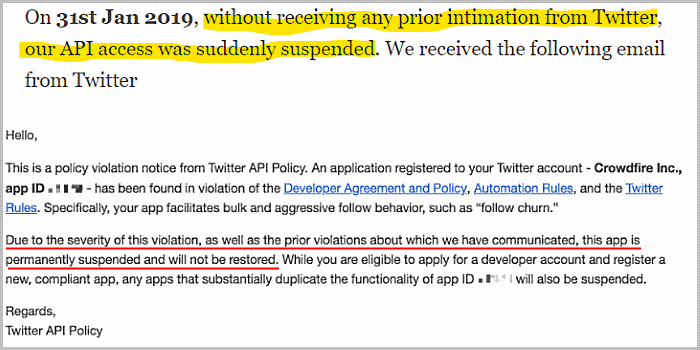 Crowdfire team says they have not done anything wrong. They have always complied with Twitter rules. To prove their case, here you can read a lengthy article on it, Twitter API Suspension – Our Side of the Story. It includes a lot of correspondence between Twitter and Crowdfire teams.
What it means for you is that at the moment, you cannot use Crowdfireapp for following or unfollowing accounts on Twitter.
There is some hope that Crowdfire's Twitter services will be restored, though: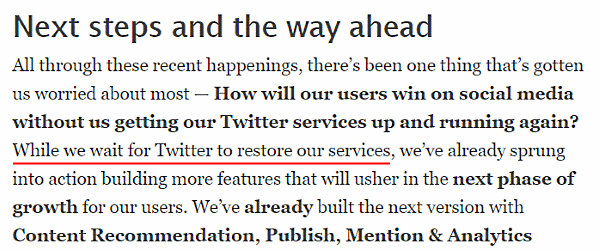 But until then, you cannot but have to pick some other app for this task.
2. ManageFlitter Not anymore
ManageFlitter is another excellent app that fell victim to Twitter rule changes.
Here's what they write in their blog:
"In January 2019, Twitter reached out to ManageFlitter and similar products, and communicated that "in application" following/unfollowing and related search features would no longer be permitted by Twitter. This relates to all third party Social Media management products.
As per Twitter's request, we removed the ManageFlitter Follow and Unfollow features…"
In other words, from now on, all following and unfollowing needs to take place on Twitter directly.
But guess what?
There are still apps that are happily sporting their Twitter follow-unfollow features. And, yes, you can use them as in the good old days.
So let's take a look at some of them.
Best Free Twitter Unfollow Apps 2019
1. iUnfollow
iUnfollow login page: iunfollow.com/unfollow
Fortunately (and for some strange reason), iUnfollow app has those follow/unfollow features that are still permitted. That is obviously good news, do you agree?
So, we can say, even after all these restrictions described above, iUnfollow is still a free Twitter unfollow tool.
And here's how you can unfollow Twitter nonfollowers in the iUnfollow app: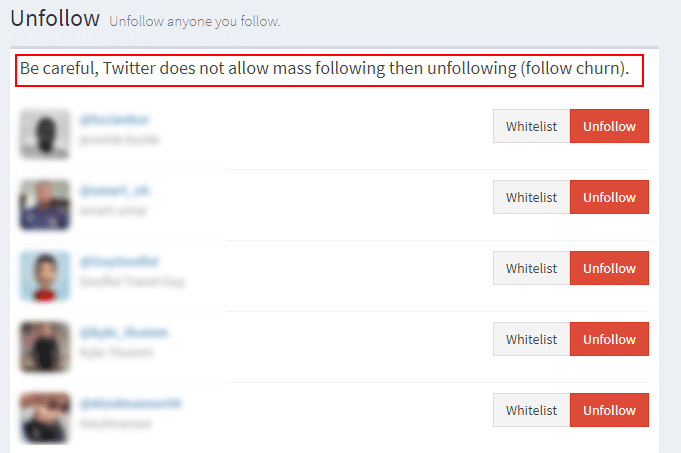 Pretty simple, isn't it? You see the list of Twitter accounts that you follow but who don't follow you. Just hit the red "unfollow" button next on the left side of the account, and that's it.
There are two more features that I'd like to see here.
It would be much better if I could see their Twitter bios as well. Then it would be easier to decide if I want to unfollow the person or not.
Also, I would like to sort the nonfollowers by date so that the oldest comes first. I know that the Crowdfireapp sported that feature, and that's why I liked their app so much.
Then, as you notice in the picture above, there is a warning to you as well. It reads, "Be careful, Twitter does not allow mass following, then unfollowing (follow churn)."
[Sidebar: Here's what Twitter's own support page, "About following Twitter," says about following rules:
We don't limit the number of accounts you can follow overall, but there are some limits as to the pace at which you can do so.
Every Twitter account is able to follow up to 400 accounts per day. Verified Twitter accounts are able to follow up to 1,000 accounts per day.
And here's how they define "follow churn:"

And follow churn is obviously an unacceptable behaviour.]
I don't know why Twitter doesn't allow CrowdFireApp and ManageFlitter to use its follow/unfollow features. Yet allows iUnfollow to use these. I don't know. What I know, though, is that there is an ax hanging over your head (i.e., your Twitter account) if you don't comply.
This is not the only bad news, though.
The other bad news is, as you might suspect that their free tool is quite limited:
Yes, you can remove the limits, but for this, you must upgrade to PRO (monthly $3.33 or yearly $9.99) In either case not expensive, do you agree?
So if you are looking for a useful Twitter follow/unfollow tool, the iUnfollow app is a good option.
If you can write, here is an amazing opportunity on how you, by writing, can create your own passive income stream online (which will serve you for years).


Don't wait for the right moment to take the bull by the horns. It never arrives. Start whenever. Now.
2. Circleboom
Circleboom login: circleboom.com
I tried Circleboom to unfollow nonfollowers on Twitter and… Well, I did not really like it. I did not find it a comfortable tool for unfollowing tasks. Obviously, Circleboom is not as good as the iUnfollow app. And their free plan is way more limited as well.
Let me explain why I came to this conclusion.
The Circleboom homepage has four tiles that help you manage your Twitter followers:
The tiles are quite similar to the tiles in Microsoft Windows 10, aren't they? So what do they do? Well, they filter out:
The number of friends who are not following you back
Fake or spam accounts that you are following
Inactive accounts that you are following
You don't need to follow everyone (accounts that are talking too much. Consider unfollowing them.)
It is evident that people (or accounts) in all these four groups are those that you want to unfollow.
So this must be the good part, right? The Circleboom app filters them quickly and easily out for you.
But… And here's the bad news:
1. The free account is limited to only 3(!) results. Can you imagine! So it is effectively not a free option at all. All they give you is just a taste of what you would get if you upgraded to Pro. And to Pro level you must upgrade to see all the other accounts.
2. It's quite complicated to unfollow Twitter nonfollowers using Circleboom. It's not that straightforward at all.
Here's how it goes:
Let's take the first tile: "You have x number of friends who are not following you back." So let's hit the blue button, "Take a closer look."
A new window will open where you see your Twitter nonfollowers (yes, only three accounts in the free plan):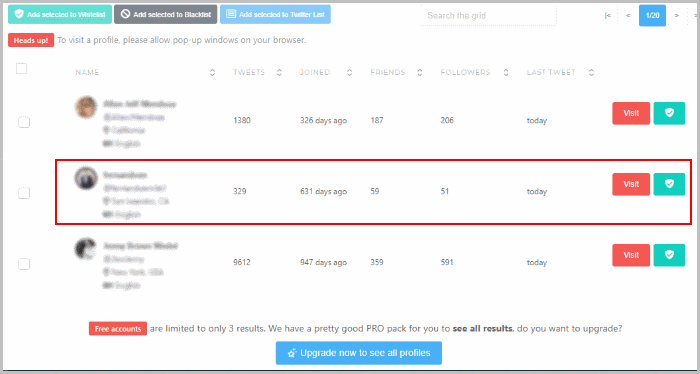 The list of your nonfollowers itself is ok. But the problem here is that each account in the list has only two buttons – a red "Visit" button and turquoise "Whitelist" button.
The Whitelist button is ok. Not all famous people (like Donald Trump) and social media power influencers follow me back (when I decide to follow them). So it is good to whitelist them.
But why the "Visit" button? It does nothing but opens the person's Twitter profile: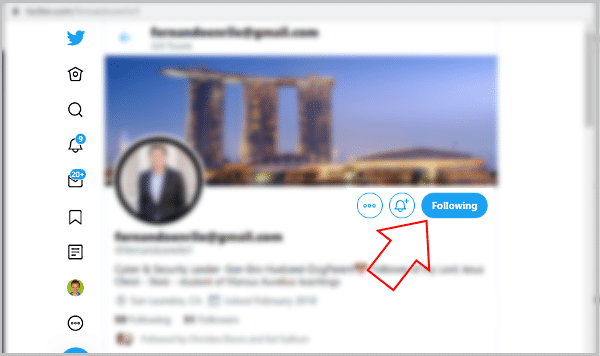 And yes, here you can him/her unfollow, by pressing the blue "Following" button.
It means, to unfollow 50 nonfollowers, you must open 50 Twitter accounts, one by one. And then one by one unfollow them. Do you see how time-consuming the whole process is?
How much easier it is in the iUnfollow app that I described above.
Anyway, in the free plan, Circleboom gives you only three nonfollowers. So if you ever want to use the app, you must upgrade to Pro. How much is it going to cost you?
Here is the lower end of the Circleboom pricing plan: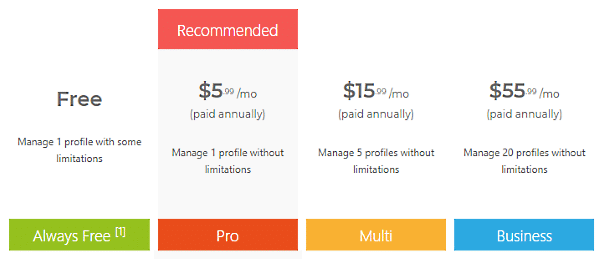 3. App Unfollowers
App Unfollowers login: appunfollowers.com
App Unfollowers is yet another straightforward and easy-to-use app for all kind of following-unfollowing tasks. Truth be told, I like it very much.
Its dashboard is quite similar to the former Crowdfireapp (when they still could sport their Twitter follow-unfollow features):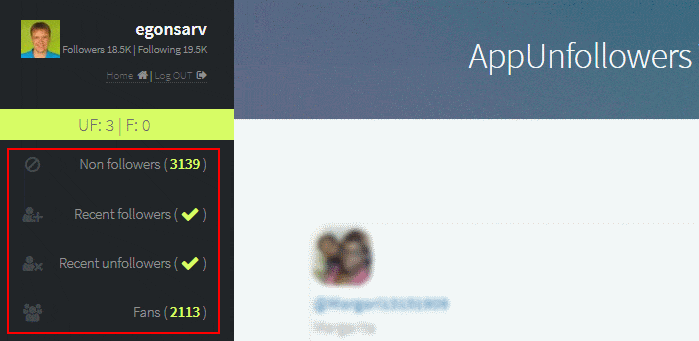 It filters out for you:
Your non-followers
Your recent followers
Your recent unfollowers
Your fans (those who have followed you but you have not followed back).
How to unfollow nonfollowers using App Unfollowers
Turns out, it is a straightforward and comfortable app indeed. Just look at the picture below:
Just hit the red "minus" button on the left, and that's it.
Hey! It's even better than that. Just look at their limitations for the App Unfollowers free plan: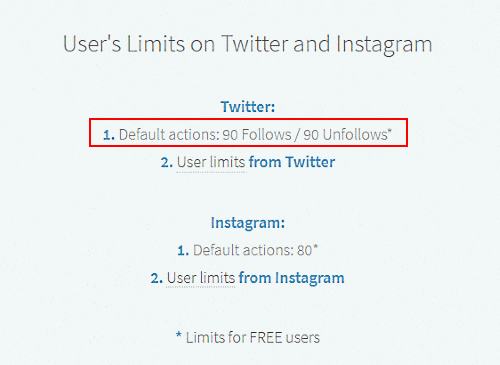 Pretty good, isn't it?
The next one…
4. Tweepi Follow Unfollow Tools
Tweepi login page: tweepi.com
With Tweepi, it is not so smooth, though.
The Free Tweepi plan offers just a minimal number of "Follow recommendations." Even worse, all their unfollow tools are locked. To unlock them you must upgrade to Premium:

As you can see, there are more follow and "more unfollow tools" in Tweepi. Let's see what they have on the table (again, the left column is a free plan and the right column for premium plans):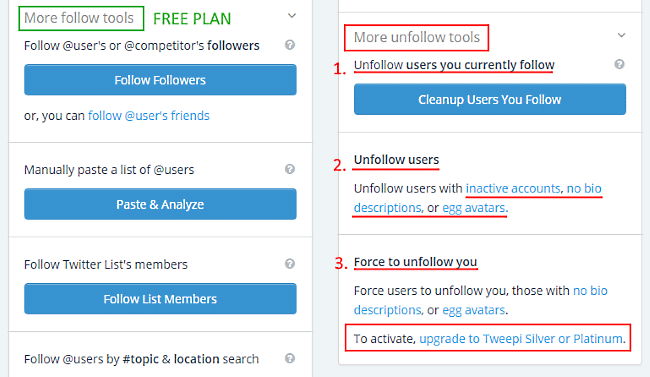 Well, if they don't give you their unfollow tools for free then… How much do they ask for them? Here are the Tweepi pricing plans: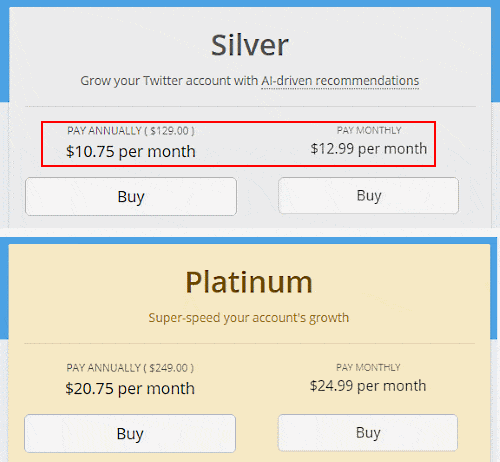 It means, the cheapest way to unlock Tweepi follow unfollow tools is $129 per year (= $10.75 per month). Or $12.99 per month.
Conclusion
Twitter has indeed made your life much harder (and I can understand them – they don't want people to game the system). So some of the best Twitter follow-unfollow tools have been completely shut down while others severely restricted.
But fortunately, there are still some quite good apps available that you can use to unfollow Twitter non-followers. And some of them even have quite good free options.
Imagine for looking for legit work-from-home opportunities and finding THIS when you go inside… WOW


Yes, the raw, sizzling beauty of passive income stream online… Look closer now. Sometimes 'later' becomes 'never .'
 Share Your Ideas
Thank you for reading my article on how to unfollow people on Twitter. I hope you found what you were looking for.
There are so many more Twitter follow unfollow tools that I did not cove here. So what follow-unfollow tool is your favorite? Which one do you use? Please share by dropping a comment below.