On the face of it, CashCrate is one of those websites where you get paid to complete surveys, give your opinion, sign up for free offers, and other small tasks.
But is that what CashCrate really is, or is there something more beneath the surface? Is Cashcrate.com a scam or legit to begin with?
In the detailed Cash Crate review below, I show you what kind of platform CashCrate is. Also, I show you whether it is a genuine work-from-home opportunity for teens and stay at home moms (as they claim).
[Sidebar: If you are not interested in lower-end products, check out THIS instead! You're going to like this.]
Quick Review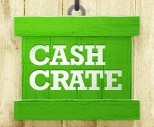 Name: CashCrate
Cashcrate login page: www.cashcrate.com
Registration Date: 15-Feb-2006
Registrant: Cashcrate, LLC (Las Vegas, US)
CEO/CTO: Patrick Clochesy
Type of business: Get-Paid-To (GPT) or reward site (paid surveys, free offers, etc.)
Skill Level: Beginner
Price: Free
My Overall Rank: 2/10
My Verdict: CashCrate gets two points for actually paying out the promised rewards on time and not being a complete scam, but there isn't much money to be made here.
Better ALTERNATIVE to the CashCrate that will help you make $1200+ a month online. And these testimonials are proof.
Best place to start is always one that doesn't cost you a cent, too.

Full Review – Is Cashcrate.com a Scam
As I said above, Cashcrate is a Get-Paid-To (GPT) website where you get paid to complete different offers. Offers include all kinds of surveys, paid registrations, free games, videos you can watch, and sites you can refer to, online shopping, etc.
Who Is CashCrate For?
Cashcrate owners promote their product as a platform that "is fun for teens and stay at home moms":

It means that it's suitable for everyone who is 13 or above.
But here's the kicker:
Most offers are for people who live in the US or Canada. If you happen to live somewhere else, you will quickly discover that there are not many offers for you: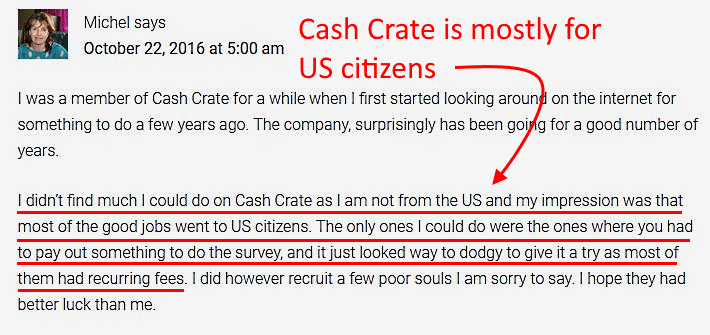 The reason for this is simple. Most companies that are the source of these Cashcrate.com offers are only interested in the US and Canada markets.
How Does CashCrate Work (How to Make Money on It)
To simply put, CashCrate rewards are small, usually $1 or $2, and there's a $20 threshold before you can cash out your money. There are several different ways to make money with CashCrate, laid out on the CashCrate dashboard:

Let's take a look at them (not in particular order):
Surveys
Cash Crate emails you notifications when suitable surveys are available. Also, there is a 'Surveys' tab on the site. That being said, the CashCrate surveys are inconsistent. Sometimes there's a lengthy qualification process only to find out that you don't qualify, or they crash halfway through. As you might suspect, these experiences are highly frustrating.
Plus, surveys aren't the best way to make money on CashCrate anyway. It's much better to use a specialized site that pays you to take surveys.
Videos
With CashCrate, you can watch video advertisements for 2 cents each.
Offers
CashCrate will pay you to sign up for free trials or discounts on various products and services. Here's the kicker, though. Frequently these offers have strings attached. Like "first month free" for ongoing services, or "try a service for $5 and earn an $8 CashCrate reward," etc.
Games and Contests
Cash Crate games and contents allow you to socialize with other users of the site in casual games, and enter to win various prizes. There is even a contest leaderboard on their website to show how much their best performers have made: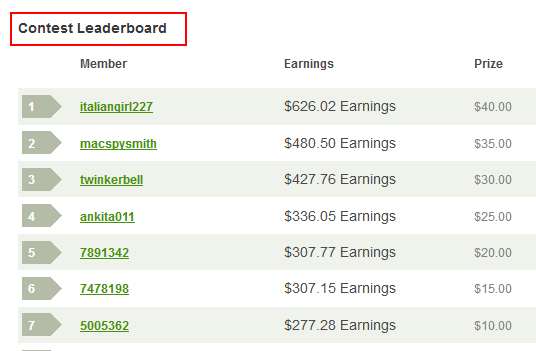 Affiliates
Of course, CashCrate has an affiliate program. It means you earn CashCrate rewards when other people sign up for the site using your referral link. As might be expected in some affiliate marketing plans, you also get a CashCrate reward when your referrals sign up new referrals.
Within these tabs on the CashCrate dashboard, you can filter the various offers for most recent, highest rewards, and so forth. It's best to use these filters to find the highest rewards you qualify for within every section, to avoid wasting time on low-reward items.
Is CashCrate a Scam or Legit?
Here's good news – CashCrate has been around since 2006, and keeps ongoing. To prove it, here's a screenshot from Whois.com database: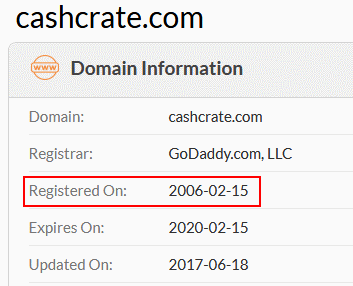 If Cash Crate were an outright scam, it clearly would have flamed out by now. Therefore, the sheer longevity of the site, a veteran in internet terms, is a positive sign.
But that doesn't mean it's all been a bed of roses.
The most significant trouble most people have with CashCrate is…
…when they sign up for free offers.
For most of those offers, if you don't cancel in the first month, they will automatically bill you for the second month.
That's why when using CashCrate, always read the fine print on all the offers very carefully. Also, continuously monitor your cards and payment accounts, and make sure of what you agree to (before you agree to it).
Most of the time, though, if you are vigilant enough to remember to cancel in time, you can earn the CashCrate reward without being charged for the offer. But hey, this too takes time and attention.
Sometimes you have to complete the trial month in the first place (and then pay for the second month) before you can earn your reward.
You can find these and other similar Cash Crate hidden tricks everywhere.
That being said, though, if you are careful with the small print, filter for the best offers, and use it intelligently, you can honestly and genuinely make a little side money with CashCrate.
That's why I have concluded that Cash Crate is not a scam. Plus, and here's the good news again. And this brings me to the next topic:
Can You Earn Real Money with CashCrate?
Yes, you can regularly earn $20-$30 per month with CashCrate.
But again, here's another kicker:
You are not getting paid to complete surveys and sign up for offers online. You are getting paid to sell your contact information…
…and your friend's contact information…
…and your friends' friends' contact information.
In other words, you are getting paid to allow companies to spam you as much as they like.
All the rest is just window dressing.
Cash Crate Affiliate Program
The only path to earning more meaningful money on CashCrate is their affiliate program, where you can earn $100 or more a month, depending on how many people you can sign up for the site.
But then, well…
…You are trying to get your friends and followers to participate in this questionable practice so that you can profit off of them.
Do you really want to be that person?
To sum it up, the question you have to ask yourself with CashCrate is:
What is your time worth?
…Is your time worth 2 cents to watch a 30-second ad?
…Is your time worth a dollar to read the fine print and manage spam emails?
…Is your time worth $5 to remind yourself to read the fine print, monitor your bank account, make lists of websites to visit, and phone calls to make to cancel free trials?
Cash Crate Testimonials
You can find plenty of thumbs up Cashcrate testimonials on the internet. Be warned, though. Cashcrate affiliates write many (if not most) of them. Here's one of these "testimonials:"

Cash Crate Complaints
One of the worst things (with terrible consequences) that I have found is that CashCrate sells your contact information to other companies. As I already told above.
As a result, these 3rd party companies start bombing you with never-ending spam emails and phone calls. To give you a glimpse of that experience, here's one Cash Crate member, describing his experience: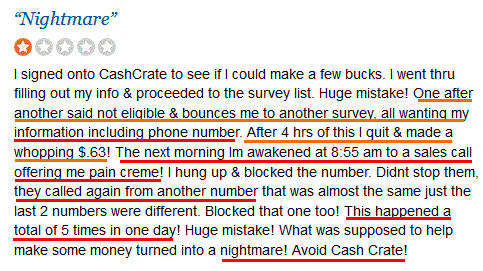 Ah yes, try this too: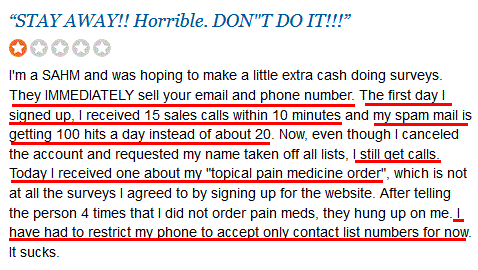 See! Do you like that? I don't think so.
To Sum It Up
If you don't mind selling your contact information, and if you feel like it's fair compensation for your time, then CashCrate might work well for you.
Some people do choose to use the site in a very sophisticated, targeted manner, only using services you would use anyway. For example, they are using CashCrate rewards to reduce the cost of signing up for things that they already wanted and were going to buy.
So, if you want to use Cash Crate as a shopping aid, to specifically target goods and services that you are interested in, you can use the site like a coupon.
If You Choose to Join CashCrate
I recommend you to make a brand new email address for that. And, if possible, a new (unique) phone number as well. Why? Just to be covered, you know.
Ultimately, most people find that CashCrate rewards aren't worth the time it takes to use the site and manage the consequences.
People who say otherwise are CashCrate affiliates, and not to be trusted.
Pros and Cons
What I Like
It's a real company, with an official address, contact information, phone numbers, etc.
Patrick Clochesy, the CEO/CTO of the Cashcrate LLC, is a real person (contrary to many outright scams)
At the moment BBB gives the company A+ rating (contrary to F and C from the past)
It's free to get started
Cashcrate pays you real money, not in points.
They pay out the promised rewards on time
Affiliate program
What I Don't Like
They collect and sell your contact information (email, phone no, etc.) to third party companies
As a result, you will get tons of extremely annoying spam emails and phone calls
Most of the services available only for US, UK, and Canada citizens
Many services require that before you can start making money, you must buy the product/service in the first place
A big part of "free" surveys have recurring fees.
A large number of complaints available online where people say the platform has scammed them.
CashCrate services require mostly a waste of time (spend a lot of time, yet earn very little)
My Final Verdict
Yes, CashCrate is a legit opportunity.
First, it doesn't cost anything to join and doesn't require any special skills to use. Second, it does pay out rewards as promised, and you can pick up a few bucks here and there using it.
Is it recommended? In my humble opinion – no. Because I guess your time is worth more than that. For the additional time and annoyance of reading the fine print, managing spam emails, and monitoring your bank account, earnings from CashCrate aren't enough.
Even if all you want to do is earn $5 a week, there are better, more straightforward sites that will let you do it without all the annoyance and without dragging your family and friends down with you.
Here's something you can do, at home and at your own pace, to make $1200+ a month online.


Finding out more costs nothing. And you're not committing to anything else.
What About You?
I want to give you a special thank you for taking the time and reading my review. I hope you found what you were looking for.
Now that you have reached the end of the review, what's your opinion? Is Cashcrate.com a scam or not? Please let me know by dropping a comment below.