Empower Network 2.0 (ENv2), also called Blog Beast, is an additional layer of technology added to the existing Empower Network blogging platform. It is claimed to be faster, easier, and sexier than its first-generation predecessor.
Therefore, the question that comes to mind is if Empower Network 2.0 is legit now? And is it now (finally) worth signing up with Blog Beast?
Let's dive into the details and see if it is worth its $25 per month price tag.
If you want to know how you can make $1,200+ a month online from the comfort of your home – well this is your chance


It's FREE to get started, too (no credit card required). You'll like that part…
1. ENv2 Main Features
The New Blog Beast blogging platform has these four primary features:
Multiple blogs from one account
A Mobile Blogging App for iOS and Android
A Two-click Blogging platform
Sales Conversion Engine
Let's take a closer look at all of them.
1. Multiple blogs from one account.
They claim that managing multiple blogs from one account makes it faster and easier for users to manage their blogs. Maybe, but it does not the blogging platform more ethical. You still have to use the same blogging system; only you can manage different blogs in one place.
2. A Mobile Blogging App for iOS and Android.
The app enables you to blog right from your mobile device. It also allows you to record audio and video with the EN mobile app and, with two clicks, submit it to your blog.õ
They claim it is a unique technology, but, in fact, it is not. There are free apps for both iOS and Android platforms that you can use to post videos easily to different video networks free. Some examples are Qik Video, Youtube. If you mostly post to Youtube, you may use the Youtube app to record and upload your videos in one stroke.
The problem with the Empower Network Mobile App is that you have to use Empower Network hosting for your videos, and so you are not able to reach all these billions of Youtube viewers.
3. A Two-click Blogging platform.
They claim that x users can submit any content to their blog with only two clicks. This "2-click" is a weird little claim and seems that it is only for marketing purposes as in WordPress, you only need one click to submit any content.
4. Sales Conversion Engine
They claim this system is for conversion tracking for your Empower Network promotions. But then, what is unique about it? You have excellent FREE tools available for these things. Take Google Analytics, for example –a great tool to track your conversions and everything else on your website. Google has invested hundreds of millions of dollars in developing it and made it completely FREE to use. Read my How-to tutorial, How to Set Up Google Analytics to Your Website.
2. The Blog Beast Blogging Platform – From Bad to Worse
You see, the new Blog Beast blogging platform is the same old platform, with just a facelift to trick new people into joining into their network.
With a $25 per month price tag, the Empower Network blog is still inferior to the FREE blogging platforms out there. In fact, the Blog Beast is nothing more than just a locked-down version of a WordPress blog with SEO optimizing widgets and some ugly and tacky themes. It is so locked down that you are can make only limited changes to your blog. You cannot even add a firewall plugin to protect it.
When Empower Network was unleashing its new Blog Beast platform, they bragged that it was the most advanced blogging system on our planet. However, if you do some research on the internet, you will find that after the Blog Beast was finally unleashed, everyone's income dropped, and many people quit. You can get a lot of complaints about it these days. Besides that, a lack of support makes even the most die-hard empower networkers to complain about the platform.
As I wrote in my Empower Network Review, its blogging platform will only harm your online presence.
It is tied to the Empower Network brand and considered by Google, Facebook, etc., as a scam. So your blog does not rank in search engines, and it is terrible news for you if you are using their blogging platform.
It is a locked-down WordPress blog with only limited abilities.
You have Empower Network ads on your blog. And this way, you have only limited niches that you can use.
Your content does not belong to you. It belongs to Empower Network.
In fact, you can get a superior WordPress blog for FREE. Why should you pay $25 per month for a blog where you don't even own content?
Tired of scams?
Here's what I use
to make money anywhere in the world.

After all, with so much to gain—and with absolutely nothing to lose—shouldn't you at least take a look?
3. Has Anything Changed with ENv2?
The question is, has anything changed with Empower Network 2.0 (ENv2)?
Actually no. And how would if the root is rotten? If Empower Network is a scam, can we expect that Empower Network 2.0 is not? We can hope, but as you see, it is still the same tricky scheme, attempting you to join and pay your $5000+ to those on the top of the pyramid.
In Jakarta, Indonesia's capital, quite a few rivers are twisting and curving through the city, carrying black, dirty wastewater to the Java Sea. At those river banks, there are growing banana plants, starfruit trees, etc.
All these trees take their water from those dirty rivers and bear some juicy fruits.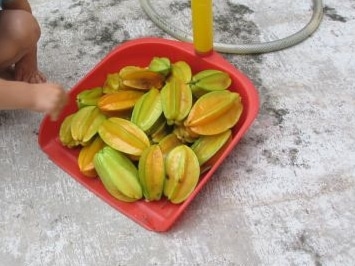 Do you want to eat those fruits?
I don't think so.
The same here. Empower Network 2.0 may look attractive and "juicy, " but, in fact, it is just the same old Empower Network scam. With ENv2, they added another layer of technology to their already existing blogging platform, but they have not changed the fundamentals of how they run their business.
Env2 is just a facade for the upsells that they are trying to force upon you. Once you join the Empower, you are constantly pressured to buy their products and go "all in, "which is an additional $100 per month and $5000 for other products.
4. The Quality of the Empower Network Products – What Users Say
Do you want to see how Empower Network's former members describe those products and business methods? Some of the examples are here: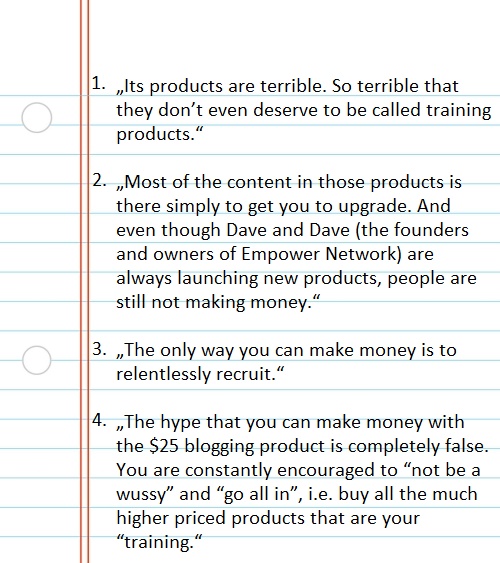 5. Empower Network Fights Back.
So what are the Empower Network's main arguments that they use to defend themselves?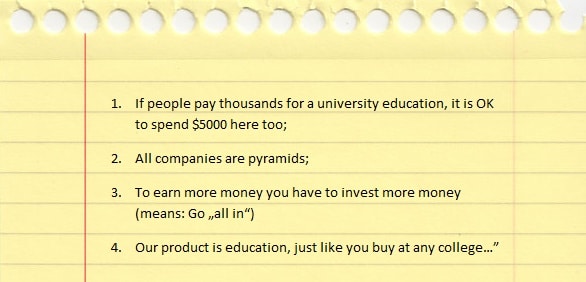 Onward.
6. What Kind of Help You Can Expect
If you plan to join with Empower Network and make money with them, for sure, you expect at least some support on their part. However, here are nine real-life examples of support that people have got from Empower Network up-line members.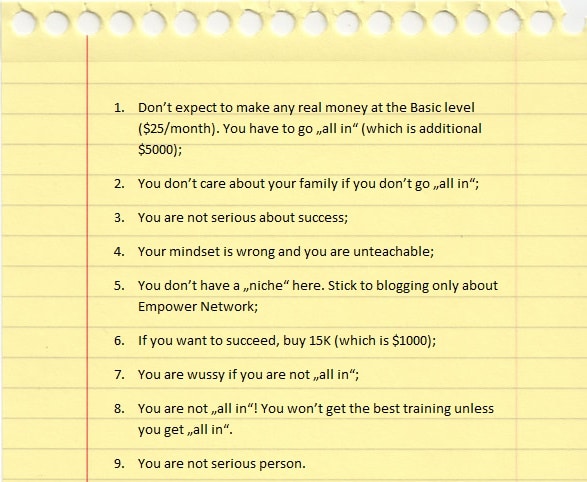 Does it sound encouraging? No!
Does it help you solve your problems? No!
Does it help you become a better online marketer? No!
What is it, then? Mocking, humiliating, discouraging behavior – to pressure you to buy Empower Network products and pay your up-line members $5000+.
Let me give you an example. Here is a complaint:

7. Who Does Make Money in EN?
It is statistically proven that less than 1% of 155,000+ Empower Network members earn over $1000 per month. For others, it is a nightmare. You must understand that to make money in that system, you have to spend (and lose!) money for your up-line leaders.
It is possible to make big money with Empower Network but then… It is also possible to make big money by robbing banks. Is it legit? No! Is it ethical? No!
As I told in my Empower Network Review, you have to be an experienced online marketer or someone who already has large online followings. And you have to be willing to cheat people, selling them dreams, knowing deep down in your heart that you are going to take their money and leave them empty-handed.
8. Empower Network Complaints
The following complaints are just four few examples of how people have lost money within Empower Network:
10. Is Empower Network a Cult?
I have been three years in a cult-like environment and have a personal experience of what it means. I have experienced how their leaders manipulate people. I can tell that there is a strong smell of a cult within the Empower Network and its leadership. If you are not "all in, "you get intimidated by insults like "wussy," "You don't love your family," etc.
I DO NOT recommend anybody to join Empower Network.
You have to use ruthless and unethical methods to promote people Empower Network and its products (which are NO REAL products anyway).
11. Is Empower Network Ethical?
Selling dreams and thin air is clearly not ethical, but the whole system has been set up right from the beginning to make rich only those at the top of the pyramid. Empower Network is NOT meant to make everyone rich.
Those who doubt whether the Empower Network program is ethical should ask the following questions:
11.1. Questions about Empower Network:
Why are they trying to sell people a $25/month blog that will not rank?
Is this $25/month the only money that the new member has to pay? Or is he pushed to go "all in, "which is an additional $5000?
Why are the Empower Network members pushing their downline members to buy EN products and go "all in"?
How many of these 155,000+ Empower Network members have their niche websites promoted other products besides Empower?
Better Options
however, there are much better blogging platforms out there that are, yes, free (that are still far superior to ENV2)….companies that have invested BILLIONS into their platform.
 12. Get far superior, fully functional WordPress blogs for 100% FREE!
(1) Wealthy Affiliate (2 free WordPress blogs, free training, support, and networking)
(2) WordPress.org
Both of these websites will give you FREE,  fully functional WordPress websites that you can promote within absolutely any niche. You can get much superior websites for FREE than you can get within EN for $25 per month.
If you'd rather make money than blow your child's college savings… Why not try this? It's FREE to get started, too. You'll like that part…


Why not make it the very next thing you do?
What About You?
Your opinion is important to me. Therefore, do you have any complaints or experiences with  Empower Network or Empower Network 2.0 that you want to share?
Please drop me the comment below, and I am more than happy to get back to you.