Tauribot is yet another promising Binary Options trading platform. Their promise (over 92% accuracy while predicting winning trades online) makes it one of the most lucrative choices. If it is real, of course.
So here's a question begging for the answer – Is Tauribot scam or legit?
Please read my detailed review, and I will show you precisely what Tauribot is and what it does.
[Sidebar: If you are not interested in Scams, check out THIS instead! You're going to like this.]
Here we go:
Quick Summary
Name: Tauribot (AKA Tauribot App)
Website: tauribot.com
Niche: Binary Options
Price: Minimum deposit of $250. Sign-up process free.
Founder: Dr. Steven Archer (Chicago University)
Skill level: Beginner (No skills needed)
My Overall Rank: 0 out of 100
My Verdict: Scam! Not Recommended!
Better ALTERNATIVE to the Tauribot App scam that will help you make $1200+ a month online. And these testimonials are proof.


Why not give a whirl right now?
Full Review – Is Tauribot Scam or Legit?
Before coming to the topic, let me quickly tell you the very basics of Binary Options.
What is Binary Options Trading?
In the simplest terms, Binary Options are contracts that pay out a pre-determined, fixed amount of money OR nothing at all.
The outcome depends on whether or not an event occurs at the time of expiration. If the event occurs, you have made money. If not, you lose your investment amount.
And so you see, there are only these two possible outcomes (like yes or no). Therefore, it is called Binary Options.
Learn more about Binary Options trading from my detailed review of Binary Options.
Next stop:
Is Tauribot a Scam or Legit – The Tauribot Story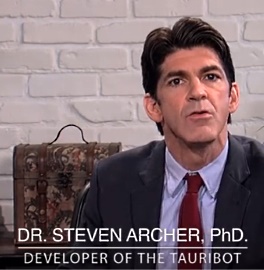 Dr. Steven Archer and his team from Chicago University spent over five years to develop a fully automated Binary Options trading system. What they wanted was a fireproof system that would predict winning trades with over 90% accuracy.
Creating such algorithms, of course, is not an easy task. And that's what happened.
Dr. Archer's team got stuck for over a year. They had developed the technology, and all the other elements were there. Only one thing was missing – the key (or a solution to their complex equation.)
They just could not solve it.
Eventually, in deep frustration, they published the equation in a public forum, hoping that maybe somebody could solve it.
And here's the kicker:
To their grand astonishment, the correct solution to that super algorithm was sent by a 15-year-old teenager autistic boy, named Ian Tauraski: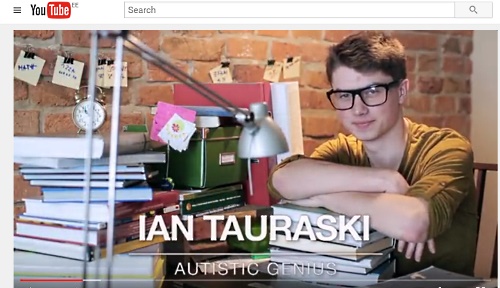 Out of respect to the young autistic genius, Dr. Steven Archer's team called the solution the Tauri equation:

Now, Dr. Archer could complete his long-cherished hands-free automatic trading bot Tauribot.
Not only that. Tauribot outshone the expectations and achieved 92% accuracy when predicting winning trades online.
According to Dr. Archer, it translates from $10,000 to $15,000 in weekly personal income for the Average Joe.
It's nothing less but mind-blowing.
Keep reading, as the story is unfolding.
Now Dr. Archer and his team need to prove to Chicago University that:
Tauribot App is 100% fireproof.
Tauribot can produce a solid income (between $10,000 and $15,000 per week as I said before) for people with no previous trading experience under their belt.
Therefore, they are offering Tauribot App for free to one hundred people for beta testing.
That's where YOU come in.
As they use a "first come first serve" rule, you must act at once. No financial knowledge or trading experience needed. Just register yourself, activate your Tauribot trading account, and off you go.
Oh, and you must load your newly created trading account with a minimum $250:

Is it safe?
Tired of scams?
Here's
what I use
to make legit money anywhere in the world.

Finding out more costs nothing. And you're not committing to anything else.

Well, Dr. Archer is pretty much ready to swear (on whatever holy book you like) that your money is in good hands. To banish any doubts from your poor mind, he provides four testimonials by his students in the Chicago University:
As you see, they all made over $4,000 within the first week of trading with Tauribot.
Now, that's Tauribot's official story.
Wait, wait! Do NOT hurry to register yourself, though. Because there's something that they have not told you. Something that most of the Tauribot reviews don't tell you either.
What is it?
Keep reading:
Is Tauribot a Scam or Legit – 4 Proofs Tauribot Is a Scam
There are four Binary Options trading platforms that, in fact, are very similar to each other. These four are Tauribot, Citidel, Trianasoft, and Altronix.
I have reviewed Citidel and Trianasoft, and they turned out as scams. Now I am going to prove to you that Tauribot, too, is a scam.
And, lucky me, I don't even need to prove you that there is no Dr. Steven Archer; that there is neither 15-year-old autistic genius Ian Tauraski nor his complex Tauri equation. And I don't need to prove to you that there is no super algorithm Tauribot that predicts winning rates with over 92% accuracy.
Why?
Proof #1: Taurobit Narrative Is a Fiction
How do I know?
Well, the Tauribot Disclosure makes it crystal clear (see here: tauribot.com/dec.php):

Gee! What will you learn from here?
This one paragraph is a game-changer.
First, the Tauribot sales video is fictitious. Actors have been used.
What does that mean?
Dr. Steven Archer –  a Fictitious Character (played by an actor)
15-year-old autistic genius – Ian Tauraski – a Fictitious Character (played by an actor)
Student beta-testers who give testimonials – Fictitious Characters (performed by actors)
Awesome sums earned by the student beta testers in their first weeks – Fiction! (never happened)
The complex Tauri equation – Fiction again! (has never existed)
The Tauribot super algorithm that predicts winning rates in online trading with over 92% accuracy – Fiction! (has never existed)
Hey! I ask you some simple questions now:
If all the story, (the characters, algorithm, winning accuracy, the earnings, etc.) are pure fiction:
What do you KNOW about the REAL Tauribot App and the people behind it? NOTHING, right? I tell you, you have NO idea to whom you are going to give your' investments.'
How on Earth can you trust such a scam system?
Are you ready to make a blind move and give your hard-earned savings to… To whom exactly?
Second, What About Chicago University?
After all, there is a respected university behind the Tauribot trading project that makes it trustworthy, right?
Wrong!
The fact is that there is NO Chicago University.
Really? Really!
There is The University of Chicago (notice the difference), and their logo looks like this:

While the fake Chicago University name and logo are nothing but deceptions:
And, by the way, they have even taken their lion (in the coat of arms) from the Garcia Business Solutions.
Oh, and what about Dr. Steven Archer and his 12 years of lecturing in the university?
Well, truth be told, there is real Dr. Stephen Archer (notice the difference!) connected with the actual University of Chicago. However, real Dr. Stephen Archer is a cardiologist. See:
Proof #2: False Sense of Urgency – The Beta Testing is Never Ending
Like all other scams, Tauribot has created false urgency in their prospective customers. By saying that they offer free beta testing only for 100 people. So you need to hurry.
First, the Tauribot domain was registered on December 1st, 2015, so it is a new product indeed.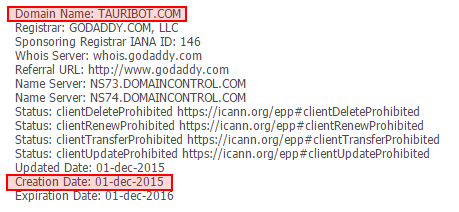 Also, here is a quote by one of the Tauribot insiders (or traders):

Well, let's do the numbers:
One hundred days from the beginning of February is mid-May. However, at the moment (October 2016), it's almost a year since they started their beta testing. And it is merrily continuing.
So they lie to you by creating a fake urgency appeal – to lure you in and get your money.
Proof #3: Fake Positive Tauri bot Reviews
All positive Tauri bot reviews that I have found on the internet have been, in fact, written by the Tauribot affiliates. Here's the thing – these 'reviewers' make money by recruiting you.
Therefore, they start telling you silly things like
how an autistic teenager can be a genius indeed;
how Dr. Steven Archer's skeptical students have proved Tauribot being fireproof;
how Patricia Johnson from "Chicago Today" proves in a live show the reliability of Tauribot.
As if these claims were some proof.
And hey! Just in case you did not know – There's no such organization as "Chicago Today." It's part of the fiction.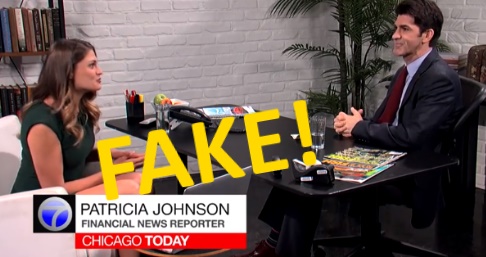 Proof #4: Tauribot lies right to your face by saying Binary Options is good for the Average Joe.
Let me quote here one of the songs of the famous Jamaican musician Bob Marley:
"Don't let them fool you
Or even try to school you, oh, no
We've got a mind of our own"
Apparently, Tauribot promises you the Moon when saying in his fictitious video:
And then:

Hey! Don't let them fool you…
Read what Tauribot says in its User Disclaimer:

And this:

See! Binary Options are speculative and involve a high degree of risk. And it's NOT appropriate for everyone.
The next paragraph of their disclaimer says:

See! They are not going to teach you. And, in fact, they advise you NOT to join if you don't understand the basic aspects of trading Binary Options:

Hey! It's getting even riskier. Here's their crown jewel:

Where is this 92% winning rate? (Oh, it was fiction. Forget it.)
Ha! That's what they want from you. Money!
First, they tell you: No big deposits needed. A $250 minimum deposit is all that is required.
Then, they tell you this:

That's just exactly how they turn innocent people into their milking cows.
Verdict:
By now, it should be clear as a clear day for you that with Tauribot, you are in hot waters. Everything (and I mean it), everything – the narrative, the Chicago University, 15-year genius autistic boy, positive testimonials, earnings, promises. EVERYTHING is pure fiction and a LIE.
The scammers have designed the whole stinking Tauribot scheme to lure and hook you, then separate you from your money and leave you in ruins.
Verdict: Tauribot is an obvious binary options scam. "Don't let them fool ya" – (Bob Marley)
If you'd rather make money than blow through a lifetime of savings… Why not try this? It's FREE to get started, too. You'll like that part…


Why not give a whirl right now? You're certainly not committed to anything.
What About You?
Your feedback is valuable to me. Therefore, please tell me what's your opinion – Is Tauribot scam or legit? Drop me a comment into a comment section below. Thank you very much :)