"YOU ARE just a few steps away from becoming a brand new beta tester for my revolutionary new Instant Income App. An automated app that makes its users an average of $656.25 per day. That's $19,687.50 per month." – Matthew Michaels.
Impressive, isn't it? Only… It begs for a question, "Is the Instant Income Code a Scam or legit?"
The Instant Income System review below will answer this (and other related) questions. Read and see if it is for you – if it will make you rich.
So let's dive right into the details.
[Sidebar: If you are not interested in scams, check out THIS instead! You're going to like this.]
Quick Review
Name:
Instant Income App login: instant-incomeapp.com
Niche: Binary Options trading
Price: Software free, minimum deposit: $250
Alleged Owner: Matthew Michaels
Skill level: Beginner (plain wrong)
My Overall Rank: 0 out of 10
My Verdict: The Instant Income App is an outright scam. There is nothing in their lexicon but deceit. Therefore, don't believe for one second that they will make you rich. Stay clear!
Better ALTERNATIVE to the Instant Income App that will help you make $1200+ a month online. And these testimonials are proof.


It's FREE to get started, too (no credit card required). You'll like that part…
Full Review – Is the Instant Income Code a Scam?
The Narrative
According to Matthew Michaels – the alleged owner of the app – the Instant Income App is highly secretive and highly profitable trading software. It is designed and created by the most advanced Wall Street programmers, and that way, the app is the most powerful money generating system in the world. It has already generated a great fortune to those lucky few who have had the chance to exploit it.
In one night in Las Vegas, though, Matthey Michaels happened to hear a group of Internet Guru Elite laughing about their latest scam. They thought it was funny to take advantage of internet newbies looking to make a quick buck online (while these gurus were cashing in hundreds of thousands of dollars a day using the Instant Income App).
It made Matthew Michaels sick with disgust, and he was looking for revenge.
And that revenge is the single reason why he decided to expose his highly secretive (and highly profitable) Instant Income App to the public.

However, he won't give it to everybody. Instead, he is looking for a few trusted beta testers who could help him grow the app into the next level.
And that's where you come in. If you want to become its beta-tester, Matthew Michaels will give you the app for free.
Who is Matthew Michaels?
According to his own words, Matthew Michaels is an online multi-millionaire who just a few years ago was utterly broke. He had debt over $100,000, and he hit rock bottom in his life…
…Until one day, Matthew stumbled upon a website (similar to the Instant Income System site), and that brought him a significant breakthrough. From that day forward, he started to make between $656.25 to $3,523.21 a day.
Now he is a multi-millionaire and enjoys his life.
Because of that desire for revenge described above, he is offering his money generating software to you as well.
What is the Instant Income System?
Simply speaking, the Instant Income App is a binary options trading software. If you don't know what Binary Options are, here's my detailed review on it. Please read and see whether it is for you or not.
Before you can start trading with Binary Options, you must open a trading account with some binary options broker. There are some legit, regulated brokers, and tons of scammy, unregulated ones.
However, the Instant Income App ties you with the scammy Redwood Binary Options broker (you cannot choose your broker).
Next, you must deposit a minimum of $250 to your trading account. This is real money, YOUR money, and it will be used for trading. If you succeed, you make more money. But you can lose your investment as well.
The Instant Income App is a piece of software that allows you to trade Binary Options. It has both manual and full-auto modes. If you switch the software to full-auto mode, the app will do all the trading for you.
Note! Beware, though, Binary Options are a high-risk business opportunity that is not suitable for novice day traders. Also, you must be prepared to lose all your investments. Here's why.
What Does Matthew Promise to You?
Instant Income App – 100% free download
You will make an average of $656.25 per day (that's $19,687.50 per month)
100% autopilot
use the computer only 5-10 minutes per day
No previous trading experience or skills needed
Tired of scams? Here's something you can do, at home and at your own pace, to create your own passive income stream online

Because, "If you are an individual who wants to make a significant achievement in life, your chances of doing it while working for somebody else are remote." – B. Suarez

8 Scam Alerts
Scam Alert #1: Fake Matthew Michaels
Yes, Matthew Michaels does *not* exist. The whole Instant Income System narrative is fabricated, including its owner Matthew Michaels, the testimonials, live update stats, etc.
First, the alleged images of Matthew Michaels are just random photos from the internet. Here they are:

Well, you can find both of these images on many different sites. Here are only two examples (taken from two different websites):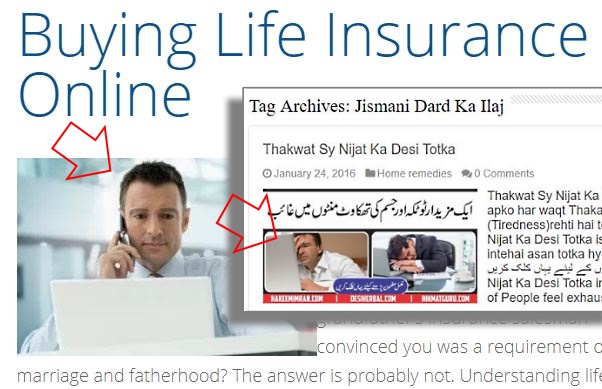 Second, do you agree Matthew Michaels must be a very well known and respected guy if he can hire top Wall Street brains to design and create his software? However, Google, as much as you want, there are no traces of him. No images (except these stolen photos above), no articles about him, no social media accounts, no nothing. He has left no digital footprints behind. How come?
Simple. The guy is fake — a fictional character.
Scam Alert #2: Fake Testimonials
How about the Instant Income App testimonials? Are they genuine?
Of course not. Here's why.
Look at this young lady Kristy giving a testimonial: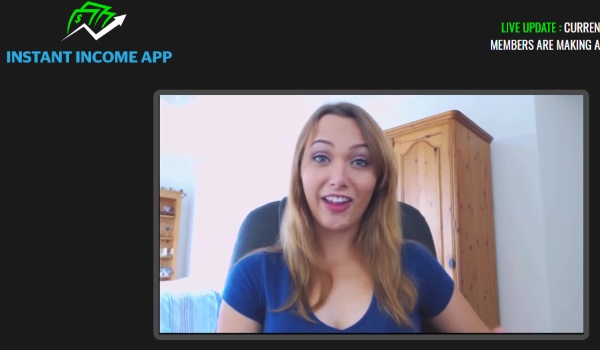 Why is her testimonial fake? Because she makes a living by recording phony video testimonials. Here's proof – her Fiverr account (notice the same furniture in the background):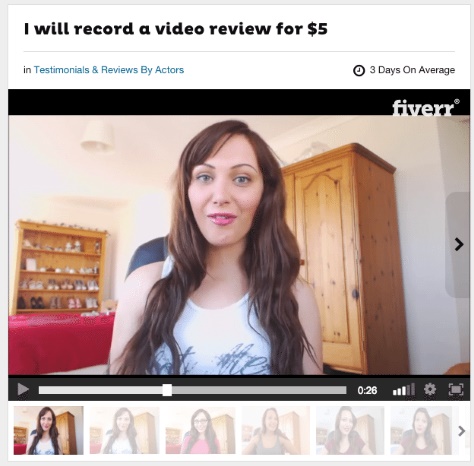 Then there is Roland, another lucky beta tester for the Instant Income System: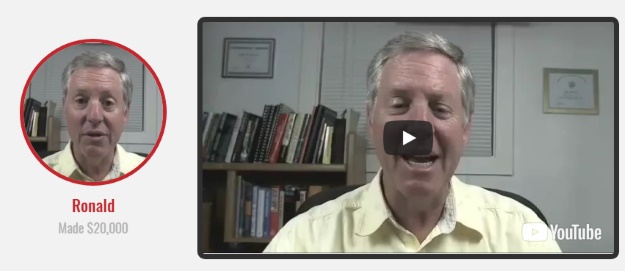 And here is his Fiverr account (Again, notice the same window and furniture in the background. Even the books are the same):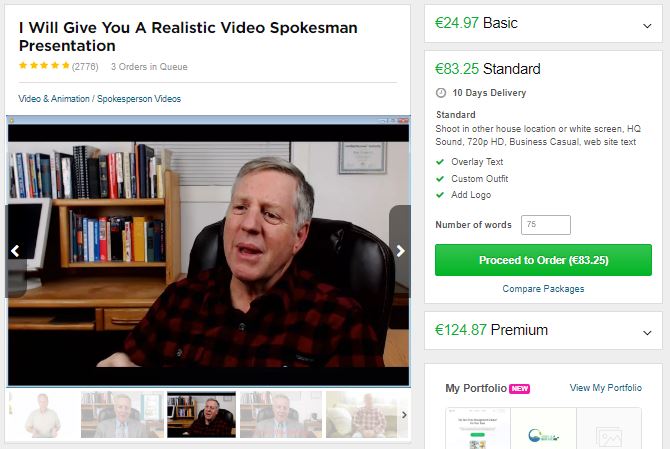 Scam Alert #3: Fake Live Update
To prove my case, try these two (three) "live updates" from the Instant Income System website:
Live update #1: July 28, 2017

Live update #2: September 8, 2017

What's the difference? None, right? Now head over to their website, and most probably, you will get the same result.
Scam Alert #4: Instant Income App is a definite "Get Rich Quick" Scam
Look at that extraordinary promise of Matthey Michaels:

WOWW WOWOWOWOW
That is absolutely amazing.
…Or is it?
No, it isn't. Why? Because it's such nonsense. And yet thousands of people get hooked by garbage like this.
Never, ever believe crap like that. Believe me, there are no free lunches. If you want to get rich, you must work for it.
Yes, it is possible to get rich online (for example, here's how), but it requires time and work from you. Never believe you will magically turn into a millionaire, for doing nothing.
The whole Instant Income System is a shameless scam. Period.
Scam Alert #5: Their Website Is Top Secret… Really?
Look at that: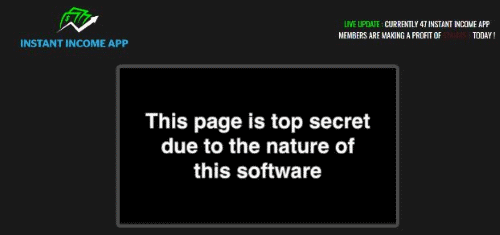 How on Earth is it a top-secret when it is freely accessible from anywhere in the world? Listen. It's nothing but a dirty trick to hook you up. How? Simple. People tend to think that they accidentally stumbled upon a secret money machine. That's their once-in-a-lifetime opportunity, and because of that, they take more easily out their credit cards.
Sadly, nothing is farther from the truth. There's nothing secret in it.
Scam Alert #6: Most Powerful Money Generating System in the World… Really?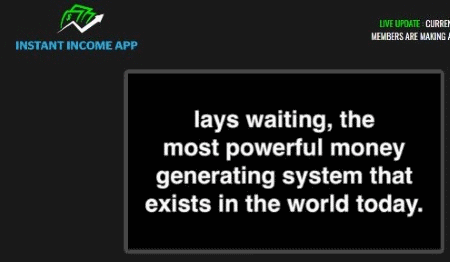 So, according to Matthew Michaels, the Instant Income Code is the most powerful money generating system that exists in the world today…
…Really?
If so, what about the Tesler App, Quantum Code, Orion Code, Rio Profits, the Aussie Method, the Millionaire Maker, Obcasio software, Profits Infinity, etc., etc., etc.?
All these (and countless of other) wicked schemes keep touting that *they* and only they are the most powerful ones in the world. Don't bother trying to figure out which one of them comes out on top. It's just another dirty trick in their toolbox to hook you up.
The app is total BS, plain and simple.
Scam Alert #7: Beta-testing the App is Necessary. Really?
Now, this is funny. Seriously!
Why? Because remember that so-called evil Internet Guru Elite had used the Instant Income Years to fill their coffers overflowing. And the only reason why Matthew Michael releases it to the public is revenge. And yet he decides to give the app only to a handful of beta-testers.
Why? Because he wants to test whether the app makes a complete newbie a millionaire.
… Hey! That was his central promise, to begin with. And second, isn't the app already tested?
Lies, lies, and more lies.
Scam Alert #8: High Controversies in the Narrative
See yourself! In the beginning, Matthew Michaels says,
"I am the multimillionaire who created the game-changing Instant Income App."
Yet a little later when he is explaining his attack plan against the arrogant Internet Guru Elite, he says,
"I'm about to expose the Internet Gurus top-secret Instant Income App that ALL of them have been using behind the scenes to make more money than you would even possibly believe…"
Hey! Who's the owner to begin with? You Matthew Michaels, or these devilish Internet Gurus? If you are the owner, why don't you kick them out?
There are many more controversies in the narrative. The scammers are obviously thinking people don't know how to use their brains. It is just beyond words…
Final Verdict
Matthew Michaels and his The Instant Income App are nothing but a fraud. Matthew Michaels is a fake, fabricated character, and his app is just a vile scheme to hook unaware day traders. If you don't want to get mugged, stay clear.
If you'd rather make money than blow your lifetime of savings… Why not try this? The raw, sizzling beauty of passive income stream online…


Do it now. Sometimes 'later' becomes 'never.'

What About You
Thank you for reading my review. I hope you found the information you were searching for.
Now that you have reached the end of the review, what do you think –  Is the Instant Income Code a Scam or legit?
Also, do you have a personal experience (good or bad) with Instant Income App? Please share by dropping a comment below. I will return with a response.