DO YOU want to learn how to make $10,000-$15,000 a month online?
Leah Williams work at home opportunity offers you a fantastic chance to quickly make Big Bucks online.
Sound fascinating?
Make sure to read the detailed review below to see whether Leah Williams work at home opportunity is for you.
[Sidebar: If you are not interested in scams, check out THIS instead! You're going to like this.]
Quick Review

Name: Online Wealth News
URL: http://onlinewealthnews.com/uk2/quantum.php
Registration date: 2015-11-23
Owner/Founder: Unknown
Niche: Work from home business opportunity/Binary Options
My Overall Rank: 0 out of 10
My verdict: Online Wealth News and Leah Williams Work at Home business opportunity are flat out online scams. They're nothing but lies, lies, and more lies. Stay clear!!! 
…Better ALTERNATIVE to Leah Williams Work at Home Scam That's Uniquely Yours. And These Testimonials Are Proof.
Yes, there are much better and safer ways to make legit side money online. Click on the link to see my #1 preference (Yes, I use it).
In fact…
…At First, It Looks Like A Normal Training. But Look Closer… It's Where Dreams Are Made.

It's FREE to get started, too. You'll like that part…
---
Full Review – Leah Williams Work at Home Scam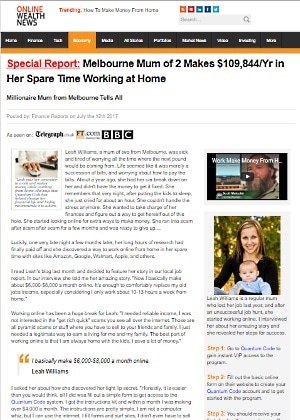 In short, Online Wealth News is reportedly a financial news and information site that, among other things, also features an impressive story of Leah Williams – a regular mom of two.
According to the article, Leah Williams was struggling hard to make ends meet. Until she accidentally stumbled across a fantastic work-at-home business opportunity. That opportunity changed her life for good and turned her into a new millionaire mom.
Now Leah wants to pay back and help other struggling moms around the world. That's why she is willing to share her story with the readers of Online Wealth News.
Sound interesting?
Can you replicate her success and fill your coffers with wealth untold as well?
Please keep reading as there is a dark side to this story.
Red Alert #1: Online Wealth News is a Bogus Information Site
Undoubtedly, the scammers want to make an impression as if the Online Wealth News is a real deal – a legit business information website.
Why?
First and foremost, to build your trust and lure you into one of their many fraudulent ripoff schemes (more about that below).  To protect you from falling victim, I am going to rip apart their whole game plan and show its real and ugly face.
Before that, though…
…How Scammers Use Cloning and Geo-Targeting
These techniques will help you understand how this (and other similar) scams work.
First, how cloning works
As you will see below, the scammers behind the Leah Williams scheme clone everything that they can clone. Apparently, doing so helps them increase profits with very little extra work.
So what do they do?
They create one trading app (a complete crap as they don't put any money or research into it). Then these con masters clone it and launch it under 10 or 20 different fake brand names. Next, they create a sales page that looks like a genuine financial news website. And, as you might suspect, they clone this one too (again, they run it under different fake brand names).
Second, how geo-targeted advertising works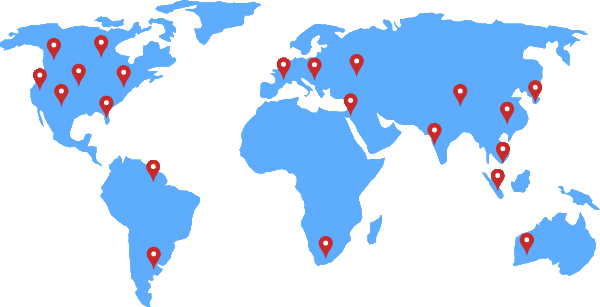 Geo-targeting is "the method of determining the geolocation of a website visitor and delivering different content to that visitor based on his or her location, such as country, region/state, city, metro code/zip code…" [source]
What does that mean?
When you live in the US, you will see a sales page that targets only US citizens. However, if you live in Australia, the exact same sales page is just slightly different – to target Australian citizens. Etc., etc., etc.
I will give you examples below.
In the Leah Williams scam, you will see both of these methods (cloning and geo-targeting) at work.
Online Wealth News – a Fake Business News Site
Look at the allegedly "genuine" news site called Online Wealth News: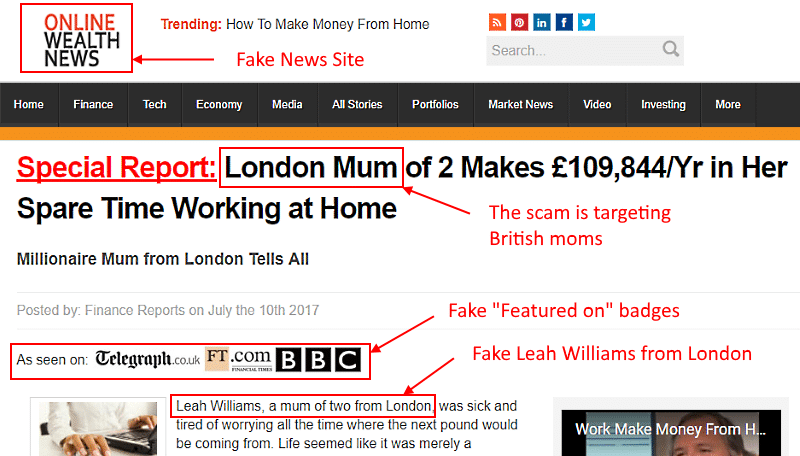 [Sidebar: All the content, all the features on this "news" site are fake. The brand name, social icons, search bar, main navigation, "As seen on" badges, comments, the article itself, … – everything is fake. Everything is designed to look authentic while, in fact, it's just an empty shell and a lot of hot air. I have already proved it here, here, and here so I don't want to repeat myself here.]
For the moment, though, let's focus on the target audience. Whom do you think these cold-hearted scammers target?
Moms living in the UK, right? It means, if you happen to live in Great Britain and google for "work at home jobs mom" or "legitimate work at home jobs for moms," it's probable that you will hit that sale page.
Now look at this sales page below (notice the only difference between the two):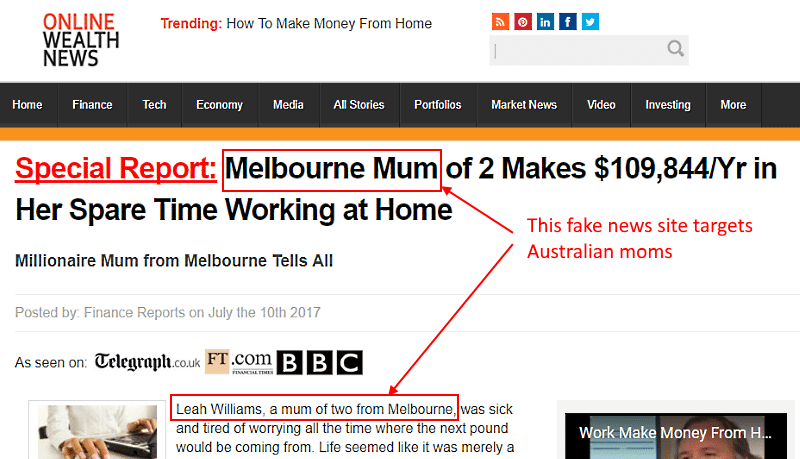 See! Suddenly Leah Williams is not a Londoner anymore but is from Melbourne, Australia Weird, isn't it?
Try this one too: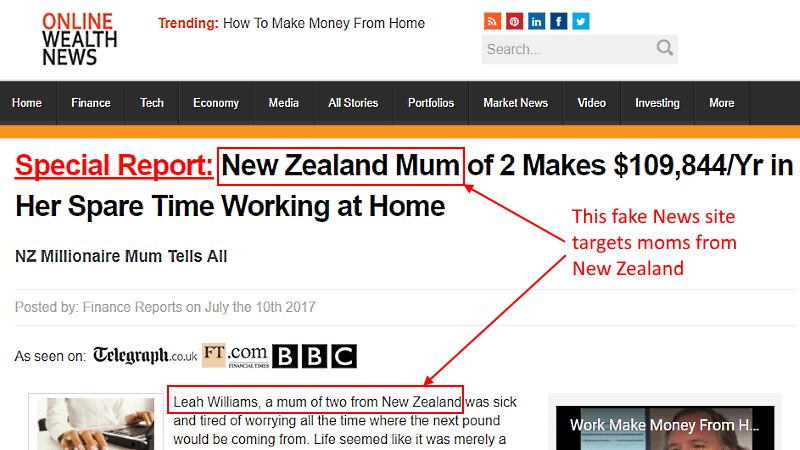 There are more examples like these. Like Leah Williams from Singapore and other English speaking countries.
How come?
Simple. That's how geo-targeted advertising works. Here you can see how the URLs of these sales pages differ:

The problem is that it is flat out lying. Leah Williams is FAKE. Plain and clear.
---
"Be Self Made" News Site – A Clone of "Online Wealth News"
Next, let me give you an example of one of those clone sites. Here's a screenshot of "Be Self Made." It's identical to "Online Wealth News," isn't it?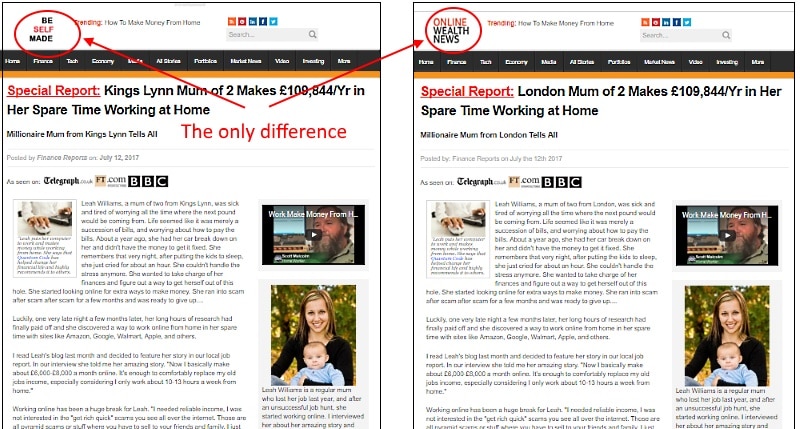 This time Lea Williams is from Kings Lynn, though.
In the next example, the mom is called Jennifer Taylor, and she is from Bolton: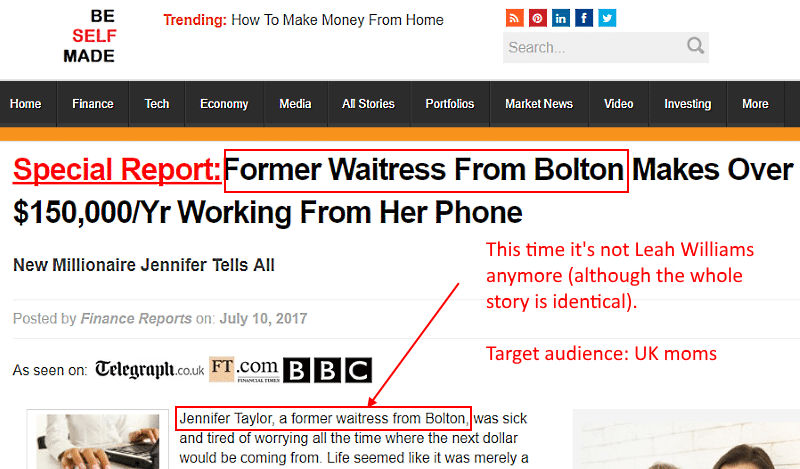 ---
Try this one too (Leah Williams has changed into Daniel Williams):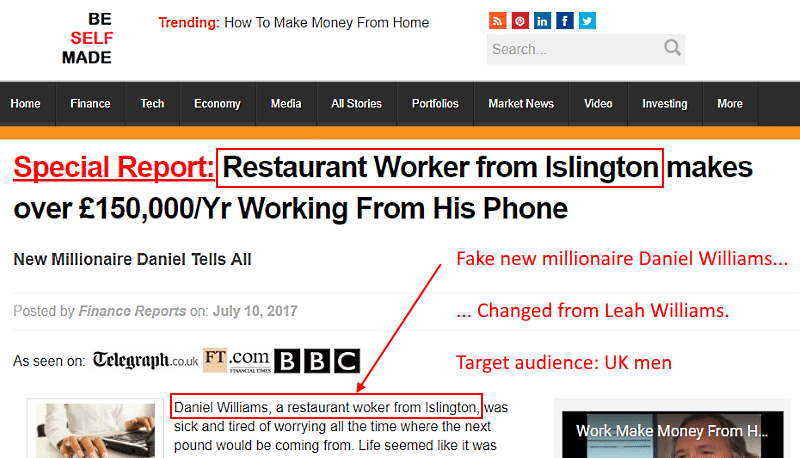 It should be clear by now that there is a whole family of bogus sales pages – all designed to target different audiences in different parts of the world.
Onward.
Next, let's dig a bit deeper into Leah Williams's character and see what comes out.
---
---
Red Alert #2: Fake Leah Williams
Although I have already proven that Lea Williams is a fabricated character, let me give you one more proof (these two screenshots are taken from two different scam pages):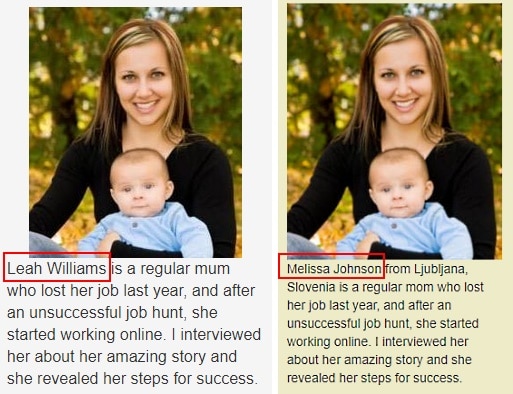 The reality is that the charlatans in the shadow have a long list of names for the same fabricated 'new millionaire mom.'
Sometimes she is called Melissa Johnson (from… many different countries). In other times she is called Lisa White from Cambridge, UK, Theresa Andrews (from Fort Lauderdale, Florida, US), Mary Vahgn (from New York), Jamie Taylor(US), Maria Shutova (Varna, Bulgaria), Kelly Richards (from New York), Alina Cruz (Manila, Philippines)…
And yes, sometimes she is Leah Williams from UK/Canada/New Zealand/Singapore, or even Daniel Williams.
---
Red Alert #3: Online Wealth News Points You to Fraudulent Rip-off Schemes
Finally, let me show you what these scammers offer you. Say you decide to accept their invitation and join them – How will you make money then…? And will you make ANY money at all, to begin with?
Here are just three examples of the programs they offer:
Example #1: The Quantum Code scam
Example #2: The Infinity App scam:
Example #3: The Millionaire Blueprint scam: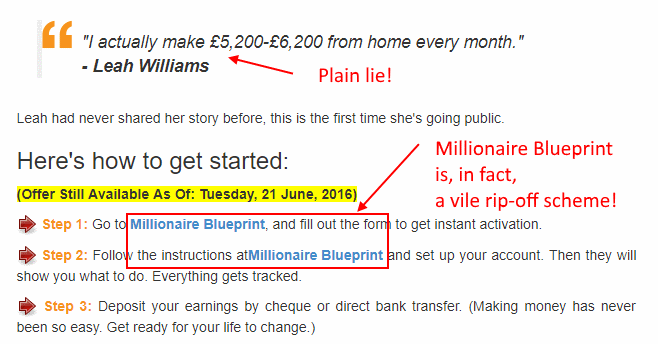 Don't think for one second that the Millionaire Blueprint, Quantum Code, or the Infinity App are going to make you Big Bucks.
Why not?
Because these programs are nothing but well-orchestrated schemes that are designed for the sole purpose of ripping you off and leaving you out to dry.
Again, I have already done extensive research on all three programs. Therefore, please read my detailed reviews on the Millionaire Blueprint, the Quantum Code, and the Infinity App, and you will see they are dirty scams.
As a matter of fact, Leah Williams work at home opportunity (and its clones) point to many more scam products. I list some of them:
Facebook Income Fortune,
Home Income Cash System
Digital Money Machine
Take Surveys for Cash
Paid Surveys at home
Online Cash Source
Crack Brokers
Remember! None, NONE of them will make you rich. None of them is going to shower you with $5,000 to $15,000 a month. It's just cheap talk and nothing else.
My Verdict:
Verdict: Online Wealth News is a SCAM that links you to fraudulent ripoff schemes!!! Please do not give them any money. 
Much Safer Way to Make Legitimate Money Online
Whatever the reason might be why you want to make money online…
…Be it your financial freedom.. or more quality time with your kids and spouse.. or security in old age.. desire to travel the world.. more time for your hobbies or sports.. 
You know the "why." I can only confirm and encourage you…
…YES! It is possible to make side money (or even a second income) online. And yes, it is possible to do it WITHOUT getting involved in scammy "Get Rich Quick" schemes that lure you into a major disaster.
How to achieve that, though?
Here is, in my humble opinion, by far the most complete and newbie-friendly program for creating a thriving internet business from home. 
Would it be right for you?
Probably. But there's only one way to find out…
And that's to check it out…

It won't cost you a bean. And you're certainly not committed to anything.
---
What About You?
Thank you for reading my detailed Leah Williams Work at Home Scam review.
What's your opinion? Is the product a scam or not? Do you have any first-hand experience with it that you want to share?
Please tell me by dropping a comment into the comment section below.
Stay safe!
Egon (EgonSarvReviews.com)