IF A REGULAR MOM of three can make staggering £7,650 a month from home… then this is obviously something you should consider as well.
Just to help moms like herself, Lisa White shares her money-making secrets in the Career Journal Online.
Waitaminute! Ask this, before you rush to sign up, "Is the Career Journal Online scam or not?"
If it is not, well… go and sign up. But if it is a scam… Better stay away from it.
Here's where this review will come to help you out. I will give you a detailed analysis on what the career journal online is and what it does for you.
[Sidebar: If you are not interested in scams, check out THIS instead! You're gonna like this.]
Quick Review
Name: The Career Journal Online
Login page: jobsrecuitmentonline.com/uk/
Niche: Binary Options
Target Audience: Stay-at-home moms
Skill level: Beginner
My Overall Rank: 0 out of 10
My Verdict: It's a massive SCAM!!! They are using all their tricks to make you invest into their Binary Options trading scams! Absolutely stay away from it!
If you are a stay-at-home mom and interested in making legit income online…
Listen! There are much better ways for stay-at-home moms to create a passive income online than dancing with high-risk Binary Options. You can check here and here for different options.
However, if you are serious with it and want to break into complete financial freedom (make a full-time income online, become your boss and cement your financial security in old age) then your personal website is the way to go. The website is your online real estate, which is making you money while you are working, eating, playing, or sleeping.
To create such profitable website though, you need a proper training. Where to get that training? This is my #1 choice. Yes, I personally use it. Second, you can get started for free (No fees, no credit card required, no funding your trading account (like in Binary Options)… It's free. And there are no obligations.)

Full Review – The Career Journal Online Scam
The Career Journal Online is supposed to be an online journal for those looking ways to make income online. It should guide you through various topics like finance, tech, investing, stock, etc.

However, as I will prove it below, this so-called journal is an entirely different animal. And the dangerous one. So keep reading and you will see why I gave you this warning.
The Narrative: "Cambridge Mum Makes a Staggering £7,650/Month And You Won't Believe How She Does It!"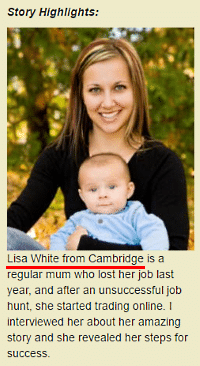 Lisa White is a regular stay-at-home mom from Cambridge, UK. She has three kids at home and (as it usually is) she lost her job. Sad! So sad!
But instead of having a lonely pity party, she decided to improve her desperate situation. She started to look for honest ways to make money online. That's how she found about trading online which sounded like a great opportunity to her (as she needs to stay at home with the kids).
She dug deeper and discovered, it as was Binary Options trading opportunity – perfect for an inexperienced person like she was (Note! Contrary to this claim, Binary Options are NOT for inexperienced people. See here why).
Onward.
She always invests the same amount  – in the beginning £300, later £250. According With Online Wealth Markets (the Binary Options trading robot Lisa uses) she has consistently enjoyed an 80% winning rate. She makes between £6,000 and £7,000 each and every week from home by trading Binary Options.
Her current income from trading Binary Options is so good that lately she could buy a new BMW 5 series (see the image below). Also, few month ago Lisa's family could turn their dream vacation in Maui, Hawaii, into reality (image below).
Awesome, isn't it?
Can you emulate the same results as that regular young mom of three from Cambridge?
Well… Keep reading and I will show the true colors of her story.
Scam Alert #1: Fake News Journal
Their website – The Career Journal Online – is deliberately designed to look as a professional News Journal, specialized on online jobs. However, everything, EVERYTHING in it is an imitation.
The name, the menu, social sharing, featured, etc. See yourself: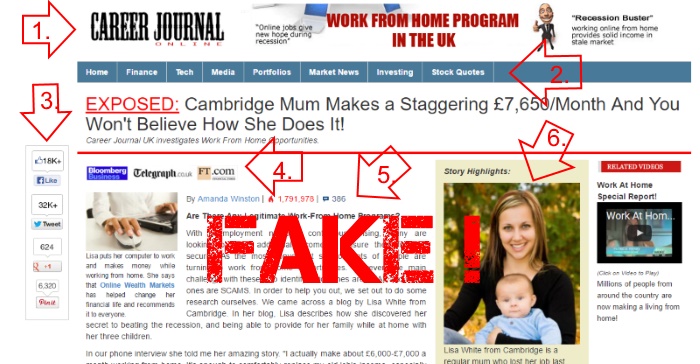 1. The logo (Career Journal Online)
There's no such legit journal as the Career Journal Online. Even their URL is jobsrecruitmentonline.com. And as I will show you below, this is just one of many, Many, MANY similar scam sites. Just keep reading.
2. The main menu
You can find NO information on Finance, Tech, Media, Portofilio, etc. Every singly button in the menu sends you to their Binary Options scam site.
3. Social Sharing
Facebook: 18K+ likes, 32K+ shares, Google+: 624 shares, etc.
Hey! Another plain lie. Why? Because it is just an image – the non-clickable image. Nothing but an imitation of social sharings. To make you an impression as the article is heavily shared on social sphere.
Better
ALTERNATIVE
to the Lisa Westbrook Home Profit System That
Will Help You Make $1200+ a month Online
. And these testimonials are proof.

After all, with so much to gain—and with absolutely nothing to lose—shouldn't you at least take a look?
4. "As Featured" Logos
Again, pure imitation. None of these logos (Bloomberg Business, Telegraph, Financial Times) are clickable. The logos should build your trust but they are used illegally and thus it is nothing but deceiving.
In fact, they are afraid of being caught, so they have changed the original logos a bit:
Bloomberg Businessweek becomes Bloomberg Businees
The Telegraph becomes Telegraph
Financial Times becomes FT.com
5. The Author
As you can suspect, the author of the article (Amansa Winston) is also bogus. First, you cannot find such person from the Internet. Second, all three links (the name of the author – Amanda Winston, and the two links next to it) lead you to the exact same binary options scam.
6. Lisa White
As I will show you below, Lisa White, a regular mum from Cambridge, UK, who lost her jobs, etc., is a fabricated character.  Let me give you some facts and see what you think.
Here we go:
Scam Alert #2: Fake Lisa White (= Fake Melissa Johnson)
As I told above, The Career Journal Online is just one of the many almost identical scam sites. These sites target stay-at-home moms from different countries (UK, Romania, India, etc.). And that's why they give their star mom Lisa White/Melissa Johnson each time a different name and different background.
Look at the image below. I took these screenshots from four different sales pages, from four different websites (one of them funny – probably a blank template with "fill the blanks" still there: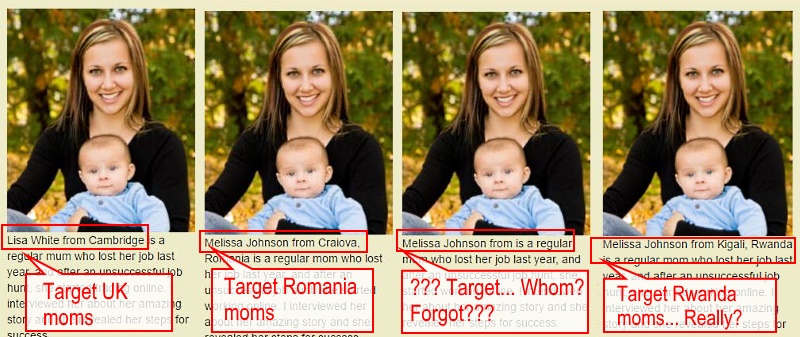 As you can see yourself, the photo is a stolen from the Internet and there is no regular mom Lisa White from Cambridge. The image is used to create Melissa Johnson from Craiova, Romania, Melissa Johnson from… from where exactly?
Need more proof?
Great! Next, let me show you some extracts from the body text (again, from two different sales pages):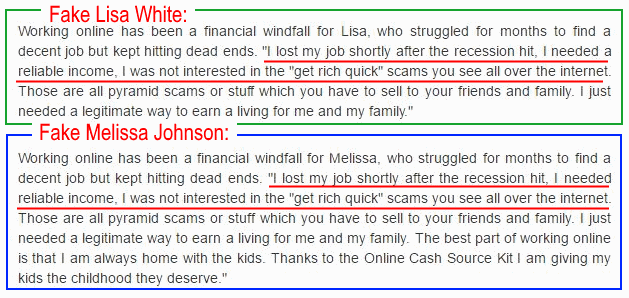 See! They use a template to create a plethora of different scam sales pages and trap as many stay-at-home moms as possible.
There is more bogus stuff in the article and when you read further, you will learn the dirty tricks of scammers.
Scam Alert #3: Other Stolen Images
In her testimonial, fake Lisa White (and fake Melissa Johnson as well) tells that her work-at-home online business allowed here to buy a new car – BMW 5 series: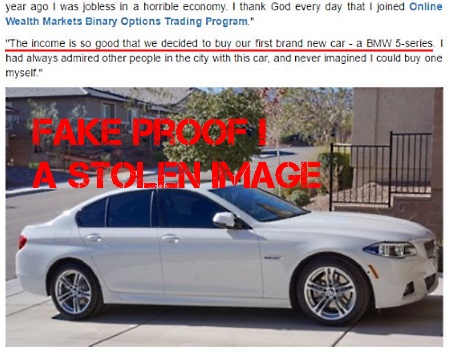 However, this photo is stolen from the internet (look here for a proof) and used in other scam sites as well.
The same is true for the following photo: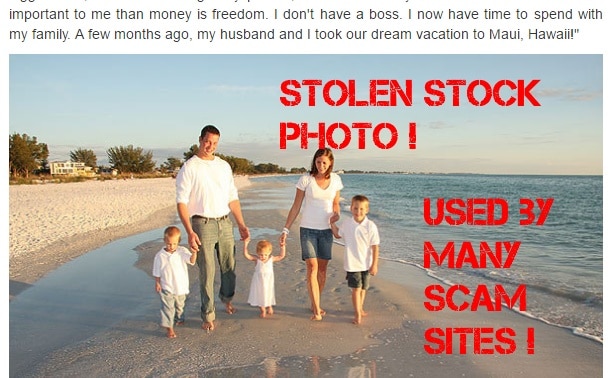 Next stop:
Scam Alert #4: False Claims
As I told above, the Career Journal Online scam is designed to make you join a Binary Option scam of their choice. So how do they do it? By lying, of course. Here's one of those lies (spelled out by fake Lisa White):

Make no mistake, trading Binary Options is high risk business and NEVER EVER suitable for an inexperienced people with zero financial knowledge. If there is anything incredibly simple in Binary Options at all then it is losing your money. Nothing is surer!
I can tell you, these con-artists are real blood suckers who prey on beginners. Once you have signed up and funded your trading account, expect to fund it with even bigger sums AND never see your investments again.
Scam Alert #5: Fake Comments
In the screenshot below you see just the first three comments: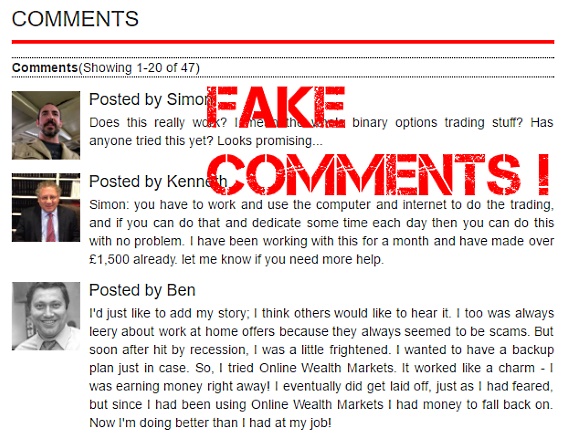 Try these out for size too:

Now here's another scam – Richard Branson Binary Options scam (Note! Richard Branson has nothing to do with it) – and it uses the same comments. Also, in that review I show you couple of other identical comments from different scam sites.
Scam Alert #6: Different Logos, Same Scam
Let me show you a header section of The Career Journal Online:

Well, now look at these header sections below:
As you might suspect already, all of them have the same Lisa White or Melissa Johnson (or Mette Sørensen from Copenhagen) narrative as described above. If this is not an outright scam then what is it?
Final Verdict
There is nothing true in the Career Journal Online and its article on the Cambridge mum who makes a staggering £7,650/month.
Verdict: The Career Journal Online is a dangerous scam sales page that tries to trick you into joining and investing your personal money with their Binary Options scam. Stay Away!
Legit Ways for Stay-at-Home Moms to Make Legit Income Online
As I told above, there are different ways on how a stay-at-home mom can make honest money online. However, if you are dead serious about creating a solid passive income stream to support your family, here are the steps you should take:
Find your niche (your passion)
Build a website around your passion
Create quality content in your niche (It's about helping people)
When more and more visitors come to your website to learn from you, help them find products that they need (from Amazon, etc.)
When they go and buy, you will earn commissions.
That's how thousands of work-at-home moms make full time living (and not only moms). And that's how you can too.
Excited?

What About You?
Do you have any experience with the Career Journal Online scam that you want to share?
Please let me know your views by dropping a comment below.