IF YOU ARE tired of a salaried job and want to get into a big-paying, independent, online business of your own, the Power Lead System (PLS) might be an excellent opportunity for you. Might be.
…Wait! Before you go and sign up, please read through the review of the Power Lead System below. See if it is okay for you if it can help you achieve your goals.
Power Lead System is advertised as "The most complete and powerful all-in-one marketing platform." But some questions beg for answers. Is it legit? Or, is the Power Lead System a scam?
So let's dig deeper into the details and see what the Power Lead System is about.
[Sidebar: If you are not interested in scams or MLM, check out THIS instead! You're going to like this.]
Quick Review

Name: Power Lead System
Website: powerlead-system.com
Creation date: 2013-03-19
Price: $30, and then going up from there.
Alleged Skill level: Intermediate. (The core product assumes you already have a product to sell and have some core familiarity with online marketing tools.)
My Overall Rank: 2 out of 10
My Verdict: The product may be an excellent product for some users, but it would be best to stay clear of the entire system. A careful Power Lead System review indicates that it would be best to avoid this product altogether (read below why).
Better ALTERNATIVE to the Power Lead System that will help you make $1200+ a month online. And these testimonials are proof.
It's free to get started, too (no credit card required). You'll like that part.

Full Review of the Power Lead System
The Power Lead System is advertised as a "complete set of internet marketing tools designed to promote any business."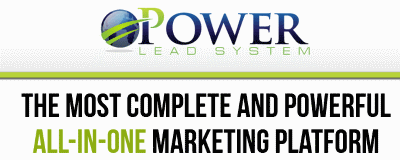 As with other tools of this nature, their mission is to provide tools to help you support your business, but also to earn money through their affiliate program.
In the case of The Power Lead System, their affiliate program appears to be a form of MLM (multi-level marketing) scheme (more about it later).
1. Power Lead System Marketing Platform
You can choose to be simply a customer of the Power Lead System suite of marketing products (aka Marketing Platform – their flagship product), which includes:
Custom Google hangout pages
Lead capture pages with custom video
Unlimited auto-responder campaigns
Unlimited sales pages
Custom sales funnels
Audio and video postcard system
Floating lead capture forms
Lead system
Contact manager
Weekly training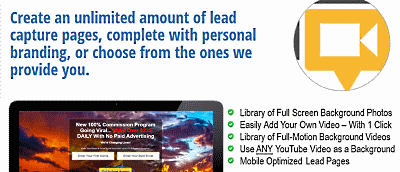 Price
For $30/month with a 30-day free trial. You are limited to 25Mb (!) storage space for all files, including text and graphics. This portion of the Power Lead System appears to be legitimate, with fairly standard terms and conditions (including an all-too-common binding arbitration clause).
Here's the kicker, though:
While this is the service that the Power Lead System initially describes and promotes, but it doesn't appear to be their primary business. Their primary business is called "Viral Affiliate Marketing," and they are careful to point out that it is not MLM, although it works exactly like one.
So let's dive into the details, and I will show you why I consider it an MLM. Keep reading.
2. The Power Lead System Affiliate Marketing Program:
True, the Power Lead System affiliate program is strictly voluntary, and you don't have to participate in it. You can simply remain a customer of the base product (their Marketing Platform). But, as I told above, that way, you will miss their key way to grow business and to bring in more moolah.
Therefore, you may want to know how the Power Lead System Affiliate program (Compensation plan) works. Here's how:
The Power Lead System Compensation Plan
When you sell the basic Power Lead System product and sign up someone to pay $30/month, you get to keep $20/month, and $10/month is passed up to the next qualified affiliate.
The next product in the queue (Power Lead System Diamond) is called Free Ad Secrets and costs $147. If you sell that product, you keep $100, and $25 is passed up to the next qualified affiliate.
The next product (Power Lead System Platinum) is a Facebook marketing course called Social Profit Academy, selling for $500. Affiliates earn $400 and pass on $50 for selling this product.
There are additional educational products in the Power Lead System inventory, but you get the idea.
What if I could show you a real system you can use to put $1,200+ per month into your account, working from the comfort of your home…

…Would you be interested?

Don't wait the right moment to start a business. It never arrives. Start whenever. Now.

Being an affiliate in the Power Lead System costs $23.97 per month, which is unusual. What is even more unusual is the necessary process to become an affiliate. To become a Power Lead System affiliate, you have to:
Purchase the product yourself and maintain a subscription if it has a monthly fee OR
Sell two copies of that product, and those people must maintain active subscriptions
Can you imagine!
And this must be done for every single product in their inventory that you want to sell and earn a commission on. In this way, every single product is "activated" so that you can make a commission by selling it.
If that weren't enough, you don't earn commissions on sales of your second, fourth, sixth, eighth, or tenth sale, and of every fifth sale thereafter. Commissions on those purchases are also passed up to the affiliate above you:

Their compensation plan has a clear pyramid structure, do you agree?
Finally, 4.97% of every sale is deducted as merchant processing fees, but you are responsible for any costs related to refunds or chargebacks, which will be deducted from any future commissions.
A review of the Power Lead System compensation plan reveals it as *not* an affiliate marketing program, but an MLM scheme.
That's not all, though.
To participate in the affiliate program at all, you have to pay the $23.97 per month, plus buy all the products, plus pay the subscription fees for every product in your inventory. Then you have to sell the product(s), but sacrifice 4.97% of every sale in fees, and don't earn commission on half of the products you sell, until you've sold ten of them.
The Power Lead System scam makes it extremely difficult for affiliates to be profitable.
By the way, Empower Network and MOBE are two other similar make-money-online platforms that sell you costly info products.
Is the Power Lead System a Scam?
First and foremost, Affiliate Marketing is indeed a legitimate way to earn money online. There are hundreds (if not thousands) of affiliate marketing programs that don't require upfront purchases, charge ongoing fees, or take away your commissions:

[Sidebar: Here's how you can start making legit money with Affiliate Marketing, even if you are a complete newbie.]
While the returns from those programs may look smaller at first glance than those offered by Power Lead System, they are also open and fair.
And best of all, conventional affiliate marketing programs are sustainable, rather than the unsustainable structure of an MLM scheme. The MLM portion of the Power Lead System is a scam.
Reasons not to buy the Power Lead System basic product
The product may be excellent, and you could research to determine whether the cost is a good value for your needs. However, there are two main reasons not to buy the Power Lead System basic marketing product:
Red Flag #1: Distorted Reviews
Because so many people who purchased the product are now selling it, it's difficult to find fair and unbiased reviews of the product and determine how well it works.
It's safe to assume that, once you purchase the basic product, your sponsoring affiliate will be strongly motivated to try to upsell you on the rest of the products in the suite.
One could reasonably expect a lot of attempts to recruit you into the affiliate program or to try to sell you more and more products. This kind of aggressive selling can be unpleasant and shouldn't be a side effect of buying a single product.
Final Verdict
1. Their flagship product – Power Lead System Marketing Platform appears to be legit, with fairly standard terms and conditions. That being said, this opportunity is *not* for newbies. Because they assume you already have at least some experience with online marketing tools under your belt. Plus, you have a product to sell.
2. Their primary business – PLS Affiliate program or Compensations Plan – has clear characteristics of an MLM scheme. Remember, it's going to cost you hundreds (probably thousands) of dollars, and it will be challenging to earn it back. I consider this portion of the platform as a scam.
If you'd rather make money than blow your lifetime of savings… Why not try this? It's FREE to get started, too. You'll like that part…
Why not make it the very next thing you do? Click here right now.
What About You?
Thank you for reading my review. I hope you found it helpful. Now that you have reached the end of it, in your opinion, what is the Power Lead System about? Is it a scam or legit work-at-home opportunity? Let me know by dropping a comment below.
Stay safe,
Egon (EgonSarvReviews.com)