"Let me generate $3,874.92 for you today," claims Mark Bromovich, the alleged co-founder of the Profits Infinity system.
This is not his only promise to you, though. As you will see in the Profits Infinity review below, he promises quite a few lucrative things to you. Everything is 100% safe, no credit card required, etc. etc.
The question here is – Does he tell the truth? Or, is he lying? Is Profits Infinity a scam or legit?
And, is he a real person in the first place? And then, if it is real, how much must you pay to start trading with the Profits Infinity?
To answer these and other similar questions, I did extensive research and wrote the review below. Read it through and see whether it is for you.
[Sidebar: If you are not interested in scams, check out THIS instead! You're going to like this.]
Here we go:
Quick Review
Name: The Profits Infinity
Profits Infinity login: profitsinfinity.com
Niche: Binary Options
Price: Software: free. Funding your trading account: minimum $250 
Founder: Mark Bromovich
Skill level: Complete Novice
My Overall Rank: 0 out of 10
Me verdict: SCAM!!! Designed to rip you off. Stay away!
The Profits Infinity Review
The Narrative
Before the 2008 market crash, Mark Bromovich was allegedly one of those Wall Street sharks. He made millions of dollars by working for the Blackstone investment fund and trading all areas of the markets. However, the market crash in 2008 sent companies and individuals into bankruptcy. Mark, too, discovered that he was dead broke.
In his desperate attempt to survive, he became a truck driver. And the truck driver he was the next three years working 50 hours a week.
Then, on one lucky day, he ran into his college buddy, whom he had not seen for years. The buddy was working for IBM, and his expert team was developing a new generation trading software. The only missing piece was…
…Right, the single missing piece was a trading expert. As you might guess, Mark Bromovich joined their expert team, and together they finished their unique trading software. They called it Profits Infinity.
The unique advantage of the Profits Infinity trading app over its competition was that it never loses a single trade. When the probability of winning drops below 96.8%, Profits Infinity app exits the trade. Yes, in that particular case, you did not win. But you did not lose either. And that's why investors' money is 100% safe.
That's what they claim.
Onward.
Even though such a breakthrough software is not available for the ordinary people, Mark Bromovich is willing to give it to you for free. But only for a limited time and to a limited number of people. Why? So that you could achieve your financial success as well.
The only string here is that if you want to grab your seat, you need to act at once.
That's the story behind the Profits Infinity trading app.
Do NOT hurry to sign up, though. There are some crucial things you must know. Therefore, please read my review to the end, and you will see whether this app is for you or not.
Promises
See what Mark Bromovich and Profits Infinity promise to you:
Make $3874 per day (also daily profits from $17,000 to $27,000)
No credit card required
An easy and consistent income without having to risk all your life savings
Profits Infinity never loses a trade, and therefore your money is 100% safe
You don't need any skills or experience to replicate exactly what Mark Bromovich has achieved (from $300 to $3874 in 24 hours)
No complicated charts to monitor
Zero work involved
Upon activation, you will have $300 deposited into your trading account
All these promises look like a dream come true, don't they? The only question is – Is it real? Or is it bogus? Can you trust Mark Bromovich and his Profits Infinity system?
7 Alarming Lies
Frankly, there are many more lies, but these seven are more than enough to make a point.
Lie #1: Mark Bromovich is Former Wall Street Trading Expert
No, he is not. He does not even exist. Honestly, the whole narrative of Profits Infinity is a fiction, and I am going to prove it to you. So let's start with Mark Bromovich – the "former Wall Street shark."
Similar to other such scams, you can find no traces of Mark Bromovich from the internet. There are none. With all his colorful career as 'the Blackstone trading expert,' there are no images of him, no articles, no quotes, no TV or radio shows, no interviews, nothing.
Listen, Mark Bromovich is a fictional character, played by an actor – just as paid actors give all the other fake testimonials on the Profits Infinity site.
Here's the proof:
Lie #2: Ordinary People Make Money With the Profits Infinity App
If you think all these testimonials in the Profits Infinity website are real then look at these examples below:
Fake Testimonial 1: the Video
Below you see a screenshot from the Profits Infinity video (a grateful customer explaining how much money he has made with the Mark Bromovich' trading app):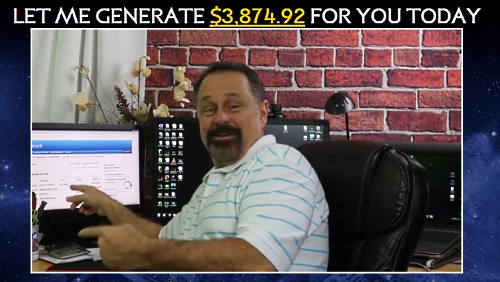 And now look at this: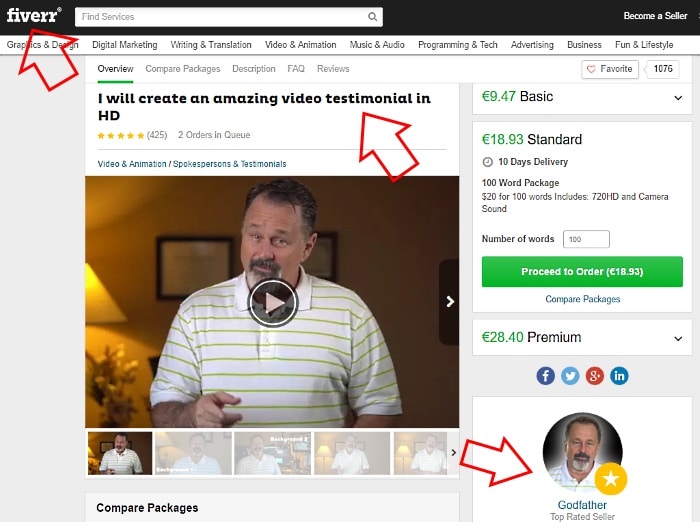 Do you still have any doubts?
Fake Testimonial 2: Ruth Myers
Here's the Profit Infinity login page: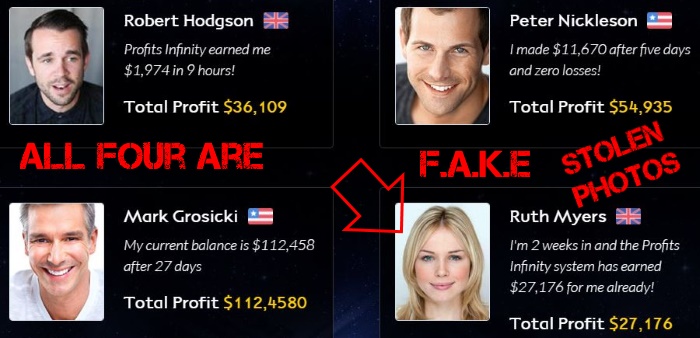 Let's take Ruth Myers. Why is she fake?
Because her face image is shamelessly stolen from the internet. The original photo belongs to Florence Colgate – the girl with the most beautiful face in the UK.
This way, I could prove that every single testimonial on this page is bogus.
Lie #3: No Credit Card Required
It's funny how all such Binary Options trading scams promote their software for free. They do every trick they can to assure you that no credit card is required.
It makes an impression to you as though you can start trading without any involvement of your own cash.
That's plain wrong, though!
While trading Binary Options requires the trading software, it also requires a trading account. Not only that. You also must fund your account with a minimum of $250 (in most cases).
Therefore – the claim that no credit card required is plain wrong. Yes, you need to use your credit card AND your hard-earned cash to fund your trading account.
Even worse, if the broker happens to be some shady unregulated offshore company (which it probably is), then you are going to trust your sensitive credit card data in the hands of nasty scammers.
Lie #4: You Will Have Only One Shot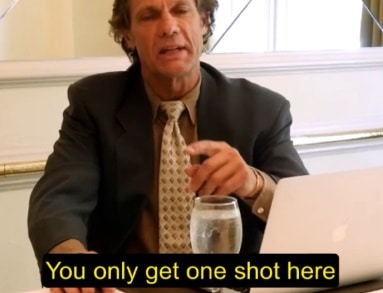 This is an outright lie designed to pitch you into a quick signup process. The truth is, NO people are waiting in lines ready to take your seat.
The scammers launched the Profits Infinity on March 14, 2016. Yes, that's right! Since then, they have been promoting it the same old way  – that there are only a few vacant spots available, and if you want to grab this once-in-a-lifetime opportunity, you must act immediately.
You will have only one shot, and if you hesitate, you've lost your chance for good.
Wrong! If you visit their site tomorrow (or next week/month) and your vacant spot will still be waiting for you.
Lie #5: Such Opportunities Are for Only Wealthy Elite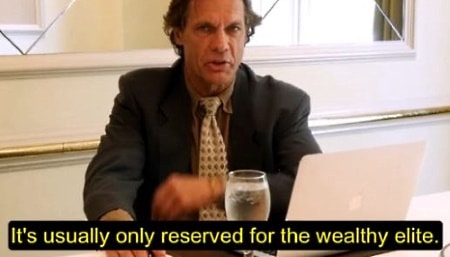 This is another plain lie to sugarcoat the deal and make you feel as though you are somehow stumbled upon some exclusive opportunity.
Don't buy it, though. Because, first, the Wealthy Elite have no interest in any shady Binary Options software. Second, there gazillion crappy Binary Options software on the market. All of them are touting pretty much the same – their software is by far the best trading bot in the world. Only they have discovered a secret formula – a holy grail of trading – which they are exploiting now.
I have reviewed many of such binary options scams. Try these out for size and see if you agree:
The Millionaire Blueprint, Tauribot, Citidel Investment App, The Safeguard Trader, the Profit Maker, Altronix, Trianasoft, the Push Money app, etc., etc.
All of them claim that their app is for the wealthy elite only… But for the limited time, they are going to give ordinary people free access to it.
Ridiculous!
Lie #6: The Profits Infinity Never Loses a Trade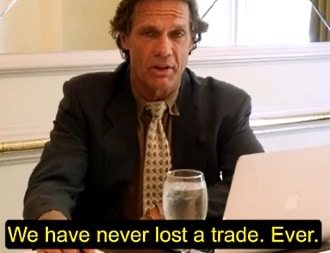 This claim is such a foolish lie that it can deceive only those who don't bother to use their brain for thinking. Because if you think about it, you would understand that there's no such software in the world. And never will be.
Let me give you some perspective.
If there were such software, its owners would be way richer than George Soros. He is one of the most successful investors in the world, with net worth of $25,2 billion (in 2017).
And guess what? Mr. Soros, too, loses some trades. He has failed in the past and will fail in the future as well.
Now let me ask you – how many people on Earth are richer than Georg Soros? And how many of them have got their wealth by running some Binary Options trading robot on autopilot?
Is it Bill Gates, the founder of Microsoft? Or is it Mark Zuckerberg, the founder of Facebook? Michael Bloomberg?
You see how ridiculous their 'never lost a trade' and 'our clients never lose' claims are.
Lie #7: Daily Payouts Up to $27,000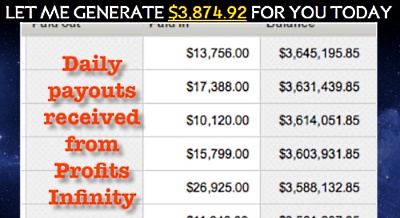 Again, screenshots like the one above are meant to sweeten your signup process. However, if you bother to do the math, you understand that their claims don't hold water.
Why?
Because, as you can see from the image, they are targeting people with a relatively small amount of money available for investing. If their trading software turns my $300 into $3,874, then what if I invest, say $30,000? Then Profits unlimited grows it into $387,400 in 24 hours.
Next step, what happens if I invest that $387,400 tomorrow.? Well, it would generate me $5,001,334 by day after tomorrow.
After investing $5 million in day three, the software would make me $64.5 million by day four. You get the point, right? The growth is exponential and goes rapidly through the roof.
Things That Mark Bromovich Says Correctly…
Even though Mark Bromovich keeps lying with a straight face, there is one thing, though, that he says correctly. Apparently, Mark tries to convince you that all other make-money-online products are nasty scams. And that ONLY THEY are the holy ones.
However, his words in the right context are prophetic. If you ever want to join Profits Infinity scam then remember these Mark's words: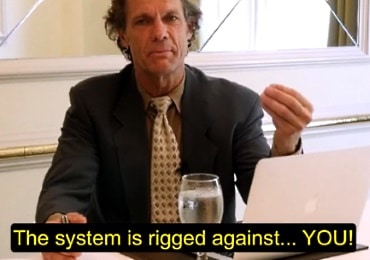 "The system is rigged against… YOU! The house always wins, and you always lose."
Thank you, Mark. It cannot be said better. Thank you for bringing it out.
Final Verdict
As far as I can see, the Profits Infinity is an outright scam. They can't hide behind anything anymore. Therefore, this is my recommendation to you: Walk straight out of the gate don't look back. Instead, stick with something that is legit and will not rip you off.
My verdict: SCAM!!! Stay away! 
Tired of Scams? Check Out My Top Choice
What About You?
Now that you have read the Profits Infinity review, what do you think of the product? Is it a scam or legit?
Do you have any experience with Profits Infinity (good or bad) that you want to share?
Please leave me a comment below.