"If you can see yourself never having to work ever again, by this time next week, you have just stumbled into paradise, my friend." – Andrew Reynolds, the founder of the Rio Profits Software.
Who else wants to stumble into paradise?
Hey, wait! Is the Rio Profits system that paradise?
Unfortunately, it is far from paradise, and I am going to show it to you in the Rio Profits Scam Review below.
But let's dig right into the details.
[Sidebar: If you are not interested in scams, check out THIS instead! You're going to like this.]
Quick Review

Name: Rio Profits / Rio Profits Software / Rio Dream Maker Software / Rio Trader Software
Rio Profits login page: rioprofits.com
Niche: Binary Options trading
Price: $250 (Minimum required deposit)
Alleged Founder: Andrew Reynolds
Skill level: Beginner (wrong claim)
My Overall Rank: 0 out of 10
Verdict: Rio Profits Software is a scam and typical rip off scheme. Stay away!
Better ALTERNATIVE to the Rio Profits That Will Help You Make $1200+ a month Online. And these testimonials are proof.


Why not give a whirl right now? You're certainly not committed to anything.

Full Review – The Rio Profits Scam Review
Who Is Andrew Reynolds?
The story of Andrew Reynolds and his "Rio Profits Software" is another Cinderella style of a fairy tale of a poor fellow who suddenly became a millionaire.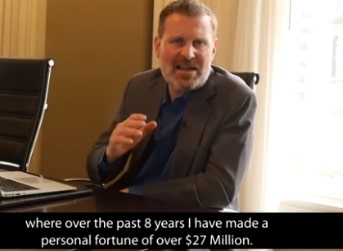 Long story short, young Andrew grew up in Chicago. His parents were unemployed, and Andrew himself pretty much uneducated. That's why working in fast food restaurants was his only legit way to survive.
When Andrew became 19, he moved over to New York, where he became a janitor in Goldman Sachs. And, as you might already suspect, there he befriended with the top-notch Wall Street shark Alexandro Mendez (fake character) who taught him to trade.
In his first year of trading, Andrew had already made over $1.7 million.
What is the Rio Profits Software?
Rio Profits Software (or Rio Dream Maker Software) is a binary options trading robot that has both manual and full autopilot modes.
How is Rio Profits software different from other binary options trading bots?
Well, according to Andrew Reynolds, his software has quite a few unique features. For example, his software has a 100% winning rate, and therefore you will never lose money by trading with it.
To be honest, claims like these are so ridiculous that I don't want to waste my time on crap like that.
How to Make Money With the Rio Profits Software?
Again, if you believe Andrew Reynolds, it's easier than opening an email. No effort required on your part other than download the Rio Trader Software and to set it to 'trade.'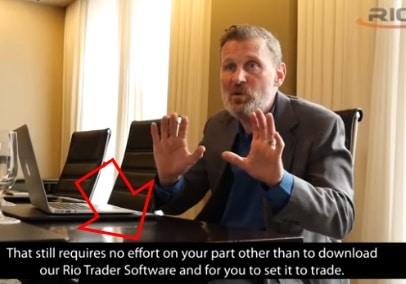 The Rio Profits has (built-in) 100% autopilot mode, which does all the trading for you. And because it has a 100% winning rate, you will never lose a trade.
Amazing, isn't it?
However, because the opportunity lasts only two days (yesterday and today), you must hurry and act immediately.
Waitaminute! Don't hurry to sign up yet. There's more to come. Please keep reading, and I will show you exactly what an ugly rip off scheme it is.
But first,
WHY Does Andrew Reynolds Do It?
There are two primary reasons for this:
Andrew Reynolds makes money when you make money. For example, each and every time that you will make $4250, he too makes $4250.
Andrew Reynolds wants to give back to the world.
Honestly, there is only one thing that is true in these two statements. And it is, "Andrew Reynolds makes money."
As you will see below, he makes money when you lose money. That's how these rip-off schemes work. Andrew's money comes from your pockets (More about that in a minute).
If you can write, here is an amazing opportunity on how you, by writing, can create your own passive income stream online (which will serve you for years).


Don't wait for the right moment to take the bull by the horns. It never arrives. Start whenever. Now.
What Is the Rio Dream Maker Survey?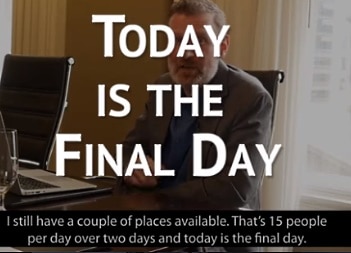 According to Andrew Reynolds, his Rio Dream Maker Survey is, in fact, a narrow time frame (two days only) where 15 people per day over two days can sign up and get the Rio Profits Software for free.
The software would generate at least $4,250 a day for these selected 30 people.
However, because Andrew Reynolds gives his Rio Profits for free, he asks you to provide some anonymous feedback. It means they ask you to fill a simple 3-minute long survey at the end of your 60 days test run. But you should fill the survey only if, by the end of your 60-day test run, the software has made you at least $250,000.
The questions in the Rio Dream Maker Survey will be something like these:
How easy was it to download the software?
How easy was it to set to "trade?"
How our promise to pay you $4,250 a day turned out
etc.
Plus, they ask you to provide a two-paragraph long testimonial about Rio Profits Software.
Rio Profits Promises
The software will make you up to $237 per hour
$4250 every day for life
You will get your first $4250 by tomorrow morning
You will never have to work again
You will never have to worry about money ever again
The software is 100% free
The software is yours to keep
100% autopilot mode
100% winning rate
With Rio Profits, you cannot possibly ever lose money
No credit card required
Andrew Reynold does not ask your money
These promises, if true, are nothing short of a miracle, do you agree?
The question is – are these true. As I will show you below, mostly, these promises are nothing but a bunch of hot air. Or, as it says, "Too good to be true."
Anyway, now that you know what the program claims to be, who the alleged founder is, and what he promises to you, I am going to rip the whole thing apart. I am going to prove that Rio Profits Software is a scam – designed to turn you into a milking cow (that must be milked to the last drop before disposing).
7 Proofs That Rio Profits Is a Scam
Red Flag #1: Bogus Andrew Reynolds
I have reviewed quite many binary options scams, and these scams always follow the same pattern. The shadow-figures behind the scene don't reveal their true identity. They only thing they give you are some fake characters played by actors (like this Andrew Reynolds here).
I've researched the Internet and could not find any traces of that Wall Street shark called Andrew Reynolds. Neither could I find any traces of his mentor Alexandro Mendez  (allegedly a way more prominent name in Wall Street).
Like Jeku Pertu, Todd Salerno, Michael Watson, Mark Bromovich, Timothy Hollingdale, and many others fake founders of Binary Options trading software, Andrew Reynolds is bogus as well.
Red Flag #2: Rio Profits is a Clone of Tesler App
According to Whois, Tesler App has a bit older website: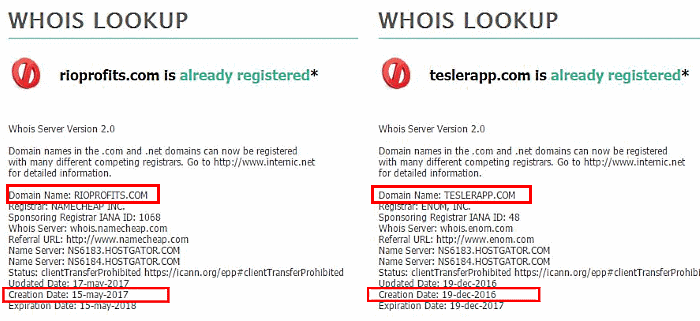 So you see, Tesler App is somewhat older of the two. Other than that, they are pretty much identical.
Here's the home page of Rio Profits:

And here the homepage of Tesler App: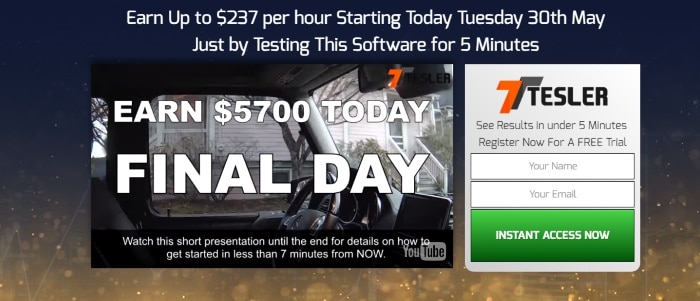 Their narratives and alleged founders are different, but these two websites are identical.
Which brings me to the next red flag:
Red Flag #3: Fake Testimonials
As always with such scams, the testimonials are faked as well (And both, Rio Profits and Tesler App have the same testimonials):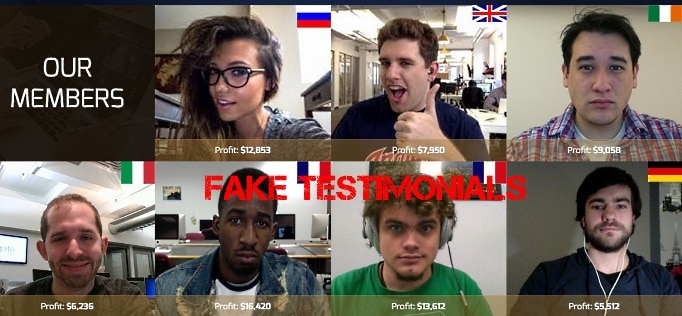 Let me show that they're fake. First, let's take the very first image (pictured above – the young lady with glasses). This image is taken from the Longevity Photography blog. It has nothing to do with Rio Profits (or Tesler).
Second, see this: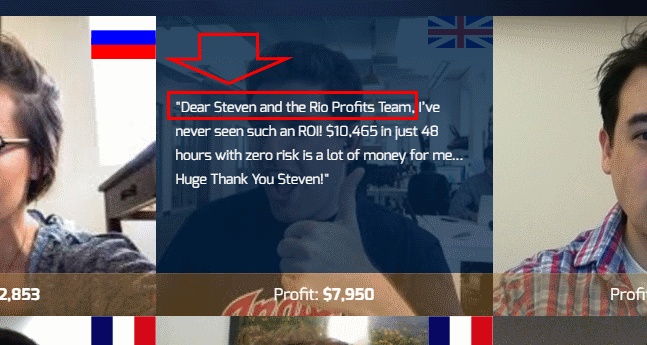 Steven Abrahams is a fake character and an alleged founder of Tesler App, not Rio Profits.
Red Flag #4: False Sense of Urgency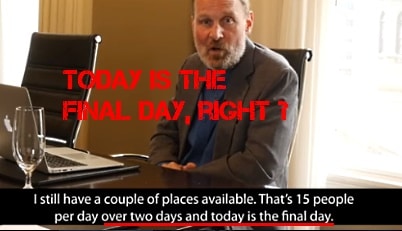 If so, what about this:
You can find Rio Profits video on Youtube. It was uploaded on May 17, 2017. Thus, it's like every day is the last day.
These con-artists are lying through their teeth.
 Red Flag #5: No Rio Profits App for Mobile Devices
Look at the image below (found in the Rio Profits sales page):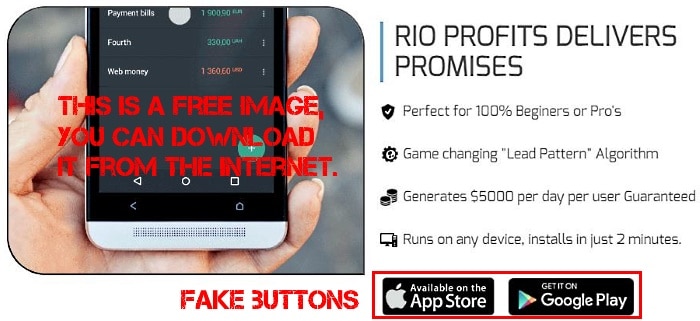 The image is freely downloadable from here.
After clicking on the AppStore or GooglePlay buttons, you will be sent to the Rio Profits signup page.
Verdict: Plain lie.
Red Flag #6: '100% Winning Rate' and 'You cannot ever lose money.'
That's what Andrew Reynolds claims: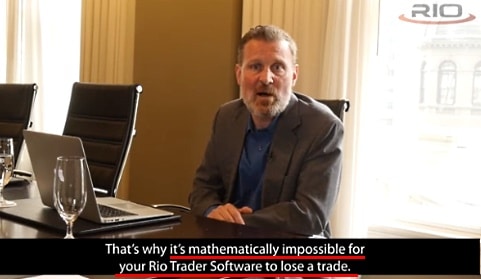 Next, see what their Risk Disclaimer says:

See! Who's lying here?
Red Flag #7: No Credit Card Required

The 100% free software is just a bite – designed to lure you into subscribing with them. However, if you did not know, the free binary options trading robot is not enough to start trading.
First, you need to open a trading account with some Binary Options broker. Second, you must fund that account so that the robot could start trading.
It means, while they give you the software for free, you still need to invest your hard-earned cash: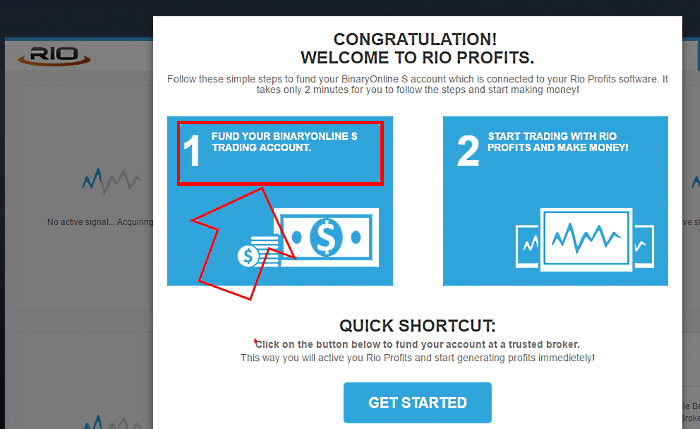 The required minimum amount is $250. However, once you have done that, expect to pay way bigger sums.
Really? Really!
Why? Because that's how these online criminals fill their coffers – by milking unaware day traders. Yes, you are going to pay them until it hurts.
And the broker – no, they are not regulated, honest-to-God brokers. Instead, they are some shady, unregulated offshore brokers, which means that 1) you cannot withdraw your deposits, and 2) you have no-one to file a complaint either.
Final Verdict
As you can see above, the Rio Profits Software (or Rio Dream Maker Software) is nothing but lies, lies, and more lies. Therefore,
…Here's my final verdict:  The Rio Profits system is nothing but a dirty online SCAM! Designed to rip you off. Stay away!!!
Imagine for looking for legit work-from-home opportunities and finding THIS when you go inside… WOW


Why not make it the very next thing you do? 
What About You?
Now that you have read the Rio Profits Scam Review, what do you think about it? Is the Rio Profits a scam or legit?
Please leave your thoughts into the comment section below.