In today's fast-paced society, trends change on a day-to-day basis, and prices often go on a wicked roller coaster ride.
Naturally, it is no surprise that saving coupons and scouring the Internet for great deals have become a commonplace practice. No wonder that website like Get It Free has dramatically risen in popularity.
And while its vision of the marketplace is laudable, some still ask, "is Get It Free a scam?"
Therefore, what about Get It Free – Is it a scam or legit? Let's zoom out and see if it can give you a little more fun – and save you a lot more money.
[Sidebar: If you are not interested in coupons, check out THIS instead! You're going to like this.]
Quick Review

Name: Get It Free
Website: getitfree.us
Registration Date: 04-21-2011
Owner: Zeeto Group LLC (San Diego, California)
Niche: website for coupons, deals, and free samples
Pricing: Signing up free (not even required)
My Overall Ranking: 3 out of 10
My Verdict: Get It Free is not a complete scam. That being said, because there are tons of complaints from customers (like how they complete survey after survey, yet receive no gifts or anything), therefore I find it difficult to recommend it.
If you want to know how you can make $1,200+ a month online from the comfort of your home – well this is your chance


It's FREE to get started, too (no credit card required). You'll like that part…
Full Review: What About Get It Free – Is It a Scam?
A Little Background
Get It Free is a website that promotes the value of saving money through online deals and printable coupons for just about anything. They say that the site can provide a significant number of ways in which users can save money through their partnership with different merchants.
These coupons and deals can apply to items purchased from name-brand groceries and everyday items from the market. They are also said to provide discounts on luxury items and wholesale purchases. Their homepage is chock full of freebies, deals, and sweepstakes, as well as travel deals and coupons.
You can sign up for the daily newsletter using your email, and they will send you an update that they may have. Be careful as this would mean that you will get emails on a daily basis, and their emails might end up inside your junk folder.
READ ALSO: Treasure Trooper Surveys – How Much Money Can You Make? Review
How Does Get It Free Work?
Before you go ahead and ask; "is Get It Free a scam?" The people behind Get It Free scour the Internet for deals and other promotions and then place them on a single site then ordered by category. They are displayed in a grid layout of large squares that would have graphics that are sourced directly from the site in which they were found.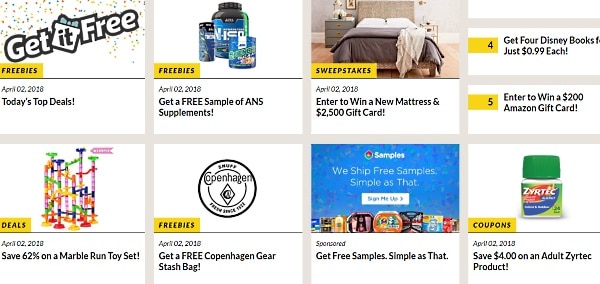 These tiles are clickable, and clicking on one would direct you to the page where there is more information about the item you are purchasing. The instructions are clear, and transactions are usually a fast process until the redemption.
Usually, once you redeem a freebie, you will be lead directly to the third party site from which the offer is being hosted. It means that you would have to follow their instructions again and fill out the needed forms before pressing submit.
Site Categories
As stated earlier, promotions are organized by page and categorized by the following:
1. Freebies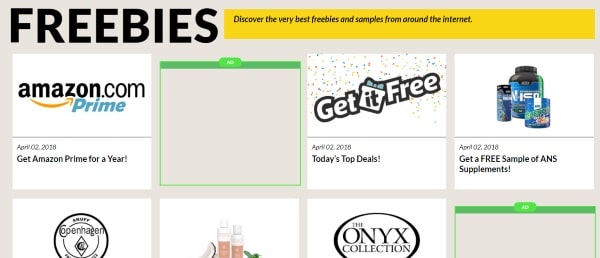 As named, freebies are giveaways that can be taken advantage of, usually by accomplishing one or more tasks requested by the third-party host or the company that originated the freebie. Most of the time, the tasks would require you to like social media pages and then share to your page – so that they can get organic followers in exchange for the freebie.
2. Coupons – these are just like your run of the mill coupons that you get through the mail or the supermarket checkout line. They often provide discounted rates for specific items; sometimes, they would have a required purchase, but most of the time, there's none.
3. You can use Online coupons in the same way as printed coupons. However, the difference is that Get It Free leads you to sites that offer said coupons. They, of course, would almost always have different ways of availing it. There might be a required purchase, or you may be required to sign up.
4. Deals – these often buy one get one promotion or coupons for items that are discounted at a certain rate. Most of the time, deals would include services instead of products, like massage treatment and valet services.
5. Sweepstakes – just like traditional sweepstakes, online sweepstakes provide you an opportunity to win not only money but other prizes like vehicles and appliances as well. What Get It Free does is that it links their site with several sweepstakes raffle around your area. And it lets you access those using your information.
6. Blog – these don't save money, but these articles (or blog posts as they are most popularly called) often revolve around ways to get more out of your deals or coupons.
Risks and Benefits of Get It Free
Using Get It Free is free, and all you need is an email address so that you can have access to the newsletter and other information that they send customers regularly. Using this site has its own set of advantages and disadvantages, though.
Benefit
Convenient – having all these options to save money in one location is pretty comfortable. Also, its categorization is simple and easy to navigate. There's no more need to search for this and search for that, browse this and browse that. All the selections that you can think of at a lower price (sometimes for free) are accessible through the Get It Free site.
Risks
1. Lack of Accountability
The concept behind the site is to provide you backlinks to the third party that hosts the freebie or coupon. That being said, Get It Free does not have any control when it comes to the freebies and deals that online consumers signed up for.
Most of these consumers fear that being a third party entity lessens the accountability of the site, which makes it appear that it does not care much for its user.
2. Broken Promises
As previously stated, Get If Free has no control over what happens whenever customers are lead back to the third party site. Anything that was done then and there would be confidential between the buyer and the third party host.
This is why they sometimes could not react or reply easily to problematic purchases.
3. Hard to Unsubscribe
The unsubscribe link and the codes provided do not often work. Especially if you are receiving harassing phone calls and texts about the items you did not want or could no longer avail.
4. Get It Free Collects Your Information
Not only collect your information. They also share it with third-party companies for marketing and promotional purposes. See what they write in the Get It Free Privacy Policy (getitfree.us/privacy/):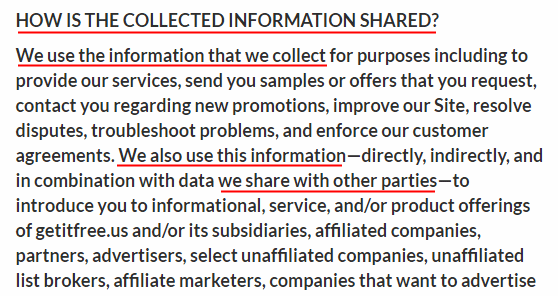 It is as clear as a clear sky, do you agree? Therefore, you can expect annoying emails and phone calls from businesses you never heard about.
Get It Free Complaints
Even worse! You can find tons of Get It Free Complaints on the Internet. Put simply, people are furious with the platform. See yourself. I give you some examples:

Here's another one: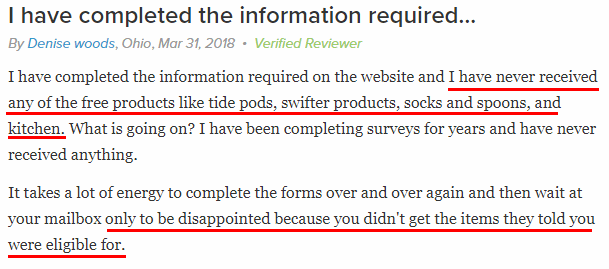 See! Both customers have spent a noticeable amount of time to "earn" their "free" stuff, yet have got nothing. Disgusting behavior by Get It Free, do you agree?
Here's another complaint:

And another one:

And yet another complaint:

There are many, many complaints like these above. They'll give you cold chills, don't they? Look at this one:
How is it possible?
Wrapping Up
Get It Free is just a place to access deals and promotions and does not offer them directly. They are the launching pad for the sites that do. This means that any transaction between the buyer and the third-party host is exclusive between the two of them. Get It Free only acts as a channel for the two parties to interact and close deals.
These do not mean, though, that Get It Free is not liable for anything. Anything that they post on their website should be from legal and reputable sources so that their customers would not feel cheated if in case a deal does not go as planned.
There are other websites out there, aside from Get It Free — for example, BzzAgent, FreeFlys, WomenFreebies, Toluna, to name but a few.
With similar or better function, you should always take note that these sites offer these services for free, but they cannot control whatever occurs between you and the site you purchased an item from.
Make a point always to read the fine print to avoid being scammed or tricked into an arrangement that you do not like.
Final Verdict: Is Get It Free a Scam?
Coming back to the question if the whole site and it shenanigans are a scam. Well, it's a bit difficult to answer. When so many people get deceived and scammed, wouldn't you call it a scam?
To make it clear, Get It Free is *not* an outright scam like SnapCash Binary scam, Lisa Westbrook work-at-home scam, or Richard Branson Binary Options scam. However, when you see how badly they treat their (often exceptionally loyal) customers, well. You can say that Get It Free is a scam, right?
Imagine for looking for legit work-from-home opportunities and finding THIS when you go inside… WOW



Yes, the raw, sizzling beauty of passive income stream online. So click here now. Sometimes 'later' becomes 'never'.

What About You?
Thank you for taking the time and reading my Get it Free review. What do you think? Is Get It Free a scam or legit?
Do you have any personal experience with the platform (good or bad) that you want to share? Please leave me a comment in the comment section below.
Stay safe,
Egon Sarv (egonsarvreviews.com)