Want to make money from home? Want to quit your job and be your own boss? Well, then what about Job Quitter System?
Because they say right in their front page, "The Job Quitter System Earns You Money." They also say, "The Job Quitter works for anyone." Plus, if you sign up, they give you $500.
Therefore, The Job Quitter System could be just the thing…
…Could be just the thing…
Before you jump in, though, let's take a look at what is on offer.
[Sidebar: If you are not interested in scams, check out THIS instead! You're going to like this.]
The Job Quitter System Review (Quick)

Name: Job Quitter System
Website/login: jobquittersystem.com
Registration Date: 2017-11-28
Alleged owner: Richard Harper
Alleged Skill Level: Beginner
Price: $97
My Overall Rank: 0/10
My Verdict: Any system that says you can make a lot of money from doing very little work is a scam, in my humble opinion. And The Job Quitter System is a scam. Stay clear!
Better ALTERNATIVE to the Job Quitter System scam that will help you make $1200+ a month online. And these testimonials are proof.
Best place to start is always one that doesn't cost you a cent, too.

Full Review – What About Job Quitter System, Is it a Real Deal?
When you get to the front page of the Job Quitter System, you will notice that the look is somewhat professional. Neither is there any banner advertising how you can rake in moolah before next Monday with no work at all.
All good so far.
What is the Job Quitter System / Why Join the System
Before the owners of the system tell you what the Job Quitter is about, there is a little talk about why you should go for it. Here are some of their arguments:
You can take control of your life.
You can quit your tedious job.
You can be your own boss.
You can work your own hours.
You can work from home.
There are many more reasons, and all of them are appealing indeed. I think that you can agree that all are reasons to quit your job.
Plus, there is the promise of $500 (and hey, it's about "today," did you notice?):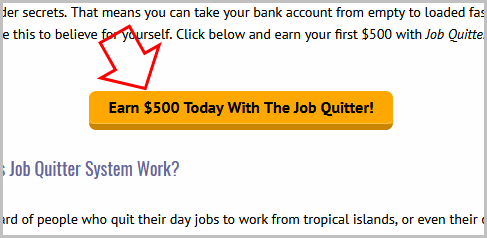 This, of course, raises a little red flag. But because there is no talk of making regular payment from doing nothing, so I am not raising it all the way just yet.
How Does the Job Quitter System Work?
That is what you want to know, right? And this is just exactly what they tell you next (Now this is sweet, try these out for size):
You will soon be a legend in your old office
You will be the person who actually followed through on their dreams
You will learn the tricks of the trade of the Job Quitter System
You could only work 10 hours a week
No education required
No experience needed
Be your own boss
Set your own hours
Work from anywhere
This system is your teacher
You are in complete control
It will change your life
Start earning money today
There you have it, the Job Quitter System in a nutshell. Can you imagine!
Yes, I know. The red flag has been raised.
Lots of words and no information. They set out to tell us what the Job Quitter System is, and all they did was tell us nothing.
So what would you do? Well, I did a little digging myself.
The Job Quitter System is a Scam. Here's Why
Now I am going to show (prove) you that the Job Quitter System is a scam.
Once you sign up and give them your email address (are you ready for spam?), you will get to watch their introductory video. It is here that they make the claims as to how much money you will earn daily.
Red Alert #1: False Sense of Urgency Exposed
They also talk about how they are only accepting a limited number of people to the system:
You have heard that marketing ploy before, right? (If not, then here, here, and here are some more examples.) The trick here is that when people feel they might miss the opportunity, they are more prone to act at once. And that's what scammers want – you to act at once… Without thinking and analyzing in the first place.
So you see – more red flags are being thrust into the air.
Red Alert #2: Free to Sign Up Lie
Their next claim: "It is free to sign up."
The truth: a bald-faced lie.
Once you navigate through the labyrinth of pages, you will find yourself at a checkout page. The actual cost is $97.
Here's a lesson to be learned – As soon as they ask you to pay money for whatever Get-Rich-Quick scheme, you should get out of there.
But because people still do not know what the system is, so there is a tendency that they keep going. And that's how they eventually fall and get ripped off.
Red Alert #3: "Complete Your Signup and Get $500" Trap
Another claim: They will pay you $500 – today.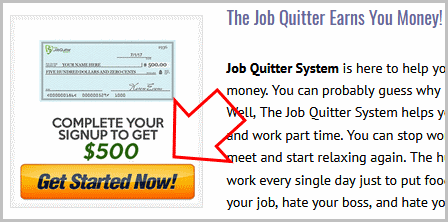 The truth: another lie.
You can rest assured that they are not going to pay you $500 for nothing. If you seriously do want that $500, then you have to go through a bunch of steps, which will end up costing you a lot more than $500. Therefore, that $500 simply does not make sense.
Not only that. Here's another huge problem:
Red Alert #4: Total Silence About What The Job Quitter System Is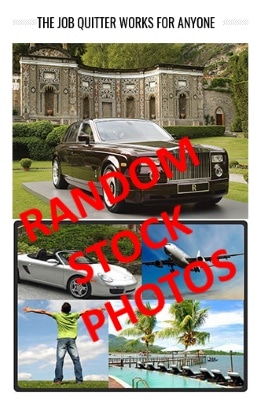 After watching the video, filled with wild claims, fancy cars, big houses, extravagant lifestyles, and the promise that the creator only wants to share the wealth, you still will not know what the Job Quitter System is about.
Instead, you will be taken to the checkout page where you can pay for the system and the promise of enjoying the same lifestyle as the creator.
Please do *not* do this.
The only thing you will find after paying for the system is links to other sites that ask you to spend more money (more about this below).
Also, the sad truth is that once someone has paid money for nothing, he/she is more likely to pay even more money. Why? In the hope of gaining the original money back. And that's just precisely what scammers want you to do.
So here are some additional proofs why I consider the Job Quitter System a scam:
Red Alert #5: Random Stock Photos Thrown at Your Face
To prove my case, I give you just one example (I think it's enough). Did you notice the fancy Rolls-Royce above? Do you think it belongs to the owner(s) of Job Quitter System? …Or to somebody who became rich because of the system?
May I ask you to guess again because it does not.
Why not?
Simple. It is just a stock photo that is taken (probably stolen) from the internet. Many websites have used it. One of them is a respected Autocar site:
Red Alert #6: Fake Security Seals
You will notice on the site that there are many trust seals. There are trust seals from McAfee, Authorize.net, and GoDaddy. These are all fake. Nothing but image files.
This is a common tactic of scam sites to pretend that they are a legitimate site. Thus, you may almost always find trust seals or 'as featured on' claims on scam sites. These are quickly dispelled with a quick Google search.
Red Alert #7: Fake Money Back Guarantee
There is also the promise of your money back if you are not satisfied. The sad truth is that you will *not* get your money back. There will be hoops to jump through and unforeseen delays so that by the time they get around to issuing a refund, it will be all too late.
Most probably, you won't even don't know who to complain. Why? Because there's no contact page on their website. Neither is there an "About" page.
I've been in a similar situation and never got anything back.
Remember, people hide behind the word scammer, but in truth, they are criminals.
Red Alert #8: Fake Registration Form
Next, look at the registration form of the Job Quitter System:
Do you think it is a real form that you can fill?
Well, it's not. As with the security badges described above, this "form," too, is just a simple image file (you cannot fill it. It's like a photo).
Now, does the Job Quitter System sound like a genuine work-from-home opportunity to you?
Not to me.
Next,
Red Alert #9: They Link You to 1K Daily Profit Scam
Now, this is funny (well, no, it's not). But surprise-surprise…! Most of the Job Quitter System CTA's like "Get Started" buttons and other links point you to the 1K Daily Profit scam.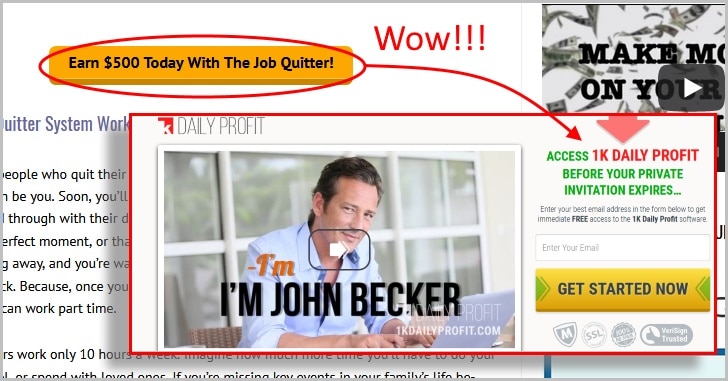 Now, what is that?
Well, 1K Daily Profit is another similar scam. Fortunately, I have already reviewed it so you can read my 1K Daily Profit review here.
Final Verdict: Please Do Not Sign Up
I do not need to say much more to dissuade you from signing up on the Job Quitter System (hopefully). The truth is that there is no such thing as a genuine get-rich-quick scheme. Any website which offers this is a scam.
If you want to make money from home and set your own hours, then you can – yes, it's absolutely possible. And yes, even if you happen to be a complete dummy at the moment. Just remember, you still need to invest your time and work to achieve it.
The Job Quitter system is tempting. The website is professional looking. The promises are not to be sniffed at, but they are promises which cannot be kept. The only real thing on this website may be the $500 you will get, but only after you shell out a lot more money to get it back.
The truth is that the money you invest in signing up will be lost, and the money you have to spend to get the $500 will be more than you get back.
All in all, any money you put in will go to the scammers behind the scheme, and if you are tempted to try and get your money back, you are fighting a lost cause.
If you'd rather make money than blow your lifetime of savings… Why not try this? It's FREE to get started, too. You'll like that part…
Why not make it the very next thing you do? Click here right now.
What About You?
Thank you for reading my Job Quitter Review. I hope you found it helpful. Did you get the information you were looking for?
Now that you have reached the end of the review, "What is the Job Quitter System about…" What do you think? Is it a genuine work-from-home opportunity or a scam? Please let me know by dropping a comment below.
Also, if you have any experience with the system (good or bad), may I ask that you share it in the comment section. It would be helpful.