"If you'd like to crave success as an entrepreneur, then I believe this will be one of the most important topics you'll ever read. Here's why.
"If the person writing your marketing messages doesn't know how to craft compelling, meaningful, emotional, and actionable copy, the performance of your entire campaign is at risk of failing," states Susan Gunelius, a contributor at Forbes.
…If you knew how to make $1200 a month online, from the comfort of your home, would you do the work?

…Well THIS is your chance


It's FREE to get started, too (no credit card required). You'll like that part…
She makes it crystal clear, doesn't she?
That's why it's crucial to get your sales pages right!
But wait. How in the world do you achieve it?
Well, let's roll up our sleeves and dig into details.
Firstly, I will give a detailed answer to the question: What does a copywriter do? And secondly, I show you the exact way to a sales copy mastery.
Comprende?
Great. Let's start then.
1. What Does the Copywriter Do?
The first thing I want to clarify here is the term "copywriter." A copywriter is a person who is specialized in writing ads and promotional articles. In other words, he is kind of a wordsmith who has sharpened his writing skills in this particular area and can turn some content into an engaging, compelling, and converting advertisement.
Of course, that means that his main job is to persuade the readers to purchase certain products or services.  It's called a copywriter's selling power, and it's the single most important characteristic of a good copywriter. Are your copies able to sell or not?
And you want to increase your selling power, don't you?
Good. Keep reading.
Before I tell you what the copywriter does, let me quickly cover things that he does not do.
1.1. Three Things That The Copywriter Does Not Do?
1. The copywriter does not deal with copyright issues. So don't be confused with the word "copyright," which refers to a creator's exclusive legal right to his work.
2.  The copywriter does not copy content from one place to another.
3. The good copywriter won't use unethical techniques to increase sales. For example, he won't write great sales pages for crap products that stink. Or, he won't write false testimonials for businesses to raise their level of authority and respect.
1.2. What Does The Copywriter Do?
OK, now that you've learned who the copywriter is and what he does not do, let's see what the things that the copywriter does are.
Firstly, the copywriter's task is to take his client's source material and rewrite it the way that it serves his client's needs. Usually, it is to sell some products or services.
While it is true that, in most cases, the source material is provided, it is also true that the copywriter has to carry out extensive research on each project he works on. As Claude C. Hopkins has put it in his book "Scientific Advertising:
"Genius is the art of taking pains. The advertising man who spares the midnight oil will never get very far."
There is another quote from him:
"The ad seems so simple, and it must be simple to appeal to simple people. But back of that ad may lie reams of data, volumes of information, months of research. So this is no lazy man's field."
As you see, at the back of every good ad is a lot of hard work. A LOT.
Onward.
The source material can be in many different forms. It can be in the form of some brochures, some technical paper, just a few bullet points, etc.
That means the copywriter has to clarify hard-to-understand technical papers and distill benefits into compelling, converting points.
Or, he has to be able to write a 500-word article based on these bullet points.
The end product of the promotional material can also be in many different forms. The client may want to create an ad or a promotional article, a sales page, a sales letter, some website content, or something entirely different.
If the client knows just exactly what he wants, he tells it to a copywriter. If he does not know or is hesitant, it is the copywriter's task to recommend the best advertising options.
In the case of Internet Marketing, there are yet other skills that the copywriter has to have. He needs to have a clear understanding of SEO (Search Engine Optimization). The purpose is to attract search engine crawlers' attention and drive traffic to his client's sales pages.
It, of course, requires that the copywriter understands how to utilize the power of keywords.
Also, he needs to be a skilled enough writer to blend those keywords with natural language. After all, his task is to turn the end result in a flowing and coherent piece of text, which will keep its audience engaged.
Finally, last but not least, the copywriter is the person who usually builds brands and creates memorable taglines and slogans.
1.3. The Basic Characteristics Of A Good Copy.
It is a single, grammatically correct, and compelling piece of text.
It has the required word count.
It includes the most interesting sections of information from the source material.
It includes some overt or covert marketing messages to persuade the reader to purchase the client's product or service.
Imagine for looking for legit work-from-home opportunities and finding THIS when you go inside… WOW


Yes, you need discipline. But the pain of discipline is far less than the pain of regret. Go here, and see if it can help you.
2. Two Choices To Get A Good Sales Copy.
By now, you already understand the crucial role of copywriting in your marketing campaign, don't you?
So the next logical question is – How to achieve it?
Well, essentially, there are only two choices. You either
1. Find a professional copywriter and ask him to write your sales pages (expect to pay for his services).
or
2. Create the sales pages yourself. For this, you have to learn the fundamental skills of copywriting.
So this is what you have. Take it or leave it.
Anyway, now that you know your choices let's see what suits you best.
Option #1. Hire a Professional Copywriter
This option, of course, is an attractive one. After all, these dudes are pros and know how to write compelling sales pages that convert. But…
You are going to face two major challenges!
Firstly, it's a jungle! A big scary jungle of freelance copywriters. It's easy to get lost in it and end up mismatched or getting roughed up financially. Whooee! You sure could get lost in there, couldn't you?
And secondly, hiring a copywriter is expensive.
Do you know how much you have to shell out to hire one?
Well, John Carlton, one of the top copywriters walking the earth, can tell you. In his article "How to Hire a Copywriter?"  John makes it crystal clear what to expect.
His article is comprehensive but, I highly recommend reading it (and, in fact, bookmark his site).
Here, I distill out the prices for you. According to John Carlton, all copywriters fall into three distinctive groups:
Level one: Raw Rookie copywriter
They are beginners, "with little or no track record, and few if any prior clients."
Expect to pay from few hundred bucks up to $5000. "
However, they are untested, and you must be clear that you will be paying for part of their education."
Level two: The veteran direct response freelancer.
They have references, success stories, and also "have massive marketing experience. "
They are good but not cheap. Top writers ask from $10,000 to $30,000+ "just for fundamental advertising (like a Video Sales Letter, or a web sales page") and so on.
Level three: "A-List" writers.
They are the best in the world. If you are ever able to hire them, expect to pay at a minimum "$30k and up past $50k into six digits… including some royalty, even on the first job."
But, according to John Carlton, these guys "are out of the league of nearly all entrepreneurs."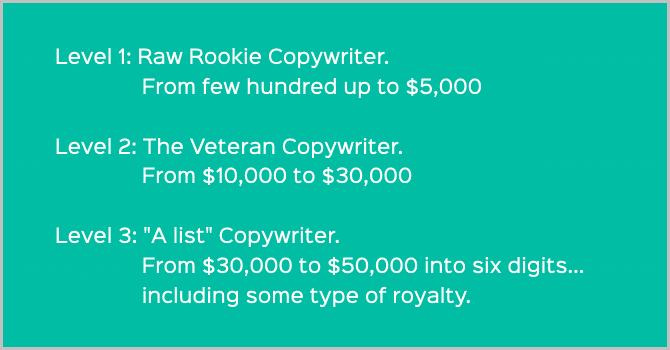 Option #2. Learn Fundamental Copywriting Skills And Create Sales Copies Yourself.
If you don't have what it takes to hire a professional, the only other choice you have is to write your sales copies yourself.
But wait. It's not such a bad option at all!
Don't believe me?
Listen to what John Carlton has to say about it:
"You may have zero skills, and be mostly riding your passion for becoming independently rich into the entrepreneurial world.

Hey, it can work. I know a lot of entrepreneurs who made a gig work, learning everything as they went."
Another strong argument of his:
"I highly recommend that anyone craving success as an entrepreneur learn how to write fundamentally-solid sales copy. /…/

get this fundamental understanding of what goes into good sales copy under your belt asap. Consider it a primary asset in your business toolkit. A PRIMARY asset."
Did you read it? A PRIMARY asset!
That's just exactly why I think this option is the better one for a rookie entrepreneur. At least in the beginning.
Did you also notice that you should make a fundamental understanding of writing a good sales copy?
Now that's pretty much over your head. But don't let that scare you. There is a way and, believe me, an excellent way to learn the best copywriting techniques. Let me explain it to you.
Do you remember the third level of copywriters, called "The list" writers? The best in the world? You do? Great.
Now listen up! The best of all of those "The list" copywriters was… Gary Halbert (1938-2007).
And now, this very Gary Halbert comes to a rescue mission – He jumps in to guide you step-by-step and give you all the skills you need to write a compelling sales copy.
Don't believe me? I'll show you in a minute.
But before that, let me tell you a little bit about this mysterious Gary Halbert. To give you an impression and build your trust.
3. Who is Gary Halbert?
Well, if you haven't heard him before, Gary Halbert was one of the best copywriters of all time. The "Michael Jordan" of the copywriting world.
"In the world of copywriting, all roads lead back to Gary Halbert," – Paris Lampropoulos.
Gary Halbert's work, achievements, and teachings have "inspired and launched the careers of more of today's top money-making copywriters than anyone in history."
Why was he so powerful?
A good question. That's why: simplicity, clarity, thoroughness, and selling power. A pure genius.
But you know what? Gary Halbert was not only a master copywriter. He was also a master teacher. One of his characteristics was an ability to distill "his highly sophisticated and hard-earned knowledge into simple, easy-to-understand principles that everyone could profit from," states Ken McCarty in his memory of Gary Halbert.
Gary was committed to helping others. Over the years, he wrote tons of newsletters, which he uploaded to his website for everyone to read for FREE!
And, what this means, of course, is that you have free access to
The Best Copywriting Stuff In The World! Just Read, Absorb, And Learn.
Gary Halbert's archives include almost all the Gary Halbert letters.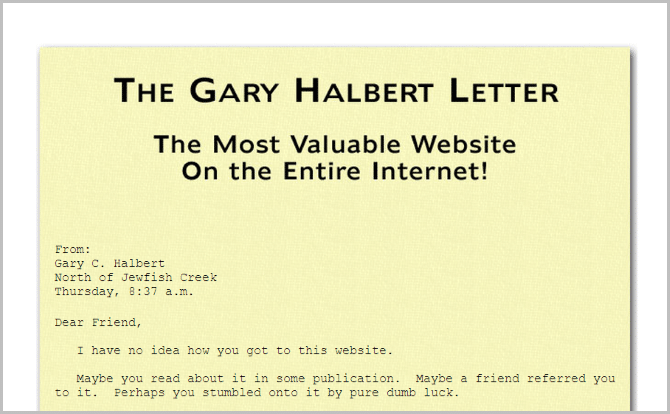 Unfortunately, these letters are not organized in ANY way. So you have to say thanks to Ryan McRath, who took the time and energy to sort Gary Halbert letters in chronological order.
4. Gary Halbert's Way To A Sales Copy Mastery
Now when you know who Gary Halbert was, let's move on and see how he comes to help you.
After all, your goal is to learn to write compelling, selling sales copies, isn't it?
If this is the case, then, in my opinion, the best place to start is the Gary Halbert Letter on How To Become a World-Class Copywriter In Just 30-Days.
You can achieve these skills in 30 days!
Don't laugh! He is not joking. That's what Gary promises you: "Actually, I may not be able to make someone "world-class" in just 30-days, but I can almost certainly make such a person better than anyone he or she is likely to be able to hire."
And this is just exactly what you want, right?
Well, to achieve the goal, Gary gives you quite a few home works and tasks to do.
Homework #1: To begin with, he wants you to read the following books and letters:
(* This and some other books are also available as e-books.)
I recommend you begin with The Gary Halbert Boron letters. Firstly, It is something you can do right away. And secondly, Gary wrote these letters from the Boron prison to teach and instruct his son Bond Halbert.
Bond was still 15 when he got his first letter, and this way, the Gary Halbert Boron letters could easily be called "Copywriting for dummies" or something like that. Also, the letters formed an outline of Halbert's philosophy of direct marketing.
Onward.
Homework #2: After you have done with the books, you have to find a copy of the next ads and direct mail letters:
"Do You Make These Mistakes In English?"
What Everybody Should Know About This Stock And Bond Business"
The Nancy L. Halbert Heraldry Letter" (an example sales letter).
How To Burn Off Body Fat, Hour-By-Hour"
At 60 Miles An Hour, The Loudest Noise In This Rolls Royce Is The Ticking Of The Electric Clock."
Why Men Crack"
How To Collect From Social Security At Any Age"
The Admiral Byrd Transpolar Expedition Letter"
The Lazy Man's Way To Riches"
Again, to save your time, here's Ryan McRath's post, where he provides all the links to the Gary Halbert ads. In fact, Ryan had to spend "countless hours online trying to track each of these down." It wasn't an easy task for him, but he made it very comfortable for you. Just go to his page and download the ads.
Homework #3: OK, now that you've downloaded all the ads, your third task is… "to sit down and copy them out word-for-word in your handwriting."
DON'T SKIP this task.
If you want to get the results, Gary promises you better follow his instructions word-by-word.
Listen. I have done it, and I have found it an amazingly beneficial exercise!
Well, anyway, this is how you get you started. There is much more to do. It's impossible, in this brief review, to list all of these tasks. You will find all the other tasks with detailed instructions in Gary Halbert's letter. Just follow them word-for-word, and soon you will see your copywriting skills sky-rocketing.
Here you find yet another great post on writing a world-class copy by Gary Halbert.
5. Conclusion
The steps above are how I am learning the fundamental skills of copywriting. They are so efficient that it takes my breath away. Honestly!
You don't have to be the smartest person in the room to write a good sales copy — follow the steps shown above word-for-word, and these skills will propel you ahead of a majority of copywriters in the world.
What if I could show you a real system you can use to put $1,200+ per month into your account, working from the comfort of your home…

…Would you be interested?

I'm not telling you it's going to be easy… I'm telling you it's going to be worth it. Go here, and feast.
You invest some time upfront now. Your work and efforts will be seriously rewarded in the long-haul.
Share Your Ideas:
How else can you learn to write good sales copies? Please drop me a comment below, and I will get back to you.