Do you need an excellent analytics tool for Twitter? If so, then scroll through the list of the following 19 best Twitter Analytics tools 2016 and see which one you prefer.
All these 19 are handy tools. They help you save your time and raise work efficiency.
If you knew how to make $1200 a month online, from the comfort of your home, would you do the work?

…Well this is your chance


It's FREE to get started, too (no credit card required). You'll like that part…
I sorted the tools for you so that in part A of the list, there are only those tools with a price tag. The second part of the list (B) includes FREE Twitter analytics tools. Otherwise, all the tools are in alphabetical order.
There is one thing that I want to mention, though. While doing my research, I have found that payware tools with a free trial or limited free plan are often advertised as free tools. In my opinion, it's confusing and not particularly honest toward customers.
That's why I have made plain clear that a free tool here is free indeed.
And although few of those payware Twitter analytics tools have free trials or free plans available, they're still payware. Their free parts are mostly massively limited.
If you prefer an entirely FREE tool, go right to the second part of the list.
Anyway, payware or freeware, most of them you can try for free. So why not try them right now and pick the one you like best?
Here we go:
Part A. Best Twitter Analytics Tools – Payware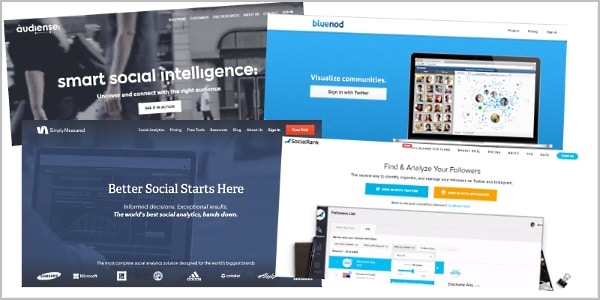 It is a tool to visualize Twitter communities and find influencers. Bluenod tool maps and visualizes a Twitter profile, community, or hashtag. It helps you see what was being tweeted and by whom (Twitter influence) and with what amplification.
Features:
Find influencers
Manage your Twitter lists
Export data and get more insight into hashtags
Target topic-related communities
Identify influencers and their networks
Connect with key influencers
Visualize real-time information
Display your event community and embed your map
Manage attendees Twitter lists
From $35 per month.
---
CrowdRiff is a platform and a digital asset manager for Twitter and the other leading social media channels. It uses a unique scoring system, which makes it easier for you to find, manage, and share the content that matters to you.
Features
Command your content from a fully searchable collection of curated visual assets from across the social web.
Develop personal relationships as a natural byproduct of your workflow by initiating individualized shoutouts to your content creators.
Get rights to visual content quickly and securely
Post, publish and embed content wherever you need to
Make it easier for people to take action by layering targeted Calls To Action onto your content.
---
Klear is one of those social intelligence platforms that provide you solutions for social monitoring, influencer marketing, and competitive intelligence.
Features
Social media listening, analytics, and reporting.
Find and create relationships with the top influencers in your sector and build your community
Track your landscape, see what's working for them and develop your strategy
Limited Free Plan. Other plans from $249 per month
---
In-depth social media analytics for all Twitter and the other main networks. It's a web-based tool to help you track, benchmark, and optimize your social media performance. It allows you to benchmark your numbers against your competitors'. Then derive an optimal social media strategy.
Features
Get valuable competitor insights and data
Combine the social media data of all your social networks in one tool.
Visualizes and checks your social marketing success, presented in a clean and neat design.
Automate the reporting of your social media analysis.
Free Trial. Plans from $129 per month
---
Social Media Monitoring and Analysis made easy. Simple Twitter and Facebook monitoring, beautiful reports, and analytics in Excel.
It does not exist anymore.
---
One of the leading social media analytics to provide in-depth measurement and reporting across Twitter, Facebook, Instagram, etc. This social analytics tool is specially designed for brand marketers and social teams.
Features
Analyze and understand the audiences, conversations, and competitors that matter to you across every channel.
Uncover the impact your brand tactics have on audience engagement and optimize for the best results possible.
Free Trial. Plans from $500 per month.
---
The tool to help you identify, organize, and manage your followers on Twitter and Instagram in an easy way.
Limited Free Plan. Other plans from $49 per month.
---
This is an iOS app for See all stats about any Twitter or Instagram account, be it yours, your competitors', your friends, celebrities, or just about anyone! Track these stats over time to see how these accounts are performing.
What if I could show you a real system you can use to put $1,200+ per month into your account, working from the comfort of your home…

…Would you be interested?

Don't wait the right moment to start a business. It never arrives. Start whenever. Now.

Part B. FREE Twitter Analytics Tool
Gain intelligence, expand buyer personas, generate campaign specific audiences, serve relevant content to the right people at the right time.
Features
Segment your own or new target audiences. Identify influencers. Connect and leverage their communities
Who does your audience say they are? What do they talk about? How do they think? Uncover what makes people tick
Whether public or private, organic or paid, optimize your audience engagement at scale
Track all your organic and paid campaigns in detail
Free
---
Get a daily email with the most recent follows and favorites of five Twitter users of your choice.
Receive a highly actionable daily digest alerting you to these new signals.
Learn & Explore via others' social activity.
Free
---
It helps you create and share great content. For this Klout
Suggests shareable content that your audience hasn't seen yet.
Track how retweets, likes, and shares change your Klout Score.
Free
---
Analyzes any Twitter account to show you their most retweeted tweets!
Free
---
Riffle by CrowdRiff (Free Chrome Extension) is a simple tool that gathers Twitter engagement, interest, and activity analytics in real-time.
Features
Adds a personal touch to every interaction to improve customer experience and build brand loyalty.
Enables companies to find the influencers in the online community and gain vital intelligence on competitors.
It integrates with every Twitter platform.
---
Powerful Twitter Analytics for tweets, timelines, and twitter maps. Find, filter, and sort tweets or handles by influence, engagement, sentiment, location, and more.
Some Features
Real-time Twitter searches, insights & analytics
See who's tweeting about you or your brand
Fullscreen tweets and auto refresh features
Sort tweets by reach, engagements, language & more
View top influencers, mentions & hashtags
etc.
---
Socialbakers is an exciting social media analytic tools from the Czech Republic. It provides social media management services and deep data analytics for most of the social media platforms like Twitter, Google+, Facebook, LinkedIn, YouTube, Instagram, etc.
---
SumAll is your social media analytics and business dashboard. It helps you understand your audience and thus make better marketing decisions.
Features
It helps you create social marketing campaigns that cover your entire customer base.
See your followers, understand your fans, and target the audiences you're looking for all from our brand new interface.
Lets you export your Twitter audience with Time Zone, Network Size, Following, and Engagement data so you can make your ads and messaging more precise.
Help you improve your social media campaigns with actionable, data-driven guidelines and validate those efforts with visualizations.
---
Analyze your connections on Twitter. How many mentions and retweets did you get? Users you are most engaged with. Interactive map with locations of users …
Analyze any user on Twitter
Analyze keywords and hashtags on Twitter
Analyze from any device
etc.
---
Free Browse, search, filter, and get insights on the people you follow and those who follow you. Backup/export tweets, retweets, mentions and reports to Excel & PDF
Some Features
Get detailed and visual analytics on anyone's tweets, retweets, replies, mentions, hashtags…
Browse, search, filter and get insights on the people you follow and those who follow you
Backup/export tweets, retweets, mentions and reports to Excel & PDF in just one click
Monitor your interactions with other Twitter users: mentions, retweets, favorites…
etc.
---
Twitter Analytics is a powerful analytics tool, and if you know how to use it properly, you can benefit tremendously. It helps you learn how to make your Tweets more successful. Also, explore the interests, locations, and demographics of your followers.
Conclusion
Did you have time to try any of those 19 best Twitter analytics tools? Some of them are stronger than others; some come with a hefty price tag, while others are entirely free. Yet if you are serious about Twitter and social media marketing, you should consider using at least one or two of them. They help you analyze and plan your social media campaigns much more efficiently.
And finally, if you happen to be a newbie marketer, do you want to learn how to build a successful internet business right from scratch?
Imagine for looking for legit work-from-home opportunities and finding THIS when you go inside… WOW


Yes, the raw, sizzling beauty of passive income stream online… Look closer now. Because sometimes 'later' becomes 'never .'
Share Your Ideas
Please tell me which one of these 19 best Twitter analytics tools do you like the most? And why? Do you know or use any other analytics tool that is not listed here? Please let me know by dropping a short comment below.
Related Articles: