YOU CAN find a Melissa Johnson work home scam in the form of many different "news" sites. All of them beautifully decorated, all of them targeting (often vulnerable) stay at home moms.
The narrative of the scam is always the same:
A struggling mother who, after losing her job, turns to the Internet in the hope of making some legit income online. Being aware of millions of get-quick-rich scams online, she is extra cautious in her exploration.
Better ALTERNATIVE to the Melissa Johnson Work Home Scam that will help you make $1200+ a month online. And these testimonials are proof.

It's FREE to get started, too (no credit card required). You'll like that part…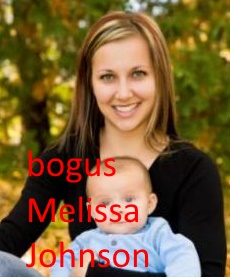 Then, on one lucky day, she stumbles upon an excellent legit opportunity perfect for inexperienced people like herself.
Not only that, the whole money-making process is easy to learn and apply. As a result, now Melissa is making thousands of dollars per month (see below). She makes enough to buy a new German Premium class car and take her family to her dream vacation in Hawaii.
Everything in that story looks beautiful and something that you might like to emulate. But only as long as you don't bother to dig deeper.
As soon as you hit the shovel into the ground, it gets gruesome.
Let me dig for you and see whether you like what comes to the daylight.
Before that, though, if you are a stay-at-home mom looking for ways to make side money online and don't want to get mugged…
Full Review – Melissa Johnson Work Home Scam
Who Is The Prey?
Who are the potential victims? Whom do these brutal online predators prey?
As you might suspect, their primary target audience is highly vulnerable stay-at-home moms (probably you as well) — moms who cannot go to work and therefore look for other ways to make money from home.
Even worse. These cybercriminals are preying on innocent moms worldwide – in the Americas, Europe, Asia, everywhere.
Melissa Johnson's Pseudo Name List
Let's start with Melissa Johnson – the infamous stay-at-home mom who makes a massive pot of money online.
Melissa Johnson is from… From where exactly?
Truth to be told (as I will show you shortly) phony Melissa Johnson is from almost every single country in the world.
Not only that. Often, Melissa also has a different name (or face, age, monthly income, etc.).
In some articles, she is called Melissa Johnson. In others, Kelly Richards: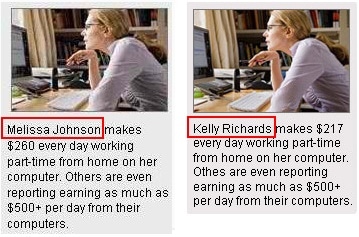 There are even more names which all refer to the same bogus stay-at-home mom who's making thousands from home:
Melissa Johnson (well, from many different countries), Lisa White from Cambridge, UK, Theresa Andrews (from Fort Lauderdale, Florida, US), Mary Vahgn (from New York), Jamie Taylor (US), Maria Shutova (Varna, Bulgaria), Kelly Richards (from New York), Alina Cruz (Manila, Philippines), Leah Williams (UK, Canada, etc.)…
Melissa Johnson from Different Races…
Next, and this is going to be interesting. Do you want to see how Melissa Johnson from Indonesia looks like? Or Melissa Johnson from Vietnam? Or Melissa Johnson from Portugal?
As you might expect, they are quite different: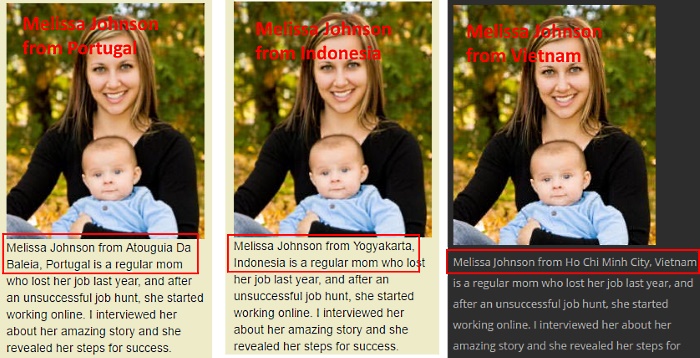 Sometimes, She Looks Like This, Though: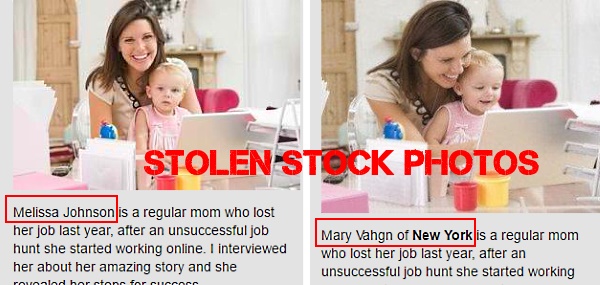 When Scammers Mess It Up
That's what happens when people cheat. Sooner or later, it will come out. Is she Melissa Johnson or Kelly Richards:

Tired of scams? Here's something you can do, at home and at your own pace, to make $1200+ a month online.


Finding out more costs nothing. And you're not committing to anything else.
Preying Moms from the US to the UK to Indonesia
As you can see in the list below, these con-artists target pretty much every country in the world. Of course, I could not find all of them (If I had spent more time on my research, I probably would have found all of them).
But this is not my purpose here. I aim to show you how wide-spread the fraud is. With these 18 targeted countries already exposed, you will get a pretty clear picture, won't you?
Here's the list of the countries which the scammers target:
United States, UK, India, Jamaica, Portugal, Bulgaria, Slovenia, Estonia, Denmark, Rwanda, Indonesia, Ukraine, Philippines, Bosnia and Herzegovina, Romania, Vietnam, Russia, Canada…
See! You can find countries from the Americas, Western and Eastern Europe, Asia, and even Africa.
To prove my case, let me show you how these fake news sites look like:




Look also more examples from The Career Journal Online and Biz Weekly.
Different URL's Used to Promote the Melissa Johnson Work Home Scam
As always, scammer use tons of different domain names. All that in their attempt to trick innocent, vulnerable, and often desperate stay-at-home moms into signing up with their bogus make-money-online products.
There is a reason behind this behavior. As soon as cyber-charlatans get caught and their site is closed down (or just exposed), they move it to a new URL link. Here are just a few examples of the URL links that promote the scam:
masteringonlinecash.com
smartlifestyles.com
manyfutures.net
takesurveysforcashmobile.com
WAHC
etc., etc.
Even worse! Often you can find the bogus "Melissa Johnson work-from-home news report" in otherwise legit blogs. Blogs like Cafemon, Wisdom (anbuajithkumar.blogspot.com), etc., etc., etc.
What Products Will Make Moms $5,000 – $15,000 /month
It's time to see what are these magic money-making products turn struggling stay-at-home moms into wealthy entrepreneurs.
I researched and found a plethora of crap (or total scam) products that they are trying to force down your throat. All are make-money-online products, and all are designed to free you from your savings. Some of them you can see in the list below:
Facebook Income Fortune,
Home Income Cash System
Digital Money Machine
Take Surveys for Cash
Paid Surveys at home
Online Cash Source
The Safeguard Trader (Binary Options)
The Profit Maker (Binary Options)
Crack Brokers (Binary Options)
Obcasio (binary options)
etc., etc.
Remember! None, NONE of them will make you rich. None of them will be going to shower you with $5,000 to $15,000 a month: all that is cheap talk and nothing else.
Different Bite Sizes for Moms from Different Countries
The following is pretty impressive too. Look at the following bites for moms from different countries (and living standards).
$8,000 – $15,000 a month (being Melissa Johnson from Rwanda, Africa)
$6,000 – $8,000 a month (being Theresa Andrews Florida, US)
$5,000 – $7,000 a month (being Kelly Richards from New York, US)
$8,000 – $15,000 a month (being Melissa Johnson from Bosnia and Herzegovina)
$8,000 – $15,000 a month (being Melissa Johnson of Imus, Philippines)
$8,000 – $15,000 a month (being Melissa Johnson of Belgrad, Serbia)
$8,000 – $15,000 a month (being Melissa Johnson of Chernigov, Ukraine)
etc., etc.
Notice, these fake Melissa (or her clones) from developing countries make up to twice as much money as Melissa from countries with higher living standards. Why so?
I think there is a logic behind it. Moms from wealthier countries have better education. If you feed them with too unrealistic numbers, they become suspicious. On the other hand, those moms from poorer countries want more significant sums faster. Whatever the case, it seems to me it works this way.
Fake Journalists
As you might guess, Amanda Winston and Jason Goodman (authors of the majority of the false Melissa Johnson reports) do not exist. I tried to find these two journalists and read their other articles too. But there are no traces. No articles, no social media accounts, nothing. FAKE!
Melissa Johnson Scam in Different Media
1. In a Website Form
Since I discussed these phony "news websites" in some detail elsewhere (here), I won't repeat it all here. I tell that fraudsters are always working at creating more genuine-looking scams. It's harder to spot a fraud if it is hidden behind a "news" site. Moreover, it is molded into the form of an innocent news report. All that to build your trust and make you sign up at once.
However, this scam here is not limited to the phony websites only.
2. Melissa Johnson Facebook Scam
Here are some Facebook screenshots of the same Melissa Johnson scam. As you can see, they target stay-at-home moms from different countries: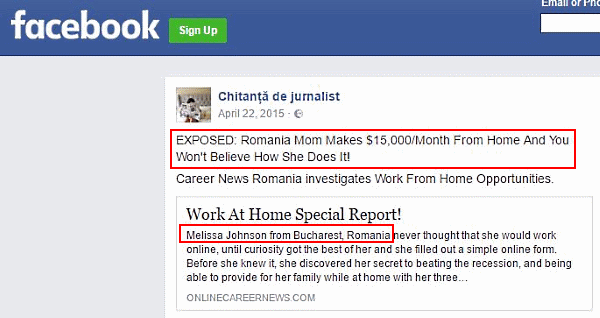 In the next screenshot, the same fake Melissa Johnson is introduced as Theresa Andrews of Fort Lauderdale, Florida, US: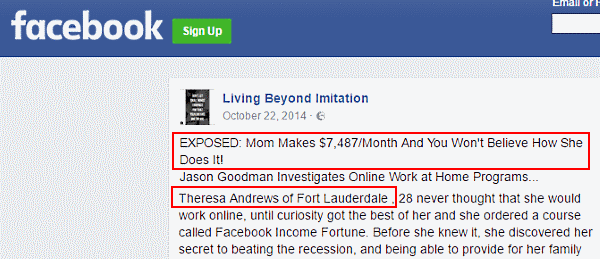 And here she is called Alina Cruz from Manila, Philippines: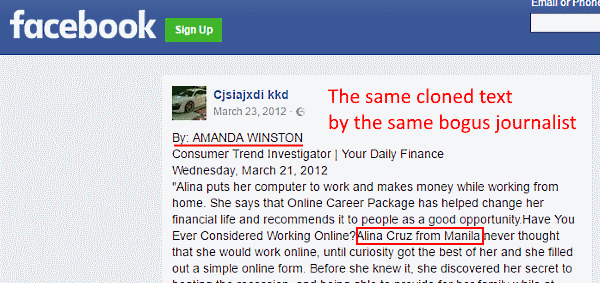 The testimonials under all these Facebook posts, as you might already suspect, are fake too. You can find the same comments and the same testimonials under tons of different scam articles.
Email Spamming
The shameless cyber-pirates use also email spamming in an attempt to trick stay-at-home moms into registering with their scam products:
My Verdict:
"Melissa Johnson – a mother who makes thousands by working from home," is nothing but an internet fraud. It is made to trick innocent moms into joining shady make-money-online products (like binary options scams, survey sites, etc.)
Verdict: SCAM!!! It will surely rob your money. STAY AWAY!!!
Imagine for looking for legit work-from-home opportunities and finding THIS when you go inside… WOW


Why not make it the very next thing you do? 
What About You?
Thank you for reading my detailed Melissa Johnson Work Home Scam review.
Now, what's your opinion? Is it a scam or not? Do you have any first-hand experience with it that you want to share?
Please tell me by dropping a comment into the comment section below.
Stay safe!
Egon (EgonSarvReviews.com)