MLM vs. Pyramid Schemes – What's the difference between the two? And can you make money on multilevel marketing?
This review tries to answer these (and other related) questions. Also, I try to make your choice easier. Please read through the review to see whether joining an MLM company is worth your time and money.
Let's start with MLM.
If you knew how to make $1200 a month online, from the comfort of your home, would you do the work?

…Well THIS is your chance


It's FREE to get started, too (no credit card required). You'll like that part…
What Is MLM Definition?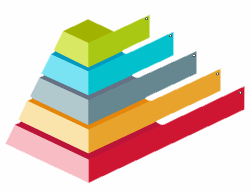 Multi-level Marketing (MLM) is a controversial marketing strategy where goods and services are sold through a network of distributors. Typically, members of an MLM company can make money from two (theoretical) revenue streams:
You can earn commissions by selling the company's products and services
You can earn commissions by recruiting new members and leveraging the MLM company's pyramid-style commission system (more on that later)
Why is Multilevel Marketing controversial? Please keep reading, and you will see.
But first, the Terms:
Multi-level Marketing is also called "MLM," "network marketing," "referral marketing," "direct selling," and "pyramid selling," "relationship marketing," etc.
Distributors are sometimes called "consultants," "promoters," "independent business owners," "salespeople," etc.
How Does MLM Work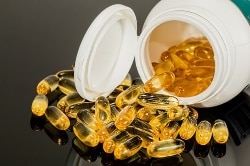 Probably you already have the MLM experience because these companies lure you everywhere.
They are on Facebook, in your workplace, even in your local church. They come to you with well-crafted sales pitches, attempting to persuade you into buying some all-natural shampoo, cosmetics, or an excellent new food supplement.
If you did not know, they are distributors of some MLM companies like Avon, Amway, or Herbalife.
How do these Multi-level Marketing companies work, and why are their distributors so annoying?
Here's how (and why):
MLM companies sell their products and services through distributors. Mostly, these distributors are private people who are trying to make some extra income.
To illustrate it, let's assume that you decide to join some MLM company as a distributor. Then there are two options for you to make income:
First, you can start selling its products and earning a commission from each sale.
Second, you can earn commissions by recruiting new distributors and receiving small portions from their income.
Not only that. If these distributors (recruited by you), in turn, recruit new distributors, you will receive a small portion of their income as well. And so on and on.
All these members who sign up under you in the recruitment chain are called your downlines. And those members above you in that chain (including the one who initially recruited you) are called your uplines.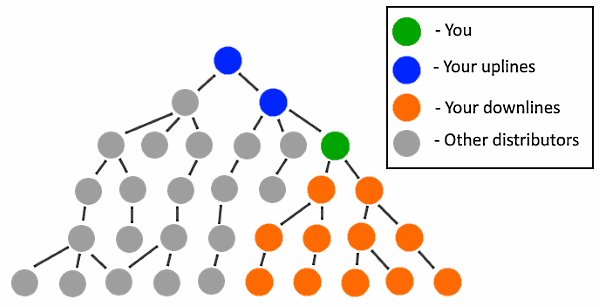 As you can see from the image, all downlines are beneficial to you. The harder they work (i.e., the more products they sell and the more new distributors they recruit), the more money you will make.
Also, the harder you work, the more money will make your uplines.
That's why this type of company is called an MLM – all their distributors stand at different levels. It's not hard to see that there are way lower-level members than those on the upper levels. In the same way, it's not hard to know where the real money moves.
Yes, you are right. Money rolls from lower levels to the upper ones, right?
And this is the reason why all these distributors of shampoos, essential oils, and food supplements are so annoying. It's not only about selling you a shampoo. It's about growing their downline tribe – recruiting you to join their "club." Then getting a cut of the money you make.
What if I could show you a real system you can use to put $1,200+ per month into your account, working from the comfort of your home…

…Would you be interested?

Don't wait the right moment to start a business. It never arrives. Start whenever. Now.

What Is a Pyramid Scheme Definition

Pyramid schemes are similar to Multi-level Marketing systems. But while MLM is considered legal, pyramid schemes are illegal.
Why so?
The big trouble with pyramid schemes is that they don't offer any meaningful products or services. Their business model is built on making money by recruiting new members.
When you join a pyramid scheme, the way you can make money with them is to lure unaware people into joining the system, then pressure them to do the same for others.
To be honest, pyramid schemes use the same recruiting system as MLMs – You earn commissions from your downlines while your uplines take portions from your income.
What about the products and services?
Some pyramid schemes don't have them at all. Others have but, remember this: The main focus of pyramid schemes is NOT on selling products (it is on recruiting). Plus, even if they have those products, these are mostly low-value products, which they pressure you to buy (the more you lose, the more they win).
A good example here is the Empower Network.  They have some extremely expensive information products, but when you look closer, you will discover, there are no products at all. They are selling you nothing but hope and thin air. Look yourself (here, here, and here).
Often MLMs even have high startup costs. You are required to pay them (or buy some crap information product) to start making money with them.
Tired of scams?
Here's what I use
to make money anywhere in the world.

Finding out more costs nothing. And you're not committing to anything else.

MLM vs. Pyramid Schemes
So what's the difference between the two?
Read the following and see if you notice the difference:
…MLM companies prioritize selling products and services over recruiting new distributors. Pyramid schemes, however, prioritize recruiting new members over selling products and services.
Did you notice the difference between the two? If not, please read again.
See! That's the very reason why MLM is such a controversial business model. The truth is MLM and pyramid schemes overlap each other a lot, and it is challenging to draw a red line and say, "This legal and this is illegal… This is a legit MLM business, and this is an illegal pyramid scheme." In a chart, it would be like this: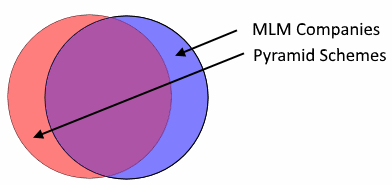 And that's the reason why it is so confusing and why these two names (MLM and pyramid schemes) are often used interchangeably.
That's also the reason why some of the biggest MLM companies in the world (USANA Health Sciences, Amway, Herbalife, Nu Skin Enterprises, and Mary Kay) have been accused of being pyramid schemes. And yes, often convicted as well. Herbalife, for example, had to pay $15 million to settle a lawsuit against it.
The truth is, the policies of most MLM companies are highly questionable and way too similar to illegal pyramid schemes.
Therefore, don't be fooled by the happy talk of Multi-level Marketing companies and their distributors.
Can You Make Money With MLM?
When you see all these glossy magazines of different MLM companies, featuring their top earners, luxury vacations, conferences, etc., you might be tempted into thinking that this is your opportunity of a lifetime.
After all, if all these tens of thousands of ordinary people can do that, perhaps you could do it as well.
If that seems like you, beware this:
The chances of becoming wealthy (or frankly, making any money) through MLM companies are exceptionally remote.
Why?
Because, according to the official statistics, something like 99.92% of all MLM distributors loses money. It means, out of 1000 people, only eight will succeed! Can you imagine! Everybody else, the staggering 992 poor souls end in red. How sad!
This situation happens because, as I mentioned above, all these systems are designed so that money rolls from lower levels to the upper ones. Therefore, the whole system is rigged against you.
Market Saturation
MLM and Pyramid Schemes cause rapid market saturation. There is another huge problem with all MLM and pyramid schemes. There are not enough people to make every distributor happy.
Why so?
Because the growth of the army of distributors is exponential.
Let me illustrate it.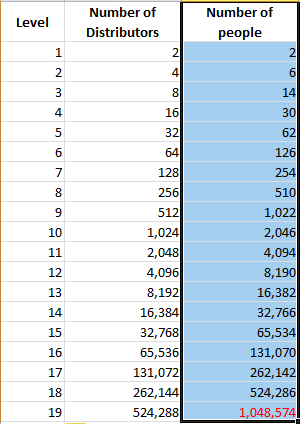 Let's assume a specific MLM company starts a business in your home town (say it is a city with a population of about 1 million people).
The very first member of that MLM company recruits two new distributors in that city. And these two new distributors recruit another two new distributors each.
And so on and on.
As you can see in the image on the right, after only 19 levels, you have run out of people in that city. There simply are no people left in the town.
Even worse! Out of these 1,000,000 members, over 500,000 are sitting at the lowest level. It means they have nobody to recruit or sell the products. Every single citizen is already a member of that MLM company. And thus, these 500,000 people on the lowest level have zero chance to make any money within the system. And they constitute half of the population of that city.
Not only that. On level 18, there are 262,144 people – this is over a quarter of the city population. So a quarter of the population has only two recruits each.
On level 17, there are 131,072 people. Each and every one of them has only four recruits.
Now consider this: Just these last three levels (levels 17, 18, and 19) make a whopping 917,504 people out of 1 million members (91.7%)!!!
Yet these 917,504 people cannot make any money.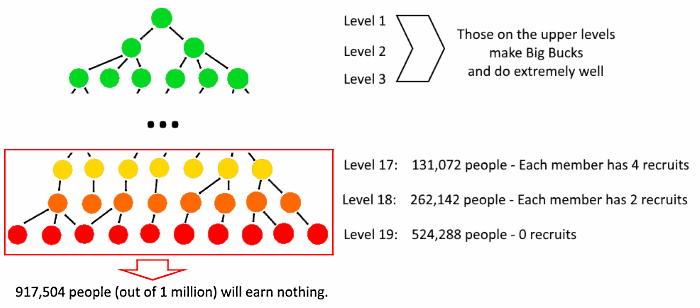 As a result, the MLM business stops, and a huge majority of its members are left frustrated.
So how do MLM companies tackle it? After all, they cannot print more people, can they?
So MLM companies solve this crucial problem? Well, they rebrand themselves into new companies (the same way how typical scams do).
For example, Amway alone has used over 20 different brand names. Nu Skin has used brand names like Pharmanex, Photomax, Big Planet, etc.
How does this rebranding help them?
Simple. It allows the companies to target the same people they had already screwed over. Did you remember, over 99% of all MLM distributors lose money in the multi-level marketing business? When these thousands of failed distributors see a new brand, they think that this is another unique opportunity to get rich quick.
Why Are MLM Companies Called Cults
Finally, this is another serious problem connected to Multilevel Marketing companies.
As you understand, multilevel marketing involves direct selling – one person approaches another and delivers his/her sales pitch. It's evident that the more friendly and supportive you are, the more you can sell.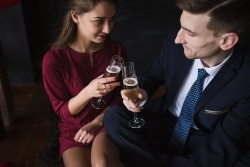 That's why Multilevel marketing is sometimes called relationship marketing. You build strong relationships. How? First, you find a prospect and sell him a shampoo or a food supplement. Second, you recruit him. Third, you train and motivate him to do the same to others (i.e., sell, recruit, train).
So you see, relationships in pyramid-shaped companies mean everything. Everybody is creating and building relationships. Upliners build relationships with you. You build relationships with your downliners. And the money keeps flowing from the bottom to the top.
Eventually, it becomes something like a vast family or ant colony. All your friends are there; your business partners are there, and your income stream is there as well.
What happens when one day you choose to leave the system?
If that day comes, you will discover two things:
First, it will be extremely complicated to cut off all these relationships. And that's probably the reason why people often choose rather lose money (in MLM vast majority lose money) than leave the system.
[Sidebar: In fact, I have been in one such system. So I have the first-hand experience of what that means. I can tell – a lot of tears, hurt, and broken relationships. I can say to you; I don't want to go through all this again. However, I am happy I decided to break out from that corrupt system, and I have never regretted it.]
Second, they don't want you to leave. They will begin to harass you and make your life hell, to say the least. It's exactly like in typical cults.
Final Verdict
After doing my research (and having a personal experience with one of them), I state my conviction: MLM is not worth your time and money.
Why?
First, it is because Multi-level Marketing is too close to illegal pyramid schemes.
Second, it is because your primary income will come from recruiting others and teaching to do the same to others.
Third, if the company sells products, most probably you will end up spending tons of money buying these products and being unable to sell them. And remember, the company won't repurchase them.
Fourth, the chance to make money with MLM companies are nanoscopic – Beware: over 99% of all MLM distributors lose money in the business.
Imagine for looking for legit work-from-home opportunities and finding THIS when you go inside… WOW


Yes, the raw, sizzling beauty of passive income stream online… Look closer now. Because sometimes 'later' becomes 'never .'
What About You?
First, thank you for taking the time and reading my review. I hope you found the information that you were searching for.
Now, what are your thoughts on MLM vs. Pyramid schemes? Can you make money with Multilevel Marketing, and would you recommend it to others? Please drop me a comment below, and I will respond.
Stay safe!
Egon