What is the Millionaire Blueprint scam? And… Is the Millionaire Blueprint a scam to begin with?
Well… The Millionaire Blueprint promises to make you a millionaire within the first 3 months after signing up for their system. I don't know about you, but to me, it smells like another shameless online scam. And, as I will prove it to you in the Millionaire Blueprint review below, it is a scam indeed.
So let's dig right into the details.
[Sidebar: If you are not interested in Scams, check out THIS instead! You're gonna like this.]
Quick Summary
Name: Millionaire Blueprint (also Free Money System)
Website: www.millionaire-blueprint.com
Price: Free sign-up, required deposit: $250
Demo Account: 60 day test drive = $79
Alleged Owners: Walter Carter; Walter Green
Skill level: Beginner (No skills needed)
My Overall Rank: 1 out of 10
My Verdict: The Millionaire Blueprint is a scam and deceptive rip-off scheme. Stay away!
Better ALTERNATIVE to the Millionaire Blueprint that will help you make $1200+ a month online. And these testimonials are proof.

Why not give it a whirl right now? You're certainly not committed to anything.
Full Review – What Is the Millionaire Blueprint Scam?
Truth be told, when I first discovered the Millionaire Blueprint and tried to understand it, I found the product highly confusing.
Why?
Because, honestly, there are TWO similar products, The Millionaire Blueprint and The Free Money System. It is not so easy to figure out what is what.
More interestingly, there are also two men behind these two products, and both of them are called Walters. They are Walter Carter and Walter Green.
Anyway, let me state clearly and right from the beginning – The Millionaire Blueprint and the Free Money System are the same product: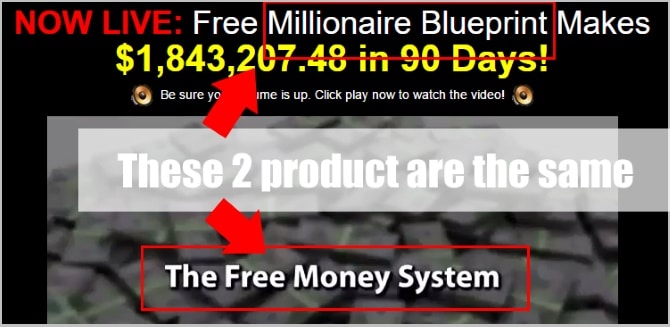 Walter Carter
He is a multimillionaire and the alleged founder of the Millionaire Blueprint. He brags about having a passion for only two things in life:
Exploring and Exploiting the opportunities that are available online
Making money from doing so…
And, as you might suspect, he is also bragging that everything he does is completely legal.
So, why did Walter Carter create a Millionaire Blueprint?
First, it's a kind of revenge:
The second reason for this is that in the past, Walter Carter happened to be "one of the most senior analysts/traders at one of the largest investment banks in the world." Then and there, he was lucky enough to design a wildly successful trading model. This model became his secret formula that is now powering the Millionaire Blueprint software.
However, one day he was "backstabbed by the group who was trying to sell my software," says Walter Carter. They "cut me out of the deal."
That's why he now is giving his secret money making software for free.
Walter Green
This is the second Walter in the picture. He is the man behind The Free Money System.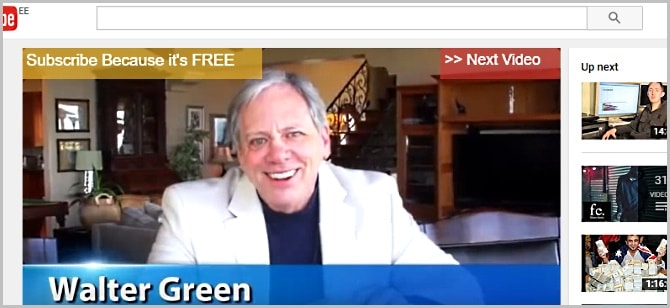 If true, his story could be a beautiful fairy tale. However, it's a common trick in the world of scammers.
Read and see if you agree. Enjoy.
Walter Green, a former equity partner for a major law firm, loses his job because of his serious health problems. He can not pay his bills and ends up broke.
Then one day, in one of the darkest moments in his life, his cousin calls him. And… WOW!… His cousin introduces him to a secret system, a loophole in Binary Options trading. In fact, Israelis were the ones that had discovered that Holy Grail back in 2010. However, through his company and by accident (or luck), Walter's cousin got that secret, the code, and everything.
Now he is making millions of dollars by exploiting that system. However, he desperately needed legal help from Walter. That's how the deal between these two was born – Walter gave his cousin legal help and, in return, got access to that secret Holy Grail.
Today, six years later, Walter Green is bragging about having 48 million dollars, ten huge mansions around the world, Rolls-Royce and other fancy cars, etc., etc.
However, he has a good man and has a passionate heart. That's why he wants to introduce his secret method to YOU. The method is… The Free Money System.
He promises to make you a millionaire – in 3 short months.
There is only one string attached to the deal – you have to act at once. NOW! Because tomorrow… Well, he plans to retire, and you never hear of him anymore.
End of story.
Did you enjoy it?
If you ask me, his story resembles all those infamous Nigerian letter frauds, do you agree?
Is the Millionaire Blueprint a scam? Well, from his story, it seems so. I become very cautious.
The General Idea Behind the Millionaire Blueprint (The Free Money System)
Walter Carter has built his software system to trade Binary Options. However, he makes it plain clear: "If you may think this may sound a lot like a Binary Trading, you are wrong."
Also, he says that it is not even trading.
If so, what is the Millionaire Blueprint?
Here's the small dirty secret:

The main idea behind the Millionaire Blueprint is currency manipulation. It means they take US Dollar, change it into a British Pound, then into a Japanese Yen, and finally back into a dollar. And voila…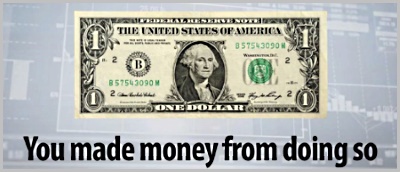 Obviously, the Millionaire Blueprint software is more complicated, but you got the picture, didn't you?
And for you, also obviously, everything is automated. It means you don't need to move a finger other than investing a little of your money. After three months You will be a millionaire.
At least, that's is what they promise.
Price?
What do you think about how much you must shell out to get access to the system?
Walter Carter says that he gives you the Millionaire Blueprint software completely free.
Does that mean you can earn your first million dollars with zero investment from your part?
No! And here's why:
There are two things that are free, indeed.
Millionaire Blueprint sign up process is free.
Millionaire Blueprint software is free (According to Walter Carter, his super-duper-wonder-software itself costs close to $500,000. But then, who knows?)
Anyway, they give the software to you free of charge. Good news, right?
Wait! This is just the beginning. It is a bite to get you in.
Do you want to earn your first million with the Millionaire Blueprint? Then you need to open a new trading account with a broker of THEIR choice.
What will you do with the account?
Exactly. You must deposit $250. It's YOUR money. The Millionaire Blueprint system will use it for trading.
It does not stop here, though. Faster than snow melts before the summer sun, you will learn that you need to deposit much bigger sums. Remember, you will be going to deal with high-pressure salespeople who use every trick in their toolbox to rob you blind and leave you out to dry without any feelings of guilt or remorse.
Look at this Millionaire Blueprint testimonial: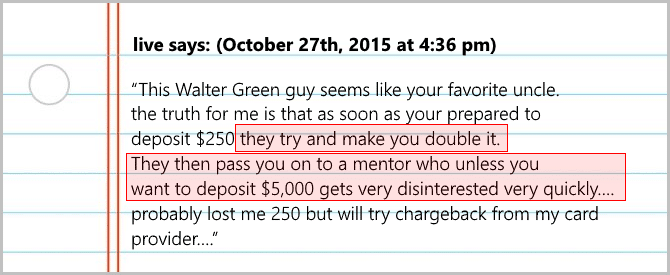 Is the Millionaire Blueprint a scam? I don't know about you, but I smell a rat here.
There's more to come. So please keep reading.
Tired of scams?
Here's what I use
to make money anywhere in the world.

After all, with so much to gain—and with absolutely nothing to lose—shouldn't you at least take a look?
What Is the Millionaire Blueprint Scam – 10 Red Alerts
There is a good old saying that if it looks like a duck, swims like a duck, and quacks like a duck, it is probably a duck.
That's just exactly what I see here. Is the Millionaire Blueprint is a scam? To me, there are strong signs that indicate it.
Why?
Because it looks like a scam. It stinks like a scam. It behaves like a scam. Therefore, it probably IS a scam.
Red Alert #1: Unrealistic promises
They promise to give you exact steps for turning $10,000 into a $1,000,000 portfolio quickly, with NO additional capital ever required. (Truth – as soon as you deposit an initial $250, they call you and try to get you to invest extra $500, $1,000, $5,000, and now $10,000!?)
Millionaire Blueprint is 100% Easy Cash Generating Software. (Truth – for THEM. Not for you. No software can guarantee you 100% success while predicting markets.
Walter Carter is going to make you a millionaire in 3 months tops. – (Truth – plain Get Quick Rich Scam scheme).

NO work needed from your part (Truth – internet marketing, like every other business, requires hard work, time, energy, perseverance, commitment, etc. Don't touch any products that promise you quick wealth with NO work from your part. (your link)
Red Alert #2: Selling dreams
Ferraris, Rolex watches, nice mansions… That's exactly what Get Quick Rich scams sell you – BIG dreams full of hot air.
Red Alert #3: No Professional Videos
Look at the Walter Carter – driving Rolls-Royce and owning fancy mansions around the world… Meanwhile, being unable to produce professional sales video. I don't know about you, but these contradictions arouse doubts in me.
Red Alert #4: All Other Marketers Are Dead Wrong

Affiliate marketing, SEO marketing, Blogging, Forex Trading, Cryptocurrencies such as Bitcoin/Litecoin, Stocks, Penny Stocks – all these are old hat marketing and the standard internet bubble. Compared to Walter Carter's secret ULTIMATE METHOD – Currency Manipulation.
It is stinking, to say the least.
Red Alert #5: NO Marketing Skills Needed
Walter&Walter claim that everything is on autopilot and their dream team does all the job for you. And you… do NOTHING.

Well, the truth is you cannot be successful without having skills. Their own disclosure says that binary options are a high-risk market, and you have to be ready to lose all your investments.
In his promotional video, Walter Green introduces a young lady, a complete novice in marketing. He then helps the lady open her Free Money System account. After that – yeah, initial deposit $250, and that's it.
After that – sit back and relax. The Free Money System autopilot does all the trading for you.
Within a minute, over $100 are added to the lady's bank account.
Now, Walter encourages (notice this?) her to invest another $100.00, and a minute later, she has made $431.03:

Tempting?
Did you notice the trick?… Open your wallet…!
Next, Walter sends the lady home, promising that she will be a millionaire in three months. And yes, the bare three months later that lady is… a millionaire:

Fairytale? According to Walter Green – No! The Millionaire Blueprint software produces this miracle for you.
To me? Is the Millionaire Blueprint a scam?  I have a strong red warning light flashing.
Hey, my friend! Be extremely careful. Money doesn't grow on trees! This Quick, Easy, and no Work from your part should activate an alarm and big a red flag. Dear friend – it is a TRAP to suck you in and make you their milking cow.
Red Alert #6: Fake Video Testimonials
People are giving exciting testimonials in that Free Money System promotional video. They glorify the system and tell how they got rich.
But hey! These people in these videos are paid actors.
What?
Yes. You can find plenty of them on Fiverr.com, all ready to record whatever testimonial you need.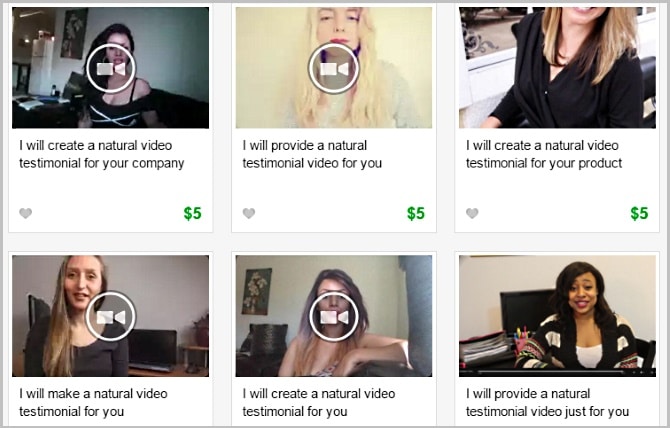 See!
The following is the screenshot from the Free Money System (Millionaire Blueprint) video testimonial:
Well, now go to fiverr.com and type in "record a 50 word HD video testimonial".
Huh, I got this: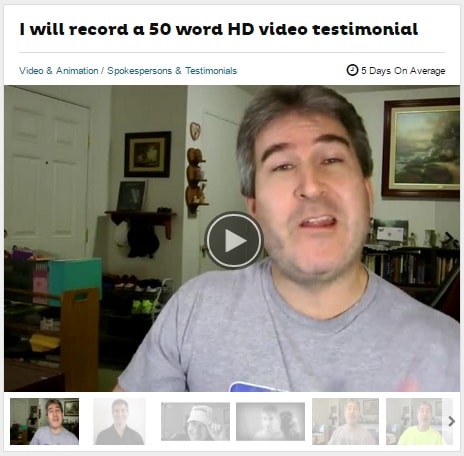 Same guy, right?
Hey, man! You lie to me, don't you?
Walter Green claims that THESE exact people were the very first registrants of his software and the beta testers of his software.
Listen, THIS is an outright lie. Walter Green lies through his teeth, lying with a straight face.
Is The Millionaire Blueprint a scam? I leave you to answer.
Red Alert #7: Fake Scoreboard (Scarcity Counter)
If you visit the Millionaire Blueprint (Free Money System) site, you notice that only a few vacant spots are left:
They pitch you hard to sign up at once.
However, if you go to their site the next day (or 10 days later, or 10 months later), you will see that free spots are ALWAYS available.
Yet again, that Walter Green lies right to your face.
Red Alert #8: False Sense of Urgency
Walter Green claims the financial elite in the world is afraid of getting his video out. Also, he claims to retire soon. Therefore, you have to act at once OR miss the opportunity of a lifetime.

Again, a plain, outright lie. The video is sitting stubbornly there, week in and week out.
Red Alert #9: They Don't Want Your Money… Really?
Walter Green says: "Remove those credit card details, Paypal details, Escrow details from your mind."
Why?
Because they will NOT ask that data from you:

Really?
See these complaints: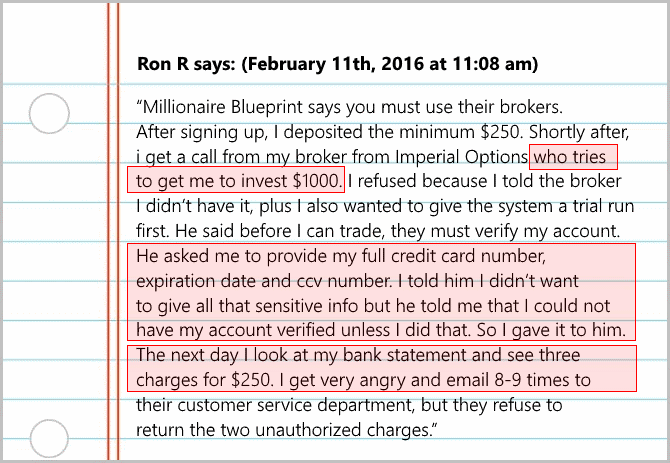 Is the Millionaire Blueprint a scam? Hey! If this is not stinking scammy, then what is it?
Red Alert #10: Positive Reviews Come From Affiliates Only
Have you ever checked the positive Millionaire Blueprint reviews? See, all the reviewers who give thumbs up to the Millionaire Blueprint are affiliates of the product. Check the links, and you will see. The links are affiliate links.
They don't care if you lose your money or not. They want to make commissions on you.
Now, this, in my humble opinion, is highly stinking. People are so greedy and desperate to get your hard-earned dollars that they are willing to sell you even an outright SCAM product.
Disgusting.
Can You Earn Money With Binary Options?
Yes, it IS possible to make money with Binary Options. But it IS also possible to lose all your investments with the system. Binary Options is a high-risk business, you know.
Yes, even with the trusted broker, the risk is high. To succeed, you need knowledge, skills, and experience. It is NOT as Millionaire Blueprint tries to convince you – just invest your money, snap your fingers, and cash begins to rain down on you.
If you plan to invest in Binary Options, I highly recommend that you read "Are Binary Options Safe?" before deciding to jump the train.
Final Verdict
What is the Millionaire Blueprint a scam?
After doing my in-depth research, I have concluded that the Millionaire Blueprint (aka The Free Money System) is nothing but a vile rip-off scheme. It is designed with a single goal – to separate you from your hard-earned money.
Final Verdict: Is the Millionaire Blueprint a scam? YES. Stay away!
Tired of being ripped off? Here's what I use to make money anywhere in the world.


Why not give it a whirl right now? You're certainly not committed to anything.
What About You?
Thank you for reading my review, "What is the Millionaire Blueprint."
Now… What do you think? In your opinion, what is the Millionaire Blueprint scam? Do you have any experience (good or bad) with them that you want to share? Please drop me a comment below.
Stay safe!
Egon (EgonSarvReviews.com)