HAVE YOU read the famous Bible Story – how God picked Joshua – a man who would lead his people to the Land of Milk and Honey?
Great? Well, Joshua had to conquer that land in the first place. The task given by God was clearly not a cakewalk. After all, Joshua was barely a human, and the area was filled with hostile savage tribes. That's why God had to encourage him, "Be Strong with Good Courage."
If you want to know how you can make $1,200+ a month online from the comfort of your home – well this is your chance


It's FREE to get started, too (no credit card required). You'll like that part…
This monumental Bible story is talking into people's lives even today, many thousands of years later.
Why?
Because there are times where you don't have the courage to challenge the tasks ahead. Fear, like a colossal dark rain cloud, hovers over you and is ready to swallow you.
What do you do then?
Joshua needed encouragement from God. Maybe you need it as well…
Coming back to the Bible story, let me ask you: Where is YOUR promised land? What do you dream of achieving in your life?
Do you know your dream goals? You know. Good. But… They're way too high, right? Climbing up there seems pretty much impossible, doesn't it? Therefore, before you can reach your dream goals before you can conquer your Land of Milk and Honey, you first must overcome fear inside you. That requires courage.
And that's just exactly why I created this list of 45 inspirational quotes on courage. To tell you – Be strong with good courage! Don't be afraid.
Note! I handpicked all these quotes with bloggers and marketers in mind.
Be Strong With Good Courage Quotes
1. "Life shrinks or expands in proportion to one's courage." ― Anaïs Nin
---
2. "We can't be afraid of change. You may feel very secure in the pond that you are in, but if you never venture out of it, you will never know that there is such a thing as an ocean, a sea. Holding onto something that is good for you now may be the very reason why you don't have something better." ― C. JoyBell C.
---
3. "He who is brave is free." ― Lucius Annaeus Seneca
---
4. "What would life be if we had no courage to attempt anything?"― Vincent Van Gogh
---
5. "Only those who will risk going too far can possibly find out how far one can go." ― T. S. Eliot
---
6. "Real courage is when you know you're licked before you begin, but you begin anyway and see it through no matter what." ― Harper Lee
---
7. "A man with outward courage dares to die; a man with inner courage dares to live." ― Lao Tzu
---
8. "You must give everything to make your life as beautiful as the dreams that dance in your imagination." ― Roman Payne
---
9. "Jump, and you will find out how to unfold your wings as you fall." ― Ray Bradbury
---
10. "Keep in mind that many people have died for their beliefs; it's actually quite common. The real courage is in living and suffering for what you believe." ― Christopher Paolini
---
Read also:
---
11. "Don't be satisfied with stories, how things have gone with others. Unfold your own myth." ― Rumi
---
12. "Scared is what you're feeling. Brave is what you're doing." ― Emma Donoghue
---
13. "Courage is never to let your actions be influenced by your fears." ― Arthur Koestler
---
14. "Courage is contagious. When a brave man takes a stand, the spines of others are often stiffened." ― Billy Graham
---

15. "Courage is being scared to death, but saddling up anyway." ― John Wayne
---
16. "Let us not pray to be sheltered from dangers but to be fearless when facing them. Rabindranath Tagore
---
17. "Inaction breeds doubt and fear. Action breeds confidence and courage. If you want to conquer fear, do not sit home and think about it. Go out and get busy." ― Dale Carnegie
---
18. "With enough courage, you can do without a reputation." ― Margaret Mitchell
---
19. "Courage isn't having the strength to go on – it is going on when you don't have strength." ― Napoléon Bonaparte
---
20. "Courage is not simply one of the virtues but the form of every virtue at the testing point, which means at the point of highest reality." ― C.S. Lewis
What if I could show you a real system you can use to put $1,200+ per month into your account, working from the comfort of your home…

…Would you be interested?

Don't wait the right moment to start a business. It never arrives. Start whenever. Now.

21. "You can't be brave if you've only had wonderful things happen to you." ― Mary Tyler Moore
---
22. "Everyone has talent. What's rare is the courage to follow it to the dark places where it leads." ― Erica Jong
---
23. "Those who lack the courage will always find a philosophy to justify it." ― Albert Camus
---
24. "Don't be afraid of your fears. They're not there to scare you. They're there to let you know that something is worth it." ― C. JoyBell
---
25. "Freedom lies in being bold." ― Robert Frost
---
26. "If you have a dream, don't just sit there. Gather courage to believe that you can succeed and leave no stone unturned to make it a reality." ― Roopleen
---
27. "I have accepted fear as part of life – specifically the fear of change… I have gone ahead despite the pounding in the heart that says: turn back…." ― Erica Jong
---
28. "Courage is the most important of all the virtues because, without courage, you can't practice any other virtue consistently." ― Maya Angelou
---
29. "You cannot swim for new horizons until you have the courage to lose sight of the shore." ― William Faulkner
"And one has to understand that braveness is not the absence of fear but rather the strength to keep on going forward despite the fear." ― Paulo Coelho
---
30. "Courage is resistance to fear, mastery of fear – not absence of fear." ― Mark Twain
---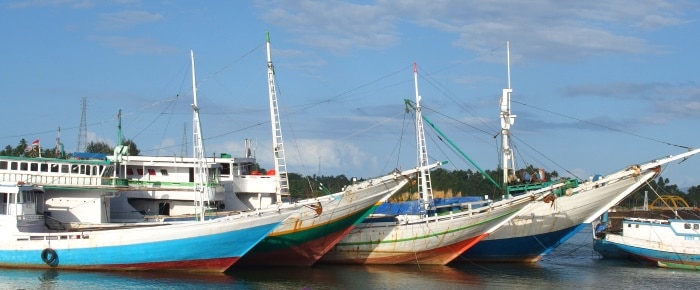 31. "A ship is safe in harbor, but that's not what ships are for." ― William G.T. Shedd
---
32. "I learned that courage was not the absence of fear, but the triumph over it. The brave man is not he who does not feel afraid, but he who conquers that fear." ― Nelson Mandela
---
33. "Keep your fears to yourself, but share your courage with others." ― Robert Louis Stevenson
---
34. "The greatest test of courage on the earth is to bear defeat without losing heart.R. G. Ingersoll
---
35. "It takes a lot of courage to show your dreams to someone else." ― Erma Bombeck
---
36. "All happiness depends on courage and work." ― Honoré de Balzac
---
37. "Whatever you do, you need courage. Whatever course you decide upon, there is always someone to tell you that you are wrong. There are always difficulties arising that tempt you to believe your critics are right. To map out a course of action and follow it to an end requires some of the same courage that a soldier needs. Peace has its victories, but it takes brave men and women to win them." ― Ralph Waldo Emerson
---
38. "Without fear, there cannot be courage." ― Christopher Paolini
---
Courage Bible Verses
Besides other inspirational quotes on courage, I also want to add some Bible verses. They, too, are inspirational quotes for difficult times. And, as the other above, are also handpicked with bloggers and marketers in mind.
So, here we go:
---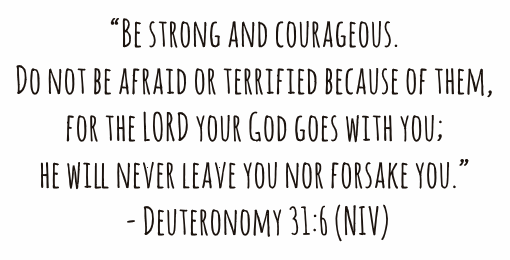 39. "Be strong and courageous. Do not be afraid or terrified because of them, for the LORD your God goes with you; he will never leave you nor forsake you." ― Deuteronomy 31:6 (NIV)
---
40. "Have I not commanded you? Be strong and courageous. Do not be afraid; do not be discouraged, for the LORD, your God will be with you wherever you go." ― Joshua 1:9 (NIV)
---
41. "Wait for the LORD; be strong and take heart and wait for the LORD." ― Psalm 27:14 (NIV)
---
42. "When I am afraid, I put my trust in you. 4 In God, whose word I praise— in God I trust and am not afraid." ― Psalm 56:3-4 (NIV)
---
43. "So do not fear, for I am with you; do not be dismayed, for I am your God. I will strengthen you and help you; I will uphold you with my righteous right hand." ― Isaiah 41:10 (NIV)
---
44. "Trust in the LORD with all your heart and lean not on your own understanding; 6 in all your ways submit to him, and he will make your paths straight." ― Proverbs 3:5-6 (NIV)
---
45. "Peace I leave with you; my peace I give you. I do not give to you as the world gives. Do not let your hearts be troubled and do not be afraid." ― John 14:27 (NIV)
Imagine for looking for legit work-from-home opportunities and finding THIS when you go inside… WOW


Yes, the raw, sizzling beauty of passive income stream online… Please click now. Because sometimes 'later' becomes 'never .'
What About You?
Which inspirational quote on courage did you like best? How do YOU motivate yourself in difficult times? In those times when fear wants to take over?
Please drop me a comment below. Remember, your experience can be a great encouragement to many others. And to encourage you – Be strong with good courage!
If you liked this article you might also like: