Update:
Initially, I posted only 50 funny Twitter bios. However, over time I have stumbled across more hilarious bios, which I'd like to share with you. You will find the newest ones at the bottom of the article.
Before you head over to read them, though, here's a good little treasure trove on Twitter. Just see if this is something you should jump on:
OK, let me illustrate the importance of your Twitter bio  with something funny (in fact, embarrassing) from my own life:
The Importance of Your Bio
It was back in 2007 when my family and I were in Kuala Lumpur, Malaysia, applying for the Indonesian visas.
That's when I did something terribly wrong.
Out of utter ignorance, I went to the Indonesian Embassy in my shorts and flip-flops.
Little did I know at the time, cultural standards in Asian countries are way different from those in the West.
Long story short, they kicked me out of the embassy. Immediately.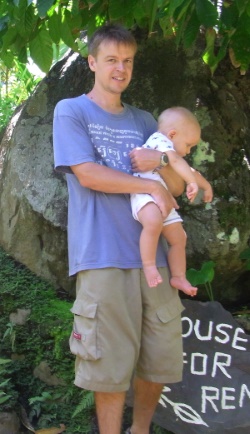 To my great embarrassment, I found myself on the street with the only option available – head to a mall and buy a pair of trousers and shoes.
Lesson learned.
…It is far better to have a proper 'business card' and be accepted than look hilarious and being kicked out.
And here's the kicker:
Your Twitter bio is your online 'business card', your online reputation.
Really? Really!
Especially if you want to make money online. Listen, your bio plays a crucial role in your social media campaign.
Truth be told, it is a challenge to write an excellent AND funny Twitter bio. If you can do it, awesome!
The reality, however, is that funny and good Twitter bios are rare.
Now, if you want to learn writing a PRO Twitter bio – a bio which makes people wanting to follow you, here you find my Complete Guide to Twitter Bio.
That was just to emphasize how important is your bio.
First 50 Funny Twitter Bios…
Some of the following bios are both – good AND funny at the same time. While others are plain hilarious.
---
1. I wanted to start an official Twitter page to communicate with the awesome people who are interested in communicating with me. That means you, mom.
---
2. Sometimes I just want to give it all up and become a handsome billionaire
---
3. I've heard every joke about my name so save it. Former actor now social media guru/author/speaker. Look for my new tell-all book "50 Shades of Eeyore" from Wiley.
---
4. Presenter for Channel 4 News, blogger for the Telegraph. Two husbands: John on-screen, John off-screen. Full-time job: mum of two.
---
5. Just Leaked! Wired Magazine Says: The Web Is Dead. Here's How To Profit Before It's Too Late..
---
6. To be the best it the world is not possible to be the worst in world also not possible, in between is always possible. That is what I'm – nothing is impossible.
---
7. I don't buy what you are selling
---
8. This bio is probably outdated. much like my wardrobe. really, nothing to see here.
---
9. Government employee. Don't blame me.. i didn't do anything wrong.
---
10. 1/2 of my brain was removed with the first kid, other 1/2 with the second kid. There's nothin left.
---
11. No Bio for 3 years ( from May 2014 to May 2016 ).
---
12. Jack J follows 8/15/14. Gabriel follows 11/14/14. Ballerina and fangirl. If you don't want me to spam your TL say bye and unfollow. Saw Jack & Jack…
---
13. Do you even Tweet bro? #pleaselikeme Send me Bitcoin-1DFijjzzshADv9XUXfG6aNkxxxxxUb
---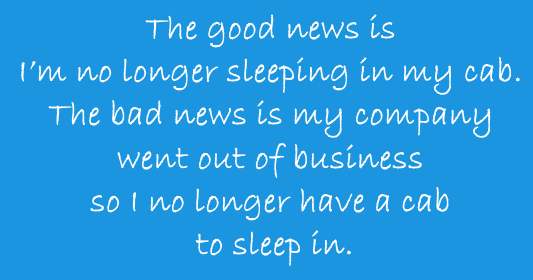 14. The good news is I'm no longer sleeping in my cab. The bad news is my company went out of business so I no longer have a cab to sleep in.
---
15. I don't know who i am ……………………….
---
16. I could never be described in 150 characters…
---
17. Not enough space!!!!
---
18. Sometimes I just stare and sometimes I just sit and stare.
---
19. Done exploring the world…dealing with it now
---
20. I've worked hard to stay grounded. My family is my rock & my power spot is anywhere I can run w/my dogs. People who use their powers, that's a big…
---
21. Those who do not do well, teach / those who do not teach well, learn / those who teach do well. /– haiku
---
22. Love my self.. want to get famous
---
23. A little boy, becoming a man in the future with a strong goals which must be accomplished for the benefit of the world
---
24. Music is my second name. I'm CASSANDRA by the way
---
25. What are you expecting to read when you already know 95% are fake on here….
---
26. I am no more special than the next person
---
27. I'm Peter a lost boy from Sudan
---
28. Wait… where am I?
---
29. I just want to offend someone. I live on offending. Feminists are my favorite targets…but just anyone will do.
---
30. I show up. I listen. I try to laugh.
---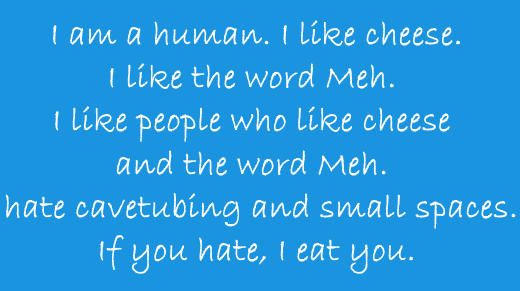 31. I am a human. I like cheese. I like the word Meh. I like people who like cheese and the word Meh. I hate cavetubing and small spaces. If you hate, I eat you.
---
32. Writer, scooby, potterhead and also panhead.
---
33. My first rule: I don't believe anything the government tells me. I trust no living man on this earth, only me! Too many liars/devils! God is great!
---
34. I'm too busy getting stronger.| I'm like snow. beautiful, but cold.
---
35. What doesn't kill you disappoints me,……….follow for follow….thanks for your co-operation
---
36. Have you heard me on the radio? Did you turn it up? On your blown-out stereo In suburbia
---
37. I may do wrong. But I don't claim perfection. I may become something I never thought I would. But I won't regret it. I am who I am. Take it or leave it.
---
38. I am Boring Man
---
39. The problem is not that obesity runs in your family, it's that no body runs in your family!
---
40. It doesn't mean i'm lonely, when i'm alone.
---
41. Please don't judge it too fast when u doesn't know about me.
---
42. If you scared say you scared
---
43. Show me you're different and i won't treat you like you're typical #bpd
---
44. Seeking for an opportunity to shine……
---
45. You may say I'm a dreamer but I'm not the only one….!!!
---
46. On a warm summer's evenin' on a train bound for nowhere, I met up with a gambler; we were both to tired to sleep.
---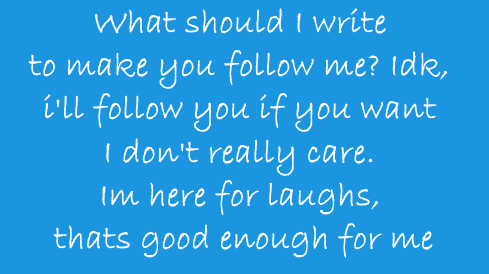 47. What should I write to make you follow me? Idk, i'll follow you if you want I don't really care. Im here for laughs, thats good enough for me
---
48. I'm not like them, But I can pretend. The sun is gone, But I have a light. The day is done, But I'm having fun. I think I'm dumb, Or maybe just happy.-Dumb
---
49. Write. Rewrite. Bang head against wall. Edit. Re-edit.
---
50. I wanted to start an official Twitter page to communicate with the awesome people who are interested in communicating with me. That means you, mom.
---
Funny Bios: 51-68…
51. I know what you're thinking. Did he order 6 jumbo corndogs from that vendor, or only 5?
---
52. I have no money, no resources, no hope. I am the happiest man alive
---
53. Sometimes I'm the driver, sometimes I'm the vehicle. Last name rhymes with tomato.
---
54. I'm sorry… I wasn't paying attention to what I was thinking about.
---
55. I used to love my old twitter account, then everyone from work found me. This is my new account
---
56. Failed sportsman….failed actor….failed stuntman….not got much going for me really…. :-(
---
57. I once sneezed a beenie weenie through my nose. I also made a horse faint in Costa Rica.
---
58. Hello, I am The Pasta Princess from Toronto, just dying to have my pasta shop on the Danforth. All I need is $100,000.00 to make this a reality.…
---
59. Killing my liver & staining my teeth one kid at a time. Nachos are my soul-mate.
---
60. Wot u lookin at.
---
61. I am from the Friendly Island of NoWhere
---
62. I sit behind a desk all day and look at screens. Sometimes it's actually fun.
---
63. Washing everything down the sink.
---
64. I live in an Igloo, drink maple syrup and apologize for everything. I am Canadian! Working 24/7
---
65. "To unfollow me, simply don't follow me"
---
66. follow me ….. follow me …. i am back 100% follow
---
67. allergic to stupid people
---
68. Stop Here Send Email….
Share Your Ideas:
Which one of these 50 funny Twitter bios did you like best?
Have you found a great Twitter bio you'd like to share?
Please drop me a comment below.
What if I could show you a real system you can use to put $1,200+ per month into your account, working from the comfort of your home…

…Would you be interested?

It's FREE to get started, too (no credit card required). You'll like that part…
Related Articles: