As you already have your Twitter account, you probably want to grow your follower base, right?
The question is, How?
How to get more people to follow you on Twitter?
If you knew how to make $1200 a month online, from the comfort of your home, would you do the work?

…Well THIS is your chance


It's FREE to get started, too (no credit card required). You'll like that part…
There is yet another question, which is related to the first one.
Why?
Once you know why doing something is beneficial, you are way more motivated to figure out how to do it.
This Guide focuses on writing a professional Twitter bio. Because an exciting biography is one of the most powerful strategies to make people want to follow you. And if you want it, then you must get it right. "The idea behind your bio is that you wish to provoke enough interest so that somebody will follow you back," says Mark Schaefer, author of The Tao of Twitter.
The Definitive Guide to Pro Twitter Bio
1. Why Do You Need a Good Bio?
Because social shares and links from Twitter DO convert! As Neil Patel, co-founder of Kissmetrics, shows in his infographics:
Your Twitter followers are 30% more likely to recommend you.
Your Twitter followers are 72% more likely to buy from you.
73% of followers want updates on future products.
61% of followers want to offer ideas and feedback, so start engaging with them
Offering your followers, special promotional offer increases the likelihood of them purchasing by 349%.
One of the first things, and often the main one that people look at when they decide if they want to follow you, is your Twitter bio. Doug Ross, the partner at CNN, states, "It's a digital calling card, a way, to sum up, our very essence within Twitter's 160-character limit and, presumably, tell people why they might want to follow us." And as Neil Patel, the founder of Quicksprout, says, "It's your online reputation. It's your reputation. So better it is good."
Teddy Wayne, The New York Times collaborator, says: "The Twitter bio lets the famous and not-so show how special they are, in words that can be witty, earnest, humble or boldly promotional."
When you know the answer to the second question, you can turn to the first one, How to get lots of followers on Twitter?
But…
2. Challenges That You Face
It's not that easy task. Writing an excellent bio is not a cakewalk. There are quite a few challenges that you may want to know on the first hand.
2.1. You have only 160 characters.
That is all you have, and you have to live with it. It means you have very limited space to tell the world who you are, how awesome you are, what you have accomplished, and why people should follow you.
So why is it a challenge? Because with only 160 characters available, your bio "should be personal, communicate your point of view, and connect with your readers," says Angela Tung, managing editor at Reverb. You need to "make it punchy and to the point," adds Marta Steele, a partner at Peopleresults.
See also: Who Are Top 50 Social Media Power Influencers? Their Twitter Bios
2.2. You have only 2-3 Seconds to Crab Peoples' Attention
The second problem is that when people scroll through hundreds of Twitter users, deciding who to follow, they don't spend ages deciding if they want to follow you or not. Amy-Mae Elliott, a senior features writer for Mashable, says: "Twitter users often decide whether or not to follow someone in seconds, meaning that you have very little time to impress."
Think about it. What do you see when you scroll through the list of Twitter users on your phone or desktop?
You see only a little. In fact, you only see these three things:
Peoples' profile images,
Their Twitter usernames (a la @egonsarv)
Their Twitter bios.
This is what you see on your smartphone:
The Desktop version does not give you much more. It adds their background images, and that's it: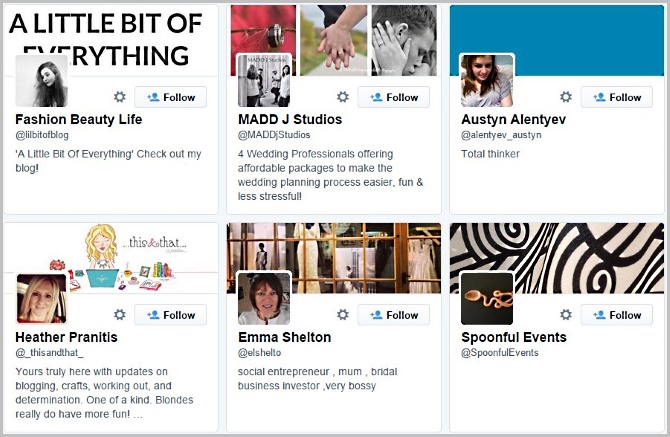 That's all the information you have about them. Of course, you can click on those profiles and learn more about them if you want. But usually, this is not the case. People won't bother to do that.
What people DO, they look at your profile image, read your username and bio, and within seconds they decide if they want to follow you or not. If these three characteristics of you look appealing, they hit "follow." If not, they scroll down, and you missed an excellent opportunity to expand your reach.
That is why a professional Twitter bio is so crucial. And this is why you should do it in the right way.
You have only 2-3 seconds to grab their attention. Once they are on board, sure you have more time to impress them. But you have to win them over in the first place.
2.3. People might consider you a fraud
Have you ever got tweets that pitch you to purchase a massive number of followers with little money on your part? I get these messages every day.



The truth is, selling Twitter followers is a lucrative business, but the result is millions of fake Twitter accounts. It takes only seconds to make a fake account, but you can sell it again and again and again.
Business Insider states that 5% of Twitter users are fake. Keith Wagstaff, the internet newsman for NBC News, claims that the number is 10% or higher. As of July 2014, Twitter has over 500 million users, out of which then from 25 to 50 million are fake users.
How Do Fake Followers Look Like?
Try it. Choose any random Twitter user with a massive follower base (20K+ followers). Or even better, have a look at who follows Britney Spears. Scroll through the first part of her followers, and immediately these eggheads are going to show up. You find tons of them. Click one of those. Most probably, it looks like this: Very few tweets.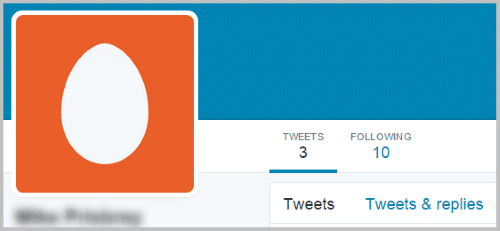 The new trend in the Twitter fraud market is that these fake accounts get better camouflage to confuse real Twitter users. These three accounts here are most probably fake:

That's why it is a challenge. You have 160 characters to prove that you are not a fraud.
2.4. It's Hard to Be Unique.
You may want and try to be unique but still, end up being predictable. Go and read 20-30 bios, and it's like you have read all of them. Like most people, there are social marketing gurus, marketing evangelists, geeks, ninjas, coffee junkies, etc.
That's why it is a challenge. It's hard to come out with something new and creative.
2.5. When People Search for Your Name, Your Twitter Bio will Appear in the Search Results.
Now, this the one thing that should make you really serious with your Twitter bio because your Twitter bio is one of the first things that show up in search engines' results when people search for your name.
I just quoted Keith Wagstaff in the previous section. Let's Google his name and see what happens? His Twitter bio is the very first thing to show up in the Google search results: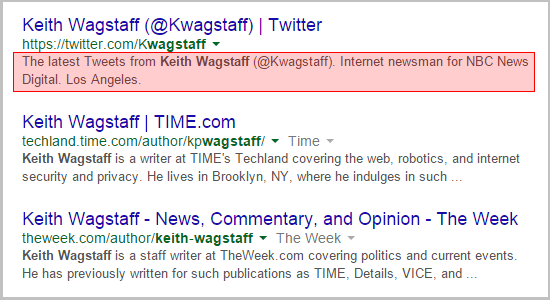 Let me Google my name, Egon Sarv. The first in the search results is my Facebook page. The second is the How-to page of my personal site; the third is EgonSarvReviews, and then the fourth is my Twitter account.
It means your Twitter Bio is visible to everyone who Googles your name. So better it be good.
Second, Your bio is also searchable within the "Twittersphere," meaning it's worth giving some serious thought about how to present yourself to Twitter's 500 million users.
2.6. It's Hard to be Funny
Often people want to stand out from the crowd by being funny. Again, it's a challenge and also a risk. Because, more often than not, you are not. And if not, people don't follow you.


Are they funny? Not really. Do these bios attract you enough to follow them? I don't think so.
3. Should You Use Some Twitter Bio Generator?
Now when you know all the challenges, you may ask: How about some Twitter bio generator? Should I use any of those?
Well, if you want a fabricated, canned bio, you can give it a try. Only, let me tell you, these generators are jokey tools that mash together a bunch of overused words and phrases like "guru, "evangelist, "social media specialist, "coffee junkie, "food nerd, "etc. Josh Schultz, the creator of the Twitter Bio Generator, made it specifically to mock all these coffee_junkie_social_media_ninja bios out there.
In Schultz's words: "I created that site a few years back just for fun when I noticed a lot of similarities among Twitter bios. Folks using short, punchy phrases to describe themselves, including an excessive number of 'social media experts' and all manner of 'mavens.' It was a bit of a joke: I included bits that could describe practically anyone on the Twitters and threw in a few silly things, for flavor."
These are what the Twitter Bio Generator offered me:



There is another Twitter bio generator, called Silly Generator. Are these bios any better than the previous ones?


Digiday, the digital media marketing publication, worked up yet another, similar version. They named it Whatthef****ismytwitterbio. Why did they create it? Jack Marshal, Digiday staffer and one of the creators of the bio generator, says in his blog:
"The idea was meant to be a way for people to realize the ridiculous lengths others — and, alas, themselves — go to craft their Twitter bio as neatly and perfectly as a Wes Andersen movie."
This is what I got from their generator:
"CAMPAIGN BUFF, VIDEO DOCTOR, BESPOKE COMMUNITY VISIONARY. LOCAVORE."
"ZEITGEIST MIXOLOGIST, IMMERSION THOUGHT LEADER, BRANDJACKING CAPTAIN. SUPER ORGANIC."
"BLUETOOTH RULE BREAKER, JAVASCRIPT HEALER, E-COMMERCE CASSANDRA. I HAVE WHAT SHE'S HAVING."
Do you want any of those to be your online description and reputation? I don't think so.
Sadly, tons of the Twitter bios out there look as if these have come out from digital meat grinders.
Clearly, you can do better than that.
Want to make legit money online?
Here's what I use
to make money anywhere in the world.

After all, with so much to gain — and with absolutely nothing to lose —
shouldn't you at least take a look?
4. The Best Twitter Bios. Examples

Why is it good?
As Anne Johnson points out in her Vogue article, the way how Jessica Biel uses the famous Oscar Wilde quote – this is what makes her bio significant.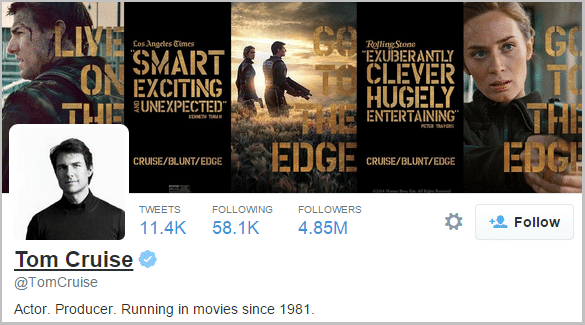 Why is it good?
Short and to the point. Time Magazine has picked it as top celebrity Twitter bio: "The man spends a considerable amount of time running in his films — always has. It's not a bad thing, and he's got no reason to be shy about it. Good on you, Maverick."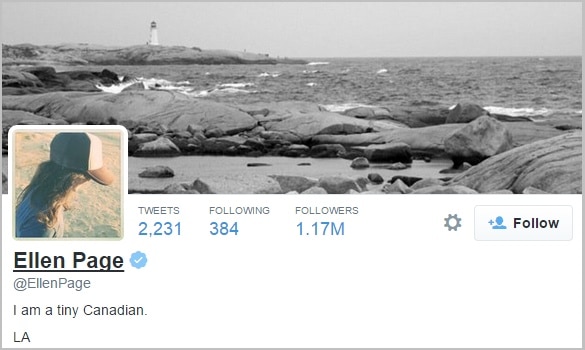 Why is it good?
Again, this is Vogue's pick. "Short and sweet—and to the point," writes Anne Johnson in her Vogue article. The thing is, if the world already knows a lot about you, your bio doesn't need those 160 characters. Twenty do their job when chosen creatively.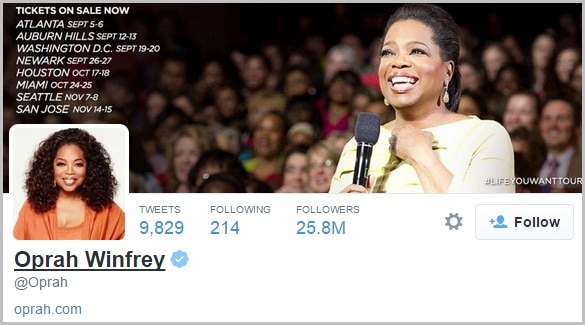 Why is it good?
Sometimes you don't need even those 20 characters. In fact, you can leave your bio blank if you happen to be Oprah. The world knows you by your first name, so what else you need to say?
Should YOU Use a Blank Twitter Bio?
Well, if you're incredibly famous, like Oprah, it's okay. Yet Anne Johnson says you shouldn't do it: "We don't recommend trying this one at home until the world knows you solely by your first name."
5. Professional Bio Examples
Now the problem is, most probably you are not a world-famous politician or celebrity. So it's hard to copy their bio strategies. Because of their fame, they have way more freedom to write (or not to write) their bios.
So let's come a bit more down to earth and see how some of the best bloggers out there have written their bios: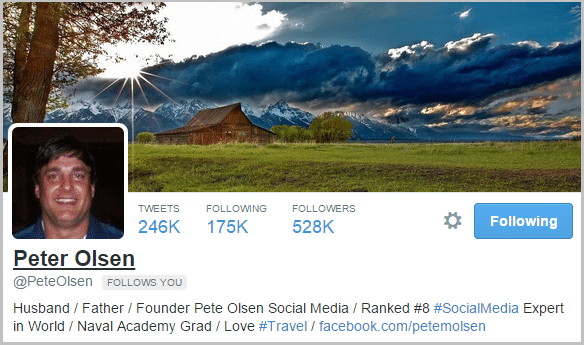 It reads: "Husband / Father / Founder Pete Olsen Social Media / Ranked #8 #SocialMedia Expert in World / Naval Academy Grad / Love #Travel / facebook.com/petemolsen.
What do I like here?
I always like when men put into their bios that they are husbands and fathers (if they are, of course). First, it tells you that they are humans, and second that they treasure family values. It adds quite a significant amount of trust toward that person. And this is what Peter does here.
The fact that they rank Peter Olsen as #8 social media expert in the world apparently impresses you. After all, it's not that easy to rank in the top 10, is it? And if your goal is to learn and improve your social networking, for sure, you want to follow him—both on Twitter and on Facebook.
His Facebook link is another brilliant way to drive traffic to his Facebook page. That is what I did – I went to his FB page and followed him. I want to learn from him.
Finally, he uses just two words, including one hashtagged word, to add some more personal flavor to his bio: #love travel. Short but effective.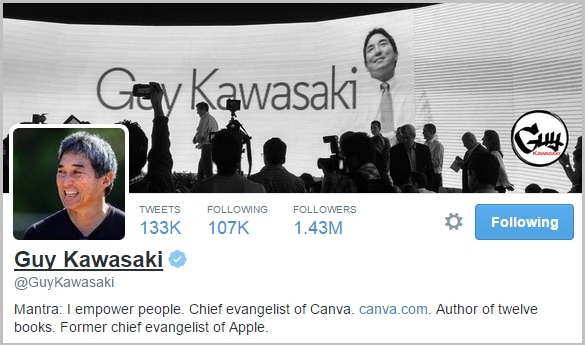 It reads: "Mantra: I empower people. Chief evangelist of Canva. www.canva.com. The author of twelve books. Former chief evangelist of Apple."
What do I like here?
I like the way he uses religious words and phrases to communicate his passion. Everybody knows that world religions are passionate. Now the word Mantra has a religious background. Also, Guy uses another religious expression, "chief evangelist," twice in his bio. If you have ever seen evangelists preaching, you know that they are full of passion and fire. In his bio Guy Kawasaki communicates that same fire and passion – to make you want to follow him.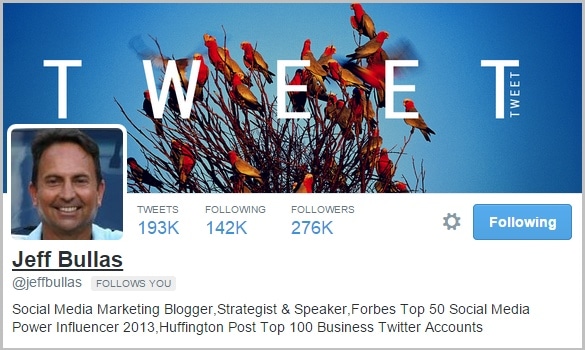 It reads: "Social Media Marketing Blogger, Strategist & Speaker, Forbes Top 50 Social Media Power Influencer 2013, Huffington Post Top 100 Business Twitter Accounts."
What do I like here?
His bio is very targeted. He lists his accomplishments, and these are the ones that give his biography a real power. Suppose he has accomplished all that, apparently you want to follow him and learn from him. It's worth it as Jeff posts and tweets tons of high-quality tutorials, howtos, etc. All worth to retweet.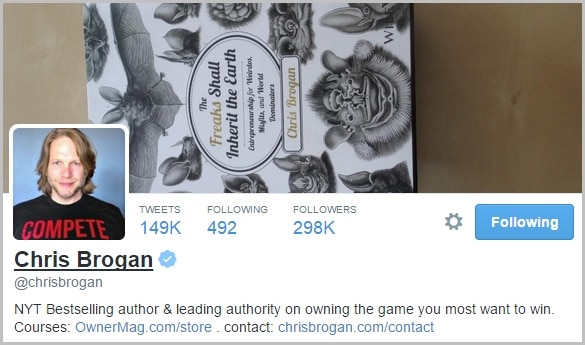 It reads: "NYT Bestselling author & leading authority on owning the game you most want to win. Courses: OwnerMag.com/store. contact: chrisbrogan.com/contact"
What do I like here?
According to Haydn Shaughnessy, the Forbes contributor, Chris Brogan is the #1 Social media power influencer. After knowing this fact, Chris Brogan's bio suddenly becomes meaningful. He says HE owns the game that YOU desperately want to win. Even the word "Compete" on his sweater says: "Compete. If you can."
And then he offers two calls to action links, "Do you want to learn from me? Here are the courses. Do you wish to contact me? Here's the contact info."
I like the way he has done it.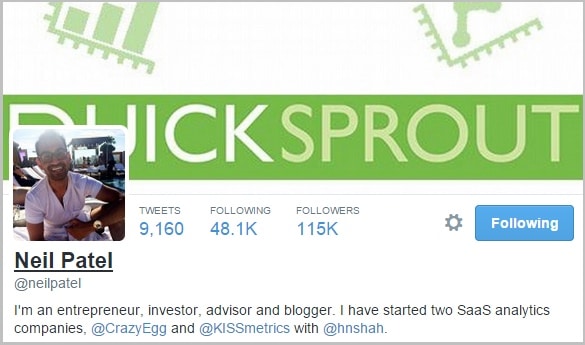 It reads: "I'm an entrepreneur, investor, advisor, and blogger. I have started two SaaS analytics companies, @CrazyEgg, and @KISSmetrics with @hnshah."
What do I like here?
Neil Patel is a hugely successful content marketer, so it is good to learn from him. As you see, he writes in full sentences, telling you that he is a human and not a fraud. Then he uses a bunch of keywords to describe himself and, at the same time, make himself visible. And finally, he lists some of his accomplishments with a call to action links to his sites. All this in 2 short sentences. Impressive!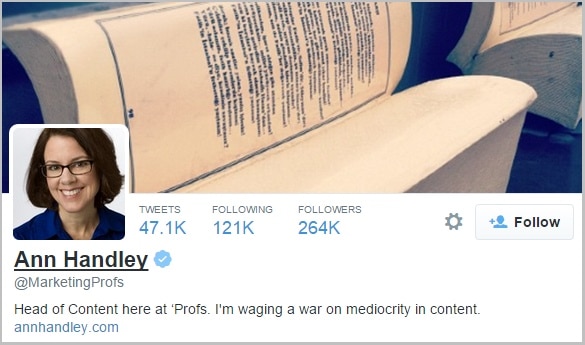 It reads: "Head of Content here at 'Profs. I'm waging war on mediocrity in content. annhandley.com"
What do I like here?
I like her humor and seriousness in the second part of her bio. You want to follow her, right? She is entirely against mediocre content and the
By the way, she has changed her bio. Just recently, it read: "Author. Marketer. Chief Content Officer waging a war on content mediocrity. I'm also @marketingprofs here."
So this is an excellent example of how professional bloggers review and update their bios. Which one do you like more?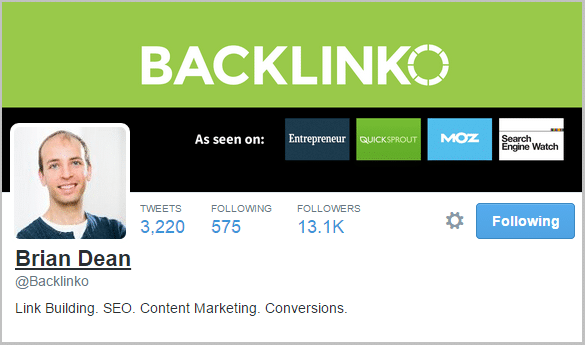 It reads, "Link Building. SEO. Content Marketing. Conversions."
What do I like here?
Brian's bio is short and very targeted. He uses a list-based format with a period as a descriptor. He lists four primary keyword phrases, and that's it—nothing else.
And that's just exactly what you get from him: only the best part and no fluff. I like Brian's writing style because it's clear, simple, and easy to understand.
6. Examples of bad Twitter bios
6.1. PERSON #1
Blank bio.

Why is it bad?
If you are not Oprah Winfrey or some other world celebrity, then a blank bio is a bad choice. Even a mediocre biography is better than a no bio at all.
6.2. PERSON #2

Why is it bad?
What does this bio tell you about the person? Nothing, right? Except that he is not John Jacob. Do you want to follow him? No.
6.3. PERSON #3

Why is it bad?
First, the language used is not appropriate (at least if you want to build a quality follower base and drive traffic to your website). Second, he discourages you from following him. Good advice. Better keep away from him.
6.4 Some more examples of bad Twitter bios:
Follow me, I follow back!!
Where are they biting?
I'm just way too lazy ;)
Plenipotentiary
These phrases might be cool in the right context. But because they are used as bios, well… What do they tell you about these people? Do they encourage you to follow them? What do they add to your Twitter stream, and do they make your stream stronger or weaker?
Look for more bad Twitter bio examples here.
7. Things You Should Include in Your Twitter Bio
Now, after seeing some of the best and great Twitter bios out there (and some of the worst), you want to write your own. Wait. Certain things make a Twitter bio both more professional and outstanding. After all, you wish to raise above millions of other average biographies, don't you? You want to make more people follow you, right?
So let's see what characteristics make a Twitter bio exceptional?
7.1. Identify your purpose
I ask you: What's your purpose with Twitter in the first place? Why did you create your Twitter account, and what do you want to achieve with it? What is your niche? (make an image of the list of questions) Do you wish to drive traffic to your website, or do you want to sell something or… What do you want to accomplish?
Then who is your target audience? Who do you want to follow you and read your tweets?
When teaching about the target audience, Neil Patel states: "How can I get a better audience? Notice, I didn't say bigger; I said better. Marketing is all about the audience. Your audience is the people who listen to your message, consider your product, and give you their money."
So keep your audience in mind when authoring your bio. And don't make it too broad. There is a saying that if you target everybody, you don't target anybody. So better narrow down your target audience.
7.2. Be Accurate
Accuracy is connected with trust. And trust is crucial in the online business. If people don't trust you, they don't follow you or buy from you. So don't lie to your readers. Be honest. Here in EgonSarvReviews.com, I advocate honesty. I believe in honesty.
a. Tell people what you are. Or as Louise Mowbray, speaker, branding consultant, and coach, says: "Your bio should reflect who you are, your values and what you have to offer others."
b. Give at least a hint of what you do in real life. There are tons of plastic, artificial bios on Twitter. It looks like almost everybody is an SEO guru or social media expert. Raise your bio out from the crowd by being accurate.
It can be a temptation to make yourself look better than you are, to tell the world that you are an expert, marketing ninja, social media guru, or something else if you are fine. But if you are not, better, be honest. Neil Patel says: "Accuracy is the key here. People are interested in following you because of what you do, not what you think is going to be clever,"
c. Let people know what you are going to bring to their Twitter streams. What are the topics that you are going to tweet about? How are you going to enrich your readers' streams? What value do you bring? Or, as Louise Mowbray says, "Twitter is all about giving something of value to others for free. " Also, you can use this important marketing tip and answer the following question for your readers: "What's in it for me?" They ask that question, so it's way better if YOU provide the answer. Tell them what they can expect from you?
7.3. Add a bit of a personality to your bio. Prove that you are human and legit
There are millions of fake Twitter profiles, similar to the ones from those bio generators. Don't be them. Add some flavor to your bio. Show that you are human.
7.3.1. Use Your Real Name (and without the underscore)
Treat your bio as an SEO copy. After all, you want to build peoples' trust. So don't use a weird account name that does not tell other users anything. The best way to build peoples' trust is to make your Twitter campaign under your real name.
For example, my real name is Egon Sarv, and my Twitter account is @egonsarv. Come, say hi.
7.3.2. Add Your Real Picture
Adding a legitimate headshot is hugely beneficial. First, you get rid of Twitter's default and ugly egghead. Second, you already raise above millions of other Twitter users who have not used their real picture. Third, you add a fair amount of accuracy and trust to your profile. And this is what you want.
There is another benefit of having your real headshot. When I scroll through the list of Twitter users deciding who to follow, I always prefer those with real pictures. I skip those with cartoon characters or whatever others profile images.
I know there are also tons of business accounts on Twitter. They tend to use their business names and logos. But if you are building your private account or are running a campaign under your account, then better use your real picture.
7.3.3. Make it cool. Because it is cool.
Consider adding some humor. Don't be afraid to shine. Try to give some colors, something unexpected to your bio. Playing safe is a sure way to get ignored.
Examples
Ann Handley: "Chief Content Officer waging a war on content mediocrity."
Guy Kawasaki: "Former chief evangelist of Apple."
Chris Brogan: "Leading authority on owning the game you most want to win."
Cathy Newman: "Two husbands: John on-screen, John off-screen."
Calvin Lee: "Twitter addict livin' n breathin' SocialMedia."
Sophie Lizard: "Ask me anything. I am a chronic explainer."
Amber Osborne: "Destroyer of Boredom."
7.3.4. Add a bit of Flavour of Yourself.
It's okay to add a few of your favorite sports, hobbies, or something interesting at the end of your Twitter bio.
Only try not to get too vague. "Try to be focused on really what you're interested in terms of your professional career," states Andrew Hindes, president of The In-House Writer, an L.A.-based copy-writing service.
Examples:
Hillary Clinton: "dog owner."
Calvin Lee: "Nicest guy in LA."
Cathy Newman: "Full-time job: mom of two."
Jeffrey Davis: "Loves: Hillary, Dahlia, Alethea, 88% dark choco."
Ann Wendel: "Rock climber, Kettlebell lover, Supermama."
Jamie Anderson: "Husband. Father of 3 screenagers. Runner."
7.4. Insert Most Relevant Information
The keyword here is "targeted." You may have worked in many different fields in your professional life. Also, you may have quite a big list of interests in your personal life. All these add colors to your life. However, it's useless just to list a bunch of stuff you like. "Your Twitter bio should position you as an expert in your field who serves a particular audience," states Dan Schawbel, author of Promote Yourself.
So before you begin writing down your list of professions and interests, remember the purpose of your Twitter campaign. What do you want to achieve, and who is your target audience? What is your niche? Then narrow down your list based on these answers. Flush away professions and interests that don't help to achieve your Twitter goals.
"Twitter is a place to interact with people who are in your niche. To be considered part of this niche, you have to use words that this niche uses. The people who follow you will do so because they see those targeted words, and know that you share some commonalities," says Neil Patel.
7.5. Tell about your accomplishments.
If you already have achieved something in your niche or field of expertise, write it down. These things make impressions, build trust, and make people want to follow you.
Examples:
Calvin Lee: "Award-winning designer and brand strategist. /…/ Featured in Forbes, Wired, Huff Post and Mashable…"
Jeff Bullas: "Forbes Top 50 Social Media Power Influencer 2013, Huffington Post Top 100 Business Twitter Accounts"
Neil Patel: "I have started two SaaS analytics companies, @CrazyEgg, and @KISSmetrics with @hnshah"
Guy Kawasaki: "Author of twelve books."
Yet, even if you have not written any NY Times #1 best-seller yet or have not reached into Forbes top 100, you still can add something valuable. The idea is, you're contributing in some way. You are there to enrich people's Twitter streams. You have value.
If you are married, consider adding "husband" or "wife" to your bio. Also, it tells me that you are human.
If you are a parent, you may want to add "mother," "father," "mom," or "dad," depending on your specialty. After all, being a parent and growing kids is not an easy task at all.
If you have started a business or want to make a living by blogging, you can add the word "entrepreneur."
Or just give your professional description.
It is worth mentioning that even Hillary Clinton begins her Twitter profile with the words: "wife, mom…".
Whatever you choose to write, be honest and accurate. Avoid fluff and these ninja_guru_expert style clichés.
7.6. Use Keywords, Hashtags, and @'s.
7.6.1. Keywords
Keywords in your profile help you make yourself more visible in the Twitter world. For example, I am a teacher, and if I want to connect with other teachers, I find them through the Twitter search – as long as they've put something associated with teaching in their bio.
That is what I got when searching teachers on Twitter: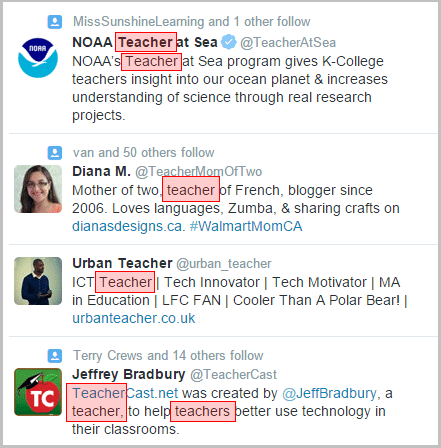 And here's an example of how to use specific keywords in a Twitter bio.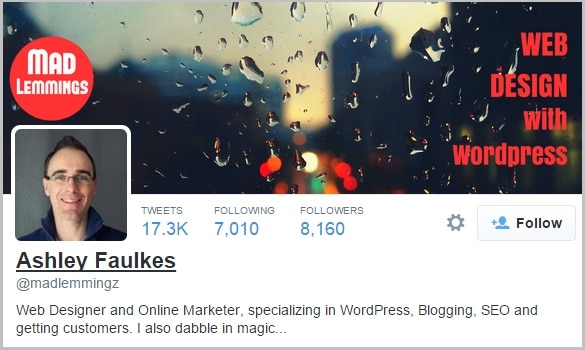 All these words and phrases (web designer, online marketer, etc.) in Ashley's bio describe him and serve as keywords to make him more visible.
7.6.2. Hashtags
Why should you consider including hashtags in your bio?
As Twitter Help Center states, "Clicking on a hashtagged word in any message shows you all other Tweets marked with that keyword." Also, it says: "If you Tweet with a hashtag on a public account, anyone who searches for that hashtag may find your Tweet."
The same goes for bio. So "If you are an "SEO," for example, you can add "#SEO" to connect your bio to mentions of #SEO on Twitter," says Neil Patel.
Here you see how Rafael Patron is using hashtagged keywords #SEO and #Social. I like how he has done it, emphasizing two of the most critical keywords in his bio.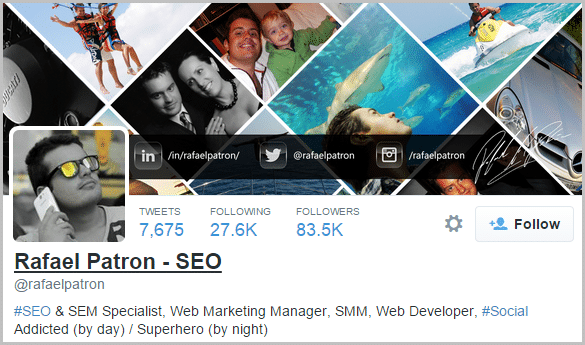 However, DON'T #spam #with #hashtags. Twitter Help Center recommends using no more than two hashtags per tweet. The same goes for a Twitter bio.
7.6.3. Use @'s
Words and names prefixed with @-symbol are Twitter accounts. If you have a business account or otherwise connected to other accounts, I recommend linking to them.
The bio of Darren Rowse is a good example here.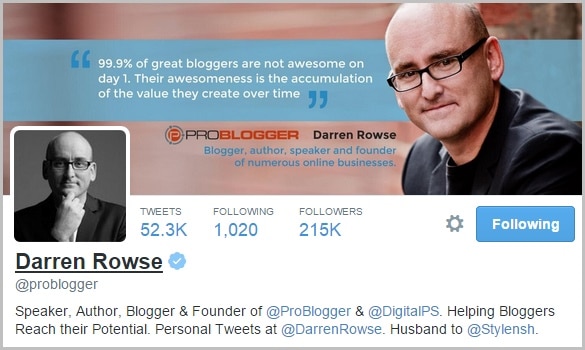 As you see, Darren is using four @'s in his profile. @problogger, @DigitalIPS, @DarrenRowse, and @Stylensh. Notice that his current account is @problogger (the account name under his name). The first 2 Twitter accounts in his bio are his businesses. The third one is his account. The last one belongs to his wife.
A fast and great way to tell the world how to connect with him and his businesses.
7.7. Add Hot Links to your Twitter Bio.
Adding hotlinks in the Twitter bio has its pros and cons. However, I have found it useful, and this is why I recommend it.
The only con is that the URL can take up valuable character space in your bio. If that is OK with you, then go ahead. Use it.
Benefits of having hotlinks in your bio.
7.7.1. Twitter Search Results don't show your website field.
You probably already know that every Twitter profile has a field for a URL.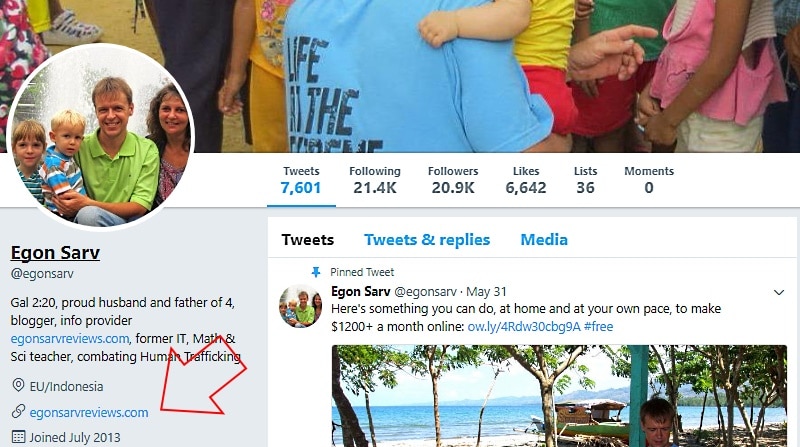 Imagine for looking for legit work-from-home opportunities and finding THIS when you go inside… WOW


It's FREE to get started, too. You'll like that part…

Is it not enough already? Why do you need to duplicate your website URL?
The problem here is, Twitter search results DON'T show you that extra URL field.
That is what I got when searching for the word "father. " You see, there are no URL fields included in the search results.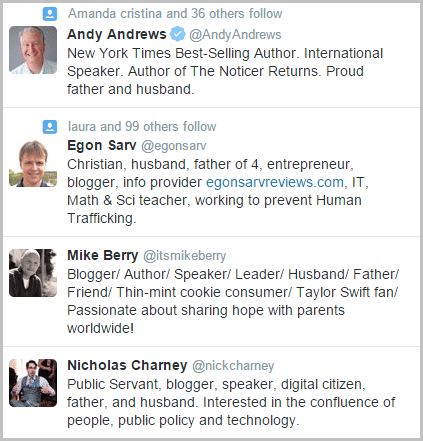 All of these users have a URL in their profile pages. But because I populated my website URL into my bio, it also shows up in the search results. So this is another fast and easy way to make your site more visible.
7.7.2. You can use your bio to advertise your other sites too.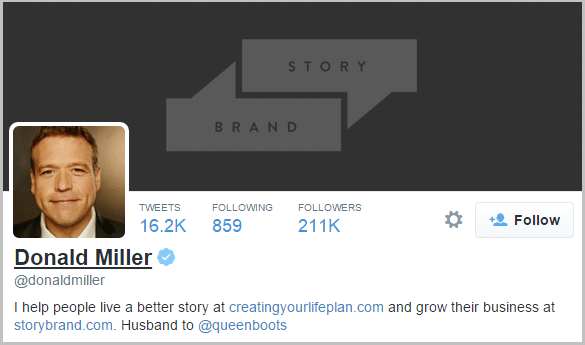 Donald Miller has populated two of his websites into his Twitter bio. What I like here is the way he has said all the important stuff about himself in one sentence.
7.7.3. Even if you have no (other)website, you still can use hotlinks.
You can use your bio to send people to your other social media accounts. Add your Facebook, Google+ page, etc. Twitter is about networking, and people will find you in different ways. The more options you give them, the better.
7.7.4. How to include a hotlink in a Twitter Bio?
You have to type the whole URL into your bio, including https://
For example, after typing into my bio, the full URL: https://egonsarvreviews.com and voila, the hotlink is in my bio as well: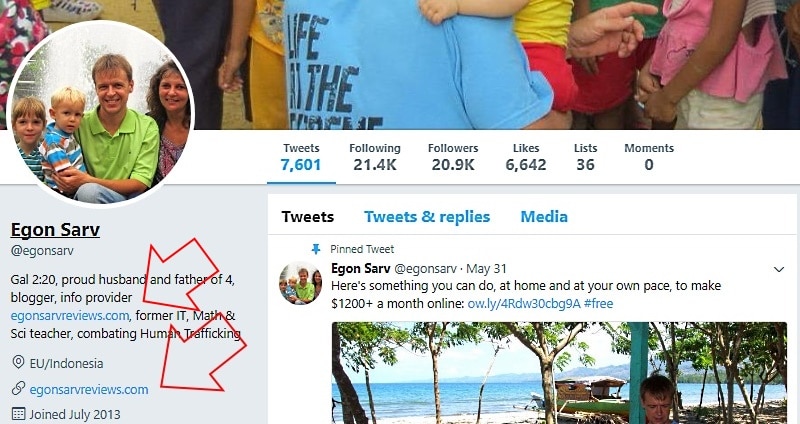 8. Other Tips to Write an Awesome Twitter Bio
There are other tips and tricks that you may find useful when writing your Twitter profile.
8.1. Show, Don't Tell
"The "show, don't tell" principle of writing means focusing on what you do, not who you are – and that means action verbs. Try this list of action verbs for resumes and see if any of them add a little power to your profile," writes Courtney Seiter, content crafter at Buffer.
So let's see how if she follows her teaching. Can we see action verbs in her bio?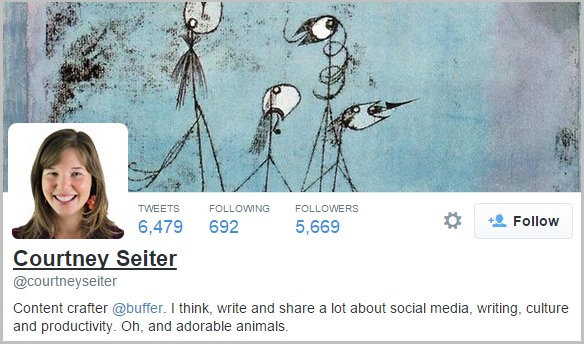 Interesting, isn't it? Very different from an average bio that is usually filled with nouns like blogger, expert, etc.
8.2. Learn From Others
That is what you should do. Go out there and read how other people have written their bios. You may want to collect the ones that you like most. Also, learn from professionals in your niche or your field of expertise. Then use those as models. Or as Sarah Mistein, the 21st user of Twitter (wow!!!) and co-author of The Twitter Book, has said: "Look at a bunch of Twitter bios, notice which ones you like best, write a bio that imitates those."
8.3. Practice and Revise Often
Probably you won't get your bio right for the first time. You may need quite a few times before you feel comfortable with it. It's okay. You can always come back and improve your bio. And because it's short, only 160 characters, you don't have to use too much time doing that.
8.4. Spellcheck
Poor grammar and typos in your bio make you look unprofessional. Double-check and triple-check your bio before publishing it on Twitter.
9. Things You Should Avoid
Now you understand that it's possible to write a Twitter bio in a completely wrong way. In fact, there are far too many people who are doing just that. In their attempt to be smart, they end up mashing up incorrect information. The results are low-quality bios, less credibility, and fewer followers.
So what are the main things that you should avoid?
9.1. Avoid an Egg Head
As told before, most of the Twitter fraud accounts are still using Twitter's default profile image, which is an Egg Head. So if you are still using it, you give out quite a strong signal that you are a fraud. At least, this is how people think of you.
Better change it. If it is your account, use your legitimate headshot. That is the best way to tell the world that you are a human and legit.
9.2. Avoid a Blank Bio
As told before, if you are ridiculously famous, like Oprah, and the world knows you only by your first name, then fine. You can leave your bio blank. Otherwise, follow the tips above and write a bio that describes you best. After all, this is your online description, your online reputation. So better it be good.
9.3. Avoid a Rock Star Syndrome
"If you're a "zombie aficionado," a "Web marketing guru" or a "social media evangelist," you may be doing Twitter wrong," states Doug Gross from CNN.
Not only that. "The only people who call themselves "social media gurus" almost certainly aren't, so don't use this awful expression. The same goes for "maven," "expert," or "ninja."," says Amy-Mae Elliott.
So better find other ways to describe yourself, and you will find that more people want to follow you.
9.4. Avoid Clichés and Jargon.
This was early Twitter days, when it seemed like half the folks using the service were self-described 'social media experts," says Josh Schultz, the creator of Twitter Bio Generator.
That was the early days. Today these terms have become copycat clichés that you want to avoid.
As for jargon, it may work for a specific group of people, but your message is meaningless for others. Just to give you an example, if you've never studied medicine, you are not familiar with medical jargon either.
So if you want masses to follow you, then better stick to clear and conscious terms that everyone understands.
Avoid "These Most Overused profiles" Buzzwords.
In December 2013, Linkedin published its fourth annual list of their Top 10 Overused LinkedIn Profile Buzzwords of 2013 [INFOGRAPHIC]. By that time, their user base had grown to more than 259 million people, and after analyzing all these bios, they found these top 10 most overused buzzwords:
| | |
| --- | --- |
| 1. Responsible | 6. Expert |
| 2. Strategic | 7. Organizational |
| 3. Creative | 8. Driven |
| 4. Effective | 9. Innovative |
| 5. Patient | 10. Analytical |
TOP1, Responsible – this word was overused 2x as much as any other word on our list.
LinkedIn recommendation? "Demonstrate your skills and experience by providing examples of your talent rather than using buzzwords," states Christine Choi, a data scientist on Linkedin. The same goes for Twitter.
9.5. Avoid Quotes
Have you noticed many people use quotes in their Twitter bios? In some way, I can understand them. Quotes are usually short and fit nicely into the Twitter 160 character limit. Also, quotations communicate powerful and motivating messages.
Yet, there is also a problem with using a quote in your bio. The main problem is, these are not your thoughts. And because of this, they don't necessarily help you build your brand. After all, this is your account, and I prefer to read about you. About your thoughts.
I recommend using these 160 characters in some better way. Follow the tips above, and you can write an excellent and professional bio.
9.6. Don't Write in 3rd Person
Notice that it is recommended to write a bio in 3rd person on some other social media platforms. But not on Twitter. When you write it in 3rd person, it looks like somebody else has written your bio. Most probably, this is not the case, and you leave your readers a wrong impression. So better, don't do it.
9.7. Avoid Writing in Capital letters
If you happen to be Shaq O'Neal, it's okay. Go ahead and do it. Otherwise, avoid it. Writing in capital letters means screaming online.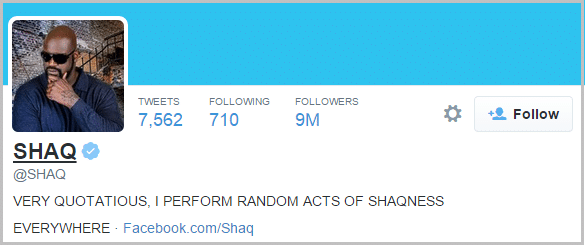 10. Different Bio-Formats
There is just one more thing to know before you start to write your bio. The format.
Go through a bunch of Twitter bios, and you see that there are two main formats that people use for their bios. The first one is a list-based format, and the other one a sentence-based format. So what's the difference?
10.1. List-Based Format
List-based Bio format mostly uses one of those descriptors: comma, period, and vertical bar. But sometimes people use semi-colons, slashes, double-slashes, etc. Pick whatever you like the most, and stick with it.
Pros
The List-based format allows you to press more information into those 160 characters than the sentence-based format. You can include only the most important keywords, and that's it.
Cons
The List-based format is not flowing. It's more like a patchwork quilt, and if you don't choose your keywords carefully, you may easily end up with a silly, generator style bio.
As for the descriptors, I have noticed that once the hugely popular vertical bar has started to give way to a comma. Even a year ago, there was much more usage of the vertical bar. Now many users have changed the vertical bars in their bios with commas. Me too.
Why?
I think that comma makes the bio a bit more flowing, and it's harder to notice whether it is sentence-based or list-based. So it looks like one piece while the vertical bar makes your bio look like sliced bread.
Also, if you want to get the maximum out of these 160 characters, then a vertical bar requires three characters between the words. At the same time, a comma needs only 2 (Blogger | Entrepreneur vs. Blogger, Entrepreneur).
10.1.1. Comma as a descriptor
Mike Bowler uses commas as his bio descriptor.
10.1.2. Period as a descriptor
John C Maxwell has chosen to write his bio using periods as a descriptor. Very clean and clear bio.
10.1.3. Vertical bar as a descriptor
Chris Zoller uses vertical bars as a descriptor. I used the same format until lately.
10.2. Sentence-based Format
Pros
Your bio looks more natural and flowing because we tend to speak in sentences, don't we? This way, your bio is like one single piece. If you can find a brilliant sentence to describe you, it's almost always better than a list of available keywords.
Cons
When you choose to use sentences, You have to use conjunctions and other words that are not keywords (I am, I do, etc.). This way, you have less space for all the essential keywords.
Example #1: Tom Hanks

Very well written bio. What else can you say? But it's hard to write it.
Example #2: Jason Majoue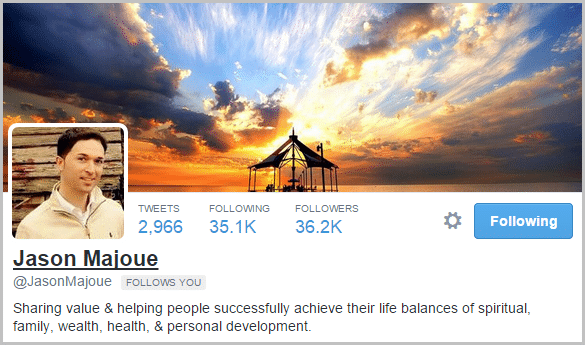 I like his bio for three reasons. First, it tells you all the crucial things that Jason Majoue is and does in one single yet well-structured sentence. Second, you can feel his humble approach and attitude. Third, it's like he has the same values as you and I have. And he is willing to help you improve and achieve your goals.
10.3. Mixed Format
As you have already noticed, most of the list-based formats are, in fact, mixed formats. It means they use both descriptors AND and a sentence or two.
Why?
I think if you use 100% list type, your bio will be too dry and dull. That is why people usually use the list as a first part (or the last part) of their biography. And then add something interesting about them using a sentence.
John C Maxwell's bio (as shown above) is an excellent example of a mixed format. He uses a sentence at the beginning and end of his biography. In the middle, he uses a list: "Bestselling author and speaker on leadership. Christian. Blogger. Trainer. Coach. Everything rises & falls on leadership."
10.4. Be Consistent.
Whatever format you are going to use for your bio, be consistent. Pick the descriptor that you like the most and then stick to it.
Also, capitalize consistently. Choose if you want to write your bio in sentence case or title case, and then stick to that. If you decide to use hashtags or usernames, be consistent and keep the same format for each username or hashtag. (e.g. @EgonSarv or @egonsarv, or #Blogging or #blogging).
11. Let's Write A Twitter Bio
To give you some examples, let's write some fictional Twitter bios. But before doing that, it's worth noticing that it's challenging to get it right in the first attempt.
Once you have finished with your bio, publish it. Then keep thinking about it while you go through your daily routine. Also, read other biographies and if you find something interesting, come back and revise your bio. Over time, your bio will become better and better.
So now, let's do write the initial bios, using the tips above.
Person 1: John
Let's name him John. He is 48 years old, married, and has three kids. He has been 23 years a truck driver. He can use a computer but don't know much about IT or Internet Marketing.
However, to prepare for retirement, he has decided to learn how to make money online. Also, he has built his first blog Johnthehickerblog.com as he enjoys biking and hiking with his family. Also, he is a great fan of the Cincinnati Bengals.
His Twitter bio might be:
Husband, father, trucker, entrepreneur, #blogger JohntheHickerBlog.com, #SEO, I am a die-hard biker, hiker & Cincinnati Bengals fan.
Total of 132 characters.
Person 2: Mary
She is 35 years old single mother of 2. She is an English teacher, but her salary is not enough to support herself and her kids. So she, too, has decided to earn some side money online. She runs a website to teach English online. Also, she is a proofreader. In her free time, she enjoys working in her garden and spend time with her kids.
Her Twitter bio might be:
Proud single mother of 2. #Enterpreneur. Blogger MaryTeachesEnglish.com. Teacher. #Proofreader. I am passionate about gardening and spending time with my kids.
Total of 160 characters.
Person 3: Kevin
Kevin is a 25 years old university student. He studies Computer Science, and he is interested in online marketing. He runs a blog to teach WordPress tips and tricks. Also, he is a backpacker who likes to travel the world.
I am 25 years old IT student at MSU. I am a freelance #writer and blogger, KevinWordpressTips.com. I have done backpacking twice around the world.
Total of 147 characters.
12. Conclusion: Do It Right and Reap the Benefits
There are over 500 million users on Twitter, and most of their bios are either blank or poorly written. So it's not so difficult to rise above the average. You just need to know what to include in your bio and what to avoid. Following the tips above, you can write an excellent bio that makes people want to follow you.
And remember, your Twitter bio is your online reputation. If you have done it right, it helps you get lots of followers.
Did you like the guide? Please consider sharing it. Also, please do me a favor and drop a comment below. I love to hear your thoughts on the topic.
Imagine for looking for legit work-from-home opportunities and finding THIS when you go inside… WOW


Yes, the raw, sizzling beauty of passive income stream online. So, click here now. Because sometimes 'later' becomes 'never '.
Related Articles: