Update 2019
Tom Brady did it again. And that in a stunning manner. Tom Brady – an athlete who is already hailed as the best American football player of all time, won his sixth Super Bowl ring last Sunday (Feb. 3rd, 2019). Therefore, in the coming days and weeks, the hordes want to read Tom Brady quotes.
This time it was easier than in 2017 (when Brady won his fifth ring). In 2017 it was a mindbogglingly uphill struggle – At one time, they trailed 28-3 with little over a quarter to play. In fact, at that moment, even president Donald Trump gave up and left. Brady didn't, though.
Those who saw the Super Bowl LI (or have read about it) know how Brady led his team, the New England Patriots to their fifth Super Bowl title.
Long Story short, now Tom Brady is praised not only as of the best quarterback in NFL history but the best American football player of all time.
Surely, this is a historical moment and the reason I wanted to write an inspirational post about him. I wanted to learn what work ethics, attitude, etc., have propelled this legendary athlete into such stratospheric heights of success.
So here we go:
Tom Brady Super Bowls Quotes (2017)
The following are the most famous Tom Brady quotes right after winning his 5th Super Bowl (February 5th, 2017):
1. "You know, we all brought each other back. "We never felt out of it. It was a tough battle. They have a great team. I give them a lot of credit. We just made a few more plays than them."
---
2. "There was a lot of s–t that happened tonight" (NBC Sports)
3. "We're bringing this sucker home." (after accepting Lombardi trophy)
4. "We've won a lot of different ways under a lot of different circumstances. This mental toughness, man, that's what it's all about, and this team's got it," he says."
---
5. Tom Brady Super Bowl Jersey Stolen (Imagine, it got stolen right after the win and right there, in the locker room):
"It was right here. I know exactly where I put it. This is not good. It was right here, and now I don't have it. Not good."  … "It is going to be on eBay soon, I guess." (USA Today)
---
30 Excellent Tom Brady Quotes for Bloggers
Tom Brady Quotes on  Hard Work
1. "One thing I learned in college is that the coach decides who plays, and when he says to go in there, you play your butt off." – Tom Brady
---
2. "After the first day of practice, there's not one guy who's playing at 100 percent or who feels great. Sometimes, getting up in the morning and brushing your teeth is the hardest part of the day – it just hurts." – Tom Brady
---
3. "I'm not really concerned with portraying this tough warrior – I mean, that's part of my job, and I take that very seriously. But I don't have anything to hide, and I'm not concerned with what people think." – Tom Brady
---
4. "It's never come easy for me. I don't think my mind allows me to rest ever. I have, I think, a chip on my shoulder, and some deep scars that I don't think were healed." – Tom Brady
---
5. "I always try to do as much as I can do. I'm never a person that does not make enough because I'd regret not doing enough and think I probably could have done more. I probably go too far and have to reel myself back in, which works in some things, and other things it doesn't work." – Tom Brady
READ ALSO:
---
Tom Brady on Teamwork:
6. "You have to believe in your process. You have to believe in the things that you are doing to help the team win. I think you have to take the good with the bad." – Tom Brady
---
7. "My job is to play quarterback, and I'm going to do that the best way I know how because I owe that to my teammates regardless of who is out there on the field with me." – Tom Brady
READ ALSO: 10 Great Quotes About Working Hard, Teamwork and Helping Others
---
Tom Brady on Mental Toughness
8. "Every quarterback can throw a ball; every running back can run; every receiver is fast, but that mental toughness that you talk about translates into competitiveness." – Tom Brady
---
9. "You push your body to the limits, but you have to train your body to deal with the limits." – Tom Brady
---
10. "Mentally, the only players who survive in the pros are the ones able to manage all their responsibilities. Everybody struggles in different ways." – Tom Brady
---
11. "If you don't believe in yourself, why is anyone else going to believe in you?" – Tom Brady
---
Tom Brady on Winning
12. "If you don't play to win, don't play at all." – Tom Brady
---
13. "I think that at the start of a game, you're always playing to win, and then maybe if you're ahead late in the game, you start playing not to lose. The true competitors, though, are the ones who always play to win." – Tom Brady
---
14. "A lot of people don't believe in you. It's obvious by now, six other quarterbacks taken and 198 other picks. And I always thought, 'you know what, once I get my shot, I'm gonna be ready. I'm gonna really take advantage of that." – Tom Brady
---
15. "I think it's a feeling like I've got it all figured out. There's nothing that can shock me anymore. There's nothing I haven't anticipated, so at that point, there is a calmness." – Tom Brady
---
16. "I am not a person that's self-satisfied just being out there. I want to go out there and play great." – Tom Brady
---
17. "I didn't come this far to only come this far, so we've still got further to go."– Tom Brady
---
18. "I don't care about three years ago. I don't care about two years ago. I don't care about last year. the only thing I care about is this week." – Tom Brady
---
Quotes On Making Choices in Life
19. "Too often in life, something happens, and we blame other people for us not being happy or satisfied or fulfilled. So the point is, we all have choices, and we make a choice to accept people or situations or to not accept situations." – Tom Brady
---
20. "Maybe some people can wake up and play PlayStation all day, but that's never been me." – Tom Brady
---
On Making Mistakes
21. "Things don't correct themselves, you've got to go out there and work hard to correct them" – Tom Brady
---
22. "I have a memory, and I can just eliminate mistakes when they come up because I've already made them." – Tom Brady
READ ALSO: 51 Making Mistakes Quotes
---
About Talents
23. "I'm never going to be fast, and nobody will ever mistake me for being fast." – Tom Brady
---
24. "A lot of times I find that people who are blessed with the most talent don't ever develop that attitude, and the ones who aren't blessed in that way are the most competitive and have the biggest heart." – Tom Brady
---
About Trust
25. "If someone lies, well, you had a choice to trust that person or not. I think the way my father raised me, well, he trusted everybody. And that worked for him." – Tom Brady
---
About Self Confidence
26. "When I'm out on the football field, I have so much confidence in what I'm doing." – Tom Brady
---
27. "The only thing I ever wanted to be was a professional football player." – Tom Brady
---
28. "I'm not a person who defends myself very often. I kind of let my actions speak for me." – Tom Brady
---
Tom Brady Family Quotes
29. "All parents are concerned about their children's well–being. As a parent of three kids, I'm very concerned about their well–being." – Tom Brady
---
30. "When you have two busy kids running around the house, returning emails is a task, let alone surfing the web." – Tom Brady
---
Quotes on Tom Brady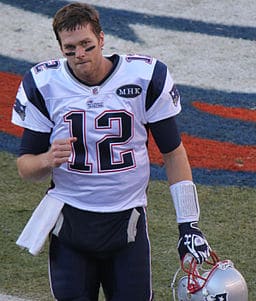 1. "Tom Brady is the greatest football player to ever play. If you can play that good, that consistently great year-after-year-after-year-after-year, game-after-game-after-game-after-game, nobody's ever done that. Nobody's ever done it like Tom Brady has. He's the best of all time."
"Nobody's ever done it like Tom Brady has. He's the best of all time." – Jim Harbaugh, the head football coach for the University of Michigan (ESPN)
---
2. "For the Patriots' quarterback Tom Brady, it was a stunning ending to a season that ended in redemption and possibly cemented his position as the greatest player of all time." –  The Guardian
---
3. "Brady, arguably the most famous athlete in the US" – The Guardian
---
4. "I surrender. He is the greatest QB ever." – Fran Tarkenton, Hall of Fame quarterback
---
5. He wasn't born with the most ability, but he overcomes his lack of physical traits with a drive that I have never seen in any quarterback, ever." – Skip Bayless, American Sports columnist

What if I could show you a real system you can use to put $1,200+ per month into your account, working from the comfort of your home…

…Would you be interested?

It's FREE to get started, too (no credit card required). You'll like that part…
What About You?
What did you learn from these Tom Brady Quotes above?
What can you apply to make your entrepreneurial adventure into even bigger success?
I would be very happy if you share your thoughts and comment below.
You might also like these posts:
Here are some more fascinating stats about Tom Brady: Tom Brady Wikipedia, Tom Brady Bio, Tom Brady Earnings, Tom Brady Super Bowl Games, Tom Brady Super Bowl Stats, Tom Brady Deflategate.
Featured Image: By Keith Allison from Baltimore, USA (Tom Brady) [CC BY-SA 2.0], via Wikimedia Commons